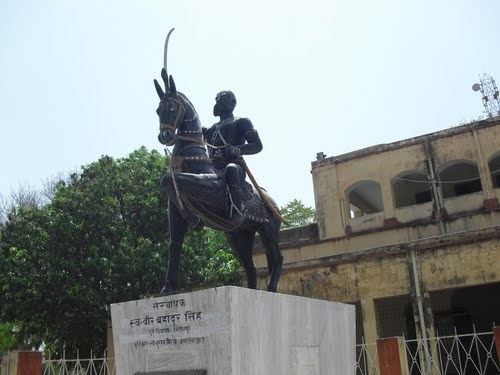 Jagdishpur has a very long historical background in the freedom movement of India. The King who ruled here was "Veer Kunwar Singh"(1856–1858), born in 1777, succeeded to throne in 1826, village "Dulaur" was most loveable village of Veer Kunwar Singh. This throne comprised two praganas and several Tulkas of Sahabad District. The total annual income of the estate was about rupees six lakhs. But several factors, including family litigations, extravagant living, generosity beyond his means and, above all, the machinations of his own staff with unscrupulous creditors, combined to put the estate under ruinous debts which amounted to rupees twenty lakhs on the eve of the Rising of 1857. He played a prominent part in the events of 1857/1858, he fought in the battle of Kanpur. Subsequently, he arrived in Lucknow, where the King of Awadh awarded him a robe of honour and a farman for the area comprising the Azamgarh district. He decided in April 1858 to return to his home district. Fighting a careful rearguard action, he crossed the Ganges at Sheopur Ghat, and re-entered Jagdishpur on 22 April 1858. During his fight when he was returning, he was injured by a bullet in his right hand which he had to cut. Thus he lost his right hand during his fight with Britishers. On 23 April 1858, he conquered his fort and hoisted the flag of India at the place of the flag of Britain.
A man of generous disposition, Kunwar Singh gave numerous grants to individuals and for the maintenance of shrines, including a Muslim shrine in the Patna City. On the establishment of the Arrah Zilla School in 1846, he not only donated the land for the building but also gave a cash donation of rupees one hundred. He got a Shiva temple and a tank constructed at Jagdishpur. He was an admirer and a patron of men well versed in martial sports, such as riding, shooting, archery etc. He invited such experts to Jagdishpur and retained them for long periods to train his men in those arts. He married the daughter of Raja Fateh Narain Singh of Deo, a wealthy zamindar of Gaya district, and had issue.
Even today, the Victory day of Babu Veer Kunwar Singh is celebrated in Jagdispur every year on 23 April.
Jagdishpur is politically and socially very important part of Bhojpur district and the state of Bihar. It is represented in government as part of the legislative constituency of Bihar. People of Jagdishpur are politically and socially active and always fight for their rights.
BJP - O P Mishra, Kameshwar Singh, Pawan Kumar Singh, Ramesh Singh, Bindeshwari Singh, etc.
JDU - Shribhagwan Singh Kushwaha, Hari Narayan Singh, etc.
RJD - Dinesh Singh
Indian National Congress - Manish Kumar
20 Km. far from Ara city.
Jagdispur lies in North-Eastern part of interior India, so its climate is greatly influenced in any season. The climate there is of moderately extreme type. The hot weather begins about the middle of March, when hot westerly winds begin to blow during the day. The temperature may even increase to 43° Celsius in Summer. 'Loo', which are local summer hot winds, blow even at a speed of 30–40 km (25 mi) h-1. The months of April and May are extremely hot. In a normal year, the monsoon sets in by the third week of June and the rains continue with intermissions till about the end of September or the early part of October. Winter Season begins from the month of November and lasts till the beginning of March. From the month of April till the first break down of the monsoon, the district experiences occasional thunder-storms also.
Jagdispur is situated at a high elevation above sea level and is not surrounded by any large river basin so is safe from floods and other natural calamities.
During monsoon, Jagdispur gets about 70 to 100 cm as an average of rain and also some times local wind storms with rains. Rains set in June accompanied by a fall in temperature and increase in humidity. The area experiences maximum rains during the months of July and August. Jagdispur gets easterly winds from June to September, which brings rains, from October the direction of the winds is reversed and westerly winds blow till May. There is slight rainfall in October, but November and December are quite dry. Some winter rain occurs in January and February.
Winter Season begins from the month of November and lasts till the beginning of March. In Winters, the Temperature may drop to 6° Celsius creating a thick layer of fog all over the city which prevents us to see not far than 10 to 30 meters. In the winters of 2009-2010, Jagdispur and whole district of Bhojpur and also some nearby district including Patna experienced extreme climate with a record fall in temperature to 4°-5° Celsius which was at that the same time even less than Simla. The coldest month is January. It becomes Necessary to wear Heavy Woolen Clothes during Winter.
Jagdispur does not have nearby any river that would cause concern about potential flooding but the lack of such a water source means that rain water and ground water have to fulfill both people and irrigation needs. Unfortunately, rainfall has not increased to match the needs of the growing population and the need for irrigation of fields.
River Ganges flows 24 km away in the Western direction of the city and control of this source is difficult. The River Sone flows from East to West, before it drains into the River Ganges, and is the source for the Big Sone Canal which transports water throughout the city through a network of sub-canals.
There are in Jagdispur about 8 big and deep ponds which stores rain water and is used for irrigation and waist drainage. The higher elevation of Jagdispur than the surrounding towns is a concern since more people and the needs for irrigating fields calls for an increased demand on ground water. At one time a hand pump was all that was necessary to bring up ground water. Increasing the depth of ground water wells has not fulfilled all the increasing water use demands of Jagdispur.
Government should take care and implement some new features for water conservation such as Rain Water harvesting so that this City couldn't face water crisis in future as is faced by other cities.