Full name

Jacques Munaron




1974–1989

R.S.C. Anderlecht




1973–1974

F.C. Dinant




Height

1.80 m





Years

Team




Role

Football player




Place of birth

Namur, Belgium




Name

Jacky Munaron




Children

Maarten Munaron








Date of birth

(1956-09-08) 8 September 1956 (age 59)
Andonline Anderlecht - Eupen, kickoff by Munaron and Olsen
Jacques "Jacky" Munaron (born 8 September 1956, Namur) is a former football goalkeeper, and currently the goalkeeper coach of FP Halle-Gooik.
Contents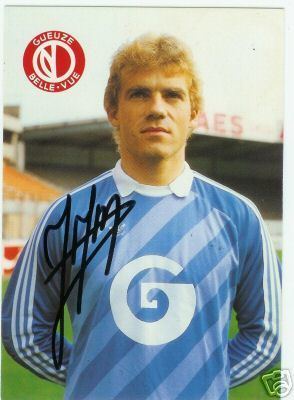 As a young player, Jacky Munaron started as the keeper of the youth team of FC Dinant. Munaron stayed in Dinant and became a player of the A-team. FC Dinant played in the Third Division at that time. In 1974, Jacky was discovered by RSC Anderlecht and moved to Brussels.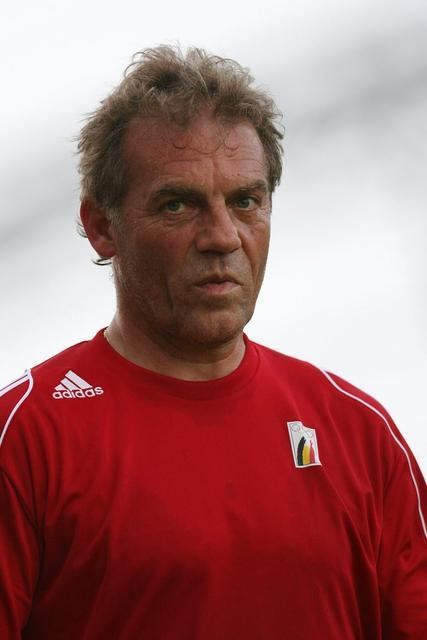 Over there, he was only a substitute player, as Jan Ruiter, the Dutch keeper of Anderlecht, was the first choice of the trainer. Also later, when Anderlecht bought Nico de Bree, another Dutch player of RWDM, Munaron was a substitute player.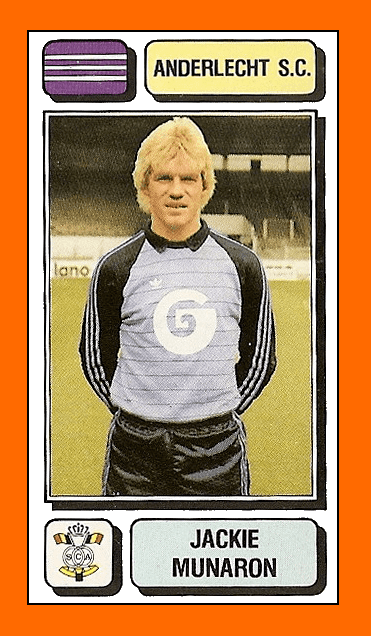 Nevertheless, Munaron sometimes got some chances to play and became quickly the real number one of Anderlecht. Ruiter quit playing, De Bree was transferred and Munaron stayed. Munaron stayed in total 15 seasons in Anderlecht, from 1974 until 1989. He was four times champion with Anderlecht, won 4 times the Belgian Cup, two times the Europacup II and the UEFA-cup in 1983.
1988, the competition within the team was stronger again. Munaron became older and Anderlecht chose the more and more its younger keeper Filip De Wilde, still a coming talent then. As a result, Jacky Munaron moved to Club Liège in 1989.
1992, Standard de Liège wanted to buy Munaron from Club Liège and Munaron went to Standard. The keeper was 36 years at that time and became a substitute, because Gilbert Bodart was the first keeper of Standard in the early '90s.
1995, Munaron went to Eendracht Aalst, but 1996, he decided to stop playing. He was an 8-time Red Devil.
After his career as a player, Munaron became a trainer. He was keeper trainer of the Red Devils, RSC Anderlecht and the Turkish team Trabzonspor. As from the season 2010–2011, he worked for AA Gent. At the start of the season 2014-15, he left the club. He went to FCV Dender to become goalkeeper coach. After this adventure he became the goalkeeper coach of Royal Excelsior Mouscron (Belgian first division).
At the end of the season 2016-2017, Jacky was pushed away from REM in a very disrespectful manner, making him decide to leave the field football behind and to choose a new challenge, namely Futsal.
As of July 1, 2017, Jacky became a goalkeeper coach at FP Halle-Gooik (a Belgian top club who has become champion in the first grade of Futsal in the last 3 years). Again, he will be able to enjoy football again at a high level, as FP Halle-Gooik also participates in the Futsal Champions League.
Achievements
Keeper - Gardien - Goalkeeper
Kampioen van België – Champion de Belgique – Belgian Champion
1981 – 1985 – 1986 – 1987 (RSC Anderlecht)
Vice-kampioen van België – Vice-champion de Belgique – Belgian Vice-champion
1977 – 1978 – 1979 – 1982 – 1983 – 1984 – 1989 (RSC Anderlecht) 1995 (Standard de Liège)
Beker van België – Coupe de Belgique – Belgian Cup
1975 – 1976 – 1988 (RSC Anderlecht) 1990 (RFC Liège)
1993 (Standard de Liège)
Belgische Super Cup – Super Coupe de Belgique – Belgian Super Cup
1985 – 1986 – 1987 (RSC Anderlecht)
EC 1 – Champions' Cup (23 games)
1⁄2 finale 1982 (RSC Anderlecht)
EC 2 – Cup Winners' Cup (13 games)
Winners: 1976 – 1978 (RSC Anderlecht) Runners Up: 1977
EC 3 – UEFA Cup (41 games)
Winners: 1983 (RSC Anderlecht) Runners Up: 1984
UEFA Super Cup
Winners: 1976 – 1978 (RSC Anderlecht)
Europese wedstrijden – Matchs Coupe d'Europe – European Games
78
Selecties Nationale Ploeg – Selections Equipe Nationale – Selections National Team
45
Wereldbeker – Coupe du Monde – World Cup
1982 (España – Group A ; 2nd Round) – 1986 (México – 4th)
Europees Kampioenschap – Championnat d'Europe – European Championship
1984 (Qualification group 1)
Keeperstrainer - Entraineur de gardien - Goalkeeper coach
Kampioen van België – Champion de Belgique – Belgian Champion
2000 – 2001 – 2004 – 2006 – 2007 (RSC Anderlecht)
Belgische Super Cup – Super Coupe de Belgique – Belgian Super Cup
2000 – 2001 – 2006 – 2007
Kwalificatie Champions League – Qualification Champions League
2000 – 2001 – 2002 – 2003 – 2004 – 2005 2nd Round : 2001
Europees Kampioenschap – Championnat d'Europe – European Championship
EURO 2000 (Belgium – Netherlands)
Wereldbeker – Coupe du Monde – World Cup
2002 (Japan – South Korea)
Olympische Zomerspelen – Jeux olympiques d'été – Summer Olympics
2008 (China – Beijing) – National Team of Belgium U21 (4th place)
References
Jacky Munaron Wikipedia
(Text) CC BY-SA