Peter Joseph "Jack" van Tongeren (born 1947) is the former leader of the West Australian neo-Nazi group Australian Nationalist Movement (ANM), a white supremacist and extreme right group. He served thirteen years, one month, and six days in prison from 1989 to 2002 for grand theft and arson, after robbing and firebombing businesses owned by Asians in Western Australia. It can be noted that he himself was half-Indonesian. He was tried in absentia.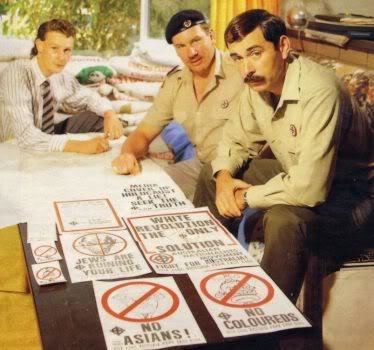 Van Tongeren was initially involved with the Sydney based National Action (NA) neo-Nazi group in the early 1980s. He later left to form his own organisation. He ran, unsuccessfully, for the Senate in the 1984 election on an independent ticket, attaining 1,077 votes (0.13%).
Throughout the 1980s, West Australian Australian Nationalist Movement, led by van Tongeren, engaged in a series of bombings of Asian restaurants and businesses, political violence, murder of a suspected informant and other acts to intimidate the Asians in Western Australia. Van Tongeren was eventually imprisoned in 1989 until his release in 2002.
On his release, he resumed his activities until he was re-arrested in August 2004 as part of Operation Atlantic and charged with plotting to commit four arson attacks and 19 counts of criminal damage.
On 20 February 2006, Van Tongeren, out on bail pending his trial, failed to report to police and was believed to be at large and travelling with former ANM member Matthew Billing.
On 23 March 2006, a letter was received by staff at ABC Television Studios, purporting to be from van Tongeren. It claimed that charges against him were a conspiracy created by the WA Government, and indicated that they would need to be dropped by Attorney-General Jim McGinty, in order for van Tongeren to return from hiding.
On 4 April, van Tongeren and his co-accused Matthew Billing were found and arrested in the Boddington area south-east of Perth. Both men once again faced the courts over the 2004 arson plots.
During a hearing on 2 November, van Tongeren collapsed, was taken to hospital, and later used a wheelchair. Van Tongeren was released from jail on the condition that he leave Western Australia. He currently resides in the eastern states.