Jabberjaw is a 30-minute Saturday morning animated series created by Joe Ruby and Ken Spears and produced by Hanna-Barbera which aired on ABC from September 11, 1976, to September 3, 1978.
Contents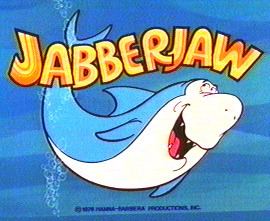 Jabberjaw the complete series
Premise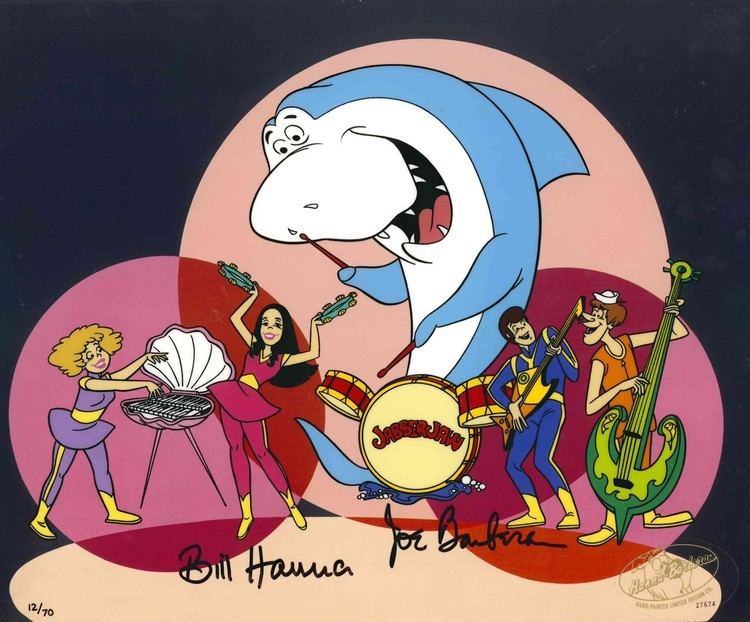 Like a great deal of Hanna-Barbera's output in the 1970s, the format and writing for Jabberjaw was similar to that for Scooby-Doo, Josie and the Pussycats and Speed Buggy. The show also drew inspiration (in the use of a shark as a character) from the overall shark mania of the mid 1970s caused by the then-recent film Jaws. It also shared The Flintstones' penchant for making use of puns as the names of locations, people, etc., in this case, ocean-themed puns (such as "Aqualaska" instead of Alaska).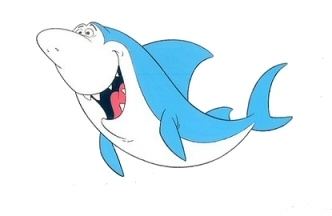 Sixteen 30-minute episodes of Jabberjaw were produced, which aired on ABC Saturday Morning from September 11, 1976, to September 3, 1977, and rebroadcast for a second season of reruns on Sunday Morning from September 11, 1977, to September 3, 1978. In the 1980s, repeats resurfaced as part of USA Cartoon Express on USA Network, in the 1990s on Cartoon Network and in the 2000s on Boomerang. This is one of a number of shows made before the mid-1980s seen on the Cartoon Network and Boomerang to have been taken from PAL prints.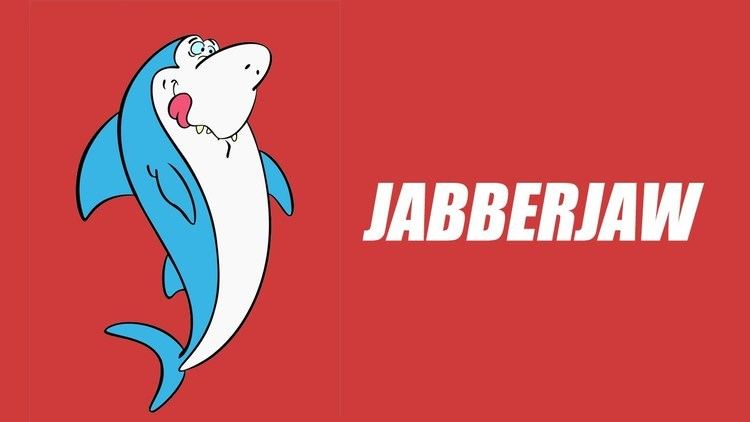 Like many animated series created by Hanna-Barbera in the 1970s, the show contained a laugh track created by the studio.
Plot
Jabberjaw is a 15-foot great white shark and a drummer for The Neptunes, a rock group made up of four teenagers — Biff, Shelly, Bubbles and Clamhead — who live in an underwater civilization in the year 2076. Jabberjaw and The Neptunes travel to various underwater cities where they encounter and deal with diabolical villains who want to conquer the undersea world.
Characters
Jabberjaw (voiced by Frank Welker) – Jabberjaw is an air-breathing, anthropomorphic great white shark whose voice and mannerisms were similar to Curly Howard of The Three Stooges. Jabberjaw found it hard to get respect in a society where "shark ejectors" (robots that would guard various buildings or cities against sharks being allowed to enter) were commonplace, prompting him to frequently utter his catchphrase (borrowed from the comedian Rodney Dangerfield): "No respect! I get no respect!"
Biff (voiced by Tommy Cook) – Biff is an athletic, handsome, dimwitted brown-haired young man who is the band's guitar player and level-headed leader who books all the gigs.
Shelly (voiced by Pat Parris) – Shelly is a dark-haired young woman who plays tambourine for The Neptunes. She is attractive, intelligent, haughty, vain and abrasive (like Josie and the Pussycats' Alexandra) and considers herself to be the star of the band. While she holds a great deal of disdain for Jabberjaw (or "Blubberhead" as she calls him), she does have some fondness for him deep down and occasionally shows it. She also has the most sanity in the band.
Bubbles (voiced by Julie McWhirter) – Bubbles is a young woman with blonde, curly hair who plays keyboard for The Neptunes. She is extremely ditzy and dimwitted, has a cute giggle, similar to Josie and the Pussycats' Melody. Shelly sometimes nicknames her "Ding-a-Ling" or "Bubblehead". Whenever she volunteers to help, she usually ends up messing it up.
Clamhead (voiced by Barry Gordon) – Clamhead is a young man who plays bass for The Neptunes. His catchphrases are crying out "Abba-abba-abba!" and "Wowee-wow-wow-wow!" whenever he gets excited. Clamhead is Jabberjaw's best friend.
Broadcast history
Original ABC broadcast:
ABC Saturday Morning: September 11, 1976 – September 3, 1977
ABC Sunday Morning: September 11, 1977 – September 3, 1978
Broadcast schedules (all EDT):
September 11, 1976 – November 27, 1976, ABC Saturday 9:00-9:30 AM
December 4, 1976 – September 3, 1977, ABC Saturday 8:30-9:00 AM
September 11, 1977 – September 3, 1978, ABC Sunday 10:30-11:00 AM
Episodes
PC = Production code number
Other appearances
Jabberjaw made special appearances as a guest announcer or referee on the half-hour "Laff-A-Lympics" segment of Scooby's All-Star Laff-A-Lympics / Scooby's All-Stars in the episodes "Acapulco and England" (1977), "India and Israel" (1977), "Africa and San Francisco" (1977), "New York and Turkey" (1978) and "New Orleans and Atlantis" (1978).
Jabberjaw (voiced by Don Messick) made a special guest appearance at a celebrity roast honoring Fred Flintstone on the TV special Hanna-Barbera's All-Star Comedy Ice Revue (1978).
Jabberjaw starred in a new Saturday morning animated series on NBC called Yogi's Space Race (1978–79) in which he participated in intergalactic racing competitions with Yogi Bear, Huckleberry Hound and several new characters. Jabber is still on his search for respect from his original series; his racing partner is a lazy bloodhound named Buford (from The Buford Files of Buford and the Galloping Ghost) and their race ship contains a track on which Buford runs to increase speed. Frank Welker reprised his role of Jabberjaw and also voiced Buford.
A Jabberjaw comic book series was originally planned by Charlton Comics in 1977 but was cancelled; however, Jabberjaw has made appearances in Laff-A-Lympics issues #8, #9, #10, #11 and #12 published by Marvel Comics in 1978–79. He also appeared in Hanna-Barbera Presents issue #6: Superstar Olympics published by Archie Comics in 1996 and Cartoon Network Presents issue #23: Jabberjaw, Speed Buggy, Captain Caveman published by DC Comics in 1999. In France, Jabberjaw was featured in various French comic books titled Télé Junior, Télé Parade and Télé BD (1978–81).
Jabberjaw made a cameo appearance in the episode "Goodbye, Mr. Chump" on Yogi's Treasure Hunt (1986).
Jabberjaw and The Neptunes appeared on Cartoon Network Groovies in a music video set to Pain's "Jabberjaw (Running Underwater)" (1999) in which they are portrayed as a ska band with the group dressed in modern clothing. In this version, Jabberjaw still plays the drums and has a goatee and a nose ring; Biff is the lead guitar and singer wearing a bowling shirt and jeans; Shelly is dressed in a tank top and jeans, plays bass guitar and assists on vocals; Bubbles is dressed in a black top with a Catholic schoolgirl-style skirt and Mary Jane shoes and still plays the keyboard; and Clamhead is dressed in an updated version of what he wore in the original series, plays the trumpet and also assists on vocals. The Neptunes are animated in 3D escaping a lunch box decal and waging battle with an evil eel and his lobster robots who kidnap Shelly from one of The Neptunes' concerts.
Jabberjaw appeared on the Halloween TV special Night of the Living Doo (2001) trying to take out Scooby-Doo and the Mystery Inc. gang so he can finally get his respect.
Jabberjaw made sporadic appearances on Harvey Birdman, Attorney at Law: Jabberjaw and The Neptunes were accused of stealing a hit song by a Japanese rock band called Shoyu Weenie (portrayed by the Chan Clan from The Amazing Chan and the Chan Clan) in the episode "Shoyu Weenie" (2002). Frank Welker reprised his role of Jabberjaw and also voiced Biff; Jabberjaw made cameo appearances in the episodes "The Dabba Don" (2002), "Back to the Present" (2004), "Peanut Puberty" (2004), "Juror in Court" (2007) and "The Death of Harvey" (2007); Clamhead (voiced by Steve Blum) made a cameo appearance in the episode "Identity Theft" (2005); Bubbles made non-speaking cameo appearances in the episodes "Droopy Botox" (2004) and "Juror in Court" (2007).
Jabberjaw made a cameo appearance on Johnny Bravo in the episode "Johnny Bravo Goes to Hollywood" (2004).
Jabberjaw made a guest appearance on Sealab 2021 in the episode "Return of Marco" (2004) where he was one of many sharks impaled with spears by an aquatic tribe of cave dwellers.
Jabberjaw and The Neptunes appeared on Scooby-Doo! Mystery Incorporated in the episode "Mystery Solvers Club State Finals" (2011) alongside other Hanna-Barbera mystery teams in a fever dream of Scooby-Doo's. When the teen sleuths are kidnapped by a flaming skeletal spirit called Lord Infernacus, Scooby-Doo, Jabberjaw, Speed Buggy, Captain Caveman and The Funky Phantom are left to solve the mystery. Frank Welker reprised the roles of both Jabberjaw and Speed Buggy.
Jabberjaw made a cameo appearance in a MetLife commercial entitled "Everyone" (2012) which aired during Super Bowl XLVI commercial breaks.
Merchandising and video releases
In 1977–78, Rand McNally released two Jabberjaw coloring books (Jabberjaw and the Neptunes and Jabberjaw Does It Again), a story book (Jabberjaw Out West by Jean Lewis, illustrated by Jim Franzen) and a read & color book (Jabberjaw and the Rustlers).
Other merchandise in the late 1970s included a lunch box and thermos, iron-on transfers, jigsaw puzzles, Presto Magix dry transfer sheet, bubble maker set, a school tablet, Avon pendant and Hanna-Barbera Marineland Jabberjaw picture viewer.
Four episodes of the series, "Dr. Lo Has Got to Go", "There's No Place Like Outer Space", "The Sourpuss Octopuss" and "The Great Shark Switch", were released on a Jabberjaw videocassette by Worldvision Home Video on July 28, 1988.
In 2005, a Jabberjaw Wacky Wobbler bobblehead figure was released by Funko.
On February 15, 2011, Warner Archive released Jabberjaw: The Complete Series on DVD in region 1 as part of their Hanna–Barbera Classics Collection. This is a manufacture-on-demand (MOD) release, available exclusively through Warner's online store and Amazon.com.
In other languages
Brazilian Portuguese: Tutubarão
Spanish: Mandibulín
Italian: Lo squalo Jabber
French: Mantalo
German: Sharky
Finnish: Hai Harvahammas
Japanese:

わんぱくジョーズ
References
Jabberjaw Wikipedia
(Text) CC BY-SA