Birth name

Johan Christher Schutz




Origin

Mjolby, Sweden




Name

J. Schutz




Also known as

Peacebird, J.C. Schutz




Years active

2004-present




Role

Singer-songwriter






Born

May 12, 1976 (age 39) Sweden (

1976-05-12

)


Occupation(s)

Singer-songwriter, Producer, Arranger, Musician, Artist




Instruments

Vocals, Guitar, Piano, Cavaquinho, Bass, Drums, Percussion




Albums

Peacebird, Blissa Nova, C\'est la vie, Beautiful Place, Slow Down, Passion




Genres

Pop music, Blue-eyed soul, Folk jazz, Musical theatre, Bossa nova, Jazz, World music




Similar People

Aline de Lima, Mamerico, Asako Toki, Allan Edwall, Povel Ramel
Johan Christher Schütz is a Swedish singer, songwriter, music producer and multi-instrumentalist.
Contents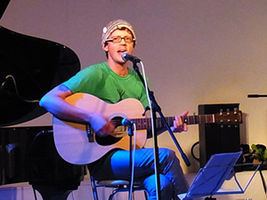 Schütz has released five albums; four under his own name and one album as Peacebird. He has also written musicals and composed instrumental music for short films. He has done four Japan tours, the first in 2007. As of 2012, 85% of his songs are continuously being played in radio or TV, mainly in Europe and Japan, but also in North and South America. In reviews, Schütz is often referred to as a "genius" or "champion" singer/songwriter, often indicating an "ingenious melody sense".
Biography
Raised outside the small town of Mjölby, Östergötland he started singing and playing musical instruments, such as drums and electric organ, very early. Aged seven, he found a guitar in a trash container, an experience that he says changed his life, as he decided to dedicate his life to music. During a period in 1999 he was living in London on a songwriting grant from STIM (Swedish copyright collecting society) where he wrote songs and performed live in acoustic clubs several times a week, something he says was very important to improve his stage presence and performance quality, and after returning to Sweden the newspaper Östgöta Correspondenten wrote in a review of one of his live performances in 2001 that he had become "a mature artist".
Schütz studied music and art at Kungshögaskolan in Mjölby, where he also got involved in work for peace and human rights. On August 6, 1995, 50 years after the atomic bombing of Hiroshima, he organised an outdoor music festival to protest against France's decision to restart their testings of nuclear weapons in the Pacific Ocean, and one of the bands that performed was his own band Peaceflowers. Schütz has a Bachelor of Arts degree in Portuguese from the Stockholm University and wrote his degree paper about the political content in the song lyrics of Brazilian songwriter Chico Buarque. While living in Stockholm, he also helped start the Brazilian film festival BrasilCine.
Other versions of his songs
Brazilian singer Aline de Lima has recorded a version of Schütz' song Som om ingenting har hänt for her 2008 album Açai, and Japanese singer Toki Asako recorded his song Let the sunlight in for her 2009 album Touch, which made several reviewers dub him a "genius singer/songwriter". Also in 2008, his song Passion was used in a Japanese version by the almost 100-year-old Japanese musical theatre company Takarazuka Revue in one of their shows, also released on CD and DVD. In 2011, Swedish jazz singer Nina Ripe released her debut album with new versions of Brazilian standards, with three lyrics written by Schütz, such as a Swedish version of Milton Nascimento's Encontros e despedidas (Möten och avsked), and the first official English version of Jobim & Buarque's classic song Retrato em branco e preto (Picture in black and white). The album was nominated in the category Best Album of the Year by Sweden's biggest jazz magazine Orkesterjournalen.
In 2015, a coming compilation album with new versions of his songs, performed by various female singers from around the world, has been mentioned in a number of posts on his twitter and facebook pages, but no release date has yet been made official. In October 2016, he announced the names of all the singers, among others the Brazilian singers Eloisia (original singer with Nouvelle Vague), Adriana Miki, Vanessa Pinheiro and American jazz singer Alissa Sanders. The album was said to be titled 'Aurora' and to include two previously unreleased songs.
Musicals
Inspired by Takarazuka Revue's Japanese version of his song Passion, Schütz started writing his first original musical in 2009. The story takes place in Japan and in 2010 and 2011 Schütz received two consecutive grants from The Scholarship Foundation for Studies of Japanese Society to develop this musical.
Another musical, Tivolisaga (Carnival Tale), written in close collaboration with Johan Pettersson, premiered in Norrköping, Sweden, in August 2013. The songs were originally written for their pop band Punch & Judy Show in 1997-1998.
Passion
Schütz' debut CD Passion was released in May 2004, with jazz and bossanova influenced pop with reflecting lyrics in English, containing 13 songs all written by Schütz.
In a review, Swedish daily newspaper DN called it "romantic bossa nova", while the Swedish world music magazine Lira called it a "summery bossa nova cocktail", also stating that the guitar playing of Schütz is "closer to Nick Drake than Jobim", and the reviewer was impressed by the album's "creative instrumentation".
Blissa Nova
His second full-length CD Blissa Nova from November 2007 has a more contemporary and authentic Brazilian sound, with lyrics still in English and some small parts in Portuguese and Swedish. Blissa Nova also sees Schütz as a translator, as five of the album's 13 tracks are English translations of Brazilian and Swedish standards/classics: Eu Vim da Bahia by Gilberto Gil, Pra Que Chorar by Baden Powell/Vinicius de Moraes, Tristeza (a duet with Brazilian singer Aline de Lima) by Luiz Bonfá, and Underbart Är Kort by Povel Ramel and Den Lilla Bäcken by Allan Edwall.
In their review, Swedish music magazine Groove called it "almost flawless" and stated that the first song Plunge Into the Miracle goes from 0-100 in less than a second, and if all the songs had been in a similar style then this could well have challenged the title of the best Swedish album of the year in the genre".
Daily newspaper Östgöta Correspondenten said that the album is "alleviating life with sweet sun and bossa grooves", made possible by the "beautiful melodies" and the "hive of rhythms".
C'est La Vie
During the winter/spring of 2008 he started recording his third album C'est La Vie, for the first time in Swedish. As a project, he decided to make the process of recording an album available on his blog, and his record company published a 20-minute documentary on the internet, showing him work in the studio and also presents him performing acoustic live versions of some songs and taking the viewer on a short Stockholm sightseeing trip. It is now available on YouTube.
C'est La Vie was released in Japan in December 2008 when Schütz also did his second Japan tour, and worldwide in May 2009. The Scandinavian release has all songs in Swedish, while the worldwide edition includes 5 songs in English.
Östgöta Correspondenten called it "well written" and "well played", while the magazine Lira put more attention to detail, noticing that "J.C. Schütz has got a lot on his mind, a kind of nicely laid-back observations of life, where a smile never is far away". They continued, "Here we see an artist more down-to-earth, even if the world music influences are still evident".
Peacebird
In 2010 Schütz started writing songs for a fourth album, and announced it would be released under the pseudonym Peacebird. On February 5, 2011, Peacebird released a free download single to support the protests for democracy in Egypt and other countries in northern Africa. The song called Peace! (Give the People the Power Back), was made available through YouTube and the Peacebird website. Schütz plays all instruments on the recording.
Following the March 11 Japan earthquake and tsunami, he released a second download single as Peacebird of the song Hold On Now on March 28 from his official Bandcamp site. The song was written and released for the single purpose of donating all revenues to Red Cross Japan to support their work in the afflicted areas.
A full-length album with 9 songs, Peacebird, was released on October 5, 2011, with a pre-release on iTunes on the United Nations' International Day of Peace, September 21, accompanied by a music video for the song Pickin' Up The Pieces. All songs are written by Schütz, and he also recorded Let The Sunlight In, previously released by Toki Asako. Peacebird, released by a Japanese record label, has guest appearances by Swedish singer Lovisa Lindkvist, Japanese singer Chihiro Fujita, Japanese bass player Okii Reiji, Brazilian drummer Di Stéffano, and a number of Swedish jazz and funk musicians. The songs show a more groovy and soulful side of Schütz with a majority of the songs being uptempo, and the sound more contemporary as Schütz was experimenting with drum loops for the first time, while still being heavily influenced by Brazilian and Cuban phrasing and syncopation.
During every day of the first week of the release, the album's opening track Slow Down was one of the three most played songs on Japanese FM radio stations in Tokyo and Kansai metropolitan regions, and two days the most played song of all. Swedish national TV program Kulturnyheterna also covered the news. On iTunes and several other online stores, the third song Anything For You has mistakenly received the same title as the fourth, Pickin' Up The Pieces.
Christmas Time (We Can Change the World)
A comment on the growing fascism, racism and nationalism across the world in the financial crisis, Schütz wrote a new Christmas song during the autumn 2012, called Christmas Time (We Can Change the World). 12 friends of different nationalities joined the chorus, and Schütz plays all instruments on the recording, except for the sleigh bells. The 1-song single was released on December 5 and he was invited to Japan's biggest music radio station J-WAVE to introduce the song on December 3, which was the world premiere.
The music video for the song was released on YouTube on December 8, the memorial day of John Lennon's death. It features the Academy Award nominated American cartoon Peace on Earth from 1939. In October 2015, Warner claimed ownership to the visual material and blocked the video from being shown on youtube.
Swedish daily paper Östgöta Correspondenten posted the video on their Facebook page for culture and wrote "Mjölby's champion singer/songwriter Johan Christher Schütz has created one of those Christmas songs that feels like an evergreen already when hearing it for the first time".
Beautiful Place
Schütz fifth album Beautiful Place, the fourth under his own name, was released in July 2013, and was apparently inspired by the Hermann Hesse novel Siddhartha, with most songs written on themes from buddhism or philosophy. Again leaning mainly towards his influences of Latin and world music, the album was recorded with top Japanese jazz and soul musicians in a studio by the ocean south of Tokyo. The last track on the album is an acoustic version of the musical classic Over the Rainbow.
A music video for the title song, entirely made up by animated shadow puppetry, was made in collaboration with Malaysian film maker JT Wong.
Albums
Passion (2004)
Blissa Nova (2007)
C'est la vie (2009)
Peacebird (2011)
Beautiful Place (2013)
Singles
"Se solen gå upp" (2009)
"Dröm" (2009)
"Balans (Bossa Remix)" (2009)
"Peace! (Give the People the Power Back) [Peacebird Edit]" (2011)
"Hold On Now" (2011)
"Christmas Time (We Can Change the World)" (2012)
"I Guess It's Ok" [with Vanessa Pinheiro] (2014)
"Det kunde lika gärna varit vi" (2014)
"Möten och avsked" (2014)
"I'm Here (Acoustic Version)" (2015)
"Changes Changes (Nujabes Tribute Remix)" (2016)
"Love This World" (2017)
Songs
I'm Here2015
Det Kunde Lika Gärna Varit Vi2014
JabuticabaC'est La Vie · 2008

References
J. C. Schütz Wikipedia
(Text) CC BY-SA