Nationality

Croatian / American




Movement

Art Nouveau, Symbolism




Role

Sculptor




Education

Split, Vienna, Paris




Name

Ivan Mestrovic






Born

15 August 1883 (

1883-08-15

)

Vrpolje, Kingdom of Croatia-Slavonia, Austria-Hungary (present-day Croatia)




Known for

Sculpture, Architecture




Notable work

Victor (monument)The Bowman and The SpearmanGregory of Nin statueMonument to the Unknown Hero




Artwork

The Bowman and The Spearman, The Spring of Life




Spouse

Ruza Klein (m. 1904), Olga Kestercanek (m. ?–1962)




Children

Mate Mestrovic, Maria Mestrovic, Tvrtko Mestrovic, Marta Mestrovic




Parents

Marta Kurobasa, Ivan Mestrovic-Gabrilovic





Died

16 January 1962 (aged 78) South Bend, Indiana, U.S.




Similar

Mate Meštrović, Gregory of Nin, Ivan Kožarić
Ivan me trovi google doodle ivan mestrovic
Ivan Mestrovic ([ivan mêʃtrovit͡ɕ]; 15 August 1883 – 16 January 1962) was a Croatian sculptor and architect. He is renowned as one of the greatest sculptors of the 20th century. He was the first living person to have a one-man show at the Metropolitan Museum of Art in New York City.
Contents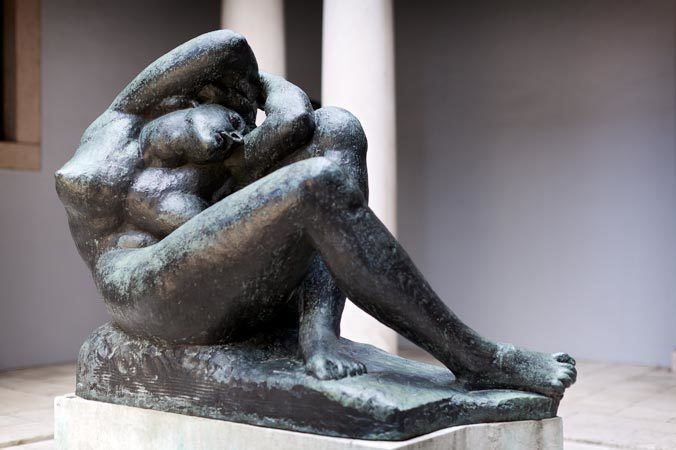 sculptures Atelier Ivan Meštrović - Zagreb
Early life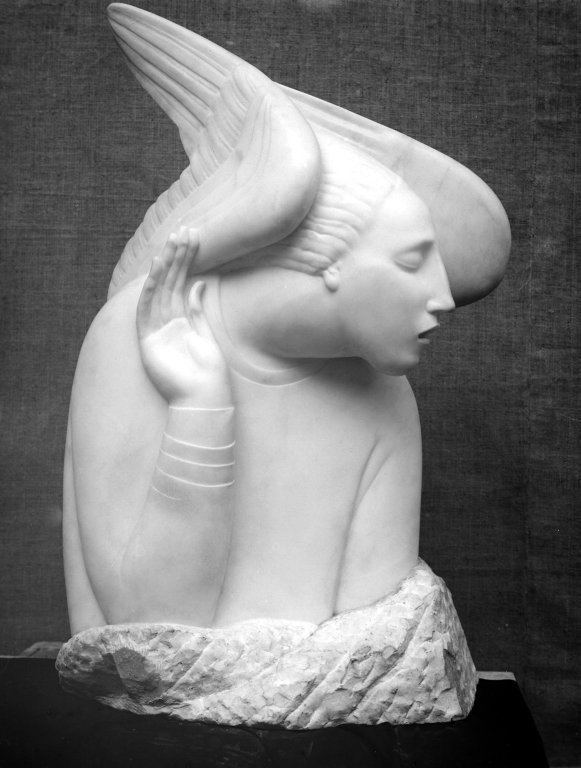 He was born in the village of Vrpolje, Croatia. He spent his childhood in Otavice, a small village located on edge of Petrovo field in Dalmatian hinterland. At the age of sixteen, a master stone cutter from Split, Pavle Bilinic, noticed his talent and he took him as an apprentice. His artistic skills were improved by studying the monumental buildings in the city and his education at the hands of Bilinic's wife, who was a high-school teacher. Soon, they found a mine owner from Vienna who paid for Mestrovic to move there and be admitted to the Academy of Fine Arts. He had to quickly learn German from scratch and adjust to the new environment, but he persevered and successfully finished his studies.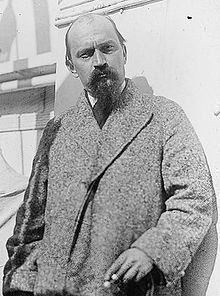 In 1905 he made his first exhibit with the Secession Group in Vienna, noticeably influenced with the Art Nouveau style. His work quickly became popular, even with the likes of Auguste Rodin who once said that Mestrovic is the greatest phenomenon among sculptors and even greater sculptor than he was. Because of that popularity he soon earned enough for him and his wife (since 1904) Ruza Klein to travel to more international exhibitions.
During World War I and II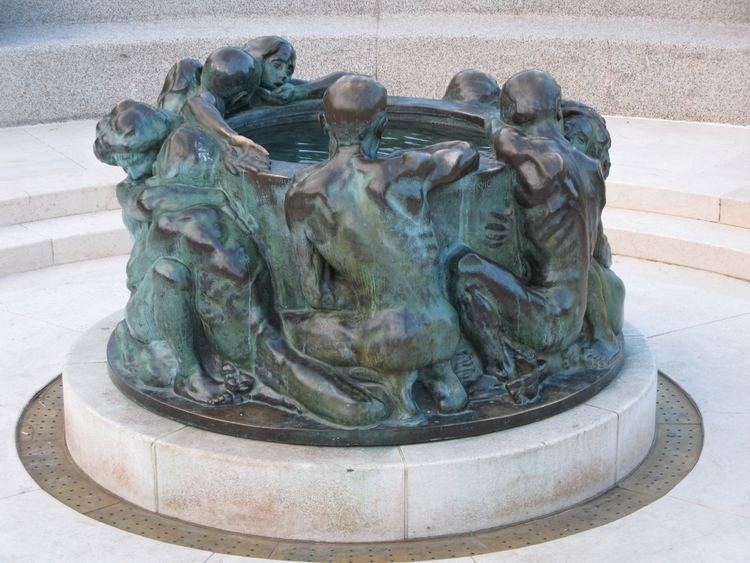 In 1908 Mestrovic moved to Paris and the sculptures made in this period earned him international reputation. in this time, Ivan was friend of the cubist painter Jelena Dorotka (Helene Dorotka von Ehrenwall). In 1911 he moved to Belgrade, and soon after to Rome where he received the grand prix for the Serbian Pavilion on the 1911 Rome International Exhibition. He remained in Rome to spend four years studying ancient Greek sculpture.
At the onset of World War I, after the assassination in Sarajevo, Mestrovic tried to move back to Split via Venice, but was dissuaded by threats made because of his political opposition to the Austro-Hungarian authorities. During the war he also travelled to make exhibits in Paris, Cannes, London and in Switzerland. He was one of the members of the Yugoslav Committee.
After World War I he moved back home to the newly formed Kingdom of Serbs, Croats and Slovenes and met the second love of his life, Olga Kestercanek, whom he married shortly after. They had four children: Marta, Tvrtko, Maria and Mate, all of who were born in Zagreb, where they settled in 1922. He was a contemporary and friend of Nikola Tesla. Mestrovic and family would later spend the winter months in their mansion in Zagreb and the summer months in a summer house he built by the end of the 1930s in Split. He became a professor and later the director of the Art Institute in Zagreb, and proceeded to build numerous internationally renowned works as well as many donated chapels and churches and grants to art students.
By 1923 he designed the mausoleum for the Racic family at Cavtat, and he also created a set of statues for a never-built Yugoslav national temple that would be erected in Kosovo to commemorate the battle that happened there in 1389.
He continued to travel to post his exhibits around the world: he displayed at the Brooklyn Museum in New York in 1924, in Chicago in 1925, he even traveled to Egypt and Palestine in 1927. In 1927 he entered a design for the coins of the Irish Free State, and though his design arrived too late for consideration it was adopted in 1965 as the seal of the Central Bank of Ireland.
During the April War in 1941 Mestrovic was living in Split. After being warned by novelist and Independent State of Croatia (NDH) minister Mile Budak that the Croatian authorities could not guarantee his safety in Split, he moved to Zagreb in September 1941. Mestrovic and painter Jozo Kljakovic were arrested by the Ustase in Zagreb on November 7, 1941, ostensibly due to the regime's fears that the two would emigrate. He eventually served three and a half months in the Savska Cesta prison. With help from archbishop Aloysius Stepinac and subsequently the Vatican he was released. Mestrovic's release was conditional on the artist travelling to Venice to attend the Independent State of Croatia pavilion at the Venice Biennale. From there he relocated to Rome, where he stayed and worked at the Pontifical Croatian College of St. Jerome. He was sponsored here by fra Dominik Mandic, and during his time in the city was received by Pope Pius XII. In July 1943 Mestrovic secured a visa to Switzerland through NDH diplomat Stijepo Peric and moved there. Unfortunately not all of his family managed to escape—his first wife Ruza died in 1942 and many from her Jewish family were killed in the Holocaust. Later, his brother Petar was imprisoned by the emerging Communists for publicly advising him not to return to the country, which further depressed the artist. Marshal Josip Broz Tito's government in Yugoslavia eventually invited Mestrovic back, but he refused to live in a communist country.
In 1946, Syracuse University offered him a professorship, and he moved to the United States. From 1951 he began making contributions to the Croatian emigrant journal Hrvatska revija, which would later publish his memoirs. He was awarded the American Academy of Arts and Letters' Gold Medal for sculpture in 1953. President Dwight D. Eisenhower personally presided over the 1954 ceremony granting Mestrovic American citizenship. He went on to become a professor at the University of Notre Dame in 1955.

At the end of January 1951 Mestrovic joined the American campaign for the release of archbishop Stepinac from prison.
Death and legacy
Before he died, Mestrovic returned to Yugoslavia one last time in order to visit the imprisoned Cardinal Alojzije Stepinac and Tito himself. At the request of various people from his homeland he sent 59 statues from the United States to Yugoslavia (including the monument of Njegos), and in 1952 even signed off his Croatian estates to the people of Croatia, including over 400 sculptures and numerous drawings. Upon his return he vowed to his colleague painter Jozo Kljakovic that he would not return to the country as long as the communists were in power.
The early deaths of two of his children preceded his own. His daughter Marta, who moved with him to the US, died in 1949 at the age of 24; his son Tvrtko, who remained in Zagreb, was 39 when he died in 1961. In 1960 he suffered a minor stroke which affected his eyesight. In 1961, Mestrovic's memoirs Uspomene na politicke ljude i dogadaje were published by the Croatian emigrant publishing house Hrvatska revija (Croatian Review) in Buenos Aires, Argentina. In 1969, they were published by Matica hrvatska in Zagreb.
After creating four clay sculptures to memorialize his children, Ivan Mestrovic died in early 1962 at the age of 79, in South Bend, Indiana at St. Joseph Hospital. Mestrovic's funeral was presided by bishop of Sibenik Josip Arneric, while the bishop of Split Frane Franic spoke at the burial. His remains were interred at a mausoleum in his childhood home of Otavice. Communist Yugoslav authorities had originally promised the Mestrovic family that his remains could lie in wake at the cathedrals in Zagreb and Split. Once his remains had arrived in Yugoslavia the authorities recanted and did not allow this to take place. After communist officials interfered during the funeral, his son Mate Mestrovic sharply criticized the level of religious freedom in the country.
His son Matthew (Mate) Mestrovic is an American university professor of Modern European history and worked as a Contributing Editor of Time magazine, served as a lieutenant in the US Army PsyWar. He was president of the Croatian National congress and lobbied on behalf of Croatian self-determination in Washington, Western Europe and Australia and a deputy in the Croatian Parliament, member of Croatia's delegation to the Council of Europe and the Interparliamentary Union and served as ambassador in the Foreign Ministry, recipient of Croatian and Bulgarian decorations.
His grandson Stjepan is a sociology professor at Texas A&M and author of several books.
Work
He created over fifty monuments during his two years in Paris (1908–1910). The theme of the Battle of Kosovo particularly moved him, prompting one of his first great works, the Paris Kosovo Monument, and other works in bronze and stone. A lot of his early work revolved around such epic moments from Slavic history in an attempt to foster the pan-Slavic cause in his native country.
With the creation of the first Yugoslavia, his focus shifted to more mundane topics such as musical instruments or chapels. He particularly oriented himself towards religious items, mostly made of wood, under artistic influence from the Byzantine and Gothic architecture. The most renowned works from the early period are the Crucifix and Madonna; later he became more impressed by Michelangelo Buonarroti and created a large number of stone reliefs and portraits. The Croatian dinar featured Mestrovic's work History of the Croats.
His most famous monuments include:
Canadian Phalanx, a marble relief, 284 Wellington Street in Ottawa, Ontario
Gregory of Nin in Split
Josip Juraj Strossmayer in Zagreb
Gratitude to France in Belgrade
Monument to the Unknown Hero, Avala, Belgrade
Victor monument on Kalemegdan Fortress in Belgrade
Svetozar Miletic in Novi Sad
Nikola Tesla in Zagreb
History of Croats in the garden of Beli dvor in Belgrade, copy in the front of Zagreb University in Zagreb
Njegos mausoleum on Mount Lovcen in Montenegro
The Spring of Life in Zagreb
Domagoj's Archers in Zagreb (Mestrovic Foundation)
The Bowman and The Spearman in Chicago
Martin Kukucin in the Medical Garden, Bratislava, Slovakia
Ionel I. C. Bratianu in Bucharest, Romania (24 noiembrie 1937)
King Carol I in Bucharest, Romania (1939) - this monument was destroyed by communists after 1948
Relief of Cardinal Stepinac with Christ, Zagreb Cathedral
St. Jerome the Priest, Washington, D.C.
Galleries including his work include:
Ivan Mestrovic Gallery in Split, formed after his major donation in 1950, which includes 86 statues in marble, stone, bronze, wood and gypsum, 17 drawings, and also eight bronze statues in the open garden, 28 reliefs in wood in the kastelet and one stone crucifix
the Ivan Mestrovic Memorial Gallery created in 1973 in Vrpolje, his birthplace, with 35 works in bronze and plaster stone
the Snite Museum of Art at the University of Notre Dame holds many of his works. He resided at the University until his death where he was artist in residence.
the National Museum of Serbia holds sculptures and monuments (total 45 works) such as Milos Obilic, Kosovo girl, Srda Zlopogleda, Kraljevic Marko, Widow and
"Louisiana Arts and Science Museum (LASM)". Retrieved

20 May

2010.

,Baton Rouge has a large collection of sculpture and drawings.
Written works
"Stepinac — duhovni heroj [Stepinac - Spiritual Hero]". Hrvatska revija 6: 201–206. 1956.
Uspomene na politicke ljude i dogadaje. Buenos Aires: Hrvatska revija. 1961.
References
Ivan Mestrovic Wikipedia
(Text) CC BY-SA