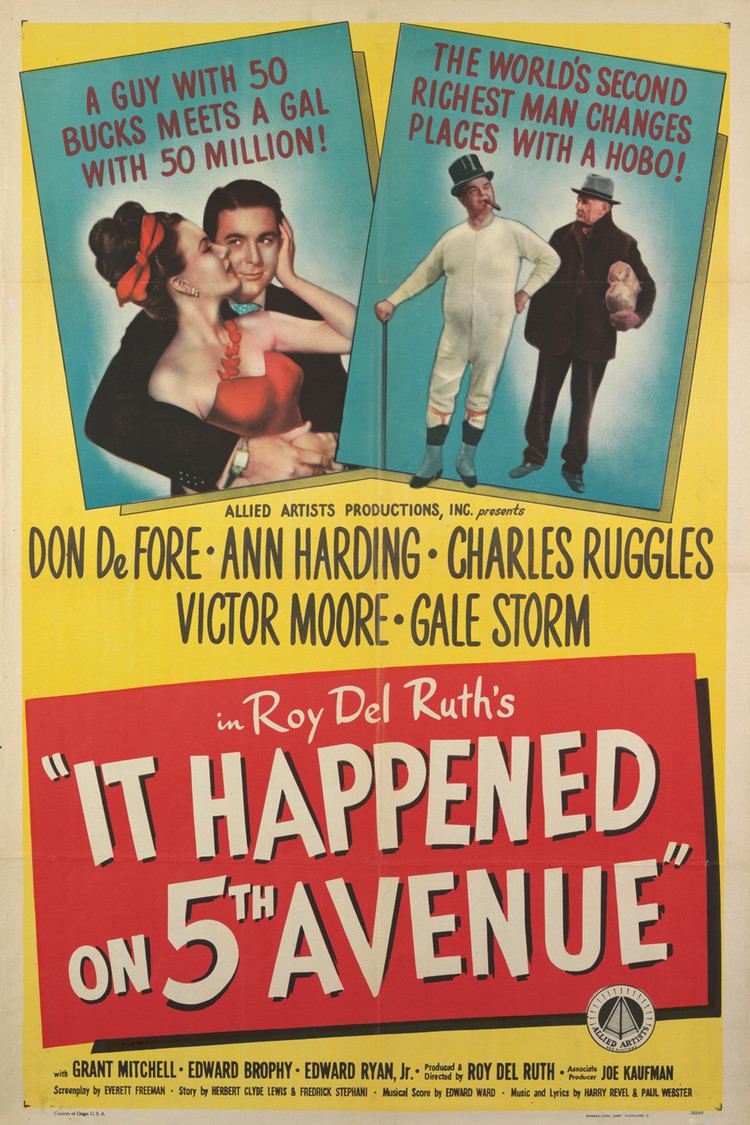 Aloysius T. McKeever (Victor Moore), a New York City hobo, makes his home in a seasonally boarded-up Fifth Avenue mansion, entering and exiting through a secluded utility manhole, while its owner, multi-millionaire ("the second richest man in the world") Michael J. O'Connor (Charles Ruggles), winters in the South. McKeever winds up taking in homeless ex-G.I. Jim Bullock (Don DeFore), who has been evicted from an apartment building O'Connor is tearing down for a new skyscraper, and runaway 18-year-old Trudy "Smith" (Gale Storm) who is actually O'Connor's daughter. Soon Jim invites war buddies Whitey (Alan Hale, Jr.), Hank (Edward Ryan) and their families to share the vast mansion while they seek permanent homes of their own.
Trudy falls in love with Jim, and when her father demands to meet him, convinces O'Connor to also take up residence, pretending to be the panhandler "Mike". She wants to win Jim's love without the temptation of her wealth. McKeever "allows" Mike to move in, but treats him as a servant. When Mike warns Trudy that he intends to have them all arrested for criminal trespass, she persuades her mother Mary (Ann Harding) to fly up from Florida and pretend to be the 11th interloper, a cook. Determined to derail the budding romance, Mike has one of his construction companies offer Jim a great job in Bolivia, but Jim turns it down to pursue his dream.
The ex-GIs have an idea to buy a former Army camp and convert its barracks into inexpensive family housing. Unbeknownst to either side, Mike and Jim get into a bidding war for the camp, which Mike wants for an air cargo terminal. In the meantime, Mike and Mary reconcile when she believes he has changed. All are celebrating Christmas Eve together, forgetting to hide as usual from the patrolmen who check the house every night, but the patrolmen agree to let the families stay until after the New Year. Jim reveals that he and his partners have lost the camp to Michael J. O'Connor, and when Mike later defends his business dealings to Mary, she tells him he has not changed after all.
His dream shattered, Jim takes the job offer in Bolivia. Mary and Trudy angrily tell Mike they are leaving for Florida the next day because of the way he has manipulated Jim. Mike spins a tale that he has arranged a meeting with O'Connor for Jim and his partners, who are dubious but accept. They are astounded to learn that Mike is actually Michael J. O'Connor. O'Connor transfers the camp to them on the condition that they never reveal his true identity to McKeever. That night, everyone shares a celebratory dinner before putting the house back "just the way we found it." They see the still-unaware McKeever off as he heads to the O'Connors' mansion in Virginia, and Mike tells Mary remind him to nail up the board in the back fence because next winter McKeever will be coming in through the front door.
Don DeFore as Jim Bullock
Ann Harding as Mary O'Connor
Victor Moore as Aloyisius T. McKeever
Charles Ruggles as Michael J. "Mike" O'Connor
Gale Storm as Trudy O'Connor
Grant Mitchell as Farrow
Edward Brophy as Patrolman Cecil Felton
Alan Hale, Jr. as Whitey Temple
Dorothea Kent as Margie Temple
Edward Ryan as Hank
Cathy Carter as Alice
John Hamilton as Harper (uncredited)
Charles Lane as Landlord (uncredited)
It marked the debut of Allied Artists Pictures, the higher-budget division of Monogram Pictures, formerly a low-budget film studio. The story was originally optioned by Liberty Films in 1945 for director Frank Capra (who decided to direct It's a Wonderful Life instead); later that year producer-director Roy Del Ruth acquired the story. The casting of Ann Harding and Victor Moore was announced in June 1946, Don DeFore and Gale Storm in July, and filming proceeded from August 5 to mid-October 1946. The production schedule and Christmastime climax of the story suggest a Christmas release was originally planned, but for whatever reason, the movie's release was delayed until Easter 1947.
The screenplay was adapted for a radio version on Lux Radio Theater in May 1947, with Don DeFore, Charles Ruggles, Victor Moore, and Gale Storm repeating their roles; and a live television production for Lux Video Theatre in 1957, with Ernest Truex, Leon Ames, Diane Jergens, and William Campbell.
Among the four songs in the movie, "That's What Christmas Means to Me" was not the Varnick-Acquaviva minor hit for Eddie Fisher but another song written by Harry Revel which is hard to find anywhere these days. There are at least three songs with that title, one by Stevie Wonder is a perky hit – but again, not the Eddie Fisher song of the 50s. Also, Betty Jane Rhodes recorded "You're Everywhere" in 1947.
The Washington Post thought the celebrity endorsements (by Frank Capra, Orson Welles, Al Jolson, Constance Bennett and others) used in the movie's advertising to be "high-flown" and "Hollywoodesque"; instead, the movie was a "mild, pleasant little film which probably will find many admirers."
Time magazine said,
Most plausible explanations for the picture's success are: 1) the presence of Victor Moore, past master of creaky charm and pathos; 2) a show as generally oldfashioned, in a harmless way, as a 1910 mail-order play for amateurs; 3) the fact that now, as in 1910, a producer cannot go wrong with a mass audience if he serves up a whiff of comedy and a whirlwind of hokum.
Bosley Crowther in The New York Times praised its "geniality and humor" and the "charming performance" by Victor Moore. The New Republic called it "childish stuff" and Victor Moore "too cute for words".
In 1948, the film was nominated for the Academy Award for Best Original Story. It lost to another Christmas-themed story, Miracle on 34th Street, written by Valentine Davies.
It Happened on Fifth Avenue was part of a package of 49 Monogram and Allied Artists features from the late 1940s and early 1950s that were first licensed for television broadcast in 1954.
After 1990, this film essentially disappeared from broadcast and retail availability. Despite an Academy Award nomination, a cult film following through a dedicated fan website, and requests to Turner Classic Movies and American Movie Classics to show the film, it was not shown on American television for almost 20 years. It finally aired on Turner Classic Movies in 2009 and appears frequently during the holiday season in 2014, 2015 and 2016. Hallmark Movie Channel also broadcast the film in 2014.
On November 11, 2008, Warner Home Video released the film on DVD, and it is now available through most major DVD retailers and distributors.