Name

Israel Singer







Israel Singer (born 29 July 1942 in New York City) was secretary general of the World Jewish Congress (WJC) from 1986 to 2001.
Contents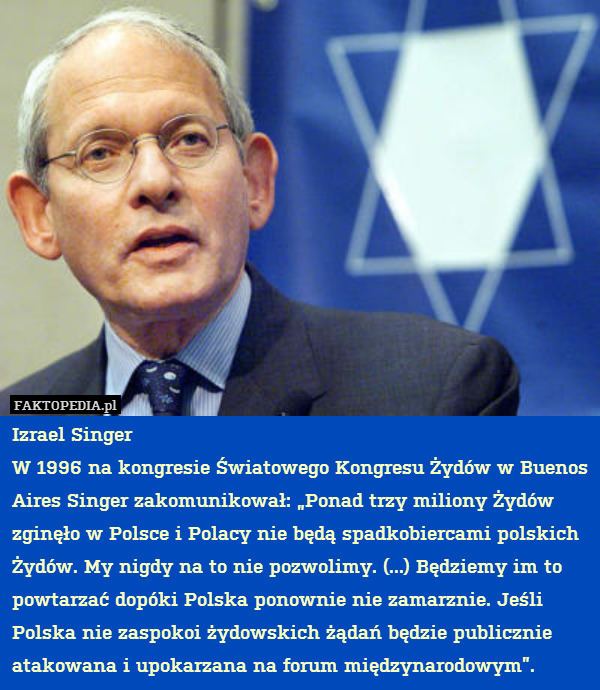 Life
Singer grew up in Brooklyn, the son of Austrian refugees. He taught political science and political theories in New York and at the Bar-Ilan University in Israel.
In 1987, WJC leaders Israel Singer and Elan Steinberg warned, referring to Kurt Waldheim, "... Austrians that if they elected a former Nazi as president they would experience six difficult years."
In 1996, the Reuters news agency reported that at a meeting of the WJC congress in Buenos Aires, Singer said "more than three million Jews died in Poland and the Polish people are not going to be the heirs of the Polish Jews. We are never going to allow this.... They're gonna hear from us until Poland freezes over again. If Poland does not satisfy Jewish claims it will be publicly attacked and humiliated."
Singer has been an activist and advocate on behalf of the victims of the Holocaust. As chairman of the World Jewish Restitution Organization (WJRO), he managed efforts to compensate Holocaust survivors monetarily. He also negotiated with Germany and Austria about annuities and compensation for survivors.
In October 2001, he was appointed chairman of the Governing Board of the World Jewish Congress (WJC). In 2002 he was elected president of the Conference on Jewish Material Claims against Germany, the "Claims Conference". In June 2002 he was appointed chairman of the International Jewish Committee for Interreligious Consultations (IJCIC).
Israel Singer is a co-founder of Yahad-In Unum, an organization founded by priest Patrick Desbois dedicated to research on the "Holocaust by bullets".
On 14 March 2007 Singer was forced to resign from most official functions by the President of World Jewish Congress, Edgar M. Bronfman as a result of alleged misappropriation of financial resources.
Books
Norman G. Finkelstein (2003). The Holocaust Industry: Reflections on the Exploitation of Jewish Suffering. Verso. ISBN 978-1859844885.
Levin, Itamar; Natasha Dornberg (translator); forewords by Edgar Bronfman, Israel Singer, and Avraham Burg (1999). The last deposit: Swiss banks and Holocaust victims' accounts. Westport, Conn.: Praeger. ISBN 978-0275965204.

CS1 maint: Multiple names: authors list (link)
Gregg J. Rickman (1999). Swiss Banks and Jewish Souls. Transaction Publishers. ISBN 978-1560004264.
References
Israel Singer Wikipedia
(Text) CC BY-SA