Years active

1994–present






Born

July 22, 1967 (age 53) (

1967-07-22

)

Spouse

Denny Wilson (m. 1993–2012)

Movies




Similar People

Judy Kuhn,

Pocahontas

, Linda Hunt, Donal Gibson, Mike Gabriel
Ebc broadcast native american concert rally with movie actress irene bedard
Irene Bedard (born July 22, 1967) is a Native American actress who has played many Native American characters in a variety of films. She is perhaps best known for her voice role as the title character in the 1995 animated film Pocahontas.
Contents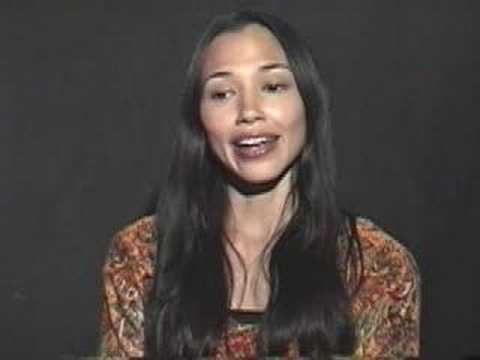 In 2012, she started "Sleeping Lady Films" and "Waking Giants Productions" with Canadian businessman Thom Denomme. The production companies, based out of Anchorage and Santa Fe, New Mexico, are dedicated to bringing stories that are both positive and inspirational from Indian Country to the world.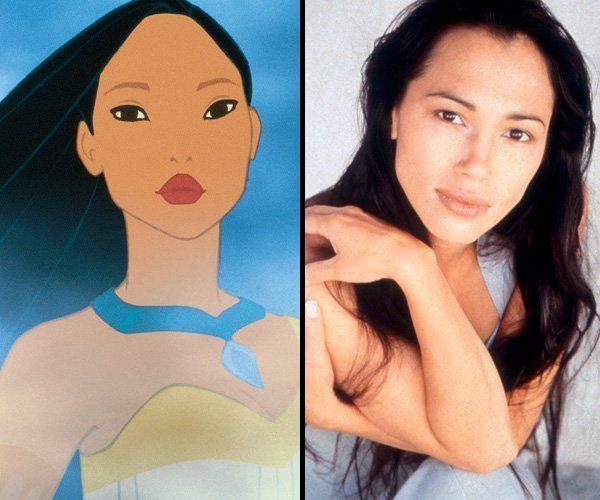 entertainment irene bedard award winning native actress and producer
Early life and career
Bedard was born in Anchorage, Alaska, and is of Inupiat, Yupik, Inuit, Cree and Métis ancestry. Her first role was as Mary Crow Dog in the television production, Lakota Woman: Siege at Wounded Knee, which depicted the 1970s standoff between police and Native Americans, many of the Pine Ridge Reservation, at Wounded Knee, South Dakota. She is probably best known as the voice of the eponymous heroine in the Disney animated film Pocahontas and its direct-to-video sequel Pocahontas II: Journey to a New World. Bedard was also the physical model for the character. She appeared in a different take of the story in Terence Malick's 2005 film The New World, as Pocahontas's mother, Nonoma Winanuske Matatiske. Bedard attended The University of the Arts in Philadelphia, Pennsylvania where she studied Musical Theatre. In 2005, she was cast in the television mini-series Into the West, portraying the half-Lakota, half-white adult Margaret "Light Shines" Wheeler.
Irene Bedard is known for bringing a powerful emotional presence to her characters. She was chosen in 1995 as one of People magazine's '50 Most Beautiful People'.
Personal life
Bedard was married to singer Deni Wilson in 1993. They had a son, Quinn Wilson. In November 2010, it was revealed that Bedard was being sexually and physically abused by Wilson throughout their marriage, taking her earnings and forbidding her to work in her career field, unless he specifically approved the project, as said by her niece Alia Davis. The couple eventually divorced in 2012.
Filmography
Actress
-
Lily Sacred Journey (pre-production)
as
Margaret
-
The Wind of Heaven (pre-production)
as
Miranda
-
The Green Veil (TV Mini Series) (post-production)
as
Glennie Sutton
- Episode #1.4 - Glennie Sutton
- Episode #1.3 - Glennie Sutton
- Episode #1.2 - Glennie Sutton
- Episode #1.1 - Glennie Sutton
-
The Heart Stays (post-production)
as
Aunt Celia
2024
Avatar: The Last Airbender (TV Series) (post-production)
as
Yagoda
-
The Redeemer (completed)
as
Aponi Nelson
2022
Alaska Daily (TV Series)
as
Sylvie Nanmac
- Most Reckless Thing I've Ever Done (2023) - Sylvie Nanmac
- Rush to Judgment (2023) - Sylvie Nanmac
- Tell a Reporter Not to Do Something and Suddenly It's a Party (2023) - Sylvie Nanmac
- It's Not Personal (2022) - Sylvie Nanmac
- A Place We Came Together (2022) - Sylvie Nanmac
- Pilot (2022) - Sylvie Nanmac
2023
On Sacred Ground
as
Mary Singing Crow
2022
Mending the Line
as
Mrs. Redcloud
2022
How to Blow Up a Pipeline
as
Joanna
2022
The Harbinger
as
Floating Hawk
2020
The Stand (TV Mini Series)
as
Ray Brentner
- The Stand (2021) - Ray Brentner
- The Walk (2021) - Ray Brentner
- The Vigil (2021) - Ray Brentner
- Fear and Loathing in New Vegas (2021) - Ray Brentner
- The House of the Dead (2021) - Ray Brentner
- Blank Page (2020) - Ray Brentner
- Pocket Savior (2020) - Ray Brentner
2021
Cookie Run: Kingdom (Video Game)
as
Pocahontas Cookie (English version, voice)
2020
FBI: Most Wanted (TV Series)
as
Marilou Skye
- Rampage (2020) - Marilou Skye
- Ride or Die (2020) - Marilou Skye
- Ironbound (2020) - Marilou Skye
- Silkworm (2020) - Marilou Skye
- Predators (2020) - Marilou Skye
- Ghosts (2020) - Marilou Skye
- Invisible (2020) - Marilou Skye
- Caesar (2020) - Marilou Skye
2018
Ralph Breaks the Internet
as
Pocahontas (voice)
2018
Westworld (TV Series)
as
Wichapi
- The Passenger (2018) - Wichapi
- Kiksuya (2018) - Wichapi
2017
Scalped (TV Movie)
as
Gina Bad Horse
2017
Jay-Z feat. Beyoncé: Family Feud (Music Video short)
as
Irene
2017
Spreading Darkness
as
Marci Gippolin
2017
The Mist (TV Series)
as
Kimi Lucero
- The Tenth Meal (2017) - Kimi Lucero
- The Waking Dream (2017) - Kimi Lucero
- The Law of Nature (2017) - Kimi Lucero
- Over the River and Through the Woods (2017) - Kimi Lucero
- The Devil You Know (2017) - Kimi Lucero
- Pequod (2017) - Kimi Lucero
- Show and Tell (2017) - Kimi Lucero
- Withdrawal (2017) - Kimi Lucero
- Pilot (2017) - Kimi Lucero
2012
Longmire (TV Series)
as
May Stillwater
- The Calling Back (2015) - May Stillwater
- Miss Cheyenne (2014) - May Stillwater
- Pilot (2012) - May Stillwater
2015
Songs My Brothers Taught Me
as
Lisa Winters
2014
Ron and Laura Take Back America
as
Mrs. Alma
2012
Young Justice (TV Series)
as
Shelly Longshadow
- Beneath (2012) - Shelly Longshadow (voice)
2012
Making the Magic: Disneyland Paris - 20th Anniversary (TV Movie)
as
Pocahontas (voice)
2012
Sorcerers of the Magic Kingdom (Video Game)
as
Pocahontas (voice)
2011
The Tree of Life
as
Messenger
2008
The Spectacular Spider-Man (TV Series)
as
Jean DeWolff
- Probable Cause (2009) - Jean DeWolff (voice)
- Group Therapy (2008) - Jean DeWolff (voice)
- The Invisible Hand (2008) - Jean DeWolff (voice)
- Survival of the Fittest (2008) - Jean DeWolff (voice)
2008
Turok: Son of Stone (Video)
as
Catori (voice)
2007
The Red Chalk (Short)
as
Eve
2007
Tortilla Heaven
as
Liberata
2005
The New World
as
Pocahontas' Mother
2005
Love's Long Journey (TV Movie)
as
Miriam Red Hawk McClain
2005
Miracle at Sage Creek
as
Sunny
2005
Into the West (TV Mini Series)
as
Margaret Light Shines Wheeler
- Ghost Dance (2005) - Margaret Light Shines Wheeler
- Casualties of War (2005) - Margaret Light Shines Wheeler
- Hell on Wheels (2005) - Margaret Light Shines Wheeler
- Dreams and Schemes (2005) - Margaret Light Shines Wheeler
2005
Higglytown Heroes (TV Series)
as
Forest Ranger Hero
- Fran Takes a Hike/Mystery at Kip's House (2005) - Forest Ranger Hero (voice)
2005
Planting Melvin
as
Billie Lawrence
2004
What's New, Scooby-Doo? (TV Series)
as
Cody Long
- New Mexico, Old Monster (2004) - Cody Long (voice)
2004
Edge of America (TV Movie)
as
Annie Shorty
2001
The Agency (TV Series)
as
Diah Siagian
- The Year of Living Dangerously (2001) - Diah Siagian
2001
The Outer Limits (TV Series)
as
Callie Whitehorse Landau
- In the Blood (2001) - Callie Whitehorse Landau
2001
House of Mouse (TV Series)
as
Pocahontas
- Thanks to Minnie (2001) - Pocahontas (voice, uncredited)
2001
Your Guardian
as
Katherine 'Kat' Damon
2000
The lost child (TV Movie)
as
Grace
2000
Blood Money (TV Movie)
as
Naomi Lister
2000
Roughnecks: The Starship Troopers Chronicles (TV Series)
as
Gen. Miriam Redwing
- Requiem (2000) - Gen. Miriam Redwing (voice)
- The Court-Martial of Lt. Razak (Clip Show #4) (2000) - Gen. Miriam Redwing (voice)
- Metamorphosis (2000) - Gen. Miriam Redwing (voice)
- Marooned (2000) - Gen. Miriam Redwing (voice)
1999
Pepper Ann (TV Series)
as
Carol
- Dances with Ignorance/Girl Power (1999) - Carol (voice)
1998
6/29 (Short)
as
Laura Cooper
1998
Pocahontas 2: Journey to a New World (1998) (V) (Video)
as
Pocahontas (voice)
1998
Naturally Native
as
Tanya Lewis
1998
Two for Texas (TV Movie)
as
Sana
1998
Smoke Signals
as
Suzy Song
1997
Song of Hiawatha
as
Minnehaha
1997
True Women (TV Mini Series)
as
Tobe
1996
Adventures from the Book of Virtues (TV Series)
as
The Chief's Daughter / Morning Light / Sharp Eyes
- Perseverance (1997) - The Chief's Daughter (voice)
- Honesty (1996) - Morning Light / Sharp Eyes (voice)
1997
Profiler (TV Series)
as
Maddy Duvall
- The Sorcerer's Apprentice (1997) - Maddy Duvall
1996
Pocahontas (Video Game)
as
Pocahontas (voice)
1996
Navajo Blues
as
Audrey Wyako
1996
The Real Adventures of Jonny Quest (TV Series)
as
Alice Starseer / Old Indian Woman / Young Girl
- Trouble on the Colorado (1996) - Old Indian Woman / Alice Starseer (voice)
- Return of the Anasazi (1996) - Alice Starseer / Young Girl (voice)
1996
Crazy Horse (TV Movie)
as
Black Buffalo Woman
1996
Grand Avenue (TV Movie)
as
Reyna
1995
Disney's Animated Storybook: Pocahontas (Video Game)
as
Pocahontas (voice)
1995
Pocahontas
as
Pocahontas (voice)
1995
The Marshal (TV Series)
as
Melissa Carey
- Twoslip (1995) - Melissa Carey
1994
Lakota Woman: Siege at Wounded Knee (TV Movie)
as
Mary Crow Dog
1994
Squanto: A Warrior's Tale
as
Nakooma
Producer
2022
The Harbinger (executive producer)
2015
Songs My Brothers Taught Me (co-executive producer)
2014
Ron and Laura Take Back America (co-producer)
Thanks
2012
Seattle's Loch Ness: The Lake Washington Sea Monster (special thanks)
Self
2021
Too Opinionated (Podcast Series)
as
Self
- Too Opinionated Interview: Irene Bedard (2021) - Self
2021
An Apocalyptic Epic - Adapting the Stand (Video documentary short)
as
Self
2020
Soundtrack of Our Lives: A Celebration for the Film & TV Music Community (TV Special)
as
Self
2013
From the Mouths of Babes (TV Series documentary)
as
Self
- Most Popular Answers on Love (2016) - Self
- Voice Actors on Self (2014) - Self
- Voice Actors on Life (2014) - Self
- Voice Actors on Love (2013) - Self
2014
A Thousand Voices (Documentary)
as
Narrator (voice)
2013
Bridgewalkers (Documentary)(voice)
2010
American Indian Actors (Documentary short)
as
Self
2009
Spider-Man: Re-Animated (Video documentary short)
as
Self
2007
The Tyra Banks Show (TV Series)
as
Self - Guest
- Focus on Race: Are Celebrities Immune? (2007) - Self - Guest
2005
The Making of 'Miracle at Sage Creek' (Video)
as
Self
2005
Remembered Earth: New Mexico's High Desert (TV Movie documentary)
as
Narrator
1999
Politically Incorrect (TV Series)
as
Self
- Episode dated 25 November 1999 (1999) - Self
1997
Big Guns Talk: The Story of the Western (TV Movie documentary)
as
Self
1995
The Making of Pocahontas: A Legend Comes to Life (TV Movie documentary)
as
Self - Host
1995
The Tonight Show with Jay Leno (TV Series)
as
Self
- Episode #3.370 (1995) - Self
- Episode #3.362 (1995) - Self
Archive Footage
2008
The Spectacular Spider-Man: Attack of the Lizard (Video)
as
Jean DeWolff
2003
Images of Indians: How Hollywood Stereotyped the Native American (TV Movie documentary)
as
Self / Suzy Song (from Smoke Signals (1998)) (uncredited)
References
Irene Bedard Wikipedia
(Text) CC BY-SA