Occupation

Author




Nationality

Indian





Name

Indra Rajan




Role

Author







Genre

Mystery, Ghost story, Supernatural Thrillers


Movies

Sringaram, Anandhapurathu Veedu


Similar People

Naga, Y G Mahendra, Lalgudi Jayaraman, Madhu Ambat, Saroj Khan




Born

13 November 1958 (age 62) Salem, Tamil Nadu, India
Padithathil pidithathu indra soundar rajan interview tamil author march 15
Indra Soundar Rajan (Tamil: இந்திரா சௌந்தர்ராஜன், born. 13 November 1958) is the pen name of P. Soundar Rajan, a well-known Tamil author of short stories, novels, television serials, and screenplays. He lives in Madurai.
Contents
He is something of an expert on South Indian Hindu traditions and mythological lore.He was employed in TVS Group of Companies before becoming a full-time writer. His stories typically deal with cases of supernatural occurrence, divine intervention, reincarnation, and ghosts, and are often based on or inspired by true stories reported from various locales around the state of Tamil Nadu.
Two or three of his novels are published every month in publications such as Crime Story and Today Crime News. He has done more than 300 episodes in Podhigai TV program named"Kanchiyin Karunai", which tells the greatness of Shri Chandrasekhara Saraswathi Swamigal, the pontiff of Kanchipuram Shankara mutt.
Indra soundar rajan at siva ragasiyam serial press meet
Fiction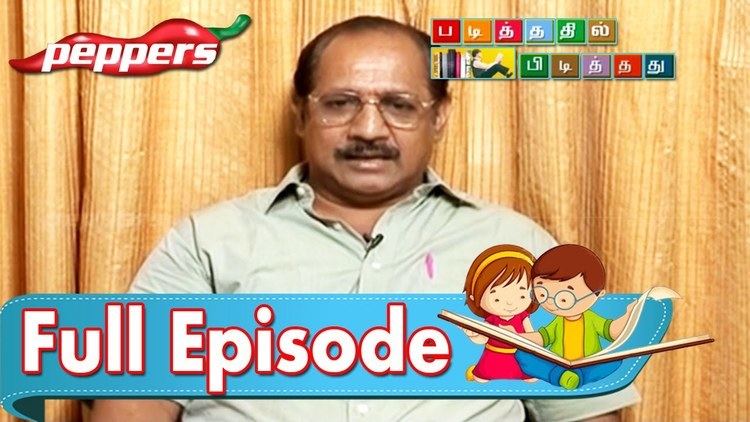 aval oru savithri
sri puram part -1
`` ABAYA MALLI
Enge en kannan
Kallukkul Pugundha Uyir
Neelakkal Modiram
Sornajaalam
Unnai Kaivitamaatten
Nandi Ragasiyam
Sadhiyai Sandippom"
Thevarkoyil Roja
Maya Vizhigal
Mayamaaga Pogirargal
`` Muthu pandhal
Thulli Varuguthu
Naagapansami
Kan Simittum Ratthinakkal
Thangakkaatu
Kaatru Kaatru Uyir
Thoda Thoda Thangam
Aindhu Vazhi Moondru Vaasal
Ush!
Mahadeva Ragasiyam
Sutri Sutri Varuven
Kattray Varuven
Kottaippuratthu Veedu
Ragaisyamaai Oru Ragasiyam
Sivajayam
Thitti Vaasal Marmam
Vairabommai
Kaadhal Kuttavaali
Krishna Thandhiram
Penmanam
Pen Ulavaali
Jeeva En Jeeva
Sorna Regai
Vittu Vidu Karuppa (Marmadesam - Vidaathu Karuppu)
Iyandira Paravai
Vaanathu Manidhargal
Rudra Veenai, Part 1, 2, 3 & 4
Vikrama Vikrama, Part 1 & 2
Kannigal Ezhupaer
Ayiram Arivaal Kottai
Thedathe Tholaindu Poevaai 1 & 2
Sivamayam, Part 1 & 12
Mandira Viral
Naan Ramasheshan Vanthuruken
Olivatharku Idamillai
Athu Mattum Ragasiyam
Pallavan Pandiyan Baskaran
Melae Uyarae Uchiyilae, Part 1 & 2
naaga padai
mayamai sillar
maya vanam
Ranga neadhi
APPAVAIN ATHMA
SITHA RAGASIAYAM
KATRODU ORU YUTHAM
Naaga PADAI
Naaga vanam(YET TO BE RELEASED)
asura jhathagam
Sivaragasiyam
Sakthi Raajyam
Sakthi
Television Serials
Yen Peyar Ranganayaki
Sivamayam
Rudra Veenai
Vidathu Karuppu
Marmadesam
Ragasiyam: This Serial is being telecast in Vasanth TV on Sundays from 2:00 PM to 4:30 PM (IST). It covers 5 episodes. Ad-breaks are after 25 minutes. It's nice to watch all the episodes for a week in a single day. 11th Episode had completed on 3rd Jan '16.
Vidathu Karappu(Karuppu Never Spare): Vasanth TV telecasts this serial from 30-Nov-15 [Monday to Friday / 7:30 PM]
Sorna Regai(Golden Palmlines)
Iyanthira Paravai
Vaanathu Manitharkal
Maayavettai
Sorna Regai
Ethuvum nadhakum (Vaanathu Manitharghal novel)
Yamirukka Bayamen (Vijay TV)
"Adhu Mattum Ragasiyam",Sun TV
Atthi pookal suntv
Rudhram
Jaya TV
Pugunda Veedu Zee Tamil TV
Nagamma
Sun TV
"sivaragasiyam",zee Tamil
"Ganga",Sun TV
Screenplays
Sringaram, Dance of Love
anandha purathu veedu,Ghost house
Books
Most of his books can be bought online from the below stores:
Udumalai
New Horizon Media
Chennai Shopping
We Can Shopping
Namma Books
Marina Books
Poompugar
References
Indra Soundar Rajan Wikipedia
(Text) CC BY-SA