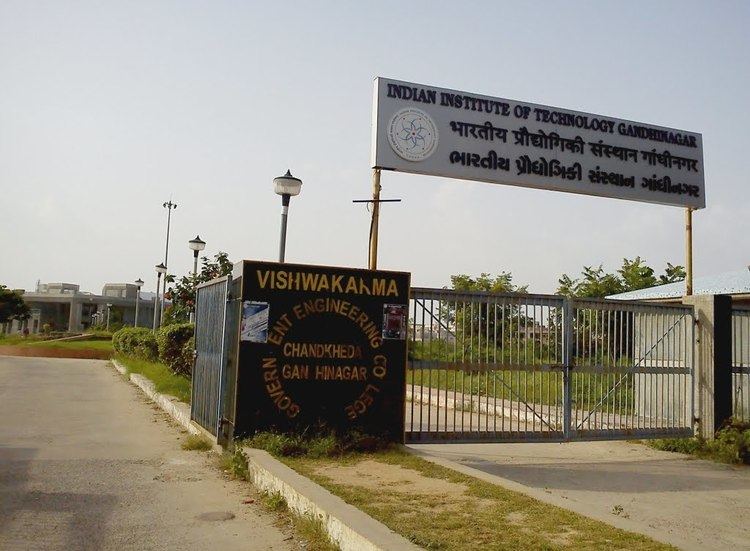 IIT Gandhinagar is one of the eight new Indian Institutes of Technology (IITs) announced by the Ministry of Human Resource Development in 2008. The Institute began operating in a temporary campus at Vishwakarma Government Engineering College, Chandkheda, mentored by Indian Institute of Technology Bombay. The first batch of students were admitted in Chemical Engineering, Mechanical Engineering and Electrical Engineering.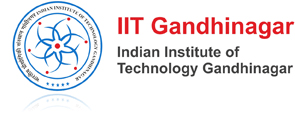 IITGN was included in The Institutes of Technology (Amendment) Act, 2011. The Act was passed in the Lok Sabha on 24 March 2011 and by the Rajya Sabha on 30 April 2012.
The permanent campus of IIT Gandhinagar is on the banks of the Sabarmati River near Palaj village. In 2011, in his inaugural speech at the Amalthea technology summit, then Gujarat Chief Minister Narendra Modi spoke of the land for the new permanent campus, saying, "[the] [s]tate government has decided to give [...] land on 99 year lease with a token amount of just one rupee for setting up a campus of IIT-Gandhinagar." The institute took possession of over 400 acres of land in August 2012, and classes and other activities on the new campus began in July 2015. The institute functions as a fully residential campus and will be constructed in phases. The campus runs on solar power and is envisioned to be a pollution-free, green zone.
The institute is managed by a Board of Governors. The board comprises academicians, researchers, industrial leaders, and administrators. Dr. Raghunath Anant Mashelkar was the first Chairman of the Board of Governors of IITGN. Dr. Baldev Raj is the current chairman.
The Senate is a statutory body responsible for all the academic matters of the institute, including monitoring and making improvements in course structure and curriculum. The current Senate of the IIT GN was constituted on April 5, 2010. It hosts members of faculty, and advisers from academia and industry. Prior to its constitution, the functions of the Senate were being performed by an academic council comprising the heads of departments at IIT Bombay, the mentor institute.
Key officials of the institute are the Director, assisted by the deans of Academic Affairs, Student Affairs, Faculty Affairs, Research and Development, and the coordinators of individual disciplines. Presently Prof. Sudhir Kumar Jain is heading the institution as the Director. He is on deputation from IIT Kanpur. Prof Jain is one of India's leading earthquake engineers. He set up the National Information Centre of Earthquake Engineering (NICEE) at IITK and developed the National Programme on Earthquake Engineering Education (NPEEE), supported by the Government of India. He is president-elect of the International Association for Earthquake Engineering.
IIT Gandhinagar offers Bachelor of Technology programs in Chemical Engineering, Civil Engineering, Computer Science and Engineering, Mechanical Engineering, Electrical Engineering, and Materials Science and Engineering. Admission to these programs is through taking the Indian Institute of Technology Joint Entrance Examination (JEE). The institute also offers Masters and Ph.D. studies in various fields in engineering, sciences and humanities, and social sciences. Admissions to these graduate programmes are through written test and/or interviews.
B.Tech. – Chemical-, Civil-, Electrical-, Mechanical Engineering, Materials Science and Engineering, and Computer Science and Engineering
M.Tech. – Chemical-, Civil-, Electrical-, Mechanical Engineering, and Materials Science and Engineering.
M.Sc. – Chemistry, Cognitive Science, Mathematics, Physics
M.A. – Society and Culture
Ph.D. – Engineering (Chemical, Civil, Computer Science, Electrical, Mechanical, and Materials Science and Engineering), Sciences (Chemistry, Physics, Mathematics, Earth Sciences) and Humanities & Social Sciences (Cognitive Science, English, Philosophy, Sociology, History, Language & Literature, Political Science, Psychology, Social Epidemiology and Sociology, and other disciplines).
In 2011, 117 undergraduate students were admitted to the 2012 batch, and 134 students were admitted to the 2013 batch. Admission to IIT Gandhinagar's graduate programs are even more competitive than the undergraduate programs, with a selectivity ratio 0f 0.5%.
In July 2011, IIT Gandhinagar instituted a five-week immersion Foundation Program for all new undergraduate students. The program, inaugurated by Mr. N. R. Narayana Murthy on 19 July 2011, is meant to foster creativity, ethics, communication skills, teamwork, social engagement, and physical fitness. Students take almost 20 percent of their coursework in the humanities and the social sciences, as well as compulsory courses in design and the life sciences. In April 2013, IITGN's undergraduate curriculum was awarded the World Education Award 2013 for innovations in higher education, by the World Education Summit. Nearly a third of all IIT Gandhinagar undergraduate students receive study abroad opportunities during their time at the Institute.
On 22 July 2012, the first convocation] of IIT Gandhinagar was held, within the temporary campus premises. 86 students graduated with Bachelor of Technology degrees in Chemical, Electrical, and Mechanical Engineering. The Chief guest for the occasion was Shri N. R. Narayana Murthy, Chief Mentor and Chairman Emeritus of Infosys Ltd. Mr. Murthy spoke about patriotism in his Convocation address. Dr. Mashelkar, Chairman of the Board of Governors, and Dr. Sudhir Jain, Director, IIT Gandhinagar, also addressed the graduating students. The President's gold medal, outstanding researcher's medal, and other performance awards were handed out by Dr. Mashelkar. The degrees of Bachelor of Technology to the graduating batch were handed out by Dr. Jain. Swetava Ganguli received the first President's Gold Medal of IIT Gandhinagar. The convocation attire for IITGN was designed by the National Institute of Design (NID).
India-Ki-Khoj (Discovering India) is an intensive program fostering the understanding and appreciation of India through lectures and field visits. Designed and led by members of the Humanities and Social Sciences Program, the ten-day program brings together IITGN students and visiting students from overseas. The first India-Ki-Khoj was held in December 2011 and hosted students from Caltech. India-Ki-Khoj has been designed to help overseas students understand how a tradition-bound and diverse country such as India has survived as a nation, and understand the many layers of that diversity. Through a combination of academic lectures and field-visits, the program takes the students through India of the past, present, and future, helping them relate India's ancient traditions of philosophy, science and technology to a present-day India, and helping to identify continuities as well as changes that India has made through the centuries. The programs includes discussions of modern India's economic trends, culture and history, poetry and films, caste and community structures, and enables participants to "appreciate a country that eludes easy definitions".
Over 40 students from various institutes learned how to contribute to global health and development at IIT Gandhinagar in a month-long event called Summer Institute on Global Health and Development, which concluded on June 12, 2015. The event was jointly organised by IITGN and the University of Saskatchewan, Canada, with the support of Gujarat Alkalies and Chemicals Limited (GACL).
IIT Gandhinagar is ranked 8th by the National Institutional Ranking Framework, published by the Ministry of Human Resource Development in April 2016.
In 2011, IIT Gandhinagar and the Physical Research Laboratory signed a Memorandum of Understanding (MoU) that ensures research collaborations and exchanges between the two institutions at the level of advanced Ph.D. programs in theoretical physics, astro-physics, and atmospheric sciences. The collaboration facilitates exchange of research ideas between Ph.D. students and the faculties of both institutions.
NTT Facilities, Japan, and Gujarat Energy Development Agency (GEDA), Gandhinagar, have each provided a 10 kW roof-top solar photovoltaic (PV) system to the Institute. The system provided by NTT Facilities consists of sixty-four thin-film modules (rated 150W) made by Solar Frontier, Japan, while the system sponsored by GEDA consists of forty-four multicrystalline silicon modules (rated 230 W) produced by Jain Irrigation Systems, India. Each PV system is expected to generate about 15000 kWh of electricity every year and reduce total CO2 emissions by about 28 tonnes. These systems have already started to reduce the energy bills of the Institute and are being used for research in collaboration with Underwriters Laboratories.
Sakar is an initiative by the students of IIT Gandhinagar to promote interest in maths and science among school girls in classes 6 through 9. It is an effort to remove the fear of these subjects from their minds, by simplifying concepts and presenting them in a way that encourages everyone to participate and develop innovative methods to understand troublesome areas of the subjects. Sakar is meant not to force maths or science on the students, but to raise them to a level where they take up subjects conscientiously, based upon their interests and not reject them merely out of fear. It is to spark their inquisitive minds with the true magic of maths and science and to give them the courage to delve deeper.
The IITGN student team conducts weekend sessions on the school premises on Saturdays and in the institute on Sundays. A typical session has a beginning activity that triggers the thought process through a puzzle, a math trick, or interesting videos. Then the team members present maths and science topics in the form of activities, stories, or real life examples, the goal being to relate the topics to their daily lives, and rise above the usual learning methods that involve cramming without understanding. The students find interesting the stories of the periodic table, demonstrations of science concepts through small experiment, the live demos of the calculation of simple and compound interest, examples of ratios and proportions taken from prices at malls, and making pyramids, cones, cylinders and learning their areas and volumes, etc. Regular quizzes, presentations, and competitions with handsome prizes help in keeping the spirits of the students high all throughout the sessions.
The project has completed phase I at Sakar English Medium School with over 100 sessions in the last two years, and the plan now is to extend the activities to other nearby schools.
Nyasa is an initiative to promote the welfare of campus construction workers and their families, begun by the IITGN community in 2011. On Republic Day (January 26), the Nyasa team distributed more than 100 woolen winter clothes to children and organised a community lunch for 400 construction workers and their families. Students, staff, and faculty now also organize weekly educational engagement sessions for children ranging from 3–10 years of age. The activities involve coloring, playing with building blocks, watching interactive and educational plays, and flying kites. During the session, food, such as fruit and dairy, which is often missing from the workers' diet, is provided.
Also in 2011, a clothes' drive, for donation to construction workers, was started, in conjunction with Service Day (May 7). Nyasa intends to expand its activities into literacy programs, and compilation of oral histories of these workers. Nyasa currently runs three schools for the children of construction workers.
In April 2014, IIT Gandhinagar's construction workers welfare programs won the HUDCO Award for "Best Practices to Improve the Living Environment 2013-14".
Amalthea is the annual technical summit of IIT Gandhinagar. Amalthea encompasses 4 activities: Conclave, Symposium, Exhibition, and Events. Meant to bridge the gap between academia and industry the Conclave hosts talks by speakers from the corporate world, who share their knowledge and experience. The Symposium is a place to share information on academic research and technological advances. The Exhibition showcases technology and products to the interested public. Various technical and non-technical Events are organised. The spectrum of events has changed every year, but have included quizzes and competitions with prize money awarded.
In 2010, "Amalthea 2010" , in Amalthea's foundation year, had "Non-Conventional Energy, its importance and scope" as its theme, and hosted a simple Conclave where lectures focused on the energy crisis.
In 2011, for "Amalthea '11", the theme was "Infrastructure in India: Present Scenario and Future Scope". The summit was inaugurated by the Chief Minister of Gujarat Narendra Modi. There were presentations of infrastructure projects such as the One Laptop Per Child Project, Bandra-Worli Sea Link, T-3 terminal at IGI Airport, New Delhi, etc., by their respective firms. For the new Exhibition section, exhibitors included iNDEXTb, L&T, Ricoh Innovations, DRDO. A new, technical Events section for students visiting Amalthea was organised, events included making a task-specific robot and a portable water purifier. The 2-day event was concluded with a discussion on the topic "Gujarat Growth Story", among a panel of industrialists, academics, and government officials.
In 2012, an international safety conference was held as part of "Amalthea '12", which along with other affairs was a prelude to Vibrant Gujarat 2013, a biennial investors' summit held by the government of Gujarat. So, there were two themes, "automobiles" and "safety". Along with the Conclave on autos, Amalthea '12 included the International Conference on Safety, ICS 2012. The summit was inaugurated by Vinnie Mehra, Executive Director, ACMAI, and Maheshwar Sahu, of the Industries and Mines Department, Government of Gujarat. The Exhibition featured Design Expo whose major exhibitors included Tata Nano, AUDI, DC Design, Avanti, Gift City, DRDO, ISRO. Events hosted the usual quiz and robotic competitions.
In 2013, "Amalthea '13" had "innovation" as its theme. It was inaugurated by Manu Seth, of HTC, and Maheshwar Sahu, of the Industries and Mines Department. The Conclave included as speakers Kamlesh Lulla, Chief Scientist and Research Director of NASA, and Alan Emtage, developer of the first Internet search engine Archie. Exhibition featured the Design and Innovation Expo, showcasing the products of KPIT Technologies, ITER-India, DC Design, iNDEXTb, ISRO, Sarvajal, Trutech Webs, BISAG, Metalmate Robotics, NDRF, Gridbots Technologies. Events included Robo Militia, Chemcar, online coding, and quizzes.
Newspapers such as The Times of India, Ahmedabad Mirror, DNA, Divya Bhaskar, Bilkul Online, Sandesh, and Gujarat Samachar have published articles about Amalthea. TV channels such as Vtv News and radio channels such as Radio Mirchi have also covered Amalthea in the past.