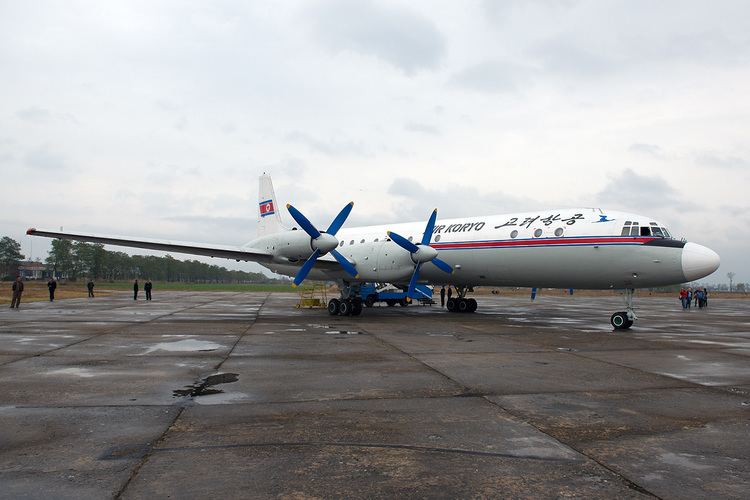 Two Soviet aircraft shared the designation Ilyushin Il-18. The first Il-18 was a propeller-driven airliner of 1946 but after a year of test flights that programme was abandoned.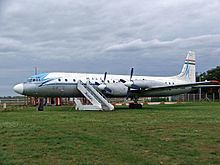 In the early 1950s a need to replace older designs and increase the size of the Soviet civil transport fleet, a Soviet Council of Ministers directive was issued on 30 December 1955 to the chief designers Kuznetsov and Ivchenko to develop new turboprop engines and to Ilyushin and Antonov to design an aircraft to use these engines. The two aircraft designs were developed as the Ilyushin Il-18 and the Antonov An-10 and the engine chosen was the Kuznetsov NK-4 rather than the Ivchenko AI-20.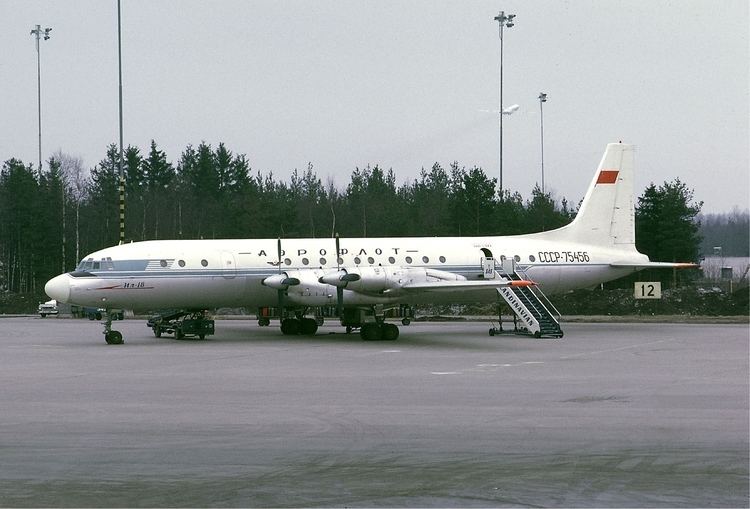 The Il-18 design had started in 1954 before the directive was issued and experience with the piston-engined Il-18 was used although the aircraft was a new design. The design was for a four-engined low-wing monoplane with a circular pressurised fuselage and a conventional tail. The forward retracting tricycle landing gear had four wheels fitted on the main leg bogies, the main legs bogies rotated 90 degrees and retracted into the rear of the inboard engines. A new feature at the time was the fitting of a weather radar in the nose and it was the first soviet airliner to have an automatic approach system. The aircraft has two entry doors on the port-side before and after the wing and two overwing emergency exits on each side.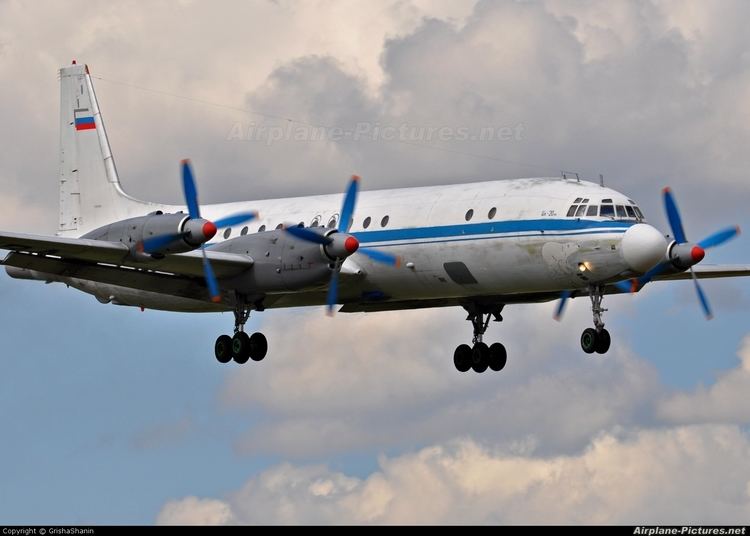 The prototype SSSR-L5811 was rolled out in June 1957 and after ground-testing it began taxi test and high-speed runs on 1 July 1957. On 4 July 1957 the prototype first flew from Khodynka. On 10 July 1957 the aircraft was flown to Moscow-Vnukovo Airport to be presented to a Soviet government commission; also present was the prototype Antonov An-10 and the Tupolev Tu-114. The Il-18 type was formally named Moskva and this was painted on the fuselage, although the name was not used when the aircraft entered production.
The Moscow Machinery Plant No. 30 located at Khodynka, near where the Ilyushin design office and the prototype had been built, was chosen to manufacture the aircraft. During 1957 the plant began to reduce its production of the Ilyushin Il-14 and prepare to build the production aircraft designated IL-18A. The Il-18A was only different from the prototype in minor details, mainly internal configuration to increase the seating from 75 to 89.
The first production aircraft were powered by the Kuznetsov NK-4 but the engines were plagued with problems so the Council of Ministers decreed in July 1958 that all production from November 1958 would use the Ivchenko AI-20 and earlier production would be re-engined. Only 20 IL-18As were built before production changed to the improved Il-18B, this new variant had a higher gross weight and the nose was re-designed with a larger radome which increased the length by 20 cm. The first Il-18B flew on 30 September 1958 powered by the AI-20; a VIP variant was also built as the IL-18S for the Soviet Air Force. From April 1961 a TG-18 Auxiliary Power Unit was fitted for ground starting rather than the bank of lead-acid batteries. Some aircraft were modified to allow the APU to be run in flight.
With experience of the earlier aircraft a further improvement was the Il-18V variant. The Il-18V was structurally the same but the interior was re-designed including moving the galley and some minor system changes. The first Il-18V appeared in December 1959 and was to continue into production until 1965 after 334 had been built. Specialised variants of the aircraft also appeared, including aircraft modified for flight calibration and a long-range polar variant. Military variants also appeared including the anti-submarine Ilyushin Il-38.
The first Il-18, initially equipped with Kuznetsov NK-4 engines, flew on 4 July 1957. On 17 September 1958 the aircraft first flew with the new Ivchenko AI-20 engines. Vladimir Kokkinaki was the test pilot. Between 1958 and 1960 twenty-five world records were set by this aircraft, among them flight range and altitude records with various payloads. In 1958 the aircraft was awarded the Brussels World Fair Grand Prix. In April 1979 a monument was unveiled at Sheremetyevo airport to commemorate this remarkable aircraft.
Seventeen foreign air carriers acquired some 125 Il-18 aircraft, seating 100-120 passengers. Il-18s are still in service in Siberia, North Korea and the Middle East, whilst a number of examples manufactured in the mid-1960s were still in civilian use in Africa and south Asia as at 2014. The type operates in various military capacities, including the Il-22PP jamming and reconnaissance aircraft (entered service in October 2016).
An Il-18 (registration DDR-STD) belonging to Interflug and used as a transport by East German leaders, including Erich Honecker, has been converted into a static hotel suite in The Netherlands.
Data from:OKB Ilyushin
Il-18
Designation of the sole prototype of the Il-18 family.
Il-18A
The original production model, equivalent to pre-production, powered by either Kuznetsov NK-4 or Ivchenko AI-20 turboprop engines. Circa 20 built.
Il-18B
First major production model, a medium-haul airliner that could seat 84 passengers.
Il-18 Combi
Il-18 aircraft modified to mixed passenger / cargo configuration
Il-18D
Similar to Il-18I, but equipped with an extra centre section fuel tank for increased range. The Il-18D is fitted with four 3,169 ekW (4,250 hp) Ivchenko AI-20M turboprop engines.
Il-18D communications relay
Three aircraft modified to provide communications relay between VIP aircraft and Government bodies.
Il-18D Pomor
A single Il-18D converted to a fisheries reconnaissance aircraft, (
Pomor
- person who lives by the sea)
Il-18D Salon
VIP version of the Il-18D
IL-18DORR
Two IL-18Ds modified as fishery reconnaissance aircraft for the Polar Institute of Oceanic Fishery and Oceanography, the modification mainly involved the fitment of specialised mission equipment. First flown in 1985 they were later modified back as standard Il-18Ds.
Il-18E
Similar to the Il-18I, but without the increased fuel capacity.
Il-18E Salon
VIP transport version of the Il-18E.
Il-18Gr
Aircraft converted to cargo configuration, (Gr -
Gruzovoy
- cargo).
Il-18GrM
Several Il-18 aircraft modified to Gr standard with the addition of a pressurised side cargo door.
Il-18I
Equipped with more powerful Ivchenko AI-20M turboprop engines, producing 3,170 kW (4,250 shp). Seating increased to 122 passengers in an enlarged cabin gained by moving the aft pressure bulkhead rearwards by 1.64 m (5 ft).
Il-18LL
(
Letayuschchaya Laboratoriya
- flying laboratory), one aircraft modified to be an anti-icing test-bed and an Il-18V used by the Czechoslovak flight test centre as an engine testbed.
IL-18RT
Two IL-18Vs were modified as Telemetry Relay Aircraft to rocket and unmanned air vehicle trials.
Il-18S
VIP variant of Il-18B
Il-18T
This designation was given to civil and military cargo transport aircraft converted from Il-18A/B/V aircraft.
IL-18TD
One IL-18T was modified as a military transport variant to take either 69 stretcher cases or 118 paratroopers. Not wanted by the military it was converted to IL-18D standard.
IL-18USh
One IL-18V was modified as a navigator trainer including two dorsal astro-sextant windows. Although it was tested and found acceptable the Soviet Air Force used a variant of the twin-jet Tupolev Tu-124 instead.
Il-18V
Standard Aeroflot version, which entered service in 1961. The Il-18V was powered by four Ivchenko AI-20K turboprop engines, seating 90-100 passengers.
Il-18V Salon
VIP version of the Il-18V
Il-18V/polar
a single Il-18V modified for
Polyarnaya Aviahtsiya
- Polar Aviation use.
Il-18V-26A
a single Il-18V modified for
Polyarnaya Aviahtsiya
- Polar Aviation use with an auxiliary fuel tank in the cabin, revised window layout and enlarged oil tanks on the engines, covered by protruding fairings on the engine nacelles (sometimes referred to as the Il-18D, before the real D model emerged).
Il-18V calibrator
a single Il-18V operated by Interflug for navaid calibration.
Il-20M Coot-A
ELINT electronic, radar reconnaissance version. Also known as the
Il-18D-36 Bizon
.
Il-20RT
Four Telemetry and Communications Relay aircraft used to support the Soviet space activities, later replaced by a variant of the IL-76.
Il-22 Coot-B
Airborne command post version.
Il-22M
Same as the Il-22 but had new mission equipment.
Il-24N
Two Il-18Ds modified for ice reconnaissance similar to the IL-20M but with civilian reconnaissance equipment, both later modified back to standard configuration and sold.
Il-38
Maritime reconnaissance, anti-submarine warfare version.
SL-18
Designation of a number of different test and research aircraft, normally had a letter suffix like SL-18D for avionics trials.
Il-118
A proposed upgrade powered by two Lotarev D-236-T propfan engines.
Russia
NPP MIR (ChK Leninets) - 1 in use
North Korea
Air Koryo - 1 in use
Afghanistan
Ariana Afghan Airlines
People's Republic of China
Civil Aviation Administration of China
Bulgaria
Balkan Airlines
Cuba
Aerocaribbean
Cubana
Czechoslovakia
Czechoslovak Airlines
Djibouti
Daallo Airlines
Germany
Berline
German European Airlines
East Germany
Deutsche Lufthansa
Interflug (16 operated)
Egypt
Egyptair (formerly United Arab Airlines)
Ghana
Ghana Airways (8 purchased, 4 later returned to the USSR)
Guinea
Air Guinée
Hungary
Malév Hungarian Airlines
Kazakhstan
Irbis Aero
Kyrgyzstan
Anikay Air
Mali
Air Mali
Poland
LOT (10 operated from 1961 until the early 1990s)
Polonia Airways (1 operated in 90s)
Polnippon (3 operated from 1990 until 1996)
Romania
Tarom
Soviet Union
Aeroflot
Russia
ASTAir
Domodedovo Airlines
GVG Airline
Rossiya
Tretyakovo Airlines
Somalia
Daallo Airlines
Jubba Airways
Sri Lanka
Expo Aviation
Ukraine
Lviv Airlines
Sevastopol Avia
United Arab Emirates
Phoenix Aviation
Vietnam
Vietnam Airlines
Yemen
Yemen Airways
Current operators:
North Korea
North Korean Air Force - 1 leased from Air Koryo
Russia
Russian Air Force - Il-20 and Il-22PP versions
Former operators:
Afghanistan
Afghan Air Force (Five were delivered in 1968, and have since been retired.)
Algeria
Algerian Air Force
Bulgaria
Government of Bulgaria
Czechoslovakia
Czechoslovakian Air Force
East Germany
East German Air Force
Georgia
Georgian Air Force
Indonesia
Government of Indonesia (Presidential aircraft)
North Yemen
North Yemen Air Force
Poland
Polish Air Force (VIP Transport, replaced by Tu-134)
Romania
Government of Romania
Soviet Union
Soviet Air Forces
Soviet Naval Aviation
Vietnam
Vietnam People's Air Force
Yugoslavia
SFR Yugoslav Air Force
Data from OKB Ilyushin
General characteristics
Crew: 9
Capacity: 65-120 passengers
Length: 35.9 m (117 ft 9 in)
Wingspan: 37.4 m (122 ft 8 in)
Height: 10.165 m (33 ft 4 in)
Wing area: 140 m2 (1,500 sq ft)
Empty weight: 35,000 kg (77,162 lb)
Max takeoff weight: 64,000 kg (141,096 lb)
Fuel capacity: 30,000 l (6,599 imp gal)

Fuselage diameter: 3.5 m (11 ft)
Max. landing weight: 52,600 kg (115,963 lb)
Max. zero-fuel weight: 48,800 kg (107,586 lb)
Max. taxi weight : 64,500 kg (142,198 lb)
Powerplant: 4 × Ivchenko AI-20M axial flow turboprop engines, 3,170 kW (4,250 hp) each
Propellers: 4-bladed AW-68 I constant speed feathering propellers, 4.5 m (14 ft 9 in) diameter

Auxiliary power unit: TG-16M (28 Volt DC)
Performance
Maximum speed: 675 km/h (419 mph; 364 kn)
Maximum speed: Mach 0.65
Cruise speed: 625 km/h (388 mph; 337 kn) at 8,000 m (26,247 ft)
Range: 6,500 km (4,039 mi; 3,510 nmi) with 6,500 kg (14,330 lb) payload, maximum fuel and reserves for one hour.
3,700 km (2,299 mi) with 13,500 kg (29,762 lb) maximum payload, at 84 - 85% of maximum continuous power.
Service ceiling: 11,800 m (38,700 ft)

Approach minima: ICAO CAT 1 Decision Height 60 m (200 ft) / 800 m (Visibility) or 550 m RVR
Take-off run: 1,350 m (4,429 ft)
Landing run: 850 m (2,789 ft)
Avionics

RPSN-2AMG: or RPSN-2N Emblema weather radar
NAS-1B: autonomous navigation system
DISS-1: doppler speed/drift sensor
ANU-1: autonomous navigation computer
Put'-4M: navigation system
KS-6G: compass system
DAK-DB: remote celestial compass
RSBN-2S Svod: SHORAN (Svod - Dome)
SP-50 Materik: ILS
RV-UM: radio altimeter
NI-50BM-1: navigation display
ARK-11:main and backup ADF (automatic direction finder)
RSB-5/1230: communications radio
RSIU-5 (R802G): command link radio, 2 of.
SR-2M Khrom: IFF transponder (Khrom - Chromium)
MSRP-12-96: flight data recorder