7.4

/

10

Alchetron

7.4

Rate This





Created by

David Feiss


First episode date

15 July 1997




Theme song

I Am Weasel Theme






Genre

ComedySlapstick




Theme music composer

Bill Fulton




Final episode date

16 September 1999




Network

Cartoon Network





Written by

Sally R. LowerDavid FeissMichael RyanRichard PurselJim GomezMaxwell AtomsSteve MarmelNora Johnson




Directed by

David FeissCo-directors:Robin Steele (3 episodes)Robert Alvarez (1 episode)


Voices of

Michael DornCharlie Adler




Cast

Charlie Adler, Michael Dorn


Similar

Cow and Chicken, Johnny Bravo, Dexter's Laboratory, What a Cartoon!, Courage the Cowardly
I Am Weasel is an American animated television series created by David Feiss for Cartoon Network, being the fourth of the network's Cartoon Cartoons. The series centers on I.M. Weasel, a smart, beloved and highly successful weasel, and I.R. Baboon, an unsuccessful and unintelligent baboon who is jealous of Weasel's success and constantly tries to upstage him.
Contents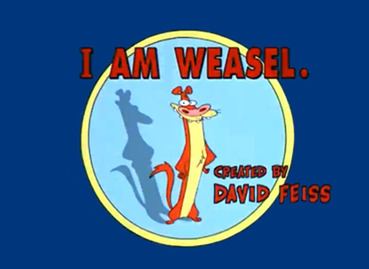 I Am Weasel was originally a part of the Cow and Chicken show, often airing as the third of three segments in an episode, after two Cow and Chicken segments (except in one occurrence, where it aired as a second segment between part one and two of The Ugliest Weenie). Eventually, I Am Weasel was spun off into its own series, which aired from 1999 to 2000, with both new episodes and the episodes that had aired on Cow and Chicken included in this series, totaling 79 episodes.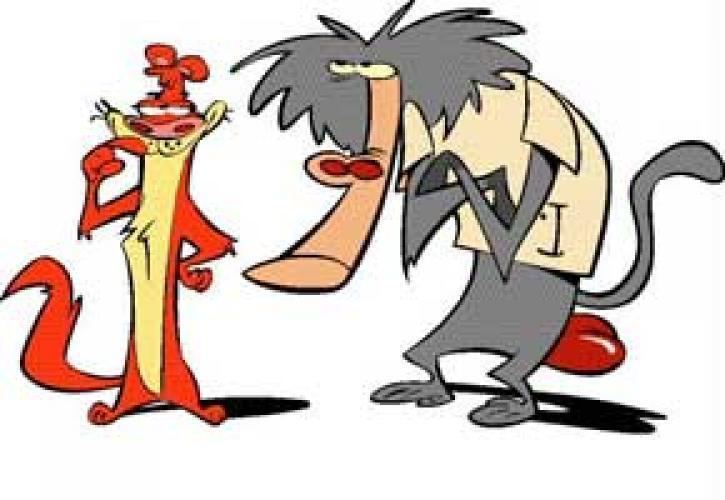 I am weasel theme song cartoon network
Premise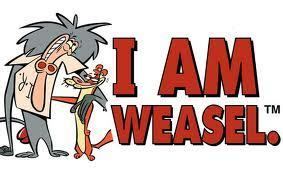 The series chronicles the random adventures of two funny animal frenemies: I.M. Weasel (Michael Dorn), a famous, heroic, eloquent, highly intelligent, and many-talented weasel who is adored by everyone, and his totally opposite, I.R. Baboon (Charlie Adler), an ugly and idiotic hamadryas baboon who is envious of Weasel's success and constantly tries to be better than him, often failing and being hated by everyone. In season two, the Red Guy (Charlie Adler) became a main character on I Am Weasel, while still retaining his role on Cow and Chicken. In the series, he is also referred as "I.B. Red Guy", an allusion to Weasel's and Baboon's names.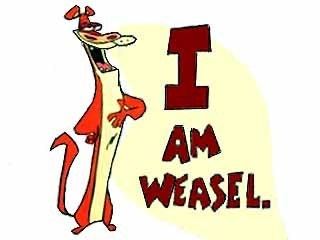 Secondary characters include Loulabelle (Susan Blakeslee, Teresa Ganzel), Weasel's assistant who usually dresses herself as a nurse, and Admiral Bullets (Jess Harnell, Michael Gough), a naval officer who often relies on Weasel's help. Besides the Red Guy, some other characters from Cow and Chicken made cameo appearances in I Am Weasel from season two. These include Cow, Chicken (Charlie Adler), Mom, Teacher (Candi Milo), Dad (Dee Bradley Baker), Flem (Howard Morris), and Earl (Dan Castellaneta).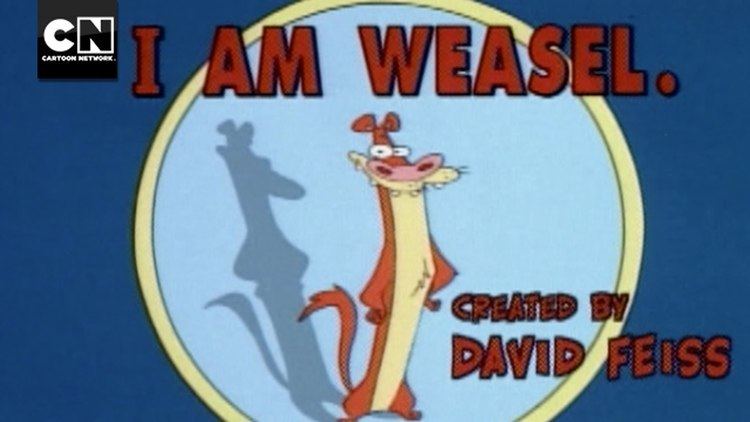 The show's premise begins from a humorous take on the classic nursery rhyme "Pop Goes the Weasel"; in fact, the series theme song, composed by Bill Fulton, written by Richard Pursel, and sung by April March, is based on the well-known musical version of the rhyme.
Production and broadcast
I Am Weasel has a total of 79 episodes in 5 seasons that were produced from 1996 to September 1999. A sneak peek for the series was aired on July 15, 1997 with the eleventh episode "Law of Gravity", and then it continued its original run from July 22, 1997 with the second episode "I.R. on Sun", yet as a series of segments on Cow and Chicken. Later on, the series was separated and premiered as a half-hour show on June 10, 1999. With the separation, 52 I Am Weasel episodes originally aired on Cow and Chicken began to air in the show's own time slot, being joined by 27 new episodes, totaling 79. The series' original run ended in 2000.
Reruns of I Am Weasel aired prominently from March 3, 2000 to 2003. From September 2005 to April 10, 2006, it returned sporadically as segments on The Cartoon Cartoon Show, along with other Cartoon Cartoons from that era. On April 13, 2012, the series returned on Cartoon Planet before being removed in 2013. It was also aired on Boomerang, but only aired seasons 1–4 with the Cow and Chicken segments.
Home media releases
Region 1
In United States, some episodes of the series were launched on Cartoon Network's special DVDs for Halloween and Christmas released in 2004 and 2005 and distributed by Warner Home Video.
Region 3
In Thailand, the series seasons have been released on DVD since 2009 by the Thai company MVD Company Limited. The season one's DVD was launched on December 23, 2009, and the season two's was officially announced in the company's website, but not launched yet.
Region 4
In Australia, a two-disc DVD release was launched on July 6, 2011, distributed by Madman Entertainment. The same release was also launched in New Zealand on August 11, 2011.
Video games
In the kart racing video game, Cartoon Network Racing, available for PlayStation 2 and Nintendo DS, I.M. Weasel, I.R. Baboon and the Red Guy are playable characters. Also in the game, only in the PS2 version, the episodes "My Friend, the Smart Banana" and "Enemy Camp" are available as extras which can be unlocked by winning the I Am Weasel races.
Cartoon Network Universe: FusionFall
In the MMO game, Cartoon Network Universe: FusionFall, there was one item named "I.R. Baboon shorts", which were player-wearable shorts based on I.R. Baboon's buttocks.
Comics
I Am Weasel was featured in the comic series Cartoon Cartoons along with other Cartoon Cartoons from its time, such as Dexter's Laboratory, Johnny Bravo, Cow and Chicken, Ed, Edd n Eddy, Courage the Cowardly Dog, among others. The comic was published from 2001 to 2004 by DC Comics and had 33 issues.
References
I Am Weasel Wikipedia
(Text) CC BY-SA