Humoresque (1920) is an American silent drama film produced by Cosmopolitan Productions, released by Famous Players-Lasky and Paramount Pictures, and was directed by Frank Borzage from a short story by Fannie Hurst and script or scenario by Frances Marion.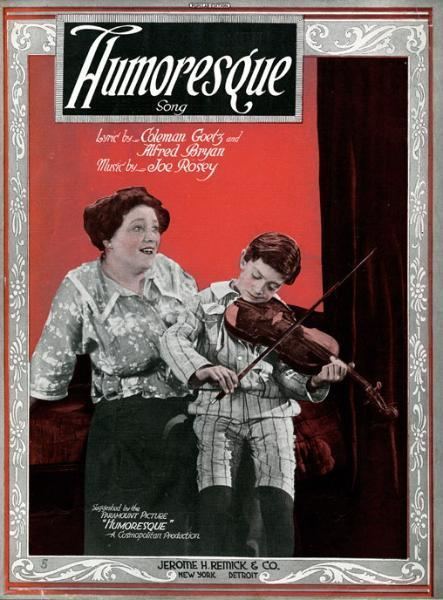 This film was the first film to win the Photoplay Medal of Honor, a precursor of the Academy Award for Best Picture.
In 2015, the United States Library of Congress selected the film for preservation in the National Film Registry, finding it "culturally, historically, or aesthetically significant".
As described in a film magazine, Abraham Kantor, born in the squalor of New York City's East Side, shows an early musical ability that wins his mother's support despite the obstacles in his way. As time goes on he improves his talent until, just as he is about to sign an important contract, he is called to war. Returning after being wounded and pronounced crippled for life, he is broken in spirit as well as in body, losing faith in all that he formerly held dear. Again his mother's love comes to his support, and a happy result comes when he recovers the use of his arm and again takes up the violin.
Gaston Glass as Leon Kantor
Vera Gordon as Mama Kantor
Alma Rubens as Gina Berg (aka Minnie Ginsberg)
Dore Davidson as Abraham Kantor
Bobby Connelly as Leon Kantor (child)
Helen Connelly as Esther Kantor (child)
Ann Wallack as Esther Kantor (adult) (credited as Ann Wallick)
Sidney Carlyle as Mannie Kantor
Joseph Cooper as Isadore Kantor (child)
Maurice Levigne as Isadore Kantor (adult)
Alfred Goldberg as Rudolph Kantor (child)
Edward Stanton as Rudolph Kantor (adult)
Louis Stern as Sol Ginsberg (credited as Louis Stearns)
Maurice Peckre as Boris Kantor
Ruth Sabin as Mrs. Isadore Kantor
Miriam Battista as Minnie Ginsberg (child)
The film has undergone a restoration at the UCLA Film and Television Archive.