Occupation

Film director




McCune–Reischauer

Hong Sangsu




Hangul

홍상수




Name

Hong Sang-soo




Hanja

洪尚秀




Role

Film director








Born

October 25, 1961 (age 54) (

1961-10-25

) Seoul, South Korea


Education

California College of the Arts




Awards

Blue Dragon Film Award for Best New Director




Nominations

Asian Film Award for Best Director




Movies

Right Now - Wrong Then, In Another Country, Hill of Freedom, Our Sunhi, Hahaha




Similar People

Jung Jae‑young, Jun‑Sang Yu, Jung Eun‑chae, Youn Yuh‑jung, Ryo Kase




Revised Romanization

Hong Sang-su



Venezia 70 future reloaded hong sang soo
Hong Sang-soo (born October 25, 1961) is a South Korean film director and screenwriter.
Contents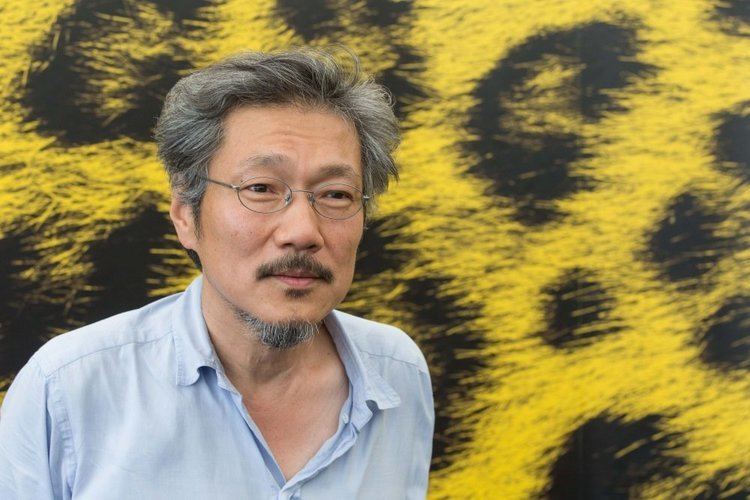 Showbiz korea director hong sang soo wins best director at san sebastian film fest
Career
Hong Sang-soo began his film career at Chung-Ang University in South Korea, before moving to the United States where he received his bachelor's degree from the California College of Arts and Crafts and his master's degree from the School of the Art Institute of Chicago. Hong made his official directorial debut at age 35 with The Day a Pig Fell into the Well in 1996. Praised by South Korean critics for its originality, the film received several awards domestically and internationally, including three for best new director.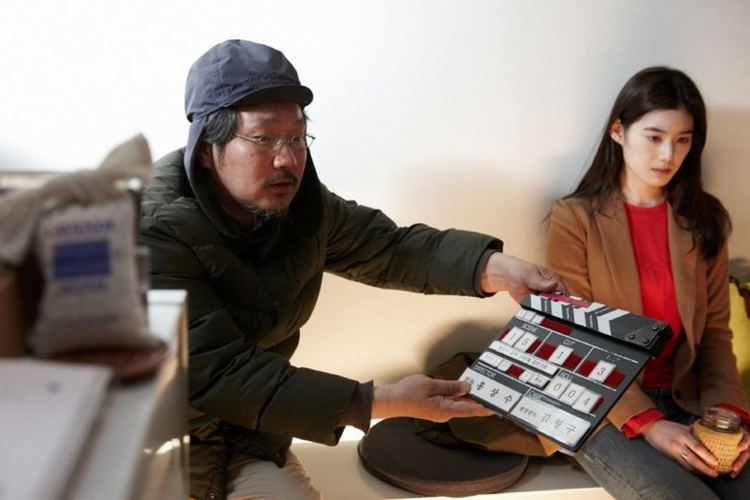 Many of Hong's films have received critical acclaim for the director/screenwriter's portrayal and depictions of everyday human relationships. Although most of his works are not considered commercially successful, Hong is one of the most well-known Korean directors in the international film world, and his low budget arthouse films have screened in competition at the Cannes Film Festival, the Berlin International Film Festival, the Venice Film Festival, the Locarno Film Festival, and several other film festivals.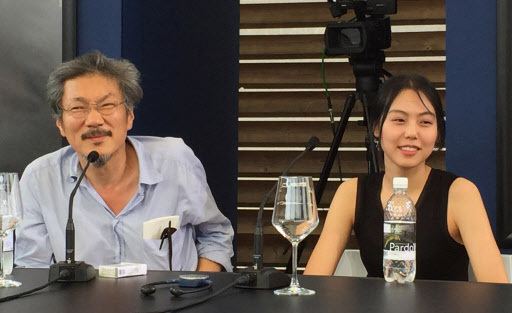 Notable among the awards Hong has received are the Prix Un Certain Regard at the 2010 Cannes Film Festival for Hahaha, the Silver Leopard Award for Best Director at the 2013 Locarno International Film Festival for Our Sunhi, and the top prize Golden Leopard at the 2015 Locarno International Film Festival for Right Now, Wrong Then.
Personal life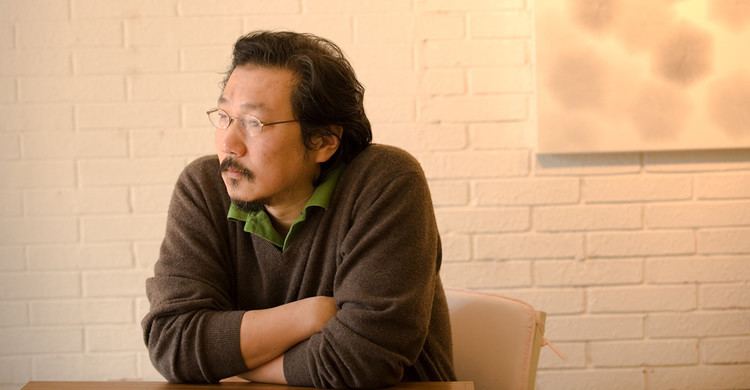 In June 2016, Hong was reported to be having an extramarital affair with actress Kim Min-hee who appeared in the 2015 film Right Now, Wrong Then. At the Seoul premiere of On the Beach at Night Alone in March 2017, Hong openly admitted his affair with the actress, who was also present.
Filmography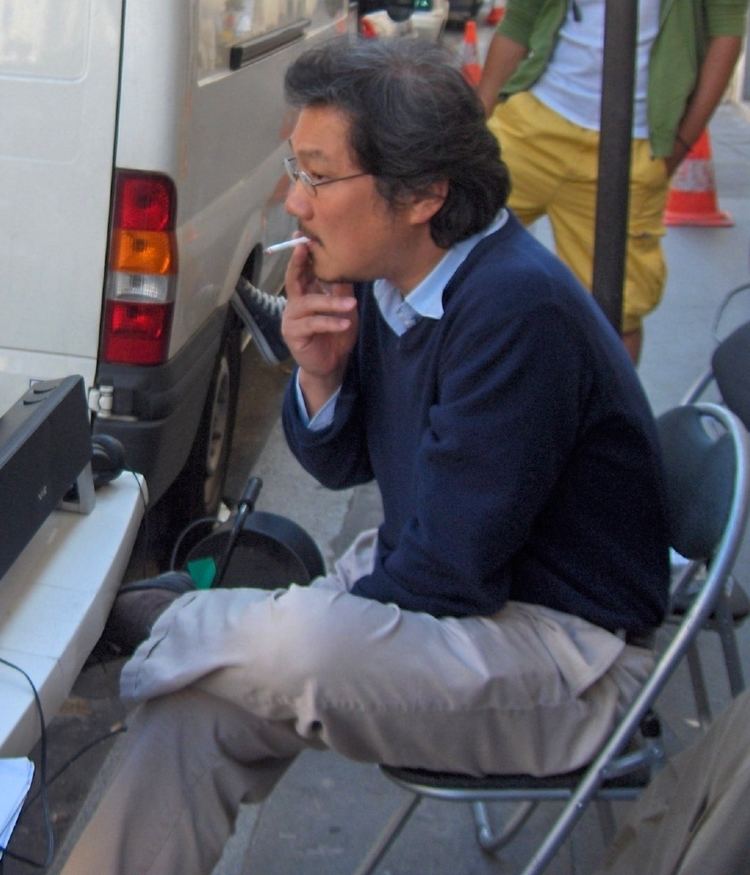 The Day a Pig Fell into the Well (돼지가 우물에 빠진 날) (1996)
The Power of Kangwon Province (강원도의 힘) (1998)
Virgin Stripped Bare by Her Bachelors (오! 수정) (2000)
On the Occasion of Remembering the Turning Gate (생활의 발견) (2002)
Woman Is the Future of Man (여자는 남자의 미래다) (2004)
Tale of Cinema (극장전) (2005)
Woman on the Beach (해변의 여인) (2006)
Night and Day (밤과 낮) (2008)
Like You Know It All (잘 알지도 못하면서) (2009)
Jeonju Digital Project "Visitors": Lost in the Mountains (어떤 방문: 첩첩산중) (short film, 2009)
Hahaha (하하하) (2010)
Oki's Movie (옥희의 영화) (2010)
The Day He Arrives (북촌방향) (2011)
List (리스트) (short film, 2011)
In Another Country (다른 나라에서) (2012)
Nobody's Daughter Haewon (누구의 딸도 아닌 해원) (2013)
Our Sunhi (우리 선희) (2013)
"Hong Sang-soo": Venice 70: Future Reloaded (홍 상수 베니스 70: 미래 리로디드) (short film, 2013)
Hill of Freedom (자유의 언덕) (2014)
Right Now, Wrong Then (지금은맞고그때는틀리다) (2015)
Yourself and Yours (당신자신과 당신의 것) (2016)
On the Beach at Night Alone (밤의 해변에서 혼자) (2017)
Claire's Camera (2017)
The Day After (2017)
Awards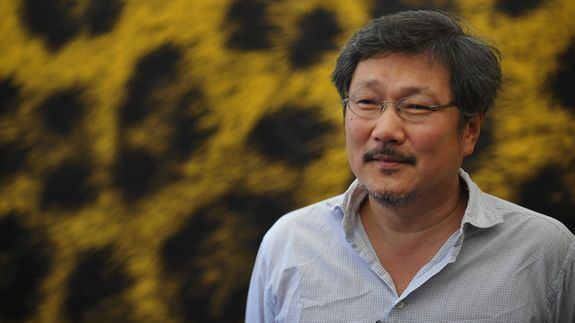 1996 17th Blue Dragon Film Awards: Best New Director (The Day a Pig Fell into the Well)
1996 15th Vancouver International Film Festival: Dragons and Tigers Award (The Day a Pig Fell into the Well)
1996 16th Korean Association of Film Critics Awards: Best New Director (The Day a Pig Fell into the Well)
1996 21st Golden Cinematography Awards: Best New Director (The Day a Pig Fell into the Well)
1997 42nd Asia Pacific Film Festival: Best New Director (The Day a Pig Fell into the Well)
1997 International Film Festival Rotterdam: Tiger Award (The Day a Pig Fell into the Well)
1998 19th Blue Dragon Film Awards: Best Director; Best Screenplay (The Power of Kangwon Province)
1999 Singapore International Film Festival: NETPAC-FIPRESCI Special Mention (The Power of Kangwon Province)
1999 Santa Barbara International Film Festival: Burning Vision Award (The Power of Kangwon Province)
2000 45th Asia Pacific Film Festival: Best Screenplay (Virgin Stripped Bare by Her Bachelors)
2000 13th Tokyo International Film Festival: Special Jury Prize (Virgin Stripped Bare by Her Bachelors)
2000 1st Busan Film Critics Awards: Best Screenplay (Virgin Stripped Bare by Her Bachelors)
2002 47th Asia Pacific Film Festival: Best Director (On the Occasion of Remembering the Turning Gate)
2003 Seattle International Film Festival: Emerging Masters Showcase Award
2006 9th Director's Cut Awards: Best Director (Woman on the Beach)
2007 22nd Mar del Plata International Film Festival: Best Director (Woman on the Beach)
2008 28th Korean Association of Film Critics Awards: Best Screenplay (Night and Day)
2010 63rd Cannes Film Festival: Prix Un Certain Regard (Hahaha)
2010 19th Buil Film Awards: Best Director (Hahaha)
2011 40th International Film Festival Rotterdam: Return of the Tiger Award (Oki's Movie)
2011 2nd Korean Popular Culture and Arts Awards: Presidential Commendation
2012 21st Buil Film Awards: Yu Hyun-mok Film Arts Award
2013 66th Locarno International Film Festival: Best Director (Our Sunhi)
2013 14th Busan Film Critics Awards: Special Jury Prize (Our Sunhi)
2014 23rd Buil Film Awards: Best Director (Our Sunhi)
2015 2nd Wildflower Film Awards: Best Director, Narrative Films (Hill of Freedom)
2015 68th Locarno International Film Festival: Golden Leopard (Right Now, Wrong Then)
References
Hong Sang-soo Wikipedia
(Text) CC BY-SA