She stands out with her distinctive two-piece leopard-print outfit and matching hair, which was formerly auburn or red but is now blond. She is a former DEEP Women's Lightweight (106 lbs) Champion and currently holds an MMA record of 19-6-0.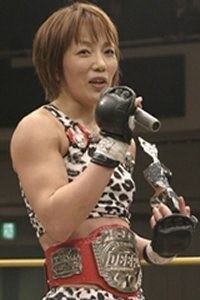 Following a successful career in kickboxing, Watanabe debuted in mixed martial arts on April 7, 2002 at Smackgirl: "Royal Smack 2002" but was disqualified after an illegal kick. She won four of her next five fights before losing to Satoko Shinashi in the Grand Final of the 2002 Smackgirl Japan Cup.
Watanabe then won nine straight fights, including two in Pancrase, and became the 2004 Golden Muscle Strongest Queen Tournament Champion.
On August 4, 2006, Watanabe knocked out the previously undefeated Shinashi in a rematch to capture the DEEP Women's Lightweight Championship. However, she was defeated by Seo Hee Ham in a non-title bout at DEEP: 28th Impact on February 16, 2007.
Watanabe submitted Masako Yoshida on April 13, 2007, but lost the DEEP Women's Lightweight Championship to Miku Matsumoto at DEEP: 31st Impact on August 5, 2007.
Following a December 2007 victory over Genkaam Lookjuapoakum at DEEP: 33rd Impact, Watanabe announced her retirement from mixed martial arts.
More than one year later, she competed in an exhibition match against Megumi Fujii at Shoot Boxing Girls Tournament 2009 and announced her intentions to return to MMA at Jewels 6th Ring in December. However, a broken foot suffered in training prevented her from competing.
Watanabe was then expected to make her return to MMA at Jewels 11th Ring on December 17, 2010. However, she did not compete on the card.
Watanabe made her Jewels debut in an exhibition match against Naoko Omuro at Jewels: 22nd Ring on December 15, 2012. The exhibition ended when Omuro trapped Watanabe in an armbar late in round one.
Watanabe was set to compete in a shoot boxing match against 2009 Girls S-Cup Champion Rena Kubota on April 11, 2010. Kubota suffered a broken finger while training and the fight with Watanabe was postponed. Watanabe instead faced karate champion Megumi Igawa and defeated Igawa by TKO in the third round.
She competed again in shoot boxing against Sumie Yamada in a rematch on June 6, 2010. Watanabe had previously knocked out Yamada in a November 2002 mixed martial arts bout. She defeated Yamada by unanimous decision.
Watanabe entered the 2010 Girls S-Cup on August 29, 2010. She faced Rena Kubota in the opening round of the tournament and was defeated by TKO in round two.
On July 19, 2010, Watanabe faced Little Tiger for the WPMF Japan Women's Mini Flyweight Championship at REBELS 3. The five-round fight ended in a Split Draw with scores of 50-49, 49-49 and 48-49.
Watanabe is married to Japanese comic book artist SP Nakatema and has one child. She originates from Tochigi Prefecture but now lives in Tokyo where she trains at the Blue Dog Gym.
2004 Golden Muscle Strongest Queen Tournament Champion
Former DEEP Women's Lightweight (106 lbs) Champion