Hiroko Sato (佐藤寛子) (born February 17, 1985) is a Japanese actress, singer and Japanese idol. She was born in Fukushima but grew up in the Kanagawa prefecture and attended the Kanagawa Prefectural Senior High School, I Shida. She was a student council president at her high school.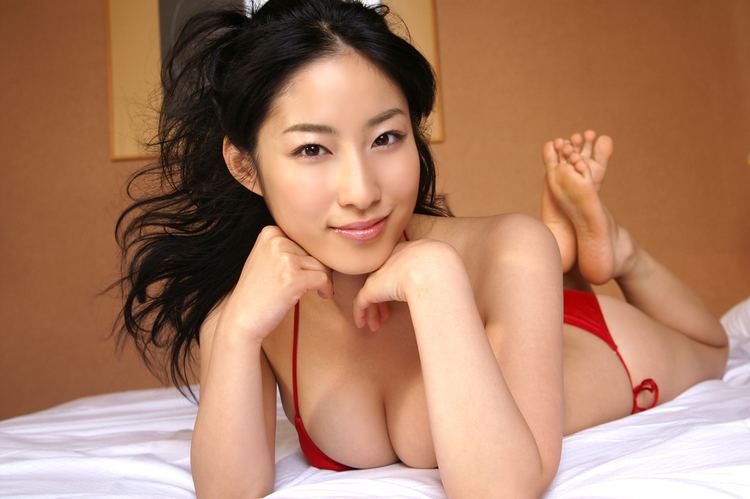 Hiroko Sato has a sound sports and fitness background, both in playing volleyball and swimming and regularly works at her physical fitness with a gruelling regime of situps, something she has occasionally admitted to having overdone but she has also developed a good technique in the Japanese martial art of sword-fighting kendo which has been useful for her in action roles in television and movies.
With her personal hobbies and interests she has studied traditional japanese calligraphy to 6 stages as well as enjoying painting as an artistic medium but she also writes poetry and is a budding novelist, something that is useful in the revue and analysis she writes for NHK Radio on a regular basis. On a more casual basis she enjoys music, movies and good food, much of which she cooks herself with just a little help from recipe books by Naomi Takayama. She is known to like a little wine with her food on an occasional basis and has confessed to liking an occasional draught beer.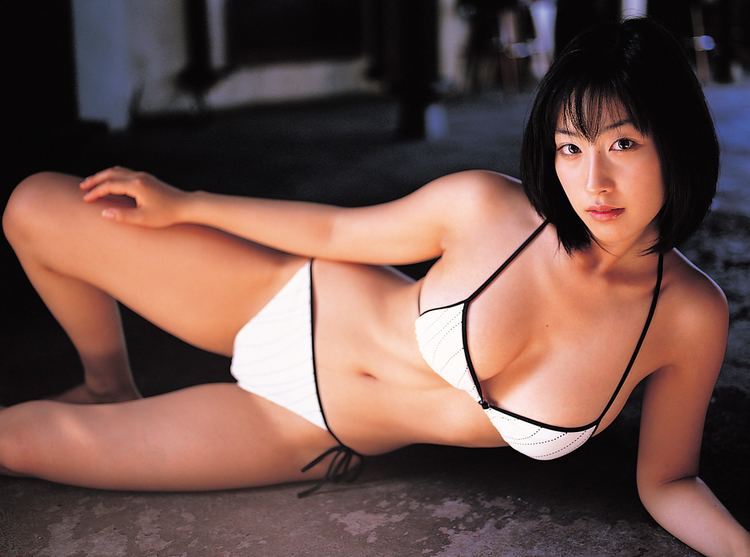 She is an avid reader with a taste for heavyweight Japanese women authors of the calibre of Hiromi Kawakami, Banana Yoshimoto, Eimi Yamada, Fuyumi Ono and other similar authors who address diverse matters like unpopular social issues, human sexuality, inter-racial marriages and the issues facing young people in modern Japan. While she enjoys deep and at times complicated authors, she is known among her peers as a very down to earth person who gets on well with her family and friends and within the boundaries of her work schedule enjoys socialising with her colleagues after work.
Hiroko Sato has recently restarted her personal blog under the new name "Orange" replacing the earlier version "OOKAMI" which was named after her Japanese zoomancy. With a gap of about 1 year the blog has her personal musings and a number of non-professional photos that show day to day aspects of her life over the last few years and a number of photos of her little dog "Pochi" and the cat that she used to use in her earlier blog logo whose name is "Pierce". By its Japanese notation it is a western name rather than an action. The photos of her with her pets show she is a kind and affectionate person who has an affinity with animals.
In 2002 Hiroko Sato made her acting debut in the low budget horror movie "Scare" and began a very successful career as a gravure idol. A substantial amount of her work was published in Japanese men's magazines like Sabra (magazine), Wannibooks, Up to Boy and Weekly Playboy by Shuestra as well as other media forms like BOMB.TV, image.tv and Young Sunday Web among others. Starting with the DVD "First Touch" in late 2002 she also starred in a reasonable number of Idol movies in DVD format up until 2008 when she retired from gravure swimsuit modelling.
As an actress, Hiroko Sato has worked in a wide range of television productions in Japan, various roles in stage productions and a variety of movies genres including horror films. She is well known for her performance in Madan Senki Ryukendo as Kaori Nose. In 2004 she played a role in the low budget movie Cursed (2004 film).
In 2005 Hiroko Sato released a single called "Can't Hide" which was a normal music CD with an accompanying DVD which contained a short movie called "Hiroko Television". The CD/DVD was produced by Koji Shimizu and Moto "Kittz" Kitsukawa and released under the GIRLS' RECORD label. The short movie was produced in the form of a skit where Hiroko Sato played every role at a fictitious television station from the weather girl to the newsreader and interviewer as well as performing the "Can't Hide" song on video.
While evaluation of music is fundamentally subjective, Hiroko Sato has a fine clear young voice that demonstrated her vocal skills and the single was generally well received and had good contemporary reviews. The "Hiroko Television" skit on the DVD was a skillfully performed piece of humour done in a very light hearted manner. The fidelity of the CD appears to be better again than the audio from the DVD movie.
She has also participated in a compilation single with Sayaka Isoyama and Aki Hoshino.
In 2007 Hiroko Sato made a departure from her earlier photographic work in the production of a photobook called PORTRAIT that was photographed in the Fukushima prefecture area where she was born. Instead of glossy and often badly retouched images for the men's magazine market, PORTRAIT was a highly personalised work shot without makeup and very naturalistic in its presentation. It is also the first work where Hiroko Sato posed for "art nudes" in the European tradition.
Her comments from her 2007 blog indicate the personal nature of shooting PORTRAIT in the prefecture of her birth. "I have seen my soul (inner self) / I felt the power of the land in the body / but my mind and body, was a valuable experience". PORTRAIT was shot by the famous Japanese photographer Yoshihisa Marutani and published by Wanibooks Japan.
Her most recent movie (2008) "I Hold Nothing" is of the Japanese IDOL genre and it features Hiroko Sato in a sequence of eleven scenes in attire ranging from two piece swimsuits to full street clothing. It contains a number of set pieces for Japanese IDOL movies which include wearing stocking walking down a staircase, a bathtub scene with running water wearing a two piece swimsuit and the usual lingerie presentations as well as various outdoor scenes shot in and around Port Douglas.
The production uses a technique of alternation between romantically idealised semi dreamlike scenes with mood specific music and spontaneous film footage of Hiroko Sato during the shooting of the scenes, a good example is the feature scene shot on the wharf at Port Douglas followed by spontaneous footage on the wharf and conversation in a restaurant while having a meal. The alternation technique serves to heighten the effects of the feature scenes by providing sufficient contrast between the scenes with spontaneous footage.
In keeping with the Japanese IDOL genre the DVD targets a market where femininity, romantic settngs and mild sexuality are seen as attractive but the scenes are shot in good taste and the video/audio quality is good. The DVD "I Hold Nothing" has been subject to later re-released so there is a continuing demand for the gravure work of Hiroko Sato.
After a successful career spanning 6 years Hiroko Sato announced her graduation from swimsuit gravure modelling to drama and acting in her old personal OOKAMI blog in 2008. The only immediate concession to an established swimsuit gravure audience is a yearly calendar that she has modelled for over the last couple of years but she has not ruled out the occasional photogravure job as her schedule allows. Her published schedule from the FITONE agency in Tokyo has her working in movies, action games, television and live theatre.
In April 2009 a non-swimsuit gravure feature for the Shuestra publication Weekly Playboy.
An action role in a movie "Asuka pairs of flowers NEO" which has been released in late July by the Japanese production company Asuka-kenzan.
A role in the movie GAME☆ACTION produced by "Wid Strawberry" as the heroine Chisato.
In July 2009 a gravure feature in the Kodansha weekly publication "FRIDAY".
A live theatre performances with a role in "Secret Akko Chan", an adaption of Himitsu no Akko-chan by Fujio Akatsuka at the Storehouse Theatre in Tokyo in July 2009.
Had a book review published by Shinchosha Publishing Co. Ltd.
In November 2009 another gravure feature in the Kodansha weekly publication "FRIDAY".
Hiroko Sato has a normal job working for NHK Radio in Japan as a co-host to the radio bookstore program "Talking With Matsuo Hall" in conjunction with the radio program's host Takashi Matsuo. She is a confident and articulate native Japanese speaker and often takes the role of the alternative voice for tasks such as reading quotations from books being reviewed. She also publishes a weekly blog named "Hiroko's Diary" for NHK that expands and explains the program's interview and analysis of the book being reviewed in the previous weeks radio broadcast.
Her career is managed by the BESIDE agency in Tokyo and her work schedule over a period of years shows that her work has been chosen with her future in mind rather than short term expediency. Her gravure and Idol work has always been in good taste reflecting the idealisation of an attractive young woman in Japan. As she has "graduated" from gravure modelling her work schedule has been filled with movie and live theatre roles to expand her repertoire.
The following URLs are in Japanese.
BLOG "Orange" :



NHK JAPAN : http://www.nhk.or.jp/matsuodo/diary/
ASUKA KENZEN : http://www.asuka-kenzan.com/
FITONE Profile :



GIRL'S RECORD :



Wild Strawberry : http://www.wild-strawberry.com/ws/game/
Secret Akko Chan : http://www.gasori-na.com/
Shinchosa Publishing : http://www.shinchosha.co.jp/shinkan/nami/shoseki/407510.html
Madan Senki Ryukendo (2006): Kaori Nose
Kamen Rider Decade (2009): Ai Yashiro (Episodes 2-3), Toko Yashiro (Episodes 12-13)
Garo: Yami o Terasu Mono (2013): Enhou
[2002.11.15] First Touch
[2002.12.10] Peek A Boo!
[2003.04.19] Pure Smile
[2003.08.29] Lily White
[2003.11.20] Himitsu
[2004.03.10] H2O
[2004.06.02] Lover's Eyes
[2004.07.28] Gekkan Sato Hiroko
[2004.12.17] Sato Hiroko Premium
[2005.01.25] Shouwa Nostalgia
[2005.03.25] Truth
[2005.04.25] Real B Face
[2005.08.27] Move in Diosa
[2005.10.05] Tooru Maboroshi Kagami
[2006.05.17] Hiroko to Panda to Shanghai de
[2007.02.23] I Hold Nothing
[2002.12.xx] Peek A Boo!
[2003.03.xx] Suimitsutou
[2003.08.xx] Fine
[2003.10.04] Koibumi - Chiisana Koi no Monogatari
[2003.11.20] Himitsu
[2004.03.10] H2O
[2004.05.xx] Sato Hiroko Young Sunday Special Graphic Vol. 5
[2004.05.28] Hiroko Mix
[2004.07.xx] Gekkan Sato Hiroko Shincho Mook
[2004.07.16] WPB-Net Remix DVD Sato Hiroko Anniversary
[2004.10.xx] Jounetsu
[2005.05.26] Diosa
[2005.05.25] Can't Hide
[2005.11.30] Girl's Box ~Best Hits Compilation Winter~
[2005.12.07] Very Merry X'mas (with Isoyama Sayaka and Hoshino Aki)