Covid-19
優希比呂




1988–present




Voice actor




Voice actor




Hiro Yuki






Teruhisa Tsuyusaki


February 13, 1965 (age 50) (

1965-02-13

)

Tokyo, Japan




Weis Kreuz, Neon Genesis Evangelion, Dragon Ball Z, Evangelion: 30 You Can (Not, Evangelion: 10 You Are (Not




Susumu Chiba, Kazuya Tsurumaki, Masayuki, Koki Miyata, Rica Matsumoto
Hiro Yūki (優希 比呂, Yūki Hiro, born Teruhisa Tsuyusaki (露崎 照久, Tsuyusaki Teruhisa), February 13, 1965 in Tokyo, Japan) is a Japanese voice actor.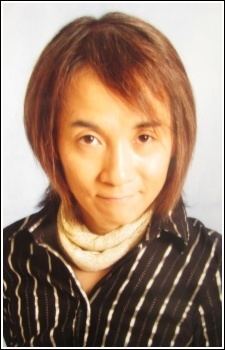 He is part of the voice actor quartet Weiß, which also consists of Weiß Kreuz voice castmates Tomokazu Seki, Takehito Koyasu, and Shinichiro Miki.
In June 2007, Yuki changed the spelling of his name to 優希比呂 from 結城比呂, which still reads as Yūki Hiro.
He's the official Japanese-dubbing voice actor for Stan Marsh in South Park.
Dragon Ball Z (1989-1996) – Dende (took over the role in 1996)
Future GPX Cyber Formula (1991) – Henri Claytor
Brave Police J-Decker (1994) – Drillboy
Haou Taikei Ryū Knight (1994) – Adeu Waltham
Tekkaman Blade II (1994) – Dead End/Tekkamen Dead
Virtua Fighter (1995–1996) – Jimmy Gates
Dragon Ball Z: Wrath of the Dragon (1995; Film) – Tapion
Neon Genesis Evangelion (1995) – Makoto Hyuga
Aka-chan to Boku (1996) – Akihiro Fujii
Bakusō Kyōdai Let's & Go!! (1996) – Carlo Sereni
Slayers NEXT (1996) – Alfred Seyruun
Brave Command Dagwon (1996) – Yoku Kazamatsuri
Dragon Ball GT (1996-1997) – Dende
Mobile Suit Gundam: The 08th MS Team (1996-1999; OVA) – Michel Ninorich
Shōjo Kakumei Utena (1997) – Dios
Arc the Lad (1999) – Arc
Hoshin Engi (1999) – Taikoubou
Shamanic Princess (1996-1998) – Leon
Weiß Kreuz (1998) – Omi Tsukiyono
Star Ocean EX (2001) – Claude C. Kenni
s-CRY-ed (2001) – Sou Kigetsuki
RockMan.EXE (2002) – Raika
Witch Hunter Robin (2002) – Michael Lee
Mobile Suit Gundam SEED (2002-2003) – Clotho Buer
Weiß Kreuz Glühen (2002-2003) – Omi Tsukiyono
Samurai Champloo (2004) – Niwa Tatsunoshin
Suki na Mono wa Suki Dakara Shōganai! (OVA) (2005) – Chris
Speed Grapher (2005) – Tsujido
Buso Renkin (2006) – Kawazui
Nerima Daikon Brothers (2006) – Yūkel Hakushon
Claymore (2007) – Rigaldo
Yes! PreCure 5 (2007) – Kawarino
Air Gear (2007) – Mitsuru Bando
Hakushaku to Yōsei (2008) – Nico
Kaidan Restaurant (2009) – Koumoto Sho
Metal Fight Beyblade (2009-2012) – Ryuutarou Fukami
Arc the Lad series – Arc
Angelique series – Marcel
Black/Matrix series – Phillipe
Dragon Ball Z: Sparking series – Tapion
Fatal Fury series – Alfred
Makeruna! Makendō 2 (1995) – Masoccer
Samurai Shodown series – Yoshitora Tokugawa
Star Ocean series – Ratix Ferrence
Sukisho series – Chris
Super Robot Wars series – Clotho Buer, Adeu Waltham
Tales of Graces (2009) – Reimon
Abunai series 3: Abunai Bara to Yuri no Sono
Abunai series 5: Abunai Shiawase Chou Bangaihen – Papa Sudou, Shinobu Suzaku, Aki Shinohara
Junjou Boy Series 1: Junjou Boy Kinryouku – Samiya Kouzuki
Junjou Boy Series 2: Junjou Heart Kaihouku – Samiya Kouzuki
Kageki series 4: Kageki ni Koi Meikyuu – young Touma
Kiken ga Ippai – Yuuki Ogawa
Konna Joushi ni Damasarete 1 & 2 – Kaname Midorikawa
Shiritsu Takizawa Koukou Seitokai – Naoki Sone
Suit and Ribbon Tie – Yoshiyuki Takaoka
Tokyo Deep Night – Makoto Mihara
Tokyo Midnight – Makoto Mihara
Tsukiyo ni Koisuru Touzoku-san – Ruu
Doubutsu Sentai Zyuohger (2016-2017) – Saguil Brothers (Voiced : Hidenobu Kiuchi)
Shrek films – Gingerbread Man
South Park – Stan Marsh (Trey Parker)
Hiro Yūki Wikipedia