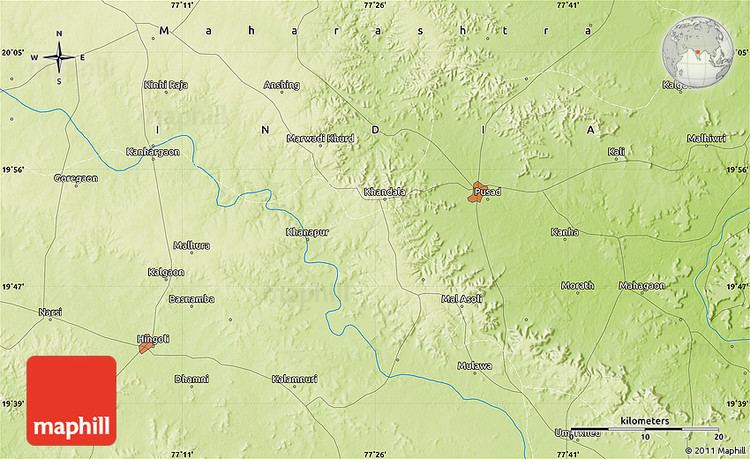 Marathwada was initially under Nizam's regime. Hingoli was the taluka of Parbhani district and part of Nizam's regime. It was Nizam's military base as it was border place with Vidarbha. In that era military troops, hospitals, veterinary hospital were in operation from Hingoli. Residents of Hingoli had experienced two big wars between Tipu Sultan and Maratha in 1803 and in 1857 between Nagpurkar and Bhosale. Being a military base the city was one of the important and famous place of the Hydrabad State.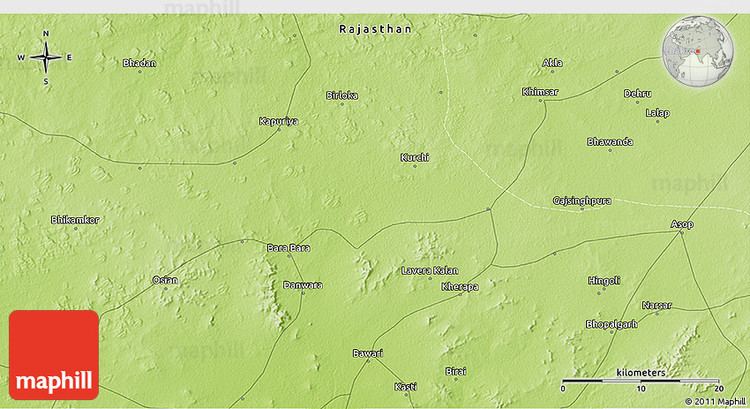 Some of the names like Paltan, Risala, Tophkhana, Pensionpura, Sadar Bazaar are famous today. In the 1956, post independence when the state were reconstructed Marathwada was attached to Mumbai State and in 1960 Hingoli became part of the Maharashtra State as part of Parbhani district. Later on 1 May 1999 Hingoli district came into existence by division of Parbhani.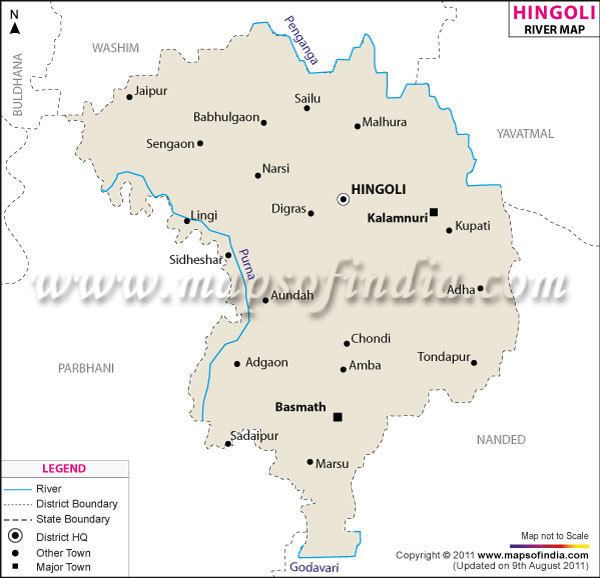 The following temples are of tourist interest for their architecture:
Jaleshwar Mahadev Temple (present in the lake)
Shri Datta Mandir, Mangalwara,
Dakshinmukhi Hanuman Temple, Khatkali
Hingoli is located at 19.72°N 77.15°E / 19.72; 77.15. It has an average elevation of 457 metres (1,499 ft). There are two big lakes and one river in city.
Hingoli is well connected by road and rail. The nearest domestic airport is in Nanded (80 km) which serves as a common airport for Nanded, Parbhani and Hingoli districts. Presently there are no commercial flights to and from Nanded. There is a National Highway connecting Washim, Kanergaon, Akola, Amrawati, Hingoli and Nanded. Chikalthana Airport, Aurangabad(232 km)operates regular flights to Mumbai & Delhi.
Hingoli Railway Station (Station Code HNL) is a railway station on Kacheguda-Khandwa Meter Gauge Section of Hyderabad(HYB) Division of South Central Railway(SCR). After Divisional adjustments in 2003, which saw the bifurcation of Hyderabad Division, Hingoli now comes under Nanded(NED) Division of SCR. The section from Purna and Akola passing through Hingoli is now converted under Broad Gauge. Hingoli is well connected to cities like Hyderabad, Mumbai, Jaipur, Kota, Ajmer, Indore, New Delhi, Bhopal. Agra, Tirupati, Chandigarh, Amritsar and Sri Ganganagar.
The major railway stations near to Hingoli are Nanded railway station(84 km), Parbhani railway station(75 km) & Akola railway station (135 km)which are connected to all major cities.
As of 2011 India census, Hingoli district had a population of 1,178,973. As per 2001 census Males constitute 51% of the population and females 49%. Hingoli has an average literacy rate of 67%, higher than the national average of 59.5%: male literacy is 74%, and female literacy is 60%. In Hingoli, 15% of the population is under 6 years of age.
The Hingoli town has total Population 85,103, out of which Hindu 53.41%, Muslim 33.47%, Christian 0.24%, Sikh 0.13%, Buddhist 10.63%, Jain 2.03%, Others 0.02%, Not Stated 0.07%.
Hingoli, Vasmat, Aundha Nagnath, Kalamnuri and Sengaon are five Talukas in Hingoli.
The town, being close to the Vidarbha region of Maharashtra, was of crucial strategic importance during British Raj. In the town can still be found the state farm building which was the base for British Army. As a result of military settlement, a large number of people from all over India made the town their home, which include the people from UP, MP, Rajasthan, Orissa, Andhra Pradesh. The main language spoken in the city is Marathi with a typical Hingoli flavour. Other languages spoken are Marwari, Hindi, Dakkhani Urdu.
The town is famous for its annual fair festival of 'Dasara'(दसरा महोत्सव) which is a very old festival of the town and second largest fair in India, celebrated for 155 years.1