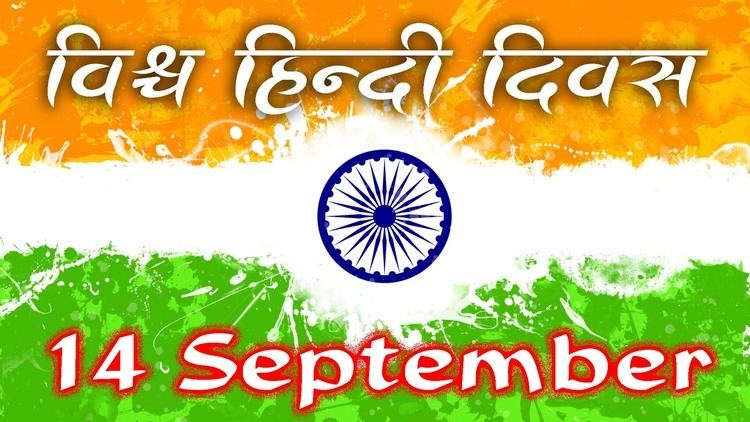 Hindi Divas (Hindi: हिन्दी दिवस) is an annual day celebrated on 14 September in Hindi speaking regions of India. Mostly this celebration is a government sponsored event in Central government of India offices, firms, schools and other institutions. It serves to promote and propagate the Hindi language. Its importance is demonstrated by feasts, events, competitions and other services held on this day. The event also serves as a patriotic reminder to Hindi-speaking populations of their common roots and unity.
Hindi is spoken as a native language by 500 million people and is recognized as the 2nd most-spoken language in the world. Hindi Divas is celebrated on 14 September because on this day in 1949, the Constituent Assembly of India had adopted Hindi written in Devanagari script as the official language of the Republic of India. The decision of using Hindi as the official language was ratified by the Constitution of India that came into effect on 26 January 1950. Under the Article 343 of the Indian Constitution, Hindi written in Devanagari script was adopted as the official language. Now there are 22 Scheduled languages of India. Now, 2 languages are officially used at Union government of India level: Hindi and English.
Apart from local-level events in schools and other institutions, a few of the notable events include
The President of India, Pranab Mukherjee had conferred awards in different categories for the excellence in different fields pertaining to Hindi at a function in Vigyan Bhawan in New Delhi.
Rajbhasha Awards were conferred upon the Ministries, Departments, PSUs and Nationalised Banks.
Ministry of Home Affairs in its order dated 25 March 2015 has changed name of two awards given annually on Hindi Divas. 'Indira Gandhi Rajbhasha Puraskar' instituted in 1986 changed to 'Rajbhasha Kirti Puraskar' and 'Rajiv Gandhi Rashtriya Gyan-Vigyan Maulik Pustak Lekhan Puraskar' changed to "Rajbhasha Gaurav Puraskar".
Hindi Divas Wikipedia