Japan




536,270 (2010)


534.43 km2


Kansai




Toshikatsu Iwami (since April 2003)




Himeji Castle, Engyo-ji, Himeji Central Park, Himeji City Tegarayama Botanical Garden, Mount Seppiko




Himeji Dokkyo University, University of KinDAI Himeji, Himeji Hinomoto College, Himeji College of Hyogo, Kenmei Womens Junior College



Himeji (姫路市, Himeji-shi) is a city located in Hyōgo Prefecture in the Kansai region of Japan.
As of May 1, 2016, the city has an estimated population of 534,881, with 213,950 households and a population density of 1,000.84 persons per km². The total area is 534.43 km2 (206.34 sq mi).
Himeji has been the center of Harima Province since Nara period. After the Battle of Sekigahara, Ikeda Terumasa received a fief at Harima Province and established the Himeji Domain. He expanded the Himeji Castle and its castle town.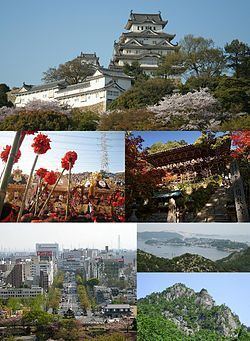 Himeji was the capital of Himeji Prefecture (later Shikama Prefecture) since 1871, but the prefecture was merged into Hyōgo Prefecture in 1876. The city of Himeji was established on April 1, 1889. After the 1923 Great Kantō earthquake, the Japanese government reportedly considered moving the nation's capital from Tokyo to Himeji.
On March 27, 2006, the town of Yasutomi (from Shisō District), the town of Kōdera (from Kanzaki District), and the towns of Ieshima and Yumesaki (both from Shikama District) were merged into Himeji.
During World War II, Himeji was selected as a target by the United States' XXI Bomber Command because it served as an important rail terminal and contained two large military zones. On July 3, 1945 at 4:23 PM (JST), 107 Aircraft took off to bomb Himeji. During the raid, 767 tons of incendiary bombs were dropped on Himeji, destroying 63.3% of the built up areas of the city. However, the famous Himeji Castle remained remarkably unscathed, even with one firebomb being dropped on it. This has resulted in many Himeji residents believing that the castle is divinely protected.
Himeji has a humid subtropical climate (Köppen climate classification Cfa) with hot summers and cool winters. Summers are significantly wetter than winters.
Originally a castle town, Himeji is home to the Himeji Castle, a UNESCO World Heritage Site. For over 400 years, Himeji Castle has remained intact, even throughout the extensive bombing of Himeji in World War II and natural disasters such as the 1995 Great Hanshin earthquake and various typhoons. Other attractions include the Engyō-ji temple, Mount Seppiko, Himeji Central Park (a safari park), the Himeji City Tegarayama Botanical Garden in Tegarayama Central Park and the Koko-en Garden.
Himeji's education system is similar to other cities in Japan. In the city itself, there are roughly 20-30 foreigners who teach English at the local elementary and junior high schools in the JET program. The schools range from the islands of Boze and Ie all the way north past Yumesaki. A North Korean school, Seiban North Korean Elementary and Middle School (西播朝鮮初中級学校), can also be found in the city.
Himeji is twinned or has sister city relationships with six international cities and two Japanese cities, as well as a sister castle located in France. Himeji has a particularly strong relationship with Phoenix, as teachers from America are able to teach English abroad for 1-2 years. Additionally, the Youth Ambassador Exchange Program allows for both Japanese and American high school students to experience the cultures and languages of their respective countries for 3 weeks.
Charleroi, Belgium
Phoenix, United States
Adelaide, Australia
Curitiba, Brazil
Taiyuan, People's Republic of China
Changwon, South Korea
Matsumoto, in Nagano Prefecture
Tottori, capital city in Tottori Prefecture
Château de Chantilly in Chantilly, France
Kuroda Kanbei (黒田 官兵衛) (1546–1604), famed strategist under Toyotomi Hideyoshi
Aya Matsuura, entertainer
Psycho le Cému, visual rock band
Kenzō Takada, fashion designer
Tetsuro Watsuji, philosopher and historian
Himeji, Hyōgo Wikipedia