Covid-19
Henry Morse





February 1, 1645, Tyburn




December 15, 1929






25 October 1970, Rome by Pope Paul VI, as one of the Forty Martyrs of England and Wales




The Church of St. Henry Morse




1 February; 25 October (as part of the 40 Martyrs)




Practical Guide to Teaching Adults: Technical Subjects




Alexander Briant, John Almond, John Southworth, Ralph Sherwin, Edmund Campion




Roman Catholic Church



Saint Henry Morse (1595 – 1 February 1645) was one of the Catholic Forty Martyrs of England and Wales.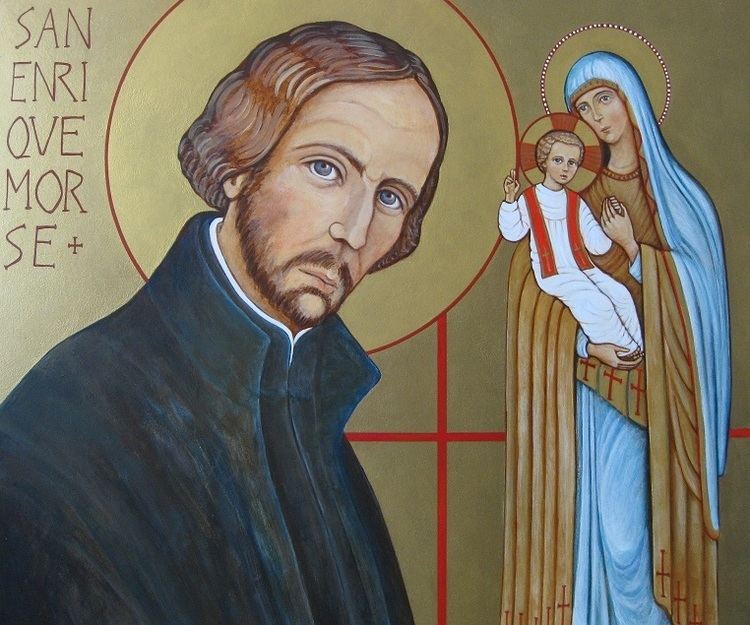 Born a Protestant in 1595 at his mothers house at Brome in the English county of Suffolk, Morse converted to Roman Catholicism at The English College, Douay on 5 June 1614. After various journeys he was ordained at Rome and left for the English Catholic Mission on 19 June 1624. He was admitted to the Society of Jesus at Heaton where he was arrested and then imprisoned for three years in York Castle. He completed his novitiate under his fellow prisoner, Father John Robinson, and took simple vows as a Jesuit. After three years in prison he was banished from the country and served as a missionary to the English regiments in the Low Countries.
Returning to England at the end of 1633 he laboured in London, and in 1636 is reported to have received about ninety Protestant families into the Church. He himself contracted the plague but recovered. Arrested 27 February 1636, he was imprisoned in Newgate. On 22 April he was brought to the bar charged with being a priest and having withdrawn the king's subjects from their faith and allegiance. He was found guilty on the first count, not guilty on the second, and sentence was deferred. On 23 April he made his solemn profession of the three vows to Father Edward Lusher. He was released on bail for 10,000 florins, 20 June 1637, at the insistence of Queen Henriette Maria. In order to free his sureties he voluntarily went into exile when the royal proclamation was issued ordering all priests to leave the country before 7 April 1641, and became chaplain to Gage's English regiment in the service of Spain.
In 1643 he returned to England; arrested after about a year and a half he was imprisoned at Durham and Newcastle, and sent by sea to London. On 30 January he was again brought to the bar and condemned on his previous conviction. On the day of his execution his hurdle was drawn by four horses and the French ambassador attended with all his suite, as also did Lois, Count of Egmont and the Portuguese Ambassador. Morse was allowed to hang until he was dead. At the quartering the footmen of the French Ambassador and of the Count of Egmont dipped their handkerchiefs into the martyr's blood.
Venerated from 8 December 1929, and beatified 15 December 1929 he was made one of the Forty Martyrs of England and Wales in 1970.
In 2012, a Catholic church dedicated to St. Henry Morse was built on Shelfanger Road in Diss, replacing the church of the Most Holy Trinity.
Henry Morse Wikipedia