Preceded by

Ciro Rodriguez




Residence

Laredo, Texas




Preceded by

Elton Bomer




Name

Henry Cuellar





Succeeded by

Gwyn Shea




Role

U.S. Representative




Political party

Democratic




Spouse

Imelda Cuellar







Born

September 19, 1955 (age 60) Laredo, Webb County, Texas, USA (

1955-09-19

)


Relations

Martin Cuellar, Jr. (brother-sheriff) Rosie Cuellar-Castillo (sister-city judge)




Office

Representative (D-TX 28th District) since 2005




Education

University of Texas at Austin (1998)




Children

Catherine Ann Cuellar, Christina Alexandra Cuellar




Parents

Odilia Cuellar, Martin S. Cuellar




Similar People

Ruben Hinojosa, Ciro Rodriguez, John Cornyn, Michael McCaul, Lloyd Doggett




Profiles




Twitter

Facebook
Rep henry cuellar border security is not cheap
Henry Roberto Cuellar (born September 19, 1955) is the U.S Representative for Texas's 28th congressional district, a position he has held since 2005. He is a member of the Democratic Party. The district extends from the Rio Grande to the suburbs of San Antonio.
Contents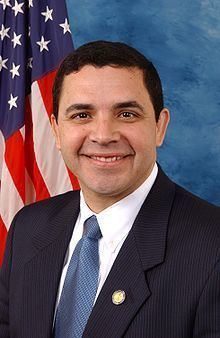 Outside politics he has served as a professor at the Texas A&M International University in his native Laredo. The son of migrant workers who never made it past the fifth grade, Cuellar has positioned himself as a strong advocate for education and has often described himself as "the most degreed member of Congress," having earned an associates degree, a bachelor's in Foreign Service, a master's degree in International Trade, a law degree, and a Ph.D. in Government. Two schools in Laredo are named in his honor.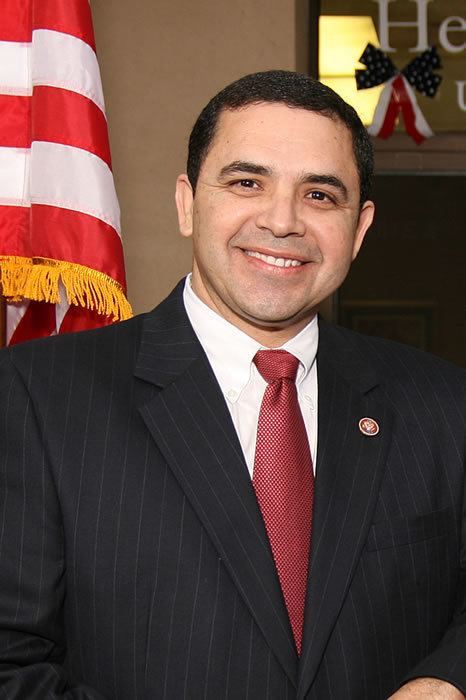 House rep henry cuellar d tx at dc latino obama inauguration gala
Background
Cuellar was born in Laredo, the county seat of Webb County in South Texas, where he has resided most of his life. Cuellar's parents, Martin S., Sr., and Odilia Cuellar, who are Mexican-Americans, traveled as far north as Idaho each year performing migrant labor but decided to remain in Laredo when Martin found work as a gardener and ranch manager. With eight children, the family lived on Reynolds Street in the Las Lomas neighborhood of "The Heights" part of Laredo. None of the streets there were then paved. The parents knew no English but instilled the work ethic in their children.
Henry is the oldest of the Cuellars' children. His brother, Martin, Jr., is the sheriff of Webb County, having been first elected in 2008 over the incumbent fellow Democrat Rick Flores. A sister, Rosie Cuellar-Castillo, is the Laredo municipal judge, having won a nonpartisan runoff election held for that position on December 11, 2010.
Cuellar attended Buenos Aires Elementary School, where he became an avid reader, and graduated in 1973 from J. W. Nixon High School, a classmate of future Webb County District Attorney Joe Rubio, Jr. He received an associate degree from Laredo Community College (then known as Laredo Junior College), where he would later teach courses in government on a part-time basis. He then attended the Edmund A. Walsh School of Foreign Service at Georgetown University in Washington, D.C., and graduated cum laude with a bachelor's degree in foreign service. He also holds a master's degree in International Trade from Texas A&M International University in Laredo and a Juris Doctor from the University of Texas School of Law and a Ph.D. from the University of Texas, both in Austin.
Cuellar opened his own law firm in Laredo in 1981 and became a licensed customs broker in 1983. He worked at his alma mater, TAMIU, as an adjunct professor for International Commercial Law from 1984 to 1986.
Texas House of Representatives
Prior to being elected to the United States House of Representatives, Cuellar was a member of the Texas House of Representatives from 1987 to 2001, having represented the major portion of Laredo. During his fourteen years as Laredo's state representative, he served in leadership positions in the House Appropriations, Higher Education, and Calendar committees. His most notable accomplishments in the Texas State Legislature included coauthoring the State Children's Health Insurance Program (SCHIP), which ensured health-care for thousands of previously uninsured children, and cosponsoring the largest tax cut in Texas history, which included a three-day tax holiday for consumers and small businesses. He also served on several national legislative committees dealing with state budgets, the U.S./Mexico border, and international trade.
Texas Secretary of State
In 2001, Cuellar was appointed as Secretary of State of Texas by Republican Governor Rick Perry. Though in office for only eight months, he worked to expand initiatives to register and educate voters and to protect voters' rights. He expanded the Border/Mexico Affairs office. As of 2016, Cuellar is the last Democrat to hold the position.
Elections
2002
In the 2002 election, Cuellar was the Democratic nominee for the House of Representatives in Texas's 23rd congressional district. He lost to five-term incumbent Republican Henry Bonilla by 52–47 in the closest race Bonilla had faced up to that date. Bonilla was unseated in 2006 in the revised 23rd District by the liberal Democrat Ciro Rodriguez.
2004
Cuellar spent much of the early part of 2003 preparing for a rematch against Bonilla. The 2003 Texas redistricting, however, shifted most of Laredo, which had been the heart of the 23rd since its creation in 1966, into the 28th district, represented by Ciro Rodriguez. Cuellar challenged Rodriguez, a former friend, for the nomination and won it by fifty-eight votes. The Washington Post described the campaign as "nasty ... with Cuellar claiming Rodriguez was an AWOL congressman, while Rodriguez called Cuellar a political opportunist." The initial count gave Rodriguez a 145-vote lead, but after a recount Cuellar led by 58 votes. "Rodriguez filed a lawsuit questioning the eligibility of hundreds of votes. A state appeals court ruling against Rodriguez guaranteed Cuellar the nomination." Cuellar's victory was one of only two primary upsets of incumbents, from either party, in the entire country.
The 28th district leans far more Democratic than the 23rd, and Cuellar's victory in the general election was a foregone conclusion. In November, he defeated Republican Jim Hopson of Seguin by a 20-point margin, becoming the first Laredoan in over 20 years elected to represent the 28th District of Texas. Cuellar's election to the House in 2004 was a standout for Democrats in a year in which Republicans otherwise gained seats in Texas' delegation in the U.S. House of Representatives.
2006
On March 7, 2006, Cuellar again defeated Rodriguez in the Democratic primary with 52 percent of the vote in a three-way race. No Republican even attempted to file, ostensibly assuring him of reelection in November.
On June 29, the U.S. Supreme Court declared that the Texas Legislature had violated the rights of Latino voters when it shifted most of Laredo out of the 23rd and replaced it with several heavily Republican San Antonio suburbs. As a result, nearly every congressional district from El Paso to San Antonio had to be redrawn, and the primary results for these districts were invalidated. A court drew a new map in which all of Laredo was moved into the 28th district while the south San Antonio area was moved to the 23rd. An election open to all candidates with a runoff if no candidate won 50% was scheduled for the date of the general election, November 7, 2006.
In the general election on November 7, 2006, Cuellar had no Republican opposition but handily defeated Ron Avery of McQueeney, the chairman of the conservative Constitution Party in Guadalupe County and trial attorney and Democrat Frank Enriquez of McAllen by taking nearly 68 percent of the more than 77,000 votes cast in the House race.
Cuellar's two main political rivals, Bonilla and Rodriguez, ran against each other in the 23rd, and Rodriguez won the election in the runoff. The Republican Bonilla was hence out of Congress for the first time since his upset election in 1992.
2008
Cuellar was unopposed in the March 4, 2008 Democratic primary.
In the November 4 general election, Cuellar easily defeated Republican James Taylor Fish. Jim Fish, as he is known, was a health-care administrator for seventeen years while he served in the United States Air Force. He also taught finance at the Army-Baylor University Graduate School of Health Care Administration. Fish, an ordained Southern Baptist deacon, opposed same-sex marriage. Fish said that he had decided to oppose Cuellar after watching the congressman's exchange with Sheriff Rick Flores over border security issues on a 2007 broadcast of the Glenn Beck television program, then on CNN.
Cuellar received 123,310 votes (69 percent) to Fish's 52,394 (29 percent) and 3,715 (2 percent) for Libertarian Ross Lynn Leone. In his own Webb County, Cuellar polled 41,567 votes (90 percent) to Fish's 4,089 votes (9 percent).
2010
Cuellar was unopposed for the Democratic nomination in 2010. Motivated by Cuellar's votes on cap and trade and the Patient Protection and Affordable Care Act, two Republicans, Daniel Chavez, a utility company employee from Mission in Hidalgo County, and Bryan Keith Underwood, a carpenter from Seguin in Guadalupe County, filed for their party's nomination to oppose Cuellar in the November 2 general election. Underwood polled 13,599 votes (74 percent) to Chavez's 4,794 (26 percent).
Underwood raised more funds than Cuellar's previous Republican opponents, but questions were raised in Underwood's hometown newspaper, the Seguin Gazette, about his criminal record, which included a guilty plea for a felony criminal mischief charge, which is normally a misdemeanor. Underwood had also refused on one occasion to present his identification to a law enforcement officer.
Cuellar prevailed, as expected, with 62,055 votes (56 percent) to Underwood's 46,417 (42 percent). The remaining 1,880 votes (2 percent) were cast for Libertarian Party candidate Stephen Kaat. While Underwood won in Guadalupe, Wilson, McMullen, and Atascosa counties, Cuellar's margin in his own heavily Democratic Webb County (25,415 to 3,569) was more than enough assure him a seat in the incoming Republican-majority House of Representatives.
2012
Cuellar was opposed in the November 6 general election by Republican William R. Hayward and the Libertarian Patrick Hisel. Hisel ran unsuccessfully as a Libertarian in 2010 against the Republican U.S. Representative Kay Granger from the Tarrant County-based 12th District. Hisel's current city of residence is unknown.
Guadalupe County, a Republican stronghold that usually opposed Cuellar for reelection, was removed from the reconfigured District 28.
Cuellar defeated Hayward, 112,262 (68 percent) to 49,095 (30 percent). Hisel polled 2 percent of the vote, and a Green Party candidate held the remaining 1 percent of the ballots.
2014
Cuellar faced no Republican opposition in 2014. Webb County Republican chairman Randy Blair of Laredo criticized Cuellar's vote for the Obama health law in 2010 but said the GOP could not find an opposing candidate because of Cuellar's personal popularity, political longevity, cooperation with Republicans, and strong campaign organization.
2016
Cuellar won a rematch in the March 1, 2016 Democratic primary with former Republican congressional candidate William R. Hayward, who switched parties to run again for the House. Cuellar received 49,962 votes (89.8 percent) to Hayward's 5,682 votes (10.2 percent). Cuellar then defeated Republican Zeffen Patrick Hardin in the November 8, 2016 general election, 122,086 (66.2 percent) to 57,740 (31.3 percent). Michael D. Cary, nominee of the Green Party, received 4,616 votes (2.5 percent).
Tenure
Cuellar is a member of the New Democrat Coalition. He is a Senior Whip, the only Texas Democrat on the House Agriculture Committee, and the Ranking Member of the House Homeland Security Subcommittee on Border and Maritime Security.
Cuellar describes himself as a "moderate-centrist" or sometimes as a Conservative Democrat. The Wall Street Journal has called him "a pro-growth Member [of Congress] in the John F. Kennedy mold," while the National Journal has described him as "the most centrist member of the Texas congressional delegation." The Issues2000 website classifies Cuellar as a "Moderate Liberal Populist." In 2017, Cuellar was ranked eighth nationally on the Bipartisan Index compiled by the think tank, the Lugar Center in Washington, D.C., named for its founder, Moderate Republican former U.S. Senator Richard Lugar of Indiana. The survey seeks to determine how well members of opposite political parties work across the aisle with one another. Rankings are based on sponsorship and co-sponsorship data of legislation. The second highest-ranked Texas congressional member was Representative Beto O'Rourke of El Paso, a candidate for the U.S. Senate in 2018, who is seeking the post now held by Republican Ted Cruz. For the 114th United States Congress as a whole, Cuellar was ranked as the 8th most bipartisan member of the U.S. House of Representatives during the (and the most bipartisan member of the U.S. House of Representatives from Texas) by The Lugar Center. Bruce Davidson, a columnist for the San Antonio Express-News, similarly regards Cuellar as "among the least partisan members of Congress" because the representative voted 71 percent of the time in the first months of 2017 with the Trump administration. Yet Cuellar has called Trump's proposed 2018 budget " bizarre, ideological. His reckless cuts would cut thriving and successful programs to pay for tax cuts for millionaires instead of the small businesses that really need them. He wants to slash basic programs that keep Texas drinking water clean ... He is threatening to make even less food available to our poorest families - including his voters."
Cuellar's ratings from various groups include the following: NARAL Pro-Choice America, 50; National Right to Life Center, 20; ACLU, 67; Human Rights Campaign, 70; American Conservative Union, 12; Americans for Democratic Action, 80; Drum Major Institute, A; Family Research Council, 29; Children's Defense Fund, 100; League of Conservation Voters, 100; Numbers USA, D; American Public Health Association, 89; Alliance for Retired Americans, 88; AFL-CIO, 81; National Education Association, A; AFSCME, 86; BIPAC, 60; Chamber of Commerce, 72; Club for Growth, 9; National Federation of Independent Business, 73; Taxes & Spending Americans for Tax Reform, 15; Citizens Against Government Waste, 22; National Taxpayers Union, 7; Defense and Peace Council for a Livable World, 50; Center for Security Policy, 50; Friends Committee on National Legislation, 50; Peace Action, 23; Gunowners of America, C; Brady Campaign to Prevent Gun Violence, 0.
He supports Second Amendment to the United States Constitution and opposes abortion, though Right-to-Life rates him only 20 percent acceptable and the American Conservative Union, 12 percent. He is one of two Blue Dog Democrat in Texas's Congressional delegation. According to his campaign website, his "top priorities are accessibility to constituents, education, healthcare, supporting veterans, serving seniors, providing for small businesses, enhancing homeland security, ensuring border security, advancing trade, and taking any other action that supports hard-working families and individuals."
On August 30, 2010, Cuellar's essay "Education Investments: A Sure Thing in Shaky Times" appeared in the Huffington Post, in which he argued that "Education is the gateway to opportunity." Cuellar lamented that "only 75 percent of American students graduate from high school, compared to 93 percent in South Korea" and that "41 percent of Hispanic adults in the U.S. do not have a high school diploma, compared with 14 percent of white adults." Many readers posted comments to the effect that the astronomical cost of higher education in a time when there was no guarantee of a job after graduation made its value considerably more suspect than Cuellar suggested.
Bipartisanship
Although a Democrat, Cuellar has close ties to Rick Perry and George W. Bush and has made bipartisanship a watchword of his political career. In the 2006 primary, he gained the endorsement of the Club for Growth, a conservative group that usually endorses Republicans. His endorsement of Bush for President in 2000 heightened concerns for a time that he might defect to the GOP, but he supported John F. Kerry in 2004. At the joint session of Congress at which Bush delivered his 2006 State of the Union address, a Washington Post photographer snapped a photo of Cuellar standing on the Republican side of the aisle, beaming as President Bush affectionately grabbed his face. Soon after the release of this photo, campaign contributions for his Democratic primary opponent, Ciro Rodriguez, saw an immediate and considerable increase. Cuellar defeated Rodriguez in the primary election and since then has played a more significant role in the Democratic House Caucus.
On February 10, 2010, The Hill ran an article headlined "Long shunned, Cuellar now embraced by House Dems" by Molly K. Hooper. It began: "Rep. Henry Cuellar (D-Texas) is finally a member of the club. Shunned by Democratic colleagues years ago, Cuellar has worked to build relationships in the House and is no longer considered an outsider in his own caucus." Hooper noted that while House Democrats had been irked by Cuellar's 2004 primary challenge to Rodriguez and his 2000 endorsement of Bush, "Times have changed. Cuellar ... has been a team player at crucial times this Congress. Days before the House climate change vote, Cuellar was telling a colleague he was going to vote no when Speaker Nancy Pelosi (D-Calif.) tapped him on the shoulder. 'Henry,' Pelosi said, 'can I talk to you about your vote?' President Barack Obama also lobbied Cuellar, who subsequently voted for the bill. Under pressure from the White House, the 54-year-old lawmaker also backed the healthcare bill after securing provisions on medical malpractice."
Nonetheless, noted Hooper, "Cuellar...still votes against his party. He rejected the first House bailout bill, which was voted down, but backed the final version that passed in the fall of 2008. Cuellar was also one of 27 Democrats who opposed the House financial regulatory reform bill, a top priority for Obama. As of June 7th 2017, Cuellar has voted with president Trump 70% of the time, the highest percentage of any democrat in congress. Cuellar consistently works with members on both sides of the aisle, a rarity for House members. In fact, he says his best friend in the lower chamber is a Republican: Rep. Michael McCaul (Texas)."
Cuellar has sometimes been criticized by fellow Democrats for being too close to Republicans. It has occasionally been suggested during his career that he would switch to the Republican Party. In an interview in September 2014, Cuellar said: "I'm a Democrat, and I will die as a Democrat ... if a person, an elected official, puts party before their country or their state, it's wrong. We're certainly seeing that in Washington, where party comes first, and if you're not loyal to the party, there's something wrong with you. The easy for thing for me is to always go along with the Democratic Party, but that would not serve my state and that would not serve the district itself... I'm the first Democrat that pays my dues [to the DCCC]... I pay more than anybody, any other Democrat, congressional member, in the state of Texas. I've done that for the last couple of years. I don't go around and say, 'I give more money than anybody,' but I support my party. If you are going to have a litmus test — out of 100 votes, you support your party and that makes you a good member of Congress? I think that's the wrong litmus test. What's good for America and what's good for Texas, that should be the litmus test."
Issues
On June 26, 2009, Cuellar voted with the House majority to pass, 219–212, the American Clean Energy and Security Act, also known as the cap and trade bill He also supported the Affordable Health Care for America Act, which narrowly passed the House and in December 2009 met the threshold for shutting off debate in the U.S. Senate by a single vote. As a pro-life Democrat, Cuellar expressed concerns that the Senate health care bill allowed federal funding for abortion. Cuellar voted on March 21, 2010, for the Patient Protection and Affordable Care Act, which passed the chamber by a vote of 219–212.
On June 15, 2007, Cuellar announced that he was endorsing then U.S. Senator Hillary Clinton for President in 2008, saying that "Senator Clinton is the only candidate with the experience and toughness to hit the ground running on her first day in the White House." In 2007, Cuellar held a fundraiser for Clinton in Laredo, which raised over $200,000 – aided by the presence of former President Bill Clinton. Laredo's Democratic Mayor Raul G. Salinas joined Cuellar in giving his early support to Hillary Clinton, who came to Laredo in October 2008 to endorse Cuellar's reelection to the U.S. House. On November 4, 2008, Democrat Barack Obama defeated Republican John McCain in Webb County with 71% of the vote to McCain's 28%.
Congressman Cuellar is the author and one of two main co-sponsors of legislation seeking to honor slain ICE agent Jaime Zapata. Billed as a border security bill, it would increase cooperation among state, local, and federal law enforcement agencies during investigations of human and drug smuggling from Mexico.
On July 24, 2013, Cuellar voted to continue funding NSA surveillance of U.S. citizens who are not suspected of committing any crime, in violation of their Fourth Amendment rights according to some views of the Bill of Rights.
In 2013, in a statement with House colleagues Beto O'Rourke of El Paso and Filemon Vela of Brownsville, Cuellar renewed his opposition to a border fence along the Rio Grande between the United States and Mexico. He denounced inclusion in the Senate immigration bill of an amendment sponsored by Bob Corker of Tennessee and John Hoeven of North Dakota, which calls for seven hundred additional miles of border fencing. Cuellar called the fence an antiquated solution to a new-age problem. The fence, he said, ignores the economic ties between the two nations which reached $500 billion in 2012.
In 2014, Cuellar was the only House Democrat to vote for a House bill that would have made it easier to deport unaccompanied minors to Central America. He also released unauthorized photographs of unsanitary conditions in Border Patrol detention centers. Despite these actions, Cuellar said he is firmly in support of "comprehensive immigration reform".
In May 2015, Cuellar called for 55 more federal judges to handle the overload of some 450,000 immigration cases. There are currently 260 such judges in 58 courts. Twenty-eight of the judges serve Texas; no immigration judge holds court in Laredo. Many of those awaiting hearings are held in detention centers or released on bond. In many cases those on bond never come to their scheduled hearings. Cuellar said South Texas and Laredo have particular need for the judges.
On July 23, 2015, the occasion of Donald Trump's Republican presidential campaign visit to Laredo, the Democrat Cuellar said that the New York City business tycoon has "overgeneralized and exacerbated a rhetoric of immigrant crime that has offended many, particularly those of Mexican heritage." Cuellar added that Trump's meeting with border officials will provide an opportunity for him to view Laredo as a "culturally-rich and safe border community." In April 2017, Cuellar issued a statement which accuses President Trump with: "threatening to shut down the government if he doesn't get to build his symbolic border wall. He wants to cut things like education, transportation, and health care, to fund his pet project. Now that he is facing bipartisan opposition to this irresponsible plan, he wants to punish the American people by shutting down the government."
Committee assignments
Committee on Appropriations
Subcommittee on Homeland Security
Subcommittee on State, Foreign Operations, and Related Programs
Committee on Homeland Security
Subcommittee on Border and Maritime Security (Ranking Member)
Subcommittee on Counterterrorism and Intelligence
Personal life
Cuellar and his wife, Imelda, have two daughters, Christina Alexandra and Catherine Ann. The city of Laredo has recognized him by naming two schools in his honor: the Doctor Henry Cuellar Elementary School and the Representative Henry Cuellar Charter School.
In 2014, Cuellar portrayed George Washington in the annual Washington's Birthday Celebration in Laredo.
References
Henry Cuellar Wikipedia
(Text) CC BY-SA