Henrik Weber







Henrik Weber (24 May 1818, Pest - 14 May 1866, Pest) was a Hungarian portrait and history painter in the Realistic style.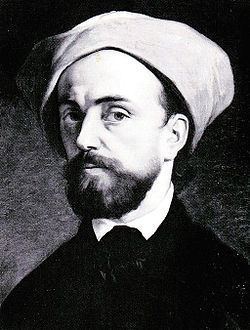 He received his first formal training as a painter from a local artist named János Tóbiás Kärgling (1780-1845). In 1835, he enrolled at the Academy of Fine Arts Vienna, where he studied with Johann Ender and Leopold Kupelwieser, who taught the history of aesthetics. Under their influence, he rejected the prevailing Academicism and embraced Realism. During his studies, he also worked as a lithographer and gave art lessons. After holding a successful exhibition, he became popular as a portrait painter and was able to stay in Vienna until the end of the 30s, working in both urban and rural areas.
In 1840, as the vogue for portraits waned in Vienna, he moved to Munich in hopes of continuing his career. He had no better luck there and turned to producing scenes from Hungarian history, such as the death of John Hunyadi. This change of subject matter proved to be a success and he was soon established as a popular history painter.
From 1845 to 1847, he took a trip through Italy, where he produced numerous rural landscapes and genre works of peasant life. On his way back to Munich, however, he was struck by homesickness and returned to Pest where he once again set himself up as a portraitist, although it was not especially profitable. He also created landscapes and cityscapes in addition to more history paintings; some on Biblical themes. When short on commissions, he supported himself as he had in Vienna, producing lithographs for local magazines and giving art lessons.
Henrik Weber Wikipedia