Accelerator physics




Cornell University




Physicist




Helen Edwards




Cornell University






May 27, 1936 Detroit, Michigan (

1936-05-27

)


Fermi National Accelerator Laboratory




E. O. Lawrence Award (1986) MacArthur Foundation Fellowship, National Medal of Technology




MacArthur Fellowship, National Medal of Technology and Innovation
Helen Thom Edwards (May 27, 1936 – June 21, 2016) was an American physicist. She was the lead scientist for the design and construction of the Tevatron at the Fermi National Accelerator Laboratory.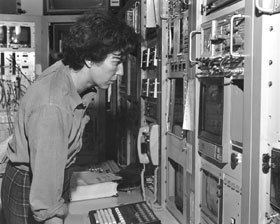 The Madeira School 1953
Edwards earned a bachelor's degree in physics from Cornell University. After her undergraduate work, she continued studying at Cornell University, where she earned her M.S. degree in the physics department under Kenneth Greisen working with the development of electromagnetic showers. Edwards eventually earned her PhD from Cornell in 1966, working under the direction of Boyce McDaniel in the Laboratory of Nuclear Studies.
After earning her PhD at Cornell in 1966, Edwards continued her work in Nuclear Studies at Cornell as a research associate at the 10 GEV Electron Synchrotron under the supervision of Robert R. Wilson. Edwards then joined Wilson when he transitioned to Fermi National Accelerator Laboratory in 1970.
When she first began her work at Fermilab, she was put in charge of the accelerator division. In her most well-known work, she oversaw the building of the Tevatron, one of the highest energy super-conducting particle accelerators ever constructed. Her work was supervised by Leon M. Lederman.
1966-70 Research Associate, 10 GEV Electron Synchrotron, Cornell University
1970-87 Associate Head of the Booster Group, Fermi National Accelerator Laboratory
1987-89 Head, Accelerator Division, Fermi National Accelerator Laboratory
1989-92 Head & Associate Director, Superconducting Division, Superconducting Super Collider Laboratory, Dallas
1988 MacArthur Fellow
1992–present Guest Scientist, Fermi National Accelerator Laboratory
USPAS Prize for Achievement in Accelerator Physics and Technology 1985
E. O. Lawrence Award, U.S. Department of Energy 1986
MacArthur Foundation Fellowship 1988
Elected to the National Academy of Engineering (1988)
National Medal of Technology 1989
Helen T. Edwards Wikipedia