Actress




Helen Martin




Fisk University




1937–2000




Actress




The Book of Animals






Helen Dorothy Martin


July 23, 1909 (

1909-07-23

)

St. Louis, Missouri, U.S.




March 25, 2000, Monterey, California, United States




Amanda Frankie Martin, William Martin




Don't Be a Menace to South Ce, 227, Hollywood Shuffle, Kiss the Girls, I Got the Hook Up




Tracey Cherelle Jones, Alaina Reed Hall, Hal Williams, Paris Barclay, Marla Gibbs
Helen Dorothy Martin (July 23, 1909 – March 25, 2000) was an American actress of stage and television. She was best known for her roles as Wanda on the CBS sitcom Good Times (1974–79) and Pearl Shay on the NBC sitcom 227 (1985–90).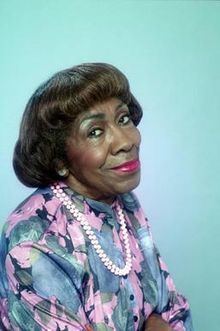 Martin was born in St. Louis, Missouri, the daughter of Amanda Frankie (nee Fox) and William Martin, a minister. She attended public schools, which at the time were segregated.
Martin moved to New York to pursue a career in acting. She was a Broadway character actress for many decades, debuting in Orson Welles' production of Native Son in 1941. She appeared in at least a dozen Broadway shows, including Jean Genet's The Blacks, the musical Raisin from 1973 to 1975, Ossie Davis' Purlie Victorious (and later the musical version, which was called Purlie), The Amen Corner and Tennessee Williams' Period of Adjustment. She was an original member of the American Negro Theater.
Martin became widely known later in life due to her roles in popular television series, which brought her a large audience. She had a recurring role as Wanda on the television series Good Times, and later as the neighbor Pearl Shay on the television sitcom 227, which lasted from 1985 until 1990. She also played on the short sitcoms Baby, I'm Back (as mother in-law, Luzelle) and That's My Mama.
She played a variety of grandmothers in films: Hollywood Shuffle (1987), Don't Be a Menace to South Central While Drinking Your Juice in the Hood (1996), I Got the Hook Up (1998), and Mama Doll in Bulworth (1998).
Helen Martin died of a heart attack on March 25, 2000 in Monterey, California.
2000: Something to Sing About (TV) .... Elderly Woman
1999: At Face Value .... Miss Ella
1998: I Got the Hook Up .... Grandmother ... aka I Got the Hook-Up (USA: review title)
1998: Bulworth .... Momma Doll
1998: Since You've Been Gone (TV) .... Old Lady
1998: The Jamie Foxx Show .... Mother Superior (1 episode, 1998)
1997: Kiss the Girls .... Nana Cross
1997: I'm Bout It (V) .... Mrs. Alberta
1996: Don't Be a Menace to South Central While Drinking Your Juice in the Hood .... Loc Dog's Grandma
1995: The Wayans Bros. .... Mother Evans (1 episode, 1995)
1995: The Parent 'Hood .... Ms. Morris (1 episode, 1995)
1994: Beverly Hills Cop III .... Grandma
1993: The Pitch .... Old Woman
1991: House Party 2 .... Mrs. Deevers
1991: Doc Hollywood .... Maddie, Welcoming Committee
1991: A Rage in Harlem .... Mrs. Canfield
1990: The Flash .... Sadie Grosso (1 episode, 1990)
1990: Night Angel .... Sadie
1990: 227 .... Pearl Shay (116 episodes, 1985–1990)
1989: Jackee (TV) .... Pearl Shay
1989: Full House .... Shirley (1 episode, 1989)
1989: A Raisin in the Sun (TV) .... Mrs. Johnson
1987: Hollywood Shuffle .... Bobby's Grandmother
1985: Amos (TV) .... Mrs. McKenzie
1984: Benson .... Benson's Aunt (1 episode, 1984)
1984: Repo Man .... Mrs. Parks
1984: St. Elsewhere .... Elderly Lady (1 episode, 1984)
1984: The Jerk, Too (TV) .... Grandma Johnson
1984: Hardcastle and McCormick (1 episode, 1984)
1983: Deal of the Century .... Baptist #3
1983: The Jeffersons .... Alice (1 episode, 1983)
1983: Alice .... Customer (1 episode, 1983)
1983: Hill Street Blues .... Neighbor / ... (2 episodes, 1981–1983)
1982: Wacko .... Harbinger's mother
1982: T. J. Hooker .... Mrs. Sears (1 episode, 1982)
1981: The White Shadow .... Louise / ... (2 episodes, 1980–1981)
1980: The Stockard Channing Show .... Maid (1 episode, 1980)
1979: Better Late Than Never (TV)
1979: Good Times .... Wanda (7 episodes, 1974–1979)
1979: Lawman Without a Gun (TV) .... Mrs. Cartwright
1979: Dummy (TV) .... Mrs. Harrod
1979: What's Happening!! .... Millie / ... (3 episodes, 1976–1979)
1978: Baby, I'm Back .... Luzelle Carter (12 episodes, 1978)
1978: Cindy (TV) .... Flower lady
1978: A Hero Ain't Nothin' but a Sandwich .... Mrs. Bell
1977: Starsky and Hutch .... Dirty Nellie / ... (2 episodes, 1977)
1977: Insight .... Bessie (1 episode, 1977)
1977: Sanford and Son .... Church Sister #1 / ... (4 episodes, 1976–1977)
1975: That's My Mama .... Laura (6 episodes, 1975)
1973: Maude .... Stella (2 episodes, 1973–1974)
1974: Death Wish .... Alma Lee Brown
1973: Big Daddy (TV)
1971: The Anderson Tapes (uncredited) .... Minor Role
1970: Where's Poppa? .... Second Job Applicant
1970: Cotton Comes to Harlem .... Church Sister
1969: J.T. (TV) .... Mrs. Hill
1955: The Phenix City Story .... Helen Ward
Helen Martin Wikipedia