7.8

/

10

Alchetron

7.8

Rate This





Country of origin

Australia




No. of series

7




Final episode date

29 November 1999






Theme music composer

Todd Hunter


Original language(s)

English




First episode date

27 February 1994







Written by

Elizabeth ColemanPhilip Dalkin




Directed by

Dan BurstallMandy Smith




Networks

American Broadcasting Company, Network Ten, ABC


Cast

Callan Mulvey, Lara Cox, Alex Dimitriades, Ada Nicodemou, Simon Baker


Similar

Blue Water High, Dance Academy, Clueless (TV series)
Heartbreak high tv series theme
Heartbreak High was a popular Australian television programme that ran for six years, through seven seasons from 1994 to 1999 on both Network Ten and ABC. The programme dealt with the students of the fictional Hartley High (replaced by Hartley Heights from season 5 onwards), a tough high school in a multiracial area of Sydney, and proved to be a more gritty and fast-paced show than many of its contemporaries. It was a spin-off of the 1993 Australian feature film The Heartbreak Kid which had featured Alex Dimitriades and Claudia Karvan. However, in later series the show shifted emphasis away from the school setting and the Poulos family to the students' homes and hangout - the Shark Pool.
Contents

Heartbreak high fox8 australia promo
Transmission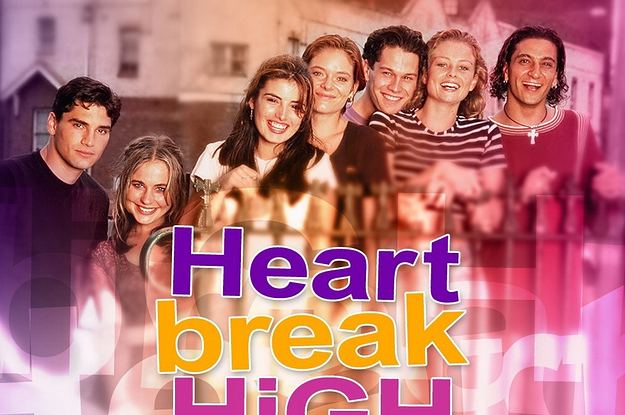 The programme was transmitted by Network Ten between 1994 and 1996, and by the Australian Broadcasting Corporation between 1997 and 1999. It also was successful in sales internationally and was broadcast in over twenty countries in Asia, Europe, North and South America. After the sixth series the Australian Broadcasting Corporation axed the show as selling another series to foreign TV stations proved increasingly difficult. The BBC had no interest in buying an additional series; due to scheduling delays a backlog of episodes had built up, and the programme was forced to wrap up production.
Series 1 (1994, episodes 1-38)
Regular Cast
Additions
Series 2 (1995, episodes 39-52)
Regular Cast
Dante Richards Student, love interest with Katarina

Additions
Series 3 (1995, episodes 53-65)
Regular Cast
Additions
Series 4 (1996, episodes 66-91)
Regular Cast
Additions
Series 5 (1997, episodes 92-130)
Regular Cast
Additions
Series 6 (1998, episodes 131-170)
Regular Cast
Additions
Series 7 (1999, episodes 171-210)
Regular Cast
Additions
DVD Release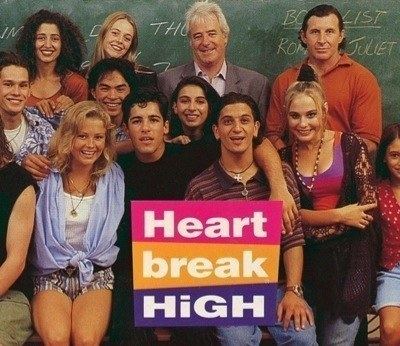 Series 1 was released in Australia as a DVD Box Set by Umbrella Entertainment on 5 October 2011. This DVD set is region free and will play globally featuring original 4:3 Full Frame and 2.0 English Dolby Digital Sound. The series 2 DVD Box Set was released by Umbrella Entertainment on 7 March 2012. The series 3 DVD Box Set was released by Umbrella Entertainment on 6 June 2012 and is currently available to order. Series 1 of the show has also been released on two DVD sets in Germany in the dubbed German version with no English audio track. This DVD is the official release for Germany.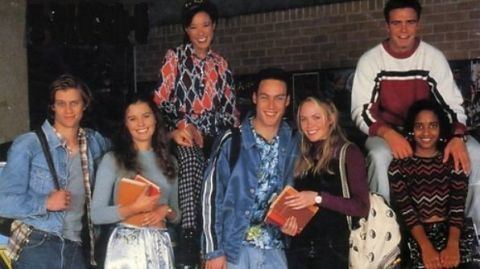 Umbrella have no current plans to release the rest of the series, as quoted on their Facebook page, due to 'music licensing issues'.
International
Heartbreak High was broadcast in the following countries:
In Argentina on Canal 9 as "Aprendiendo a vivir" ("Learning to Live").
In Australia on Network Ten, ABC TV and ABC3 (2009-2010).
In Belgium on Flemish public television VRT.
In Chile on Chilevision as "Aprendiendo a vivir".
In Czech Republic on SuperMax and later on TV Nova as Škola zlomených srdcí.
In Germany on ZDF (Episodes 1-52) and Sat.1 (Episodes 1-160)
In Greece on Skai and New channel in 1997.
In Hungary on MTV1 (Magyar Televízió - Hungarian Television), and is currently aired on m2 as Szívtipró gimi.
In Kosovo on RTV 21.
In India on Zee Café.
In Indonesia on RCTI
In Israel on Channel 1 (Israel) as Tichon Ha'Levavot Ha'Shvurim (תיכון הלבבות השבורים).
In Lithuania on LRT (Lietuvos Televizija) as Neramioji Gimnazija.
In Republic of Macedonia on A1 as Uchilishte skrsheni srca.
In Mexico on Azteca 13 as "Aprendiendo a vivir".
In Netherlands on Nederland 3 on VARA.
In Poland on TVP 1 as Szkoła złamanych serc (A School of Broken Hearts), re-runs were broadcast by TVN, and again in 2007 on TVP1.
In Portugal on RTP1 as "Amores e Rebeldia"
In Serbia оn 3K RTS as Nestašne godine (Mischievous Years) and again on TV Stankom, Art TV and various regional TV stations.
In Spain on TVE1 and TVE2 as Los Rompecorazones ("The Heartbreakers").
In United Arab Emirates on City7tv.
In United Kingdom on BBC 2, Trouble and TCC.
In United States on Encore WAM.
References
Heartbreak High Wikipedia
(Text) CC BY-SA