Also known as

'Bad Seeds (for Pilot)




Composer(s)

Ego Plum




Created by

C.H. Greenblatt




Genre

AnimationComedyFamilyFantasy




Directed by

Bill Dely (art)Michelle Bryan and Gary Conrad (animation)Supervising: Derek Evanick and Diana Lafyatis (Season 1)Januel Mercado (Season 2–present)C.H. Greenblatt (voice)




Voices of

Max CharlesAngelina WahlerJackson Brundage (2015)Tom Robinson (2015–present)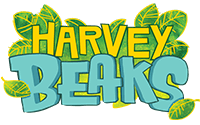 Harvey Beaks is an American animated television series created by C.H. Greenblatt for Nickelodeon. Originally announced to premiere on March 29, 2015, the series instead premiered on March 28, 2015 following the 2015 Kids' Choice Awards.
Contents
Plot
The series focuses on Harvey Beaks, a young, friendly bird, and his two best friends, the rambunctious twins Fee and Foo. Together, the trio seek adventure and mischief in Littlebark Grove, a magical forest that they call home.
Main
Harvey Beaks (voiced by Max Charles) – The show's main protagonist. Harvey is a kind-hearted, mild-mannered 10-year-old bird who is close friends with Fee and Foo. Harvey had a fear of heights, but overcame it with help from Fee and Foo. He also does not like to be disliked by anyone. After he hears his friends pretending to express their negative feelings towards him (just so he can get banned from the lake and be able to go "Pe-Choo"), he believes what they say and takes it hard to the point of having a brief, nervous breakdown. He has been shown reading a comic strip at night in his bedroom, and comments out loud to himself "Man, that cat sure does love lasagna", resembling the comic strip character Garfield. After spending Valentine's Day giving cards to other kids, and collecting his own, he is seen pulling a multiple full wagons of Valentine cards. He revealed to Fee and Foo that he has a birthmark in the shape of a mermaid under his right arm.
Fee (voiced by Angelina Wahler) – Harvey's best female friend and Foo's twin sister. Fee is 10 years old, wild, tomboyish, rude, but likable nevertheless. Although she is sometimes a little rough with him, Fee is very kind to Harvey and she does what she can to help him out. She once referred to Harvey as her "favorite dork". Fee and Foo share a strong sibling bond with each other. Fee and Foo appear to be orphans and live in a tree. Fee hates Valentine's Day; The reason is that she and Foo never get any Valentines, as nobody else (except Harvey) likes them. After another disappointing Valentine's Day, Fee decides to invent a new holiday: Anti-Valentine's Day. Fee also mentioned on a couple occasions that she does not know how to read. She is described as never taking baths. It has also been shown numerous times that she keeps most of her belongings in her hair.
Foo (voiced by Jackson Brundage in PC 101A-108B, Tom Robinson as of PC 109A-present) – Harvey's best male friend and Fee's twin brother. He is 10 years old. He has a personality similar to Fee and they are usually inseparable. Foo says he considers Fee to be like a brother to him. He and Fee appear to be homeless and they are spending every night in a tree and taking care of themselves. He does not know how to ride a bicycle; As a substitute, he likes to hold a long stick with both hands, and run with his arms outstretched in front of him. He has been shown pantsless three times.
Recurring
Kids
Michelle Beaks (voiced by Kari Wahlgren) – The Beaks' baby daughter that Irving often carried around in season 1 while she was still an egg. Jeremy and Harvey have both taken care of it (the former in "Comet Night!" and the latter in "Certified Babysitter"). The egg being called "little sister" indicated that the new baby inside would be a girl. In "The New Bugaboo", the egg finally hatched. She is known to have a personality that is the opposite of Harvey's.
Dade (voiced by C.H. Greenblatt) – A chubby-cheeked rabbit that has a fondness for Harvey and an abhorrence for Fee and Foo's antics. He is the oldest of his many brothers and sisters.
Claire (voiced by Nicole Wedel) – A young female fox with glasses. She had a crush on Foo up until the episode Buds before Studs when she realizes that Foo is not really interested in Claire. She also has an older sister who she mentions in the episodes "Buds Before Studs" and "Barkball". She likes to draw anime and manga-inspired art. She is 8 years old.
Princess Roberts (voiced by Andres Salaff) – An obnoxious, female owl who wears a pink dress and a tiara. Princess is bad-tempered, selfish and extremely spoiled. Her father is Doctor Roberts.
Techno Bear (voiced by Mason Vaughn) – A fat, street-smart brown bear in a red speedo. He is very loyal to Harvey. He is also a fan of rap music. In "Terrybear", it is revealed that his real name is Terrybear and he is adopted.
Kratz (voiced by Matthew Zhang) – A neurotic skunk who wears brown pants pulled up to his waist. He sprays gas when he is scared and nervous.
Rooter (voiced by Laz Meiman (season 1) and Addie Chandler (season 2) in an Australian accent) – A common warthog that has a large mohawk. Harvey says Rooter has experience in surviving in the wild. Rooter adds that he once got into a situation where he had no choice but to drink his pee. He says he prefers things that are far more challenging and refreshing.
Piri Piri (voiced by Madeleine Curry) – A female yellow bird who is Claire's best friend. She is also an artist. She sees good in everything, even Fee and Foo's butt-related drawings in her sketchbook. Her name references the African crop of the same name. She yet might have a crush on Harvey.
Seth/The Blargus (voiced by Oliver Max) – a friend of Harvey's. He is a Shapeshifter that turns into The Blargus.
Wade (voiced by Monica Ray) - Dade's little brother.
Mikey (voiced by Nicholas Sumida) – A frog, a friend of Harvey.
Paul (voiced by Laz Meiman) – A fox who was once called in the name of "Carson."
MJ (voiced by Jackson Brundage)- A young fox who appeared in the episodes "The Sleepover's Over" and "The Ghost Problem".
Pip (voiced by Davis Pak) – A mouse. He is like Detective Dirk.
Kevin – A fox.
Ralph – Harvey's friend who wears a baseball cap.
Carla or Clara – A pig.
Kathy (voiced by Nicholas Sumida) — A capybara who wears a pink bow. In "Kathy with a K", she shared her fondness of leaves with Harvey, and temporarily became an online sensation.
Janey – A possum. She is like Fee.
Adults
Miriam Beaks (voiced by Kerri Kenney-Silver) – Harvey's mother. She works as a librarian at a library.
Irving Beaks (voiced by Scott Adsit in the series, Chris Parnell in the pilot) – Harvey's father who wears glasses. He was often seen carrying Michele in a baby carrier before she hatched in season 2. He is 35 years old.
Doctor Roberts (voiced by Matt Berry and Jeff Bennett) – An owl who is Princess Robert's friendly, but eccentric father. He and Princess live in a Japanese-styled house. He has a weird obsession with crystals, and in his free time he likes to meditate. He has a very high opinion of his daughter, and it seems that he will pretty much do anything to show everyone how "great" she is.
The Spirit of Wetbark Lake (voiced by Dwight Schultz) – An enormous, blue cryptid that lives underwater in Wetbark Lake. He tries to keep the lake a nice place to have fun and has no tolerance for any bad behavior. Whenever someone misbehaves, he bans him/her from the lake where every time when a banned person tries to go in the water, he catapults him/her out. He has a buzzer installed near the shore for someone to summon him for help. Every time someone buzzes him, he emerges from the water and dramatically introduces himself before realizing who the caller is. He reappears in "Comet Night?".
Jeremy (voiced by C.H. Greenblatt) – A big, furry mushroom with an elephant trunk-like nose, and sort of talks with a Mickey Mouse-like voice. It is apparent that he likes to do card tricks, although his card tricks are considered to be terrible in "Pe-Choo!". He is seen working as a bartender at a night club, and is also seen trying to send in a job application. He is also a babysitter: He babysat the Beaks' egg in "Comet Night!" and babysat Harvey while Harvey babysits the egg in "Certefied Babysitter".
Randl (voiced by Marc Maron) – A raccoon who runs a rental store. He also lives with and constantly argues with his senile mother.
Moff Williamson (voiced by Dave Foley) – A moth who is into Steampunk culture. He is 35 years old.
Felicity (voiced by Kari Wahlgren) — Moff's girlfriend in the episode "Dad Band".
Bartleburt (voiced by Fred Stoller) – A tree spirit that works with Miriam at the local library. In "The Ghost Problem", Fee makes a scene at the library about Bartleburt being a ghost, offending him and making him immediately quit his job; however, he decides to return as a librarian after Fee apologizes to him with a cake. Bartleburt is married and lives in a ghost neighborhood sectityorest.
Carol (voiced by Kari Wahlgren) — The wife of Bartleburt
Tara (voiced by Ana Gasteyer) – A female spider hairdresser who works in a hair salon.
Les Squirrels (voiced by André Sogliuzzo (Jean Luc) and C.H. Greenblatt (other squirrels)) — A group of squirrels who first appear when Harvey and his friends find a member's tail and often reappear.
Gerald (voiced by C.H. Greenblatt) — A wise tortoise who runs a nursing home.
Jackie Slytherstein (voiced by RuPaul) — A snake who is the author of Harvey's favorite book series "Detective Dirk."
Officer Fredd (voiced by Michael-Leon Wooley) – A police officer. Small green caterpillar. He patrols the forest, keeping trouble at bay with his special taser gloves. He always shouts out "ba-zap" every time he electrocutes lawbreakers.
The Inspiration and Pooker (voiced by Mikey Kelley and Rachel Butera) – Technobear's adoptive parents. They are turtles who both speak with New Jersey accents. Their names are references to Michael Sorrentino and Nicole Polizzi's nicknames from Jersey Shore.
Aiden and Miley (voiced by Jim O'Heir and Catherine O'Hara) - Harvey's maternal grandparents.
Roland Beaks (voiced by Blake Clark) - Harvey's paternal grandfather.
Production
Greenblatt had previously created the show Chowder for Cartoon Network and had started to develop his next project shortly after it ended in 2010. Greenblatt was looking to create a series with a different vibe from Chowder, which was largely absurdist and comical in nature, by telling stories that had more heart and emotional connection with the audience. Greenblatt pitched the idea to Nickelodeon under the title Bad Seeds and an 11-minute pilot was commissioned. Bad Seeds was eventually picked up for a full series in September 2013, but had to change its name halfway through production due to trademark issues. Greenblatt turned to social networking sites such as Tumblr while building the crew of Harvey Beaks, hiring artists who had little to no prior experience working in animation, but were brought on board due to the quality of their personal work.
As with Greenblatt's previous show, Harvey Beaks features child actors providing the voices for the younger characters, with the exception of major characters Dade and Princess Roberts, who are voiced by C.H. Greenblatt and Andres Salaff respectively. Most of the minor child characters are voiced by adults.
On June 21, 2015, it was confirmed that the show was renewed for a second season, which began on June 13, 2016 with the episode The New Bugaboo.
On November 6, 2016, C. H. Greenblatt announced that the series had been cancelled. Additionally, Greenblatt confirmed that the remaining episodes will air on Nicktoons, which he had not been made aware of until seeing a Twitter post from Nickelodeon. Harvey Beaks was originally set to premiere new episodes on Nicktoons on November 20. Following a series of angry rants by Greenblatt (which were later deleted), the episodes were delayed indefinitely. Greenblatt later stated in a Tumblr post the following February, "I literally have no idea when or where or if [the episodes]'ll air." The new episodes eventually started airing on Nicktoons on March 1.
Music
All of the music in Harvey Beaks is composed by Ego Plum. It is also played by a 40-piece orchestra. The theme song was performed by Ego Plum, Steve Bartek, Bob Mothersbaugh and David J.
Comics
Issue one of the Harvey Beaks comic by Stefan Petrucha was due for release on January 26, 2016. A special comic was available for free at San Diego Comic-Con 2015.
Broadcast
Harvey Beaks made its international debut on Nicktoons in the United Kingdom and Ireland on May 11, 2015. The series premiered on Nickelodeon in Africa on June 1 and on Nickelodeon in Australia and New Zealand on June 6. The Southeast Asian feed of Nickelodeon debuted the show on June 8 in the Philippines and on June 29 in Singapore and Malaysia. The series premiered on YTV in Canada on October 10, 2015.
Reception
Harvey Beaks has received mostly positive reviews from critics. It has a 7/10 on IMDb, four stars out of five on Common Sense Media, a 7/10 on TV.com, and a 7.7/10 on BehindtheVoiceActors.
References
Harvey Beaks Wikipedia
(Text) CC BY-SA