Allegiance

Canada




Name

Harry Crerar




Rank

General





Years of service

1910–1946




Service/branch

Canadian Army






Birth name

Henry Duncan Graham Crerar




Buried at

Beechwood Cemetery Ottawa, Ontario




Died

April 1, 1965, Ottawa, Canada




Place of burial

Beechwood Cemetery, Ottawa, Canada




Education

Upper Canada College, Royal Military College of Canada




Awards

Order of the Companions of Honour, Order of the Bath




Similar People

Guy Simonds, Charles Foulkes, Bernard Montgomery - 1st Visco, Miles Dempsey, Brian Horrocks




Battles and wars

World War I, World War II



General Henry Duncan Graham "Harry" Crerar CH, CB, DSO, CD, PC (April 28, 1888 – April 1, 1965) was a senior officer of the Canadian Army, and became the country's "leading field commander" in the Second World War, where he commanded the First Canadian Army.
Contents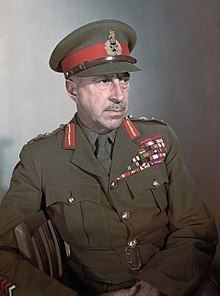 Early years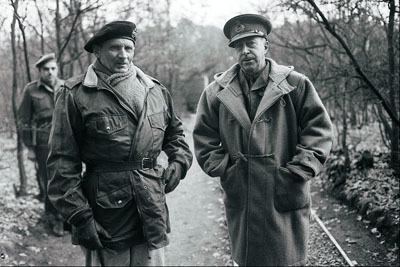 Harry was born in Hamilton, Ontario to lawyer Peter Crerar and Marion Stinson Crerar and died in Ottawa, Ontario. Prior to his military service, he worked as an engineer with the Hydro-Electric Power Commission of Ontario, where he founded the research department in 1912. He attended and graduated from Upper Canada College and Highfield School in Hamilton in 1906, and then went to the Royal Military College of Canada, in Kingston, Ontario. He rose to the rank of lieutenant-colonel of artillery in World War I. Unlike most officers, he remained in the army after the war. After attending the Staff College, Camberley from 1923 to 1924, followed by the Imperial Defence College in 1931, he was appointed Director of Military Operations & Military Intelligence in 1935 and Commandant of the Royal Military College of Canada in 1939.
World War II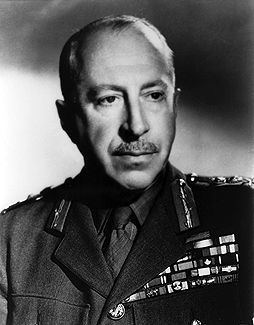 He served in World War II, initially as a brigadier on the General Staff at Canadian Military Headquarters in England. In early 1940 he was appointed Vice Chief of the General Staff in Canada and later that year became Chief of the General Staff.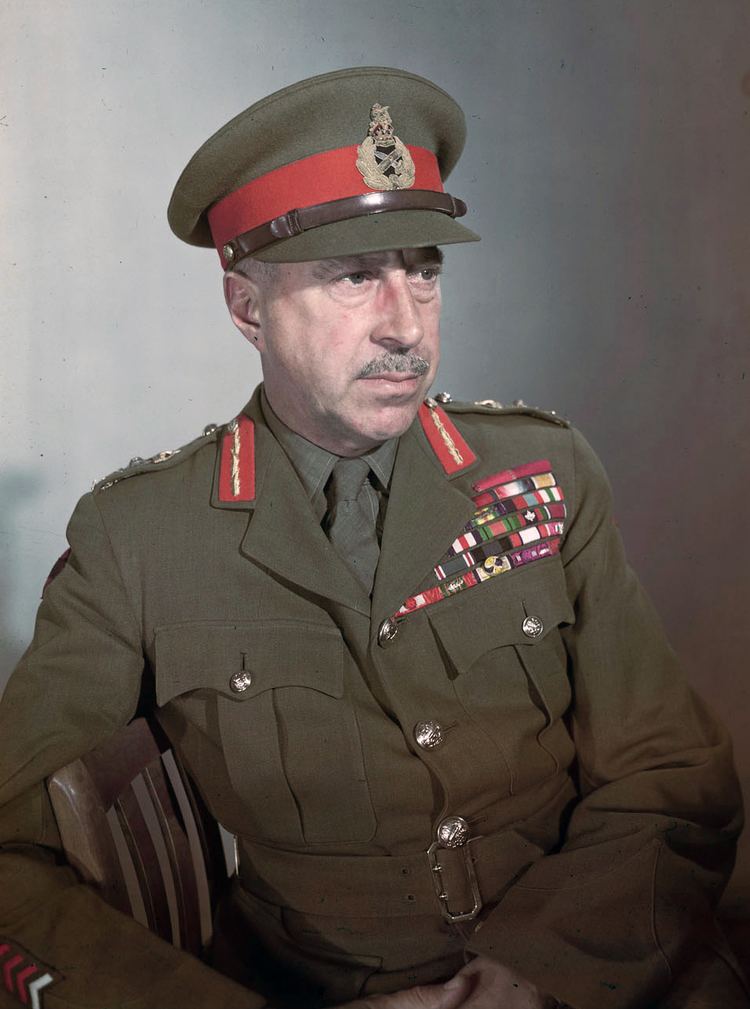 Promoted to the rank of major-general and became General Officer Commanding (GOC) of the 2nd Canadian Infantry Division, which was then stationed in England in 1941. The following year he was promoted to lieutenant general and assumed command of I Canadian Corps in England and led the corps overseas to Italy, fighting briefly in the Italian Campaign.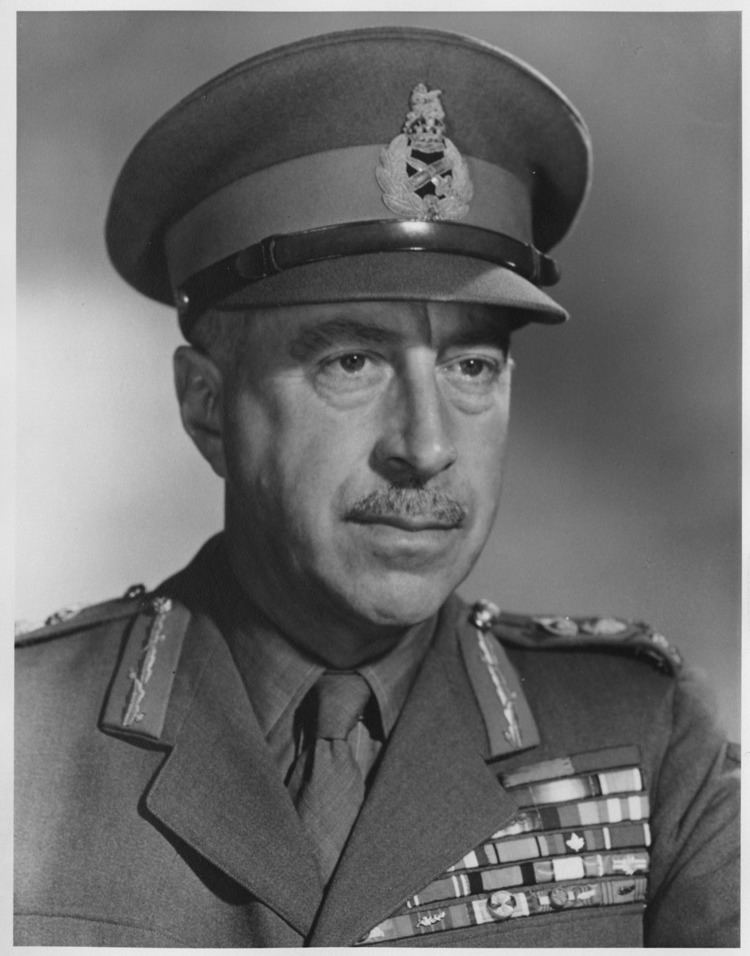 In March 1944 he returned to England and was promoted again, this time to command of the Canadian First Army. Although it was designated as the Canadian First Army, it contained a significant amount of British and Polish troops, including the entire British I Corps, commanded by Lieutenant-General John Crocker, along with the Polish 1st Armoured Division, and other troops from various European countries. The First Army was withheld by General Sir Bernard Montgomery, commander of the 21st Army Group, during the first few weeks of the Normandy Campaign.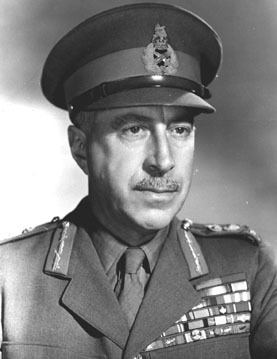 The First Army went on to fight in Operation Totalize and Operation Tractable and the Battle of the Falaise Pocket, followed by the clearing the Channel Coast. Crerar was recovering from a bout of dysentery during the Battle of the Scheldt in October 1944 and his role as GOC was assumed by Lieutenant-General Guy Simonds, the commander of II Canadian Corps. Crerar's First Army, reinforced with the British XXX Corps, under Lieutenant-General Brian Horrocks, played a major role in the Battle of the Reichswald Forest, codenamed Operation Veritable. The First Army, now consisting of I Canadian Corps (see Operation Goldflake) then went on to participate in the Western Allied invasion of Germany and in the liberation of the Netherlands. The end of World War II in Europe came soon after.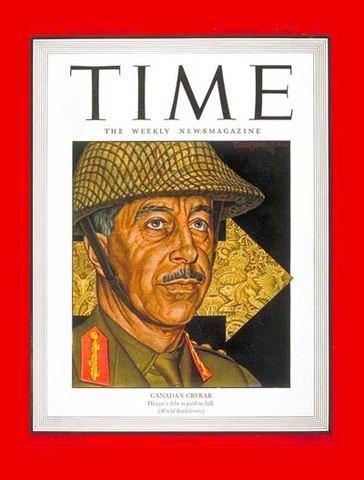 Crerar was on the 18 September 1944 cover of Time magazine. He was promoted to full general in November 1944.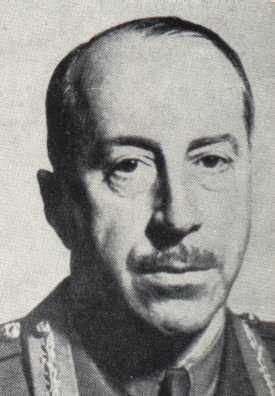 He has been described as an able administrator and politically astute, assessments of his performance as a military commander range from "mediocre" to "competent".
Farewell
A farewell sign posted on behalf of Gen. H.D.G. Crerar to troops of the 1st Canadian Army departing from the Netherlands in 1945
'Here's wishing you a satisfactory and speedy journey home, and that you find happiness at the end of it. You go back with your share of the magnificent reputation earned by the Canadians in every operation in which they have participated in this war. A fine reputation is a possession beyond price. Maintain it – for the sake of all of us, past and present – in the days ahead. I know that you will get a great welcome on your return. See to it that those Canadian units and drafts which follow after you get just as good a 'welcome home' when they also get back. Good luck to each one of you – and thanks for everything. (H.D.G. Crerar) General'
Post-war
Crerar arrived in Halifax, Canada, on the troopship SS Île de France, with 980 Canadian World War II veterans on August 5, 1945. He returned to Ottawa two days later. Crerar retired from the army in 1946 and later occupied diplomatic postings in Czechoslovakia, the Netherlands and Japan.
During the 1963-64 flag debate, he believed the Canadian Red Ensign should remain the national flag of Canada.
Crerar was sworn into the Queen's Privy Council for Canada on June 25, 1964.
Tribute
The Crerar neighbourhood on the Hamilton, Ontario, mountain is named after him. It is bounded by the Lincoln M. Alexander Parkway (north), Stone Church Road East (south), Upper Wellington Street (west) and Upper Wentworth Street (east). Landmarks in this neighbourhood include Ebenezer Villa (retirement home) and Crerar Park, also named after him.
Crerar Street in Regina is also named in his honour.
A boulevard in the city of Kingston, Ontario, is also named in his honour. Crerar Boulevard runs south from Front Road in the Point Pleasant district, near Reddendale. The tree-lined street is bounded by Bishop Street to the East and Lakeview Avenue/Gordon Street to the West.
An avenue in Ottawa, Ontario, is named in his honour. Crerar Avenue, a major road in the city, runs from Merivale Road to Fisher Avenue.
There is also a Crerar township close to Sturgeon Falls, Ontario.
Additionally, an Elementary school, located at 30 McGregor Road in Scarborough, Ontario, was named in his honour. They are nicknamed the Cougars.
References
Harry Crerar Wikipedia
(Text) CC BY-SA