Half a Sixpence is a 1967 British musical film directed by George Sidney and choreographed by Gillian Lynne. The screenplay by Beverley Cross is adapted from his book for the stage musical of the same name, which was based on Kipps: The Story of a Simple Soul, a 1905 novel by H. G. Wells. The music and lyrics are by David Heneker.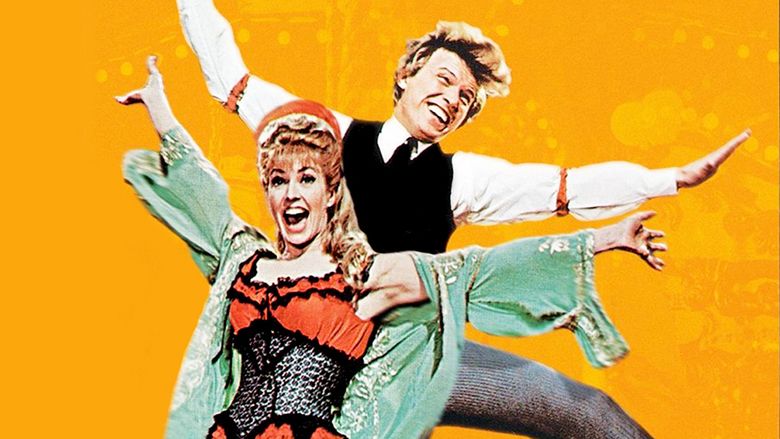 Set in Kent during the Edwardian era, the plot centres on Arthur Kipps, a draper's assistant who falls in love with a chambermaid named Ann. In quick succession, he comes into a fortune, nearly marries a wealthy girl, marries Ann instead, loses his fortune, but regains that fortune and lives happily ever after with a loving family.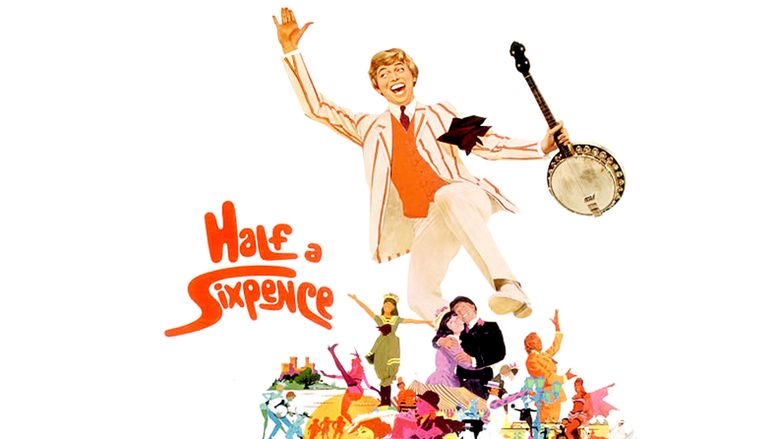 This was the final film made by Sidney, director of such well-known movies as Annie Get Your Gun, Kiss Me Kate, Bye Bye Birdie and Viva Las Vegas.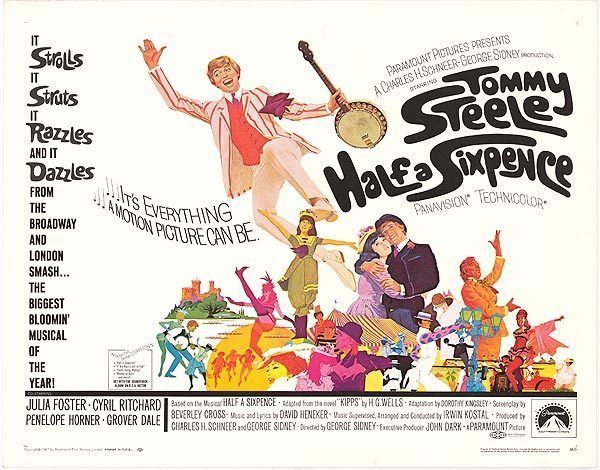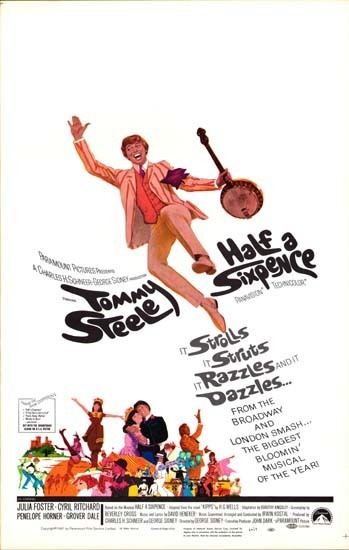 Location scenes include Aylesford, The Pantiles in Royal Tunbridge Wells, Eastbourne, Blenheim Palace in Oxfordshire, Oakley Court in Berkshire, Devil's Bridge, Ceredigion and Ockham in Surrey. Interiors were filmed in the Shepperton Studios in Surrey.
The budget was originally $2.5 million, then increased to $3.3 million.
Tommy Steele as Arthur Kipps - "Artie"
Julia Foster as Ann
Cyril Ritchard as Harry Chitterlow
Penelope Horner as Helen
Elaine Taylor as Victoria
Grover Dale as Pearce
Hilton Edwards as Shalford
Julia Sutton as Flo
Leslie Meadows as Buggins
Sheila Falconer as Kate
Pamela Brown as Mrs. Washington
James Villiers as Hubert
Christopher Sandford as Sid
Jean Anderson as Lady Botting
Allan Cuthbertson as Wilkins
Bartlett Mullins as Carshott
"All in the Cause of Economy," performed by Artie, Pearce, and Apprentices
"Half a Sixpence," performed by Artie and Ann
"Money to Burn," performed by Artie, Harry, Helen, and Chorus
"I Don't Believe A Word of It"/"I'm Not Talking to You," performed by Ann and Friends, Artie, Pearce, and Apprentices
"A Proper Gentleman," performed by Chorus
"She's Too Far Above Me," performed by Artie
"If the Rain's Got to Fall," performed by Artie, Children, and Chorus
"Lady Botting's Boating Regatta Cup Racing Song" (by David Heneker and Irwin Kostal), performed by Artie and Chorus
"Flash, Bang, Wallop!," performed by Artie, Pearce, and Chorus
"I Know What I Am," performed by Ann
"This Is My World" (by Heneker and Kostal), performed by Artie
Finale: "Half a Sixpence" (reprise)/"Flash, Bang, Wallop" (reprise), performed by Artie, Ann and Chorus
Julia Foster's vocal double was Marti Webb, who played Ann in the original 1963 London production (and who appears on the London Cast album).
In her review in the New York Times, Renata Adler said the film "should be visually fascinating to anyone in a state that I think is best described as stoned. The movie is flamboyantly colourful [and] wildly active: hardly anyone holds still for a single line, and the characters — in the ancient tradition of musicals — live on the verge of bursting into improbable song. The songs themselves, trite, gay, and thoroughly meaningless, make absolutely no concession to anything that was happened in popular music in the last 10 years . . . some of it is quite beautiful to watch . . . . it is nice to have a musical photographed not on a sound stage, but in outdoor England . . . but most of the time one wonders where anyone found the energy to put on this long, empty, frenetic extravaganza . . . I cannot imagine that there will be many more musicals that are so lavishly, exuberantly out of touch with the world of rock and the music of our time."
Roger Ebert of the Chicago Sun-Times felt that "Tommy Steele is just the performer for this sort of schmaltz. He is, in fact, a very good song-and-dance man, the only member of his generation who bears comparison with Gene Kelly and Dan Dailey . . . [George Sidney's] timing tends to lag, his sight gags telegraph ahead, and his songs drag."
Variety said, "The cohesive force is certainly that of Tommy Steele, who takes hold of his part like a terrier and never lets go. His assurance is overwhelming, and he leads the terping with splendid vigor and elan."
Channel 4 calls it "undeniably colourful and annoyingly energetic" and adds, "there is plenty of flash, bang and wallop, but very little warmth or soul, the hapless star attempting to carry the film by grinning goonishly throughout. He exudes as much charm as the deckchair he disguises himself as."
Time Out London says, "the film lays on the period charm rather exhaustingly, and the songs . . . don't exactly sweep you along."
The movie was the 13th most popular at the UK box office in 1969.
The film was nominated for the BAFTA Award for Best Costume Design - Colour. Although it lost to A Man for All Seasons, its designers did not go home empty-handed, as they were responsible for the costumes in Seasons as well.