Preceded by

Jerrold Nadler




Website

House website




Succeeded by

Walter T. Mosley




Religion

Baptist




Spouse

Kennisandra Jeffries




Political party

Democratic




Role

U.S. Representative




Preceded by

Roger Green




Name

Hakeem Jeffries







Born

August 4, 1970 (age 45) New York City, New York, U.S. (

1970-08-04

)


Alma mater

Binghamton University Georgetown University New York University




Office

Representative (D-NY 8th District) since 2013




Education

New York University School of Law (1997)




Children

Joshua Jeffries, Jeremiah Jeffries




People also search for

Jerrold Nadler, Kennisandra Jeffries, Joshua Jeffries, Jeremiah Jeffries




Profiles




Facebook

Twitter
Rep hakeem jeffries let s get back to doing the business of the american people
Hakeem Sekou Jeffries (born August 4, 1970) is a Democratic member of the U.S. House of Representatives, representing New York's 8th congressional district in Brooklyn and Queens. Prior to taking office in 2013, he was a corporate lawyer for Paul, Weiss, Rifkind, Wharton & Garrison, then Viacom and CBS, before running for and serving in the New York State Assembly from 2007 to 2012, representing the 57th Assembly district.
Contents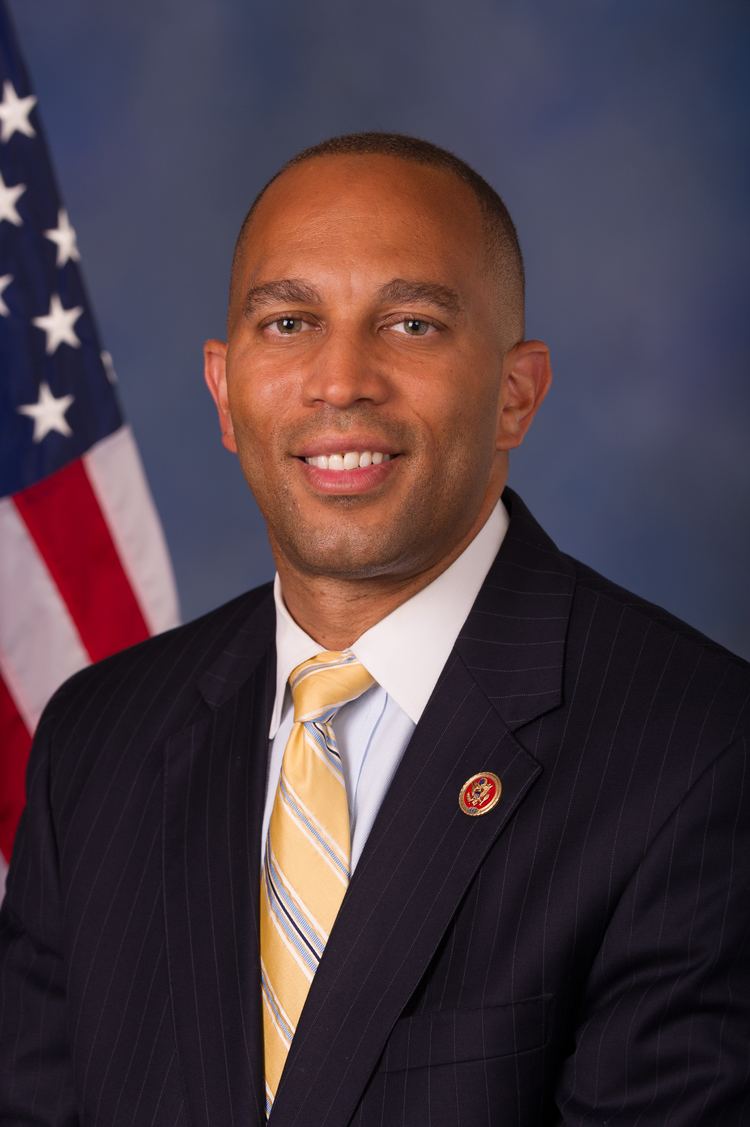 Rep hakeem jeffries on the broken windows policy and eric garner
Early life and education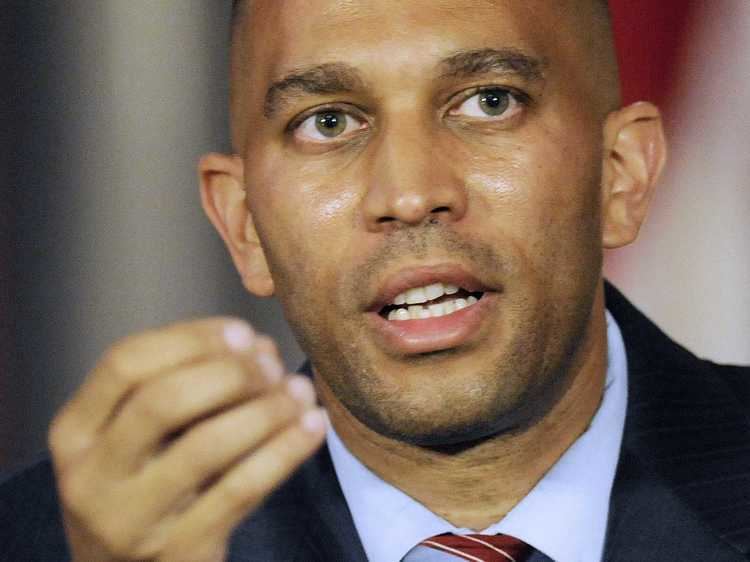 Jeffries grew up in Crown Heights, Brooklyn and received his bachelor's in political science from Binghamton University with honors. He graduated from New York University School of Law and obtained a master's degree in public policy from Georgetown University.
Law career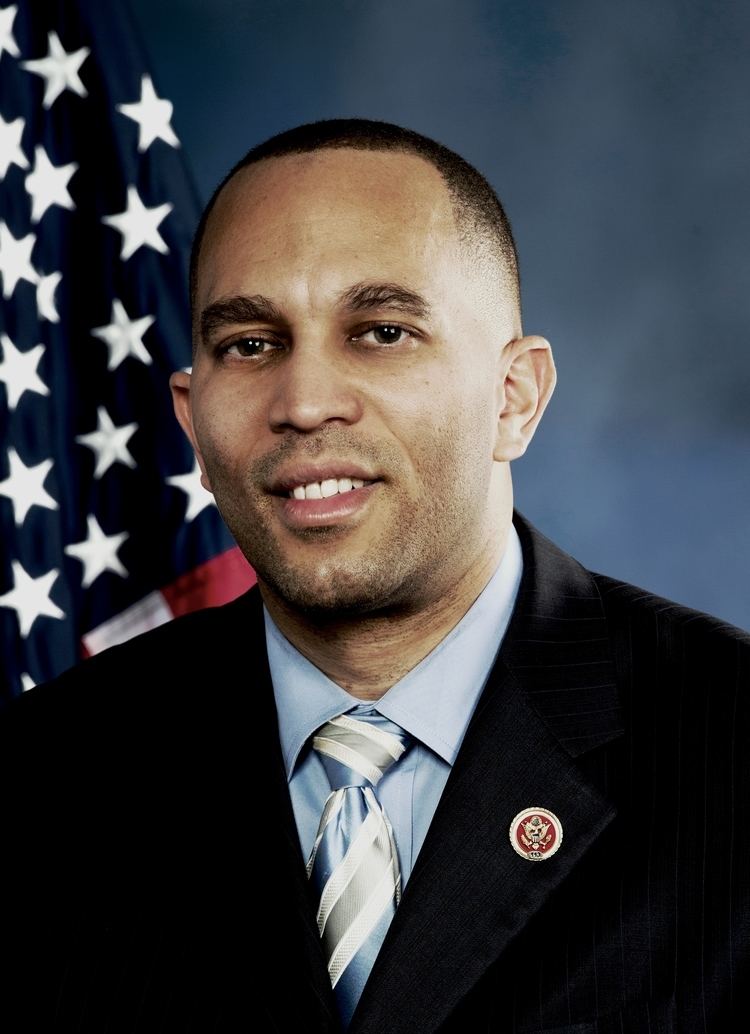 He served as a clerk for Judge Harold Baer, Jr., then worked in the litigation department of Paul, Weiss, Rifkind, Wharton & Garrison before becoming assistant litigator for Viacom and CBS.
Elections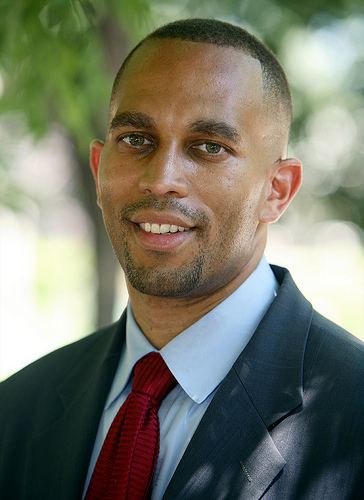 In 2000, he challenged incumbent Democratic Assemblyman Roger Green in the primary, losing 59 percent to 41 percent. In the general election, Jeffries ran on the Independence Party line, and Green defeated him again, this time 90 percent to his 7 percent.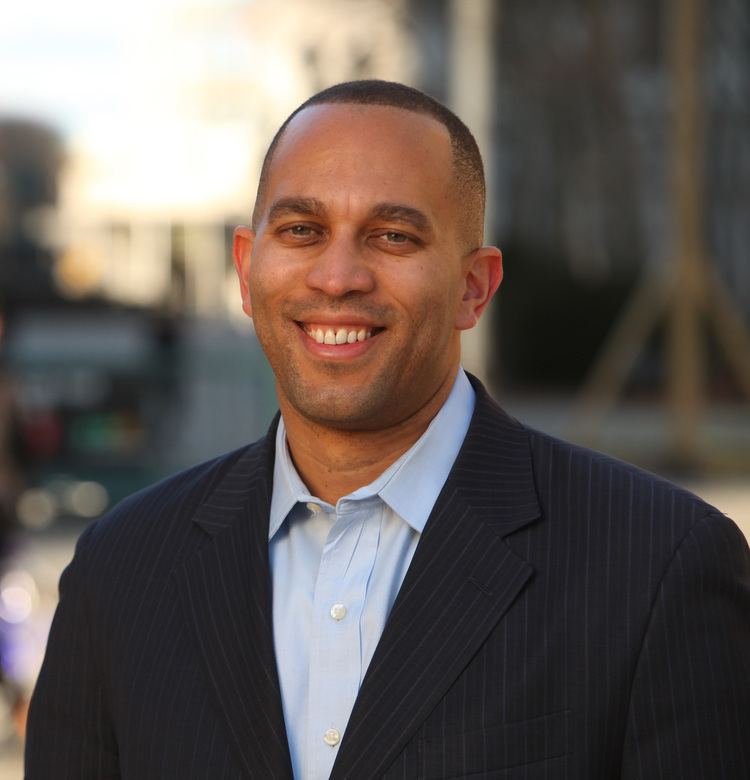 Two years later, after redistricting, his residence was put out of the 57th Assembly District. Jeffries claimed in the 2010 documentary film Gerrymandering that it was a retaliatory move (a charge denied by Green). He challenged Green again in the Democratic primary and lost again, by 24 points.
In 2006 Green decided to retire from the Assembly in order to run for New York's 10th congressional district against incumbent Democrat U.S. Congressman Ed Towns. Jeffries ran for the 57th district again and won the Democratic primary, defeating Bill Batson and Freddie Hamilton 64 percent to 25 percent and 11 percent. In the general election, he handily defeated Republican nominee Henry Weinstein.
Two years later, in 2008, he won re-election to a second term, defeating the Republican candidate Charles Brickhouse, with 98 percent of the vote. In 2010 he won re-election to a third term, easily defeating the Republican candidate Frank Voyticky.
Tenure
During his six years in the state legislature he introduced over 70 bills. In response to a series of toy recalls, he introduced bill A02589, which would penalize retailers and wholesalers who knowingly sell to the public hazardous or dangerous toys that have been the subject of a recall. In 2010, the Stop-and-Frisk database bill was signed into law by Governor Paterson that banned police from compiling names and addresses of those stopped but are not arrested during street searches.
He also wrote and sponsored the hotly contested house bill A. 11177-A (now law) that eliminated the stop-and-frisk database used by police forces in New York City. He sponsored and passed house bill A.9834-A (now law) the Inmate-base gerrymandering law that ended counting prison populations of upstate districts as part of the public population, becoming the second state to end this practice.
Committee assignments
State House Committee on Banks
State House Committee on Codes
State House Committee on Corporations, Authorities, and Commissions
State House Committee on Correction
State House Committee on Housing
State House Committee on Judiciary
State House Subcommittee on Banking in Underserved Communities
State House Subcommittee on Mitchell-Lama
State House Subcommittee on Transitional Services
State House Subcommittee on Trust and Estates
Elections
Jeffries announced he would give up his Assembly seat to run in New York's 8th congressional district in January 2012. The district, which includes the Brooklyn communities of Fort Greene, Clinton Hill, Bed-Stuy, Brownsville, East New York, Canarsie, Mill Basin and Coney Island along with South Ozone Park and Howard Beach in the borough of Queens, had previously been the 10th, represented by 30-year incumbent Democrat Edolphus Towns. On the steps of Brooklyn's Borough Hall, Jeffries said: "Washington is broken. Congress is dysfunctional. People are suffering. We deserve more."
Jeffries expected to give Towns a strong challenge in the Democratic primary—the real contest in this heavily Democratic, black-majority district. However, with Jeffries assembling "a broad coalition of support" and having more cash than the incumbent, Towns announced his retirement on April 16, leaving Jeffries to face city councilman Charles Barron in the Democratic primary.
Touted as the "Barack Obama of Brooklyn" during his run for the congressional seat, Jeffries has said he doesn't see the Obama comparison. "Other than the fact that we were both born on August 4, it's not clear to me that there's much of a professional resemblance,"
On June 11, 2012, former Mayor Ed Koch, Congressman Jerrold Nadler, Councilman David Greenfield, and Assemblyman Dov Hikind gathered with several other elected officials to support Jeffries and denounce Barron. The officials described Barron as anti-Semitic and denounced his allegedly anti-Semitic statements, while also denouncing his support of Zimbabwe ruler Robert Mugabe and former Libya ruler Muammar Gaddafi. Barron responded that such attacks were a distraction from bread and butter issues.
Green Party candidate Colin Beavan called on Jeffries to "get the money out of politics", noting that as of his March 2012 filing, "he had received about $180,000, or 35 percent of his funds, from Wall Street bankers and their lawyers". Beaven added that Jeffries gets many campaign donations from charter school backers and hedge fund managers. After primary night, when asked about his two most important concerns, Jeffries replied eliminating the "crushing burden" of private religious school education costs.
After out-raising him by hundreds of thousands of dollars, Jeffries defeated Barron in the primary election on June 26, 2012, 72 to 28 percent. A New York Daily News post-election editorial noted that Barron had been "repudiated" in all parts of the Congressional district, including among neighbors on Barron's own block in East New York, where the Councilman lost 57-50. The Daily News also analyzed Jeffries' donations in the last weeks of the campaign and found almost 50 percent came from out of state. He went on to defeat Beavan and Republican Alan Bellone in the November general election with 71 percent of the vote, but not before declining to attend a pre-primary debate with third party candidates, saying that the presence of the Green Party and Republican candidates at the debate would "confuse" voters.
On January 3, 2013, Jeffries was sworn into the 113th Congress.
Among the innovative practices Jeffries has carried over to Congress from his service in the State Assembly are: Operation Preserve, a legal housing clinic for displaced residents in the community; Summer at the Subway, now known as "Congress on Your Corner,"; outdoor evening office hours from June through August near subway stations that allows him to connect and hear constituents' concerns first- hand; and his annual "State of the District" address, a community event in January that reviews important milestones achieved in the past year and previews the Congressman's goals for the year ahead.
Positions
Since fall 2006 he has been a cautious supporter of Bruce Ratner's controversial Atlantic Yards project.
He has opposed the Keystone XL pipeline, but also voted against an amendment that would have restrict sales of oil transported on the pipeline to within the United States.
He is pro-Israel, saying at a rally in July 2014 "Israel should not be made to apologize for its strength." Citing his own childhood growing up in Crown Heights, Brooklyn, Jeffries added that he knew from experience that "the only thing that neighbors respect in a tough neighborhood is strength."
Since taking federal office, Jeffries has been called "a rising star," appointed to the House Judiciary Committee Task Force on Over Criminalization as well as appointed the Congressional Black Caucus Whip. He also plays in the infield on the Congressional Baseball Team.
As a member of Congress, he has called for a federal investigation by the U.S. Department of Justice into the circumstances surrounding the death of Eric Garner. On a visit to the Staten Island site where Garner was killed, recorded by a CNN news crew in December 2014, Jeffries encountered Gwen Carr, the victim's mother. In April 2015, Jeffries stood with Carr to announce the introduction of the Excessive Use of Force Prevention Act of 2015 that would make the use of a chokehold illegal under federal law.
As the Congressmember with among the highest number of public housing residents, Jeffries has been attentive to their needs. He introduced P.J.'s Act in response to the death of 6 year old P.J. Avitto of East New York; who was stabbed in an elevator inside the Boulevard Houses, a NYCHA apartment complex. The legislation would increase federal funding for enhanced security in public housing developments.
Jeffries has also publicly called on the New York City Police Department Commissioner to reform its marijuana arrest policy after recent reports showed that small amount of marijuana arrests, which had increased dramatically under Mayor Michael Bloomberg Administration's application of stop-and-frisk, were still rising in New York City under Bloomberg's successor, Mayor Bill de Blasio. Jeffries has become a high-profile critic of New York City Mayor Bill de Blasio and NYPD Commissioner William Bratton, questioning whether the reduction in stop-and-frisk has been a product of mayoral administration changes or the results of a movement that brought a successful federal lawsuit, and criticizing Eric Garner's chokehold death.
In Congress, as the Congressional Black Caucus' Whip, he has been actively involved in maintaining the CBC historic role as "the conscience of the Congress." In his CBC role, he has hosted Special Orders on the House floor, including regarding voting rights (after the Supreme Court decision weakening the 1965 Voting Rights Act) and in December 2014, leading CBC members in a "hands up, don't shoot" protest to protest the killings of African-Americans by police. After the shootings in Charleston in June 2015 by a white supremacist inspired by the Confederate flag, Jeffries led the effort to have the flag removed for sale or display on National Park Service land, an amendment eventually killed by the Republican House leadership after its initial support and inclusion on voice vote. During dramatic debate on the House floor, Jeffries stood next to the Confederate battle flag, and noted he "got chills" and lamented that the "Ghosts of the Confederacy have invaded the GOP."
With a high concentration of public housing and high unemployment in his district, Jeffries has also made an issue of HUD's failure to adequately enforce Section 3 of its initial creating statute from 1968, which explicitly required that federally funded capital and rehabilitation projects in public housing developments had to employ residents of those developments. As Jeffries noted, "we can download the power of the federal government into neighborhoods that are struggling the most, without legislative action. The most promising area is Section 3."
Bills
In addition to legislation mentioned above, on April 11, 2013, Jeffries introduced the Prison Ship Martyrs' Monument Preservation Act (H.R. 1501; 113th Congress) into the United States House of Representatives. Jeffries's proposed bill would direct the Secretary of the Interior to study the suitability and feasibility of designating the Prison Ship Martyrs' Monument in Fort Greene Park in the New York City borough of Brooklyn as a unit of the National Park System (NPS). Jeffries said that "as one of America's largest revolutionary war burial sites and in tribute to the patriots that lost their lives fighting for our nation's independence, this monument deserves to be considered as a unit of the National Park Service." On April 28, 2014, the Prison Ship Martyrs's Monument Preservation Act was passed by the House.
On July 15, 2014, Jeffries, who in private practice addressed intellectual property issues, introduced the To establish the Law School Clinic Certification Program of the United States Patent and Trademark Office (H.R. 5108; 113th Congress), which would establish the Law School Clinic Certification Program of the United States Patent and Trademark Office (USPTO) to be available to accredited law schools for the ten-year period after enactment of the Act.
In 2015, Jeffries led the effort in Congress to pass The Slain Officer Family Support Act, which extended the tax deadline for individuals making donations to organizations supporting the families of assassinated NYPD Detectives Wenjian Liu and Rafael Ramos. The families of the officers, who had been assassinated in their patrol car on December 20, 2014 in the Bedford-Stuyvesant section of Jeffries' district, had been the recipients of significant charitable fundraising. Prior to the enactment of the new law, individuals would have had to make those contributions by December 31, 2014 to qualify for a tax deduction in connection with taxes filed in 2015. With the legal change, contributions made until April 15, 2015 were deductible. President Obama signed the bill into law on April 1, 2015.
Committee assignments
Committee on Education and the Workforce
Subcommittee on Health, Employment, Labor, and Pensions
Subcommittee on Higher Education and Workforce Training
Committee on the Judiciary
Subcommittee on Courts, Intellectual Property and the Internet
Subcommittee on Regulatory Reform, Commercial and Antitrust Law
Endorsements
During 2007, while still in his first term in the State Assembly, Jeffries publicly endorsed and supported Barack Obama, and was among Obama's earliest supporters in Hillary Clinton's home state. In one interview, he noted ""When I first ran for office, some people suggested that someone with the name "Hakeem Jeffries" could never get elected and when I saw someone with the name "Barack Obama" get elected to the U.S. Senate, it certainly inspired me."
While President Barack Obama did not openly support candidates in Democratic primaries, he and President Bill Clinton together took a photograph with Jeffries weeks before his 2012 Congressional primary against Councilman Charles Barron, which was effectively used in campaign literature.
In a 2012 special election, Jeffries endorsed Walter T. Mosley, who was successful in a special election run to succeed Jeffries in State Assembly.
The following year, Jeffries backed Laurie Cumbo in the hotly contested race for Brooklyn's 35th city council seat vacated by Tish James, who won the City-wide race for Public Advocate, also with a Jeffries endorsement.
In 2013, Jeffries endorsed in the race for Brooklyn District Attorney, the seat held since 1990 by Charles' "Joe" Hynes, whose office was facing deep criticism for wrongful convictions and botched prosecutions. He endorsed Kenneth Thompson, whom Jeffries had met while interning at the U.S. Attorney's Office for the Eastern District in the 1990s, when Thompson was a prosecutor.
According to journalists, the Jeffries endorsement of Thompson's campaign was critical, and was followed by endorsements of Thompson by Brooklyn's three other Democratic members of Congress. Thompson won the Democratic primary and defeated Hynes again in the general election when the DA elected to run as a Republican in the majority Democratic borough.
In the 2013 NYC mayoral race, Jeffries endorsed City Comptroller Bill Thompson, hailing his experience in City government. Jeffies also noted he was offended by Bill de Blasio's ad featuring stop and frisk claiming himself as the only candidate who would address, modify or reform stop and frisk:
"In some ways, I'm offended by the notion that one individual, in a city of eight million people, after years and years and years of many of us, in the state legislature and the City Council, activists, marches that took place, including one on Father's Day, to get us to a point where all of the major mayoral candidates have said stop and frisk will be significantly reformed on their watch."
His support of Thompson over de Blasio came in spite of Jeffries' own support of two policing bills, for independent inspector general for the police department and to allow for bias suits in state court, which de Blasio backed but Thompson did not. Jeffries said it made sense for Thompson, because he was running to be the city's top executive, not to support them.
In 2014, he supported Rubain Dorancy as Democratic candidate for state senate, who lost to Jesse Hamilton by a wide margin.
In that state senate race, as in several others since 2012, Jeffries has endorsed opponents of candidates endorsed by current Brooklyn Borough President Eric Adams, which has created the perception of a rivalry between the two prominent elected officials, Both Jeffries and Adams have dismissed these perceptions, noting their shared history (they had together served as prime co-sponsors of the 2010 stop-frisk database bill in the state legislature) with Jeffries adding.: "Over the years, we've often disagreed about the best candidate for our community. But when the election is over, we should all work together to get things done."
In 2015, calls were been made among prominent African-American pastors for Jeffries to step into the 2017 Democratic primary for Mayor against Bill de Blasio. Jeffries has stated that he has "no interest" and wishes to remain an effective member of Congress.
Personal life and family
He is married to Kennisandra Arciniegas-Jeffries, a social worker with 1199 SEIU's Benefit Fund. They have two boys, Jeremiah (born 2001) and Joshua (born 2004) and live in Prospect Heights. Jeffries is also the nephew of CUNY professor Leonard Jeffries, Jr.
Jeffries' younger brother, Hasan Kwame Jeffries, is an associate professor of history at The Ohio State University in Columbus. He is the author of Bloody Lowndes: Civil Rights and Black Power in Alabama's Black Belt.
References
Hakeem Jeffries Wikipedia
(Text) CC BY-SA