Full Name

Hachikō




Offspring

None




Height

64 cm




Owner

Hidesaburō Ueno


Nation from

Japan


Weight

41 kg




Breed

Akita




Sex

Male





Born

10 November 1923, near the city of Ōdate, Akita Prefecture (

1923-11-10

)


Resting place

Aoyama Cemetery, Minato, Tokyo


Known for

Waiting perseveringly for the return of his deceased owner for more than nine years.




Died

8 March 1935 (Aged 11), Shibuya, Tokyo, Japan


Species

Dog (Canis lupus familiaris)




Similar

Hachi: A Dogs Tale, Hidesaburō Ueno, Hachiko Monogatari
The Most Famous Dog Who Ever Lived
Hachikō (ハチ公, November 10, 1923 – March 8, 1935) was an Akita dog born on a farm near the city of Ōdate, Akita Prefecture, Japan. He is remembered for his remarkable loyalty to his owner, which continued for more than nine years after his owner's death. Hachikō is known in Japanese as chūken Hachikō (忠犬ハチ公) "faithful dog Hachikō", hachi meaning "eight" and kō meaning "affection." During his lifetime, the dog was held up in Japanese culture as an example of loyalty and fidelity. Well after his death, he continues to be remembered in worldwide popular culture, with statues, movies, books, and appearances in various media.
Contents
The EMOTIONAL Story of HACHIKO: The faithful dog
Life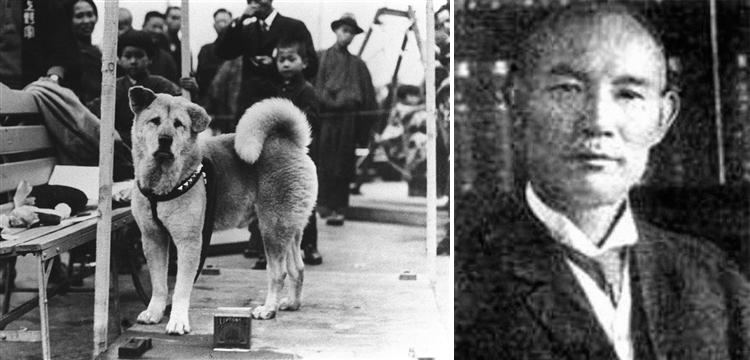 In 1924, Hidesaburō Ueno, a professor in the agriculture department at the University of Tokyo, took Hachikō, a golden brown Akita, as a pet. Ueno would commute daily to work, and Hachikō would leave the house to greet him at the end of each day at the nearby Shibuya Station. The pair continued the daily routine until May 1925, when Ueno did not return. The professor had suffered a cerebral hemorrhage, while he was giving a lecture, and died without ever returning to the train station in which Hachikō would wait.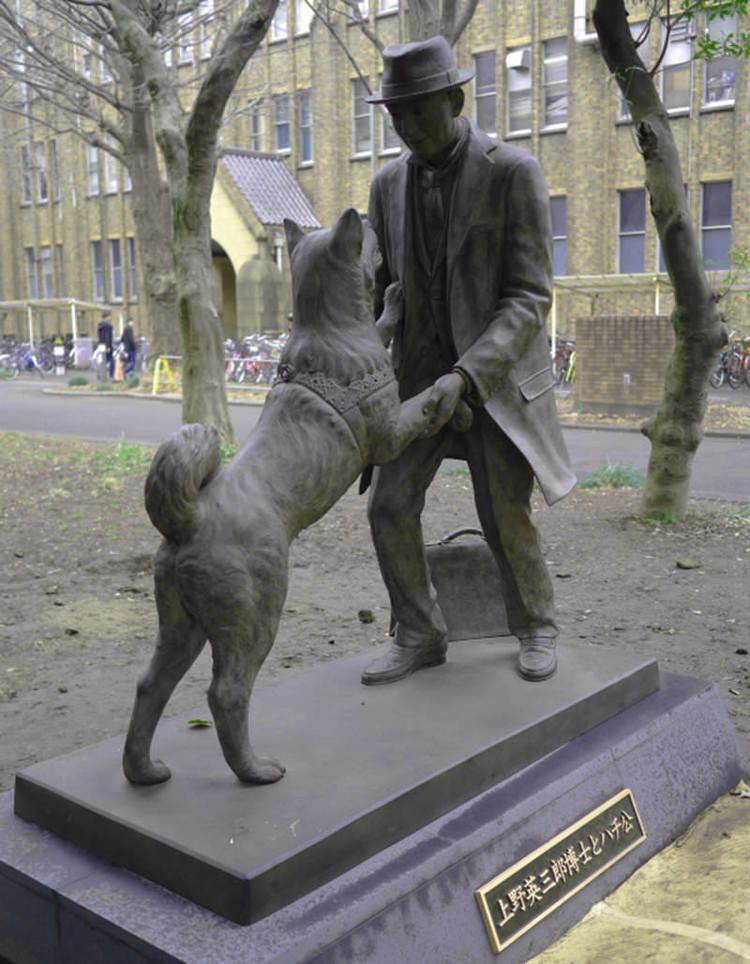 Each day, for the next nine years, nine months and fifteen days, Hachikō awaited Ueno's return, appearing precisely when the train was due at the station.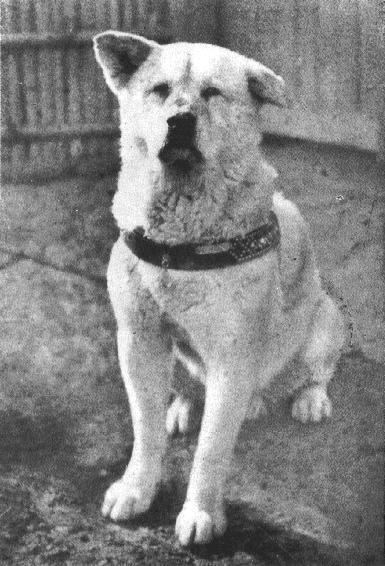 Hachikō attracted the attention of other commuters. Many of the people who frequented the Shibuya train station had seen Hachikō and Professor Ueno together each day. Initial reactions from the people, especially from those working at the station, were not necessarily friendly. However, after the first appearance of the article about him on October 4, 1932 in Asahi Shimbun, people started to bring Hachikō treats and food to nourish him during his wait.
Publication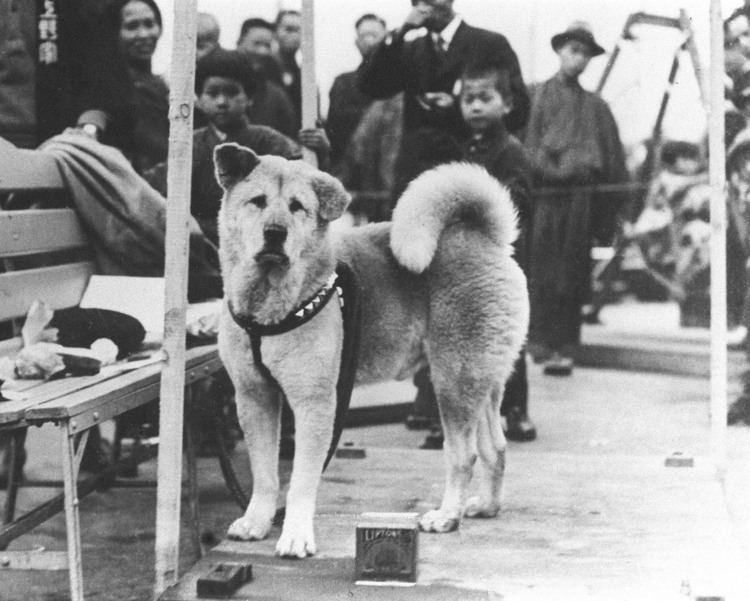 One of Ueno's students, Hirokichi Saito, who developed expertise on the Akita Breed, saw the dog at the station and followed him to the Kobayashi home, the home of Ueno's former gardener, Kikuzaboro Kobayashi,) where he learned the history of Hachikō's life. Shortly after the meeting, the former student published a documented census of Akitas in Japan. His research found only 30 purebred Akitas remaining, including Hachikō from Shibuya Station.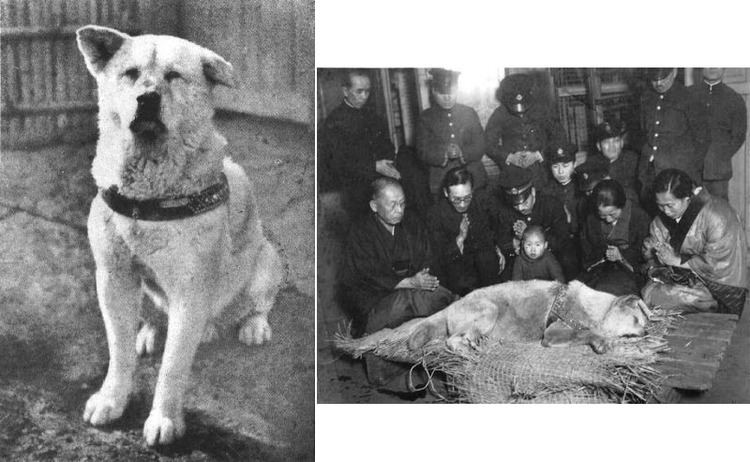 He returned frequently to visit Hachikō and over the years, he published several articles about the dog's remarkable loyalty. In 1932, one of his articles, published in Asahi Shimbun, placed the dog in the national spotlight.
Hachikō became a national sensation. His faithfulness to his master's memory impressed the people of Japan as a spirit of family loyalty to which all should strive to achieve. Teachers and parents used Hachikō's vigil as an example for children to follow. A well-known Japanese artist rendered a sculpture of the dog, and throughout the country, a new awareness of the Akita breed grew.
Eventually, Hachikō's legendary faithfulness became a national symbol of loyalty, particularly to the person and institution of Emperors.
Death
Hachikō died on March 8, 1935 at the age of 11 based on his date of birth. He was found on a street in Shibuya. In March 2011, scientists finally settled the cause of death of Hachikō: the dog had both terminal cancer and a filaria infection. There were also four yakitori skewers in Hachikō's stomach, but the skewers did not damage his stomach or cause his death.
Legacy
After his death, Hachikō's remains were cremated and his ashes were buried in Aoyama Cemetery, Minato, Tokyo where they rest beside those of Hachikō's beloved master, Professor Ueno. Hachikō's fur, which was preserved after his death, was stuffed and mounted and is now on permanent display at the National Science Museum of Japan in Ueno, Tokyo.
Bronze statues
In April 1934, a bronze statue in his likeness was erected at Shibuya Station (35°39′32.6″N 139°42′2.1″E), and Hachikō himself was present at its unveiling. The statue was recycled for the war effort during World War II. In 1948, the Society for Recreating the Hachikō Statue commissioned Takeshi Ando, son of the original artist, to make a second statue. When the new statue appeared, a dedication ceremony occurred. The new statue, which was erected in August 1948, still stands and is a popular meeting spot. The station entrance near this statue is named "Hachikō-guchi", meaning "The Hachikō Entrance/Exit", and is one of Shibuya Station's five exits.
The Japan Times played an April Fools' joke on readers by reporting that the bronze statue was stolen a little before 2:00 AM on April 1, 2007, by "suspected metal thieves". The false story told a very detailed account of an elaborate theft by men wearing khaki workers' uniforms who secured the area with orange safety cones and obscured the theft with blue vinyl tarps. The "crime" was allegedly recorded on security cameras.
A similar statue stands in Hachikō's hometown, in front of Ōdate Station. In 2004, a new statue of Hachikō was erected on the original stone pedestal from Shibuya in front of the Akita Dog Museum in Odate.
After the release of the American movie Hachi: A Dog's Tale (2009) filmed in Woonsocket, Rhode Island, the Japanese Consulate in US helped the Blackstone Valley Tourism Council and the city of Woonsocket to unveil an identical statue of Hachiko at the Woonsocket Depot Square, which was the location of the "Bedridge" train station featured in the movie.
Annual ceremony
Each year on March 8, Hachikō's devotion is honored with a solemn ceremony of remembrance at Tokyo's Shibuya railroad station. Hundreds of dog lovers often turn out to honor his memory and loyalty.
Hachikō' "speaks"
In 1994, the Nippon Cultural Broadcasting in Japan was able to lift a recording of Hachikō barking from an old record that had been broken into several pieces. A huge advertising campaign ensued and on Saturday, May 28, 1994, 59 years after his death, millions of radio listeners tuned in to hear Hachikō bark.
Images
In July 2012, an exhibition containing rare photos from Hachiko's life were shown at the Shibuya Folk and Literary Shirane Memorial Museum in Shibuya ward as part of the "Shin Shuzo Shiryoten" (Exhibition of newly stored materials). In November 2015, a previously undiscovered photograph of Hachikō was published for the first time. The image, which was captured in 1934 by a Tokyo bank employee, shows the dog relaxing in front of Shibuya Station.
Reunion
In 2015, the Faculty of Agriculture of the University of Tokyo constructed a bronze statue, depicting Ueno returning to meet Hachikō.
Shibuya ward minibus
In 2003, Shibuya ward started new minibus (officially called "community bus") routes in the ward, and nicknamed them "Hachiko-bus". Now there are four different routes.
Film and book adaptations
Hachikō was the subject of the 1987 movie Hachi-kō (Hachiko Monogatari) ハチ公物語 (literally "The Tale of Hachiko"), directed by Seijirō Kōyama, which told the story of his life from his birth up until his death and imagined spiritual reunion with his master. Considered a blockbuster success, the film was the last big hit for Japanese film studio Shochiku Kinema Kenkyû-jo.
Hachi: A Dog's Tale, released in August 2009, is an American movie starring actor Richard Gere, directed by Lasse Hallström, about Hachikō and his relationship with an American professor & his family following the same basic story. The movie was filmed in Woonsocket, Rhode Island, primarily in and around the Woonsocket Depot Square area and also featured Joan Allen and Jason Alexander. The role of Hachi was played by three Akitas - Leyla, Chico and Forrest. Mark Harden describes how he and his team trained the three dogs in the book, "Animal Stars: Behind the Scenes with Your Favorite Animal Actors." After the movie was completed, Harden adopted Chico.
Also based on Hachikō's story is a movie that was produced in India in its regional language, Telugu, by the name of "Tommy".
Hachikō is also the subject of a 2004 children's book entitled Hachikō: The True Story of a Loyal Dog, written by Pamela S. Turner and illustrated by Yan Nascimbene. Another children's book, a short novel for readers of all ages called Hachiko Waits, written by Lesléa Newman and illustrated by Machiyo Kodaira, was published by Henry Holt & Co. in 2004. Hachiko Waits was released in paperback by Square Fish (an imprint of MacMillan) in 2008. Hachikō is featured prominently in the 2008 novel The Story of Edgar Sawtelle by David Wroblewski. Hachikō plays an important part in the 1967 children's book Taka-chan and I: A Dog's Journey to Japan.
In popular culture
"Jurassic Bark", episode 2 of season 5 of the animated series Futurama has an extended homage to Hachikō, with Fry discovering the fossilized remains of his dog, Seymour. After Fry was frozen, Seymour is shown to have waited for Fry to return for 12 years outside Panucci's Pizza, where Fry worked, never disobeying his master's last command to wait for him.
A play was made by Spare Parts Puppet Theatre in Fremantle, Western Australia, and was dedicated to the story of Hachikō.
The 1987 film Hachi-kō (Hachiko Monogatari) ハチ公物語 (literally "The Tale of Hachiko") and the 2009 film Hachi: A Dog's Tale are based on the story of Hachikō.
Episode 6 of the anime Time Bokan 24 referenced Hachiko's legacy.
In the Japanese manga One Piece, there is a similar story with the dog named ShuShu.
In the anime Pokémon: Master Quest, there is a similar story about a Ninetails who waited 200 years for her master to return.
Similar cases
Hachiko is among many dogs famous for their loyalty. Such stories are at least as old as the ancient Greek Homer's story of Argos. Similar to Hachiko's story is that of the Italian dog Fido, the Scottish dog Greyfriars Bobby, Shep from Fort Benton, Montana USA, and numerous other dogs famous for remaining faithful after the death of their master. In Japan itself, it was not an unprecedented story.
According to Nihongi, during the reign of Emperor Sushun-Tennō, a warrior named Yorozu of the Tottori-be, vassal of Mononobe no Moriya no Ōmuraji and commander of hundred soldiers, was suspected of plotting a rebellion against the Soga clan, who happened to just kill the man. Yorozu fled alone to hide in the countryside, but he was pursued by Imperial Court soldiers. He escaped them with great ingenuity until he got shot in the knee by an arrow. Though he claimed being innocent, loyal to the Emperor and ready to surrender, the soldiers still came for the kill. Despite his injury, Yorozu deflected their arrows (Yadomejutsu), and proceed on cutting down more than 30 of them with his sword. Probably exhausted by this martial prowess, Yorozu destroyed his bow, threw his sword into a river (in a similar fashion as the knight Roland le Preux) and finally stabbed himself in the throat with a dagger (this way of committing suicide was quite common in China at the time of Spring and Autumn period). The local governor of Kawachi received the order to cut Yorozu's corpse to pieces and expose it in order to make an example, but the white dog of Yorozu fled with his head in his mouth and brought it upon an ancient burial mound. Yorozu's dog then laid down close by and starved to death while mourning his master. The Imperial Court was moved by the dog's loyalty :
"The case of this dog is one that is rarely heard of in the world, and should be shown to after ages. Let Yorozu's kindred be made to construct a tomb and bury their remains."
References
Hachikō Wikipedia
(Text) CC BY-SA