Haast is an area in the Westland District territorial authority on the West Coast of New Zealand's South Island. The Haast region covers over 2,500 square kilometres (970 sq mi).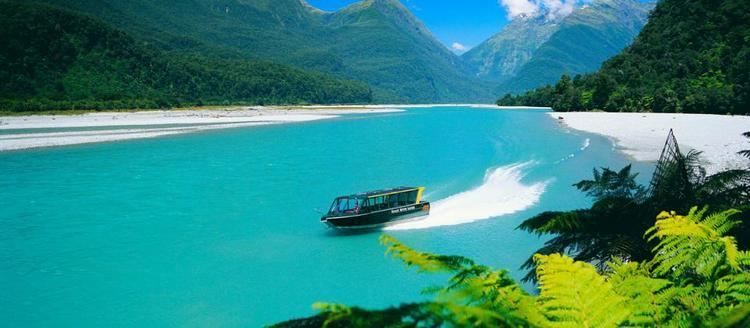 The region is named after Julius von Haast, a Prussian-born geologist instrumental in the early geological surveys of New Zealand.
The 2006 census recorded a population of 297 for the Haast statistical area, a decrease of 12 from the 2001 census. The majority of this population is located in three communities: the Haast township, Haast Junction, and Haast Beach.
The main economic activities in the Haast region are farming, fishing and tourism.
Lake Moeraki is 30 kilometres (19 mi) to the northeast, and the Haast Pass is 63 kilometres (39 mi) to the southeast by road. State Highway 6 passes through Haast Junction and just to the east of Haast township.
The rarest subspecies of kiwi, the Haast tokoeka, is only found in the mountains of the Haast region.
European settlement of the area dates back to the 1870s. The remoteness of the area initially limited access to seagoing vessels, with some rough tracks from the north and east.
The present Haast township was originally a New Zealand Ministry of Works road construction camp, which expanded into a permanent township when the opening of the Haast Pass in 1962 made the region more accessible. The road through the pass to Wanaka was upgraded in 1966.
In 1990 the Haast area was included as part of a UNESCO World Heritage Site, giving international recognition as a location of significant natural value to Te Wahipounamu - The South West New Zealand World Heritage Area.
Haast Junction is located on the southwest bank of the Haast River, immediately south of the Haast Bridge, at the junction of State Highway 6 and the Haast–Jackson Bay Road.
The smaller Haast Beach is on the coast of the Tasman Sea, approximately 12 kilometres (7.5 mi) west southwest of Haast Junction, on the Haast–Jackson Bay Road.
The larger Haast township is located on the Haast River, approximately 3 kilometres (2 mi) south of Haast Junction, on State Highway 6. The New Zealand Department of Conservation operates a visitor centre in Haast township, offering a wide range of information about the surrounding area.
The Haast School is a coeducational full primary (years 1–8) school with a Ministry of Education decile rating of 3 and a student roll of 21.
There are no secondary schools in the Haast area. The nearest secondary school is Mount Aspiring College, 140 kilometres (85 mi) away over the Haast Pass in Wanaka, which is too far away to be practical. Most secondary students instead board at secondary schools in Alexandra, Oamaru or Dunedin.