Haa Dhaalu Atoll (also known as Southern Thiladhunmathi Atoll or Thiladhunmathi Dhekunuburi) is an administrative division of the Maldives. It is the southern section of Thiladhunmathi Atoll, a natural atoll of the Maldives.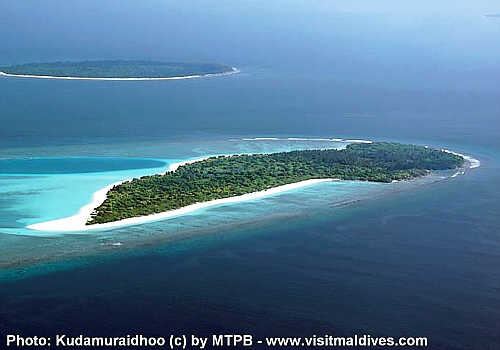 This administrative division includes the island of Makunudhoo or Maamakunudhoo (Malcolm Atoll in the Admiralty Charts) with its large reef, as well as the southern part of the larger Thiladhunmathi or Tiladummati Atoll. Thiladhunmathi was divided into its northern and southern divisions on May 21, 1958.
There is a domestic airport on the island of Hanimaadhoo about 15 km from its capital Kulhudhuffushi. Before Kulhudhuffushi, the island of Nolhivaranfaru was the capital of the atoll until May 6, 1992.
Haa Alifu, Haa Dhaalu, Shaviyani, Noonu, Raa, Baa, Kaafu, et cetera are code letters assigned to the present administrative divisions of the Maldives. They are not the proper names of the natural atolls that make up these divisions. Some atolls are divided into two administrative divisions while other divisions are made up of two or more natural atolls. The order followed by the code letters is from North to South, beginning with the first letters of the Thaana alphabet used in Dhivehi. These code letters are not accurate from the geographical and cultural point of view. However, they have become popular among tourists and foreigners in the Maldives who find them easier to pronounce than the true atoll names in Dhivehi, (save a few exceptions, like Ari Atoll).