HMS Resolution (pennant number: 09) was one of five Revenge-class battleships built for the Royal Navy during World War I. Completed after the Battle of Jutland in 1916, she saw no combat during the war. The future First Sea Lord John H. D. Cunningham served aboard her as Flag Captain to Admiral Sir William Fisher, the commander-in-chief of the Mediterranean Fleet.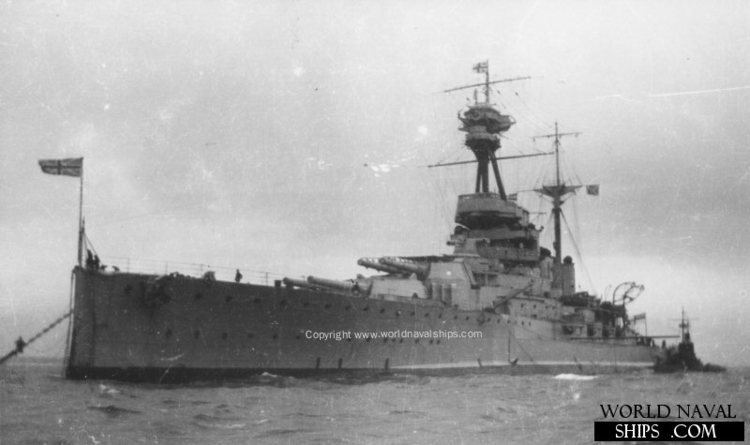 The Revenge-class ships were designed as slightly smaller, slower, and more heavily protected versions of the preceding Queen Elizabeth-class battleships. As an economy measure they were intended to revert to the previous practice of using both fuel oil and coal, but First Sea Lord Jackie Fisher rescinded the decision for coal in October 1914. Still under construction, the ships were redesigned to employ oil-fired boilers that increased the power of the engines by 9,000 shaft horsepower (6,700 kW) over the original specification.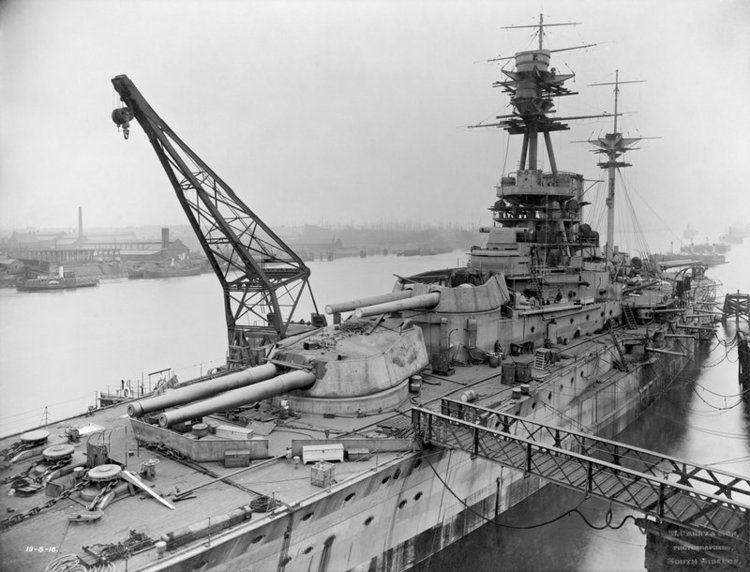 Resolution had a length overall of 620 feet 7 inches (189.2 m), a beam of 88 feet 6 inches (27.0 m) and a deep draught of 33 feet 7 inches (10.2 m). She had a designed displacement of 27,790 long tons (28,240 t) and displaced 31,130 long tons (31,630 t) at deep load. She was powered by 2 sets of Parsons steam turbines, each driving two shafts, using steam from eighteen Yarrow boilers. The turbines were rated at 40,000 shp (30,000 kW) and intended to give the ship a maximum speed of 23 knots (42.6 km/h; 26.5 mph). During her sea trials on 22 May 1916, the ship only reached a top speed of 22 knots (41 km/h; 25 mph) from 40,360 shp (30,100 kW). She had a range of 4,200 nautical miles (7,778 km; 4,833 mi) at a cruising speed of 10 knots (18.5 km/h; 11.5 mph). Her crew numbered 909 officers and enlisted men in 1916. Her metacentric height was 3.4 feet (1.0 m) at deep load.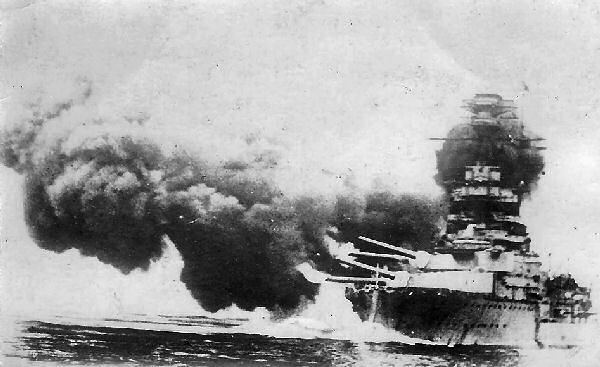 The Revenge class was equipped with eight breech-loading (BL) 15-inch (381 mm) Mk I guns in four twin gun turrets, in two superfiring pairs fore and aft of the superstructure, designated 'A', 'B', 'X', and 'Y' from front to rear. Twelve of the fourteen BL 6-inch (152 mm) Mk XII guns were mounted in casemates along the broadside of the vessel amidships; the remaining pair were mounted on the shelter deck and were protected by gun shields. The ship also mounted four 3-pounder (47-millimetre (1.9 in)) guns. Her anti-aircraft (AA) armament consisted of two quick-firing (QF) 3-inch (76 mm) 20 cwt Mk I guns. She was fitted with four submerged 21-inch (533 mm) torpedo tubes, two on each broadside.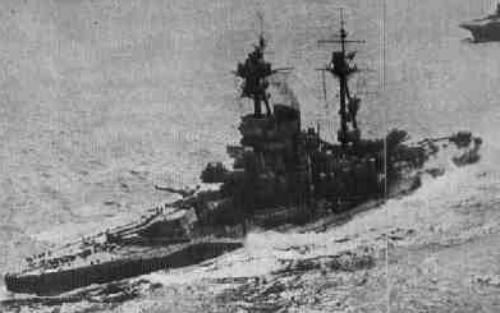 Resolution was completed with two fire-control directors fitted with 15-foot (4.6 m) rangefinders. One was mounted above the conning tower, protected by an armoured hood, and the other was in the spotting top above the tripod foremast. Each turret was also fitted with a 15-foot rangefinder. The main armament could be controlled by 'X' turret as well. The secondary armament was primarily controlled by directors mounted on each side of the compass platform on the foremast once they were fitted in April 1917. A torpedo-control director with a 15-foot rangefinder was mounted at the aft end of the superstructure.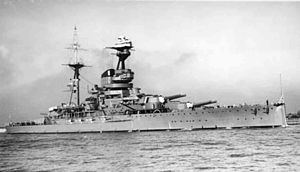 The ship's waterline belt consisted of Krupp cemented armour (KC) that was 13 inches (330 mm) thick between 'A' and 'Y' barbettes and thinned to 4 to 6 inches (102 to 152 mm) towards the ship's ends, but did not reach either the bow or the stern. Above this was a strake of armour 6 inches thick that extended between 'A' and 'X' barbettes. Transverse bulkheads 4 to 6 inches thick ran at an angle from the ends of the thickest part of the waterline belt to 'A' and 'Y' barbettes. The gun turrets were protected by 11 to 13 inches (279 to 330 mm) of KC armour, except for the turret roofs which were 4.75–5 inches (121–127 mm) thick. The barbettes ranged in thickness from 6–10 inches (152–254 mm) above the upper deck, but were only 4 to 6 inches thick below it. The Revenge-class ships had multiple armoured decks that ranged from 1 to 4 inches (25 to 102 mm) in thickness. The main conning tower had 13 inches of armour on the sides with a 3-inch roof. The torpedo director in the rear superstructure had 6 inches of armour protecting it. After the Battle of Jutland, 1 inch of high-tensile steel was added to the main deck over the magazines and additional anti-flash equipment was added in the magazines.
The ship was fitted with flying-off platforms mounted on the roofs of 'B' and 'X' turrets in 1918, from which fighters and reconnaissance aircraft could launch. In 1927 a rotating aircraft catapult was installed on Resolution's quarterdeck. It was removed during her 1929–31 refit. The flying-off platforms were removed in 1932–33. A catapult was added on the roof of 'X' turret by September 1936 as well as a crane to handle the aircraft.
Resolution was fitted with anti-torpedo bulges between late 1917 and May 1918. They were designed to reduce the effect of torpedo detonations and improve stability. They increased her beam by over 13 feet (4 m) to 101 feet 6 inches (30.9 m), her displacement to 32,820 long tons (33,350 t) and reduced her draught to 31 feet 11 inches (9.7 m), all at deep load. They increased her metacentric height to 5.1 feet (1.6 m). Later in 1918, a 30-foot (9.1 m) rangefinder was fitted in 'B' turret.
The gun shields for the shelter-deck six-inch guns were replaced by armoured casemates in 1922. Two years later, her anti-aircraft defences were upgraded by replacing the original three-inch AA guns with a pair of QF four-inch (102 mm) AA guns. Another pair of four-inch AA guns were added and the six-inch guns from the shelter deck were removed in 1927. During the ship's 1929–31 refit, a High-Angle Control System (HACS) Mk I director was installed on the spotting top and the aft pair of torpedo tubes were also removed. An experimental 4-inch dual-purpose, twin-gun turret was installed in the place of the starboard forward AA gun for evaluation.
By September 1933 a pair of quadruple mounts for Vickers .50 machine guns were added abreast the conning tower. Three years later a HACS Mk II director replaced the Mk I on the roof of the spotting top. A platform for another director was added on the mainmast which was converted into a tripod to handle the additional weight. The torpedo director and its associated rangefinder were removed. In January 1938 the rear HACS was added, the existing AA guns were replaced with QF 4-inch Mk XVI gun in Mk XIX twin mounts and a pair of octuple mounts for two-pounder Mk VIII "pom-pom" guns were added with their directors. The forward pair of submerged torpedo tubes were also removed.
Wartime modifications for the Revenge-class ships were fairly minimal. In 1941 Resolution was fitted with a Type 279 early-warning radar and a pair of Type 285 anti-aircraft gunnery sets. The following year a Type 273 surface-search radar and a pair of Type 284 gunnery radars for the main guns were added. The quadruple .50-caliber mounts were replaced by nine 20 mm Oerlikon in September 1941. Two four-barrel "pom-poms" were added as in 1942 as well as another Oerlikon. To save weight and make more room available for the additional crew required to man the new equipment like the radars and Oerlikons, two 6-inch guns were removed in 1943.
Resolution was laid down at Palmers Shipbuilding and Iron Company, Jarrow on 29 November 1913, launched on 14 January 1915, and commissioned on 30 December 1916. From 1916 to 1919, she served in the 1st Battle Squadron (United Kingdom) of the Grand Fleet. Between the wars, she served in the Atlantic Fleet and Mediterranean Fleet, with the exception of a short refit in 1930–31.
On 10 January 1924 Resolution ran into and sank the British submarine HMS L24 as she was surfacing.
On the outbreak of World War II, Resolution was part of the Home Fleet and carried out convoy escort duties in the Atlantic. Merchant ship SS Waimana was disguised as HMS Resolution to deceive German aircraft, a role designated as fleet tender, in 1939.
Whilst supporting the Narvik campaign in May 1940, Resolutionwas struck by a bomb at Tjeldsundet. In June, 1940 she joined 'Force H' at Gibraltar and took part in the destruction of the French Fleet at Mers-el-Kebir on 3 July 1940.
In September 1940 Resolution joined 'Force M' at Freetown, shelling French warships at the Battle of Dakar on 24 September 1940. The next day she was torpedoed by the French submarine Bévéziers and badly damaged.
Following repairs in the United States, Resolution departed in February 1942 for Colombo and served in the Indian Ocean during 1942 and 1943.
She returned to Great Britain in September 1943 and became a stokers' training ship in 1944 as part of the establishment HMS Imperieuse. HMS Resolution was sold for scrap on 5 May 1948 and broken up at Faslane.
One of Resolution's 15-inch guns, which was later fitted to the monitor HMS Roberts, is on display at the Imperial War Museum in London.