Covid-19
Rothesay class frigate




15 November 1956




29 March 1984




15 November 1956




113 m




J. Samuel White




HMS Londonderry




18 October 1961




Pennant number F108




20 May 1958




5.27 m





HMS Londonderry was a Rothesay or Type 12 class anti-submarine frigate of the British Royal Navy in service from 1961 to 1984.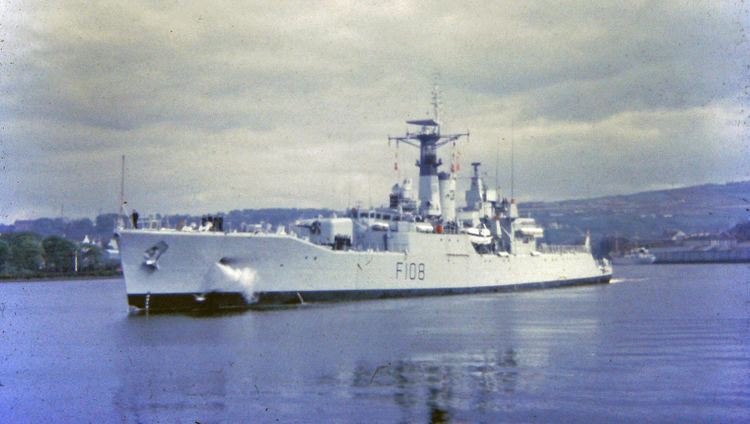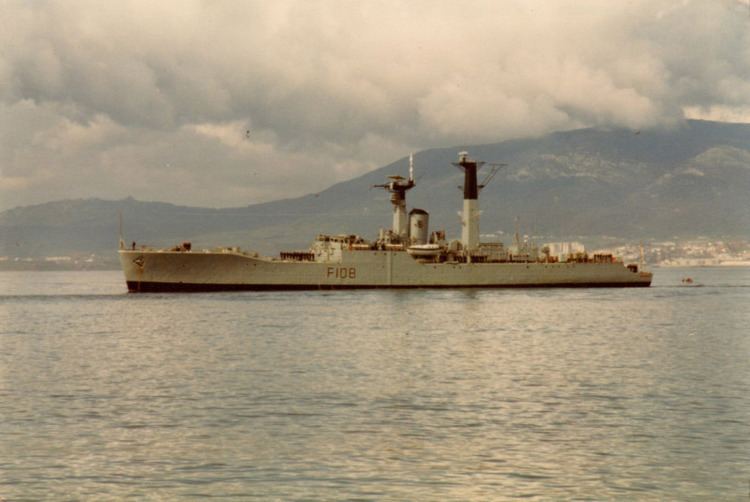 In 1960 and 1961 Londonderry made cruises in the North Atlantic being assigned to the 8th Frigate Squadron, Home Fleet. Between 1961 and 1964 the frigate was deployed four times to the West Indies, also visiting Argentina. In October 1961 she was diverted to assist the Italian liner MV Bianca C when she caught fire in the port of St. George's, Grenada. In August 1965 she was present at Portsmouth Navy Days. On 31 August 1965 Londonderry left Portsmouth for service in the Far East. She returned in 1967 and was modernised until 1969 at Rosyth. The most distinctive features of her modernization were the helicopter deck and hangar aft for a Westland Wasp helicopter.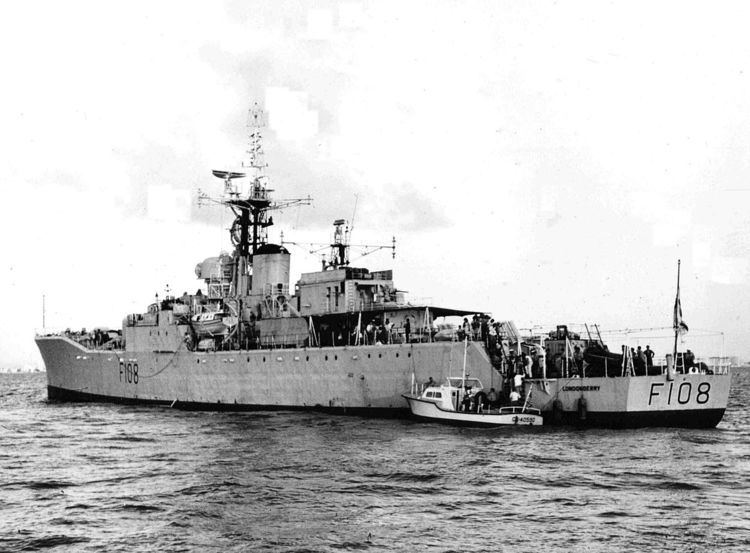 Following her modernization she was sent to Malaysia in 1970. She also took part in the Beira Patrol and was then sent to the Bahamas where she rescued 148 Cuban refugees. In 1973 she replaced Yarmouth in the NATO Standing Naval Force Atlantic.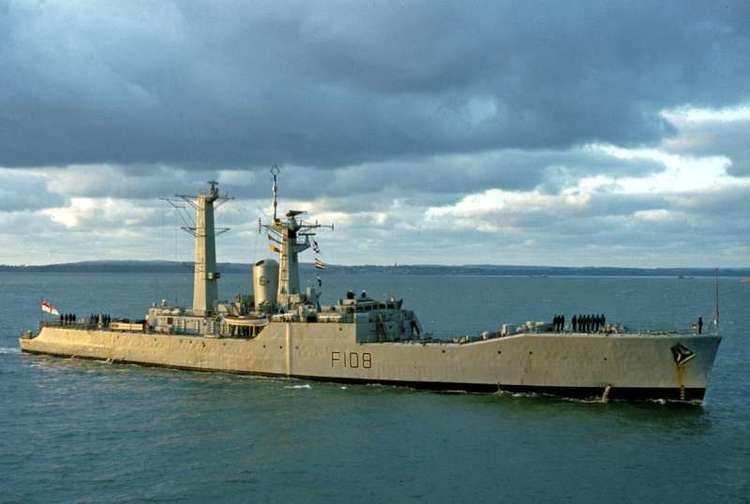 In November 1975 she entered the Rosyth Dockyard to be refitted as a trials ship for Admiralty Surface Weapons Establishment. Up to October 1979 Londonderry had her armament removed, and an extra mast added for her new role as a trials ship. The original propellers were replaced and new, low-cavitation propellers were installed. Additional navigational equipment and accommodation were installed to provide berths for both midshipmen from Dartmouth and apprentices from HMS Caledonia who were undergoing sea training.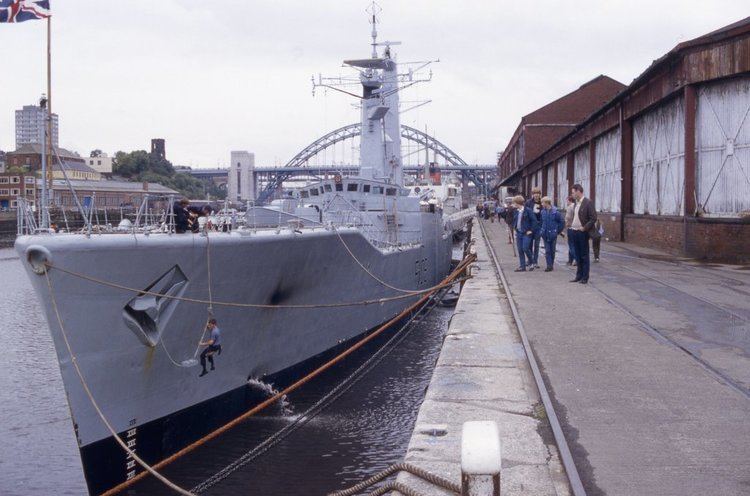 In early 1982, Londonderry accompanied Fearless on a sea training trip to the West Indies and the United States of America, visiting Virgin Gorda in the British Virgin Islands and New Orleans during the Mardi Gras celebrations. Returning home she was paid off into reserve on 31 March 1982. Originally she should have been put on the disposal list, but due to the Falklands War she became the Dartmouth Training Ship of the 6th Frigate Squadron. From 20 January to 29 March Londonderry made her last cruise from Portsmouth for the Dartmouth Training Squadron's deployment to the West Indies and USA. She then became a Harbour Training Ship attached to the shore base HMS Sultan at Gosport. She remained in this role until 1988. On 25 June 1989 Londonderry was finally sunk as a target off Scotland.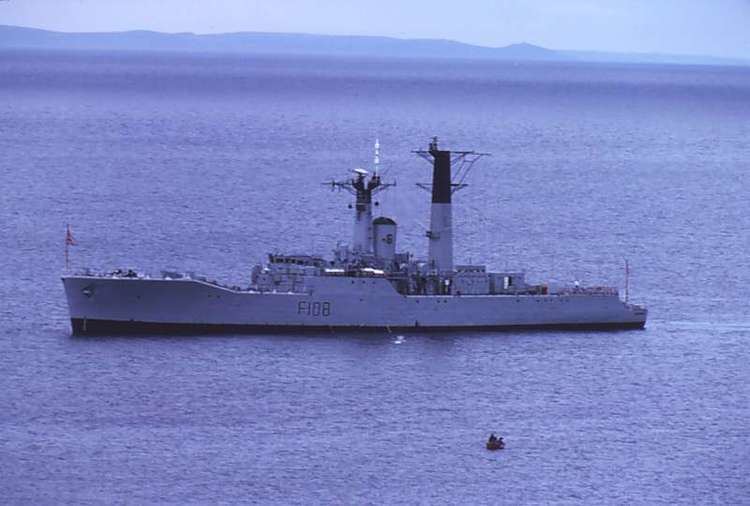 During her service Londonderry steamed approximately 125,500 km, four times crossing the Atlantic and transiting the Panama Canal three times. She visited 50 ports in 35 different countries. Although never deployed in a war the ship's guns fired 1,232 rounds of 11.4 cm (4.5 in) ammunition and 442 rounds of 40 mm ammunition.
Colledge, J. J.; Warlow, Ben (2006) [1969]. Ships of the Royal Navy: The Complete Record of all Fighting Ships of the Royal Navy (Rev. ed.). London: Chatham Publishing. ISBN 978-1-86176-281-8. OCLC 67375475.
Marriott, Leo, 1983. Royal Navy Frigates 1945-1983, Ian Allen Ltd. ISBN 07110 1322 5
HMS Londonderry (F108) Wikipedia