Name

H.J. Whitley





Known for

Hollywood









Born

October 7, 1847 (

1847-10-07

)

Toronto, Ontario, Canada




Education

Toronto Business College




Died

June 3, 1931, California, United States




Spouse

Margaret Virginia Whitley (m. 1886)




Parents

Eleanor Johnstone, Joseph Whitley
The father of hollywood h j whitley the story of hollywood
Hobart Johnstone Whitley (October 7, 1847 – June 3, 1931), also known as H.J. Whitley, is the "Father of Hollywood." He was a real estate developer who helped create the Hollywood subdivision in Los Angeles, Southern California. He and his wife Margaret Virginia Whitley named the town while on their honeymoon in 1886.
Contents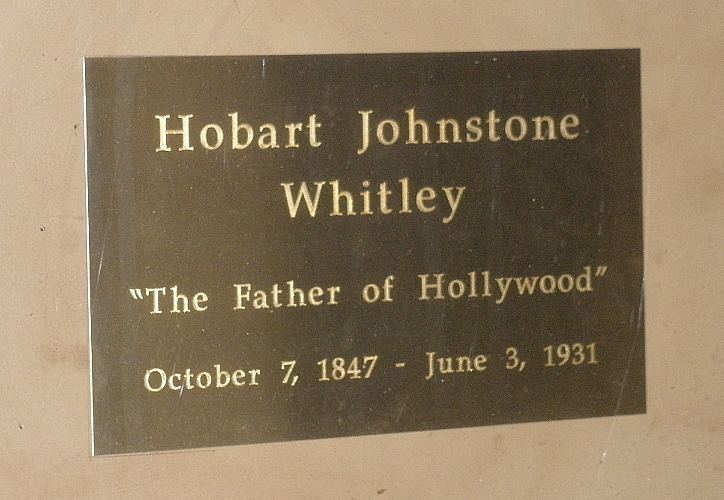 Early years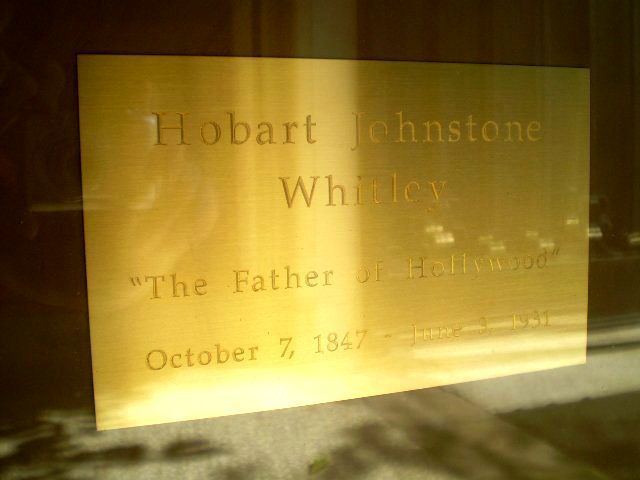 Hobart Johnstone (H.J.) Whitley was born in Toronto, Ontario, Canada, the seventh and youngest son of Joseph Whitley and Eleanor Johnstone. He attended Toronto Business College. Whitley became a naturalized citizen of the United States in the 1870s. Whitley moved to Chicago and owned a hardware store and candy store. He became interested in land development and was elected to the board of directors of the Chicago Rock Island Railroad. In the spring of 1886, Whitley married his second wife, Margaret Virginia Whitley.
Land developer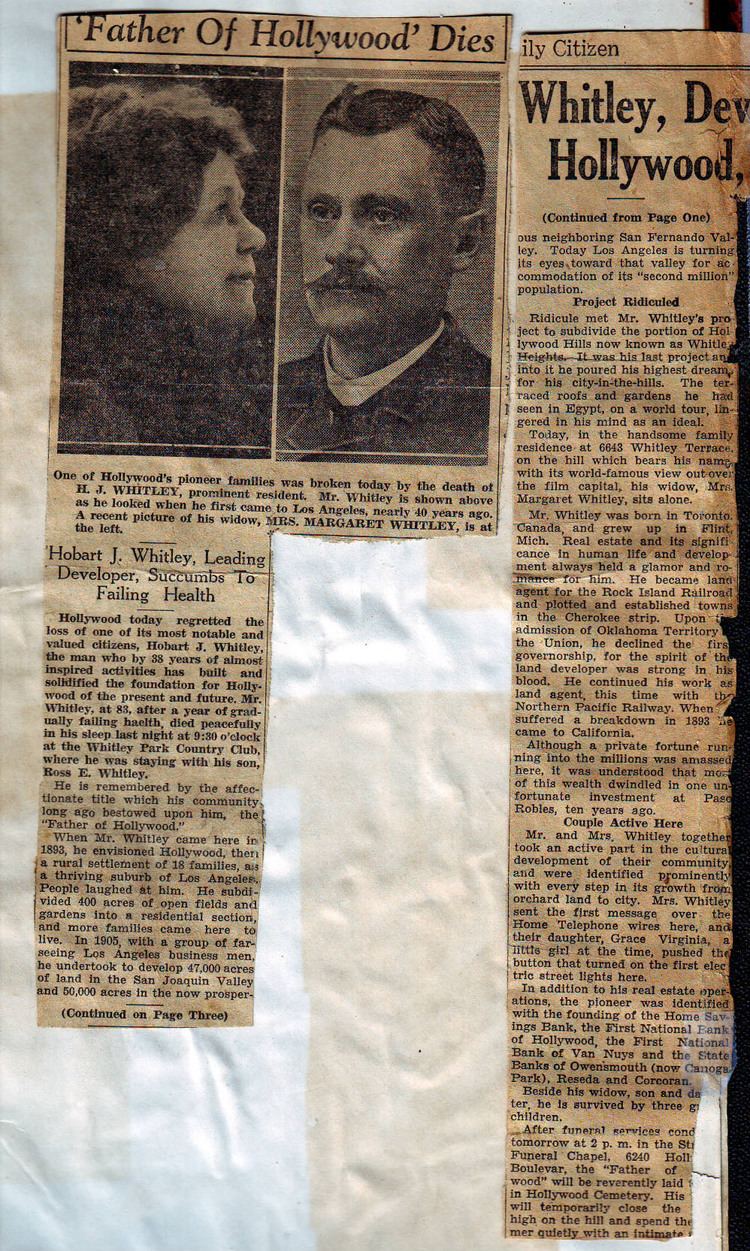 Whitley became one of the nation's most successful land developers. During the westward construction of frontier railroads from the late 1870s to the early 1890s, he founded scores of towns in the Oklahoma Territory, the Dakotas, Texas and California. Whitley was a good friend of Theodore Roosevelt while in the Dakota Territory. Whitley was at the first Oklahoma Land Run of 1889, April 22, where he claimed property. He built the first brick block building in the territory and was asked by the local people to be the first Governor of Oklahoma. He plotted the towns and built brick and stone business buildings in Oklahoma City, El Reno, Chickasha, Enid, Medford, and other cities on the Rock Island Railroad. Whitley traveled to Washington D.C. where he persuaded the U.S. Congress to allow the City of Guthrie, Oklahoma to be the new capital of the state of Oklahoma. It is estimated that Whitley founded over 140 towns in his lifetime.
Banker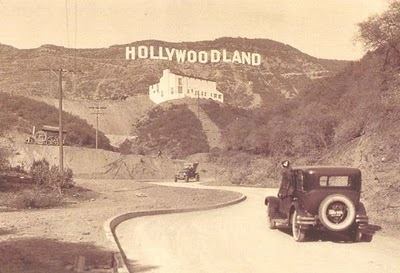 Besides his land developments, he was also the President of the National Loan & Trust Company, Guthrie, Oklahoma, Vice President of Home Savings Bank, President of First National Bank of Van Nuys, State Bank of Owensmouth and Bank of Lankershim; General Manager of the Los Angeles Suburban Homes Company, principal in the Bank of Hollywood, The Whitley Land Company and owner of the H.J. Whitley Company jewelry store.
Civic donations
Whitley donated large parcels of land and money for civic use. The donations were used to finance public schools, libraries, parks, landscaping, streets, transportation, lighting and churches.
Hollywood
In the mid-1880s, Whitley arrived in Southern California. He was well known as a land developer and many tried to follow on his coattails. As president and major shareholder of the Los Angeles Pacific Boulevard and Development Company, he orchestrated the building of the Hollywood Hotel, the opening of the Ocean View Tract and construction of a Bank which were located on the corners of Hollywood Boulevard and Highland. The name Hollywood was coined by H.J. Whitley. He and his wife came up with the name while on their honeymoon in 1886.
Hollywood Hotel
Whitley built a Hollywood Hotel and a bank as the foundation of almost every town he developed. The most prominent hotel which he is said to have built was the Hollywood Hotel on the corner of Hollywood and Highland Boulevards, although his name is not mentioned in the newspaper accounts of the building as one of the principals.
Hollywood Sign
The Hollywood sign was first erected in 1923. It originally read "HOLLYWOODLAND"; it was a sign to promote land sales. Its purpose was to advertise the name of a new housing development in the hills above the Hollywood district of Los Angeles. H.J. Whitley had already used a sign to advertise Whitley Heights, which was located between Highland Avenue and Vine Avenue. He suggested to his friend Harry Chandler, the owner of the Los Angeles Times newspaper, that the land syndicate in which he was involved make a similar sign to advertise their land. Electricity was new at the time and attracted many buyers.
Motion picture industry moves to Hollywood
By 1911, major motion-picture companies had set up production in Los Angeles. In the early 1900s, most motion picture patents were held by Thomas Edison's Motion Picture Patents Company in New Jersey, and filmmakers were often sued to stop their productions. To escape this, filmmakers began moving out west, where Edison's patents could not be enforced. Also, the weather was ideal and there was quick access to various settings. That was until HJ Whitley decided he needed an industry for Hollywood and the San Fernando Valley cities he was building which included Reseda, Van Nuys and Conoga Park. He was able to convince David Horsley to settle in Hollywood. Horsley had had created a camera that was not under Edison patent laws and was able to purchase film from the United Kingdom.
The first film by a Hollywood studio, Nestor Motion Picture Company, was shot on October 26, 1911. The H. J. Whitley home was used as its set, and the unnamed movie was filmed in the middle of their groves at the corner of Whitley Avenue and Hollywood Boulevard.
The first studio in Hollywood, the Nestor Company, was established by the New Jersey–based Centaur Company in a roadhouse at 6121 Sunset Boulevard (the corner of Gower), in October 1911. HJ Whitley was also able to convince four major film companies – Paramount, Warner Bros., RKO, and Columbia – to build studios in Hollywood. In the 1920s, Hollywood was the fifth-largest industry in the nation.
Whitley Heights
H.J. Whitley had a quest to make a very fine residential development on the hill of his share of the Hollywood property. He had to bring new ideas to create a development on the side of the hill in the fast changing times. H. J. Whitley commissioned architect A. S. Barnes to design Whitley Heights as a Mediterranean-style neighborhoods on the hillsides above Hollywood Boulevard. HJ sent Barnes to study the hill developments of Spain and Italy. By the 1920s all of Hollywood's brightest stars of the golden era lived there: Rudolph Valentino, W.C. Fields, Jean Harlow, Carole Lombard, Tyrone Power, Gloria Swanson, Marlene Dietrich, Rosalind Russell, Judy Garland and Oscar, Emmy, and Golden Globe winner Barbara Stanwyck, who lived in this grand four bedroom Mediterranean estate with a beautiful blue tiled swimmer's pool. Homes were built with the living area upstairs, for the views of the ocean and valley. Whitley sought to create a masterpiece of architecture to be preserved for all times. In 1982, the U.S. Government named Whitley Heights a National Historic District.
San Fernando Valley
After Whitley saw the San Fernando Valley and heard of William Mulholland's ideas for a new aqueduct, he began discussing opportunities with business associates in Los Angeles. The city's approval of the Los Angeles aqueduct project in 1905, with a proposed terminus in the San Fernando Valley, inspired the formation of a land speculation syndicate: the Los Angeles Suburban Homes Company. Its partners included Whitley, as General Manager of the Los Angeles Suburban Homes Company, General H G Otis, General Manager and owner Los Angeles Times, General Moses Sherman, Pioneer Builder of Inter-Urban Electric Lines, O. F. Brandt, General Manager of Title Insurance & Trust Company and Harry Chandler, Vice President and assistant manager of the "Los Angeles Times,".
The Los Angeles Suburban Homes Company syndicate purchased the 47,500-acre (192 km2) parcel from the Los Angeles Farming and Milling Company, owned by Van Nuys and son-in-law Lankershim, in 1909. It comprised nearly the entire south half of the San Fernando Valley (south of present-day Roscoe Blvd.). The price was $2,500,000, or just under $53 an acre.
On the land he planned the new towns of Van Nuys, Marian (present day Reseda), and Owensmouth (present day Canoga Park and West Hills. Though located 15 miles (24 km) to the southwest, Owensmouth was named for the new Owens River aqueduct's terminus/mouth in the northern valley, that opened in 1913. The Janss Investment Company was contracted for developing and promoting Van Nuys and Owensmouth.
To link the new town developments, Whitley planned for the syndicate to include construction of the San Fernando Line, a new 20 miles (32 km) long extension of the Pacific Electric railway system. Moses Sherman directed the project. After departing Van Nuys, the line's tracks ran in the middle of the syndicate's also new Sherman Way, a paved and landscaped "$500,000 boulevard." Paved streets were unusual for rural 1911 L.A.; Sherman Way had no posted speed limit. The Janss Investment Company was the developer responsible for Van Nuys and Owensmouth, which brought losses later that Whitley bore.
Whitley became president of three San Fernando Valley banks — two were in new towns he had planned, Van Nuys and Owensmouth.
Corcoran
H.J. Whitley took the lead in building the city of Corcoran, California. He purchased 32,000 acres (130 km2) to start the development and moved a member of his real estate firm, J. W. Guiberson, to the area. Whitley named all the city streets "avenues". The main street of the community is named in his honor.
Whitley Gardens
Whitley's last development was never finished. He bought thousands of acres and started the town of Whitley Gardens. It is about ten miles (16 km) east of Paso Robles, California.
Travel
H.J. and Margaret Whitley traveled seventeen times to Europe, the Middle East and Asia for business and pleasure. After one trip, he brought back the coveted Egyptian cotton seed to be planted in Corcoran. He bought precious stones and jewelry to be sold in his Los Angeles City jewelry store, H.J. Whitley Company.
Death
Whitley died on June 3, 1931 at the Whitley Park Country Club near Hollywood. He was buried in the Hollywood Memorial Park Cemetery, today named Hollywood Forever Cemetery, Hollywood Forever Memorial Park. On his crypt is inscribed "The Father of Hollywood".
Namesakes
Hollywood - named city when on honeymoon in 1886.
Whitley Heights - a residential neighborhood, historic preservation overlay zone in the Hollywood Hills neighborhood of Los Angeles, CA.
Whitley Avenue - a north/south street, begins on Hollywood Blvd. in Hollywood to Whitley Terrace in Whitley Heights.
Whitley Terrace - an east/west street, in Whitley Heights, Hollywood.
Whitley Terrace Steps - goes from Milner Road to Emmet Terrace.
Whitley Gardens - City 10 miles east of Paso Robles, CA.
Whitley Avenue - main street in Corcoran, CA.
Grace Avenue - H J Whitley's daughter Grace Virginia Whitley, Hollywood, CA.
Emmet Terrace -H J Whitley's son Ross Emmet Whitley, Hollywood, CA.
Milner Road - H J Whitley's private secretary Roy Milner, Hollywood, CA.
References
H.J. Whitley Wikipedia
(Text) CC BY-SA