Wingspan

13 m




Top speed

265 km/h




Range

700 km




Engine type

HAL/Turbomeca Shakti




Weight

2,250 kg




Length

16 m




Unit cost

17,480,000–17,480,000 USD






Hal light combat helicopter flying display at aero india 2017
The HAL Light Combat Helicopter (LCH) is a multirole combat helicopter being developed in India by Hindustan Aeronautics Limited (HAL) for use by the Indian Air Force and the Indian Army.
Contents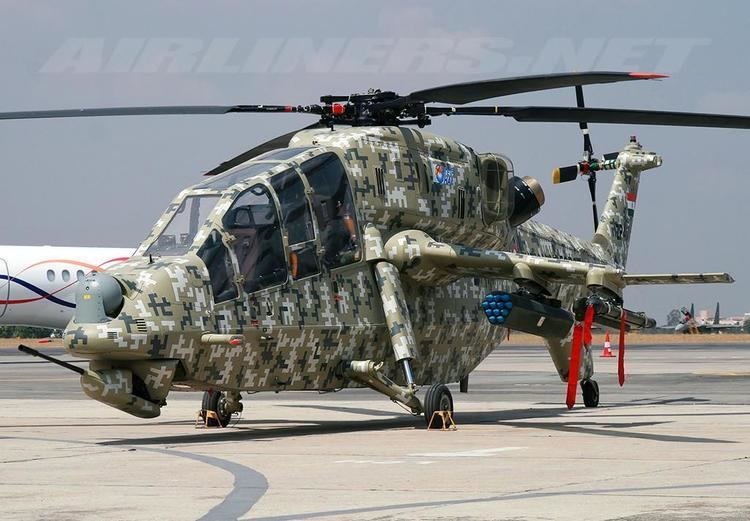 Origins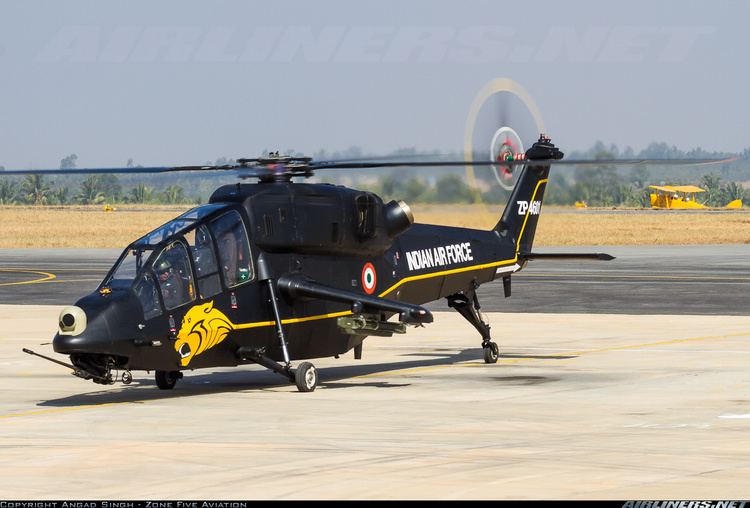 Combat in the Kargil War highlighted the requirement of an attack helicopter made for such high altitude operations. In 2006, HAL announced its plans to design and build the LCH; funds for designing and developing the LCH to meet the requirements of the Indian Army and the Indian Air Force were sanctioned later that year.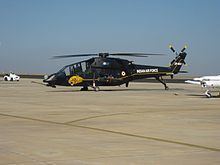 The LCH is a derivative of the HAL Dhruv, which was inducted into the Indian Armed Forces. Basing on an existing helicopter is expected to greatly reduce LCH project costs, which is estimated at ₹376 crore (US$55.9 million). The Indian Air Force is to acquire 65 LCHs and Indian Army is to acquire 114 LCHs.
Testing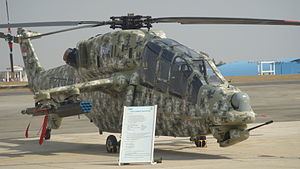 The first LCH prototype completed its first ground run on 4 February 2010. HAL has a firm order to deliver 65 LCH to the IAF and 114 to the Army. HAL has performed the maiden flight of its LCH on 29 March 2010. The first LCH Technology Demonstrator (TD-1) flew a 20-minute flight from HAL's Helicopter Complex, Bengaluru. It carried out low speed, low altitude checks on the systems on board. The crew reported that the performance of the helicopter and systems were satisfactory.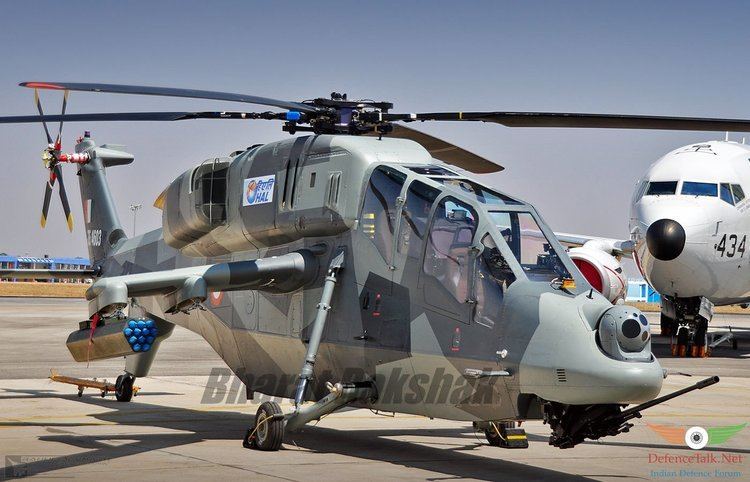 The third test flight of the LCH was successfully made on 23 May 2010; it fulfilled the desired parameters and allowed for further armed tests to proceed. The second prototype, fitted with weaponry, was unveiled at Aero India 2011 in February 2011. The second LCH prototype (TD-2) featured substantial weight reductions over the earlier TD-1. Ashok Nayak, chairman of HAL, stated that the project has exceeded human and payload requirements mandated by IAF for the development. Light Combat Helicopter TD-2 achieved its first flight on 28 June 2011.
On 1 July 2012, the LCH began a series of trials near Chennai; among other elements, the LCH's air speed measurement system was trialed and various component stresses gauged measured. The third prototype of the LCH is about to be delivered and is expected to be different from the LCH-1 and LCH-2. The third prototype is said to be significantly lighter than its predecessors.
LCH second prototype, TD-2 completed sea level trials conducted in late June to early July 2012. The trials covered helicopter performance, loads measurement, and handling qualities.
LCH was expected to be ready for the Initial Operational Clearance (IOC) by December 2010 with the Final Operational Clearance (FOC) in 2011. However, the revised timeframes for LCH should be ready for induction into IAF by 2012–2013.
LCH third prototype, TD-3 made its successful maiden flight on 12 November 2014. The flight was piloted by Wg Cdr Unni Pillai and co-piloted by Gp Capt SHK Nair. It took off at 15.20 hrs and flew for 20 minutes.
TD3 and TD4 will be extensively used for testing mission sensors, weapon systems and firing trials. Wg Cdr Unni Pillai and Wg Cdr SP John carried out the flight. ₹ 126 crore (US$20.2 million) is sanctioned for TD-4 development and structural build of the platform is already ready.
The cold weather trials of the LCH were carried out at Air Force Station, Leh in early 2015. The engine starts were satisfactory in the temperature of -18 °C at 4.1 km altitude. The flights were also carried out to assess high altitude performance and low speed handling.The trials covered engine starts with internal batteries after overnight cold soak at 3 km altitude and 4.1 km altitude.
In June 2015, the LCH successfully completed hot weather flight trials at Jodhpur with temperatures from 39 to 42 °C. The flight testing covered 'temperature survey of engine bay and hydraulic system', 'assessment of performance', 'handling qualities and loads' at different 'all up weights', 'low speed handling' and 'height-velocity diagram establishment'.
In September 2015, the hot and high altitude trials of LCH were conducted successfully. The third prototype (TD-3) was taken to Leh for testing. Hover performance, low speed handling capability at extreme heights and temperature along with landing at forward locations were tested. The helicopter became the first attack helicopter to land in Siachen. The helicopter landed at high altitude helipads at 13,600 feet to 15,800 feet. The weapon firing trials will be held during the middle of 2016.
LCH has completed performance trials paving way for certification of basic configuration and a letter for this was handed over to HAL by CEMILAC in the presence of Defence Minister on 16 October 2015.
LCH TD4 completed its first flight on 1 December 2015.
The LCH completed basic performance flight testing, outstation trials, and prototype TD-3 fired 70 mm rockets in its weaponized configuration. LCH certification firing trials with integration of mission sensors such as the electro-optical system, helmet pointing system and weapon systems — air-to-air missiles, turret gun and rockets — were planned for July and August 2016.
India is in talks with African nations for possible export of the Light Combat Helicopter. India's Defence Ministry has set a target of $2 billion worth of exports over the next two years.
Overview
The LCH is being designed to fit into an anti-infantry and anti-armour role and will be able to operate at high altitudes. It has a maximum weight of 5.5 tonnes, and has a service ceiling of 6,500 metres. The LCH design features a narrow fuselage with stealth profiling, armour protection, and will be equipped to conduct day-and-night combat operations. According to reports, the LCH features a digital camouflage system. The LCH has a two-crew cockpit.
HAL's Rotary Wing Research & Design Centre, informed the press during Aero India 2011 that the LCH is "probably the most agile design in the world because of its rotor". HAL said LCH is of 5.5 tonne class, like the Dhruv, it is powered by two HAL/Turbomeca Shakti turbo-shaft engines and inherits many technical features of the Advanced Light Helicopter. The features that are unique to LCH are sleek and narrow fuselage, tri-cycle crashworthy landing gear, crashworthy and self-sealing fuel tanks, armour protection, nuclear, and low visibility features which make the LCH lethal, agile and survivable.
In 2006, HAL selected the M621 cannon incorporated in a Nexter THL 20 turret for the gun armament of the helicopter, operated by a helmet mounted sight.
Cockpit and avionics
The LCH is to have a glass cockpit with multifunction displays, a target acquisition and designation system with FLIR, Laser rangefinder and laser designator. Weapons will be aimed with a helmet mounted sight and there will be an electronic warfare suite with radar warning receiver, laser warning receiver and a missile approach warning system. The two pilots in the LCH sit one behind the other, compared to side-by-side in the Dhruv.
The LCH's modern sensor suite, developed in cooperation with Israel, consists of a CCD Camera, forward-looking infrared imaging sensors and a laser range finder to facilitate target acquisition in all weather conditions, including at night.
The helicopter is to be fitted with a data link for network-centric operations facilitating the transfer of mission data to the other airborne platforms and ground stations operating in the network, facilitating force multiplication.
Roles
LCH is intended for use in air defence against slow moving aerial targets (e.g. aircraft and UAVs), Counter Surface Force Operation (CSFO), destruction of enemy air defence operations, escort to special heliborne operations (SHBO), Counter-insurgency operations (COIN), offensive Employment in Urban Warfare, support of combat search and rescue operations (SAR) operations, anti-tank role and scout duties. It will also be capable of high-altitude warfare (HAW) since its operational ceiling will be 6,000–6,500 metres (19,700–21,300 ft).
Potential exports
India is in talks with African countries for the possible sale.
Operators
India
Indian Air Force (65 on order)
Indian Army (114 on order)
Specifications
Data from Globalsecurity, Hal India
General characteristics
Crew: 2
Length: 15.8 m (51 ft 8 in)
Rotor diameter: 13.3 m (43 ft 6 in)
Height: 4.7 m (15 ft 4 in)
Disc area: 136.85 m² (1,472 ft²)
Max. takeoff weight: 5,500 kg (12,125 lb)
Powerplant: 2 × HAL/Turbomeca Shakti turboshaft, 895 kW (1,200 shp) each
Performance
Maximum speed: 265 km/h (145 knots, 167 mph)
Range: 550 km (297 nmi, 342 mi)
Service ceiling: 6,500 m (21,300 ft)
Rate of climb: 5 m/s (16.4 ft/s)
Armament

Guns: 1 × 20 mm M621 cannon on Nexter THL-20 turret
Hardpoints: 4 (two under each wing) and provisions to carry combinations of:
Rockets: 4 × 70/80 mm rocket-pods
Missiles: 4 × two-round MBDA Mistral air-to-air missiles, anti-radiation, and 2 × four-round Helina, LAHAT anti-tank missiles
Bombs: 4 × 250 kg (550 lb) bombs including Gravity bombs, cluster bombs and grenade launchers
References
HAL Light Combat Helicopter Wikipedia
(Text) CC BY-SA