Covid-19
Moldova




Alexandru Botnari, re-elected in 2007



Hîncești ([hɨnˈt͡ʃeʃtʲ]; Cyrillic: Хынчешть; Russian: Ганчéшты) is a city in Moldova.
Hîncești is situated on the Cogalnic River, 33 km (21 mi) southwest of the Moldovan capital, Chișinău. Since 2003 it has been the seat of Raionul Hîncești (Hîncești District).
Hîncești was established in 1500 AD as Dobreni. Within the Russian Empire it was known under the Russified name Gincheshty (Гинчешты), but in Romanian Hîncești. In 1940 the name was changed to Kotovskoe after Grigore Kotovski, who was born there. But from 1941 to 1944 it was again known as Hîncești. From 1945 to 1965 it was called Kotovskoe, which in 1965 was changed to Kotovsk. Since 1990 it is again called Hîncești.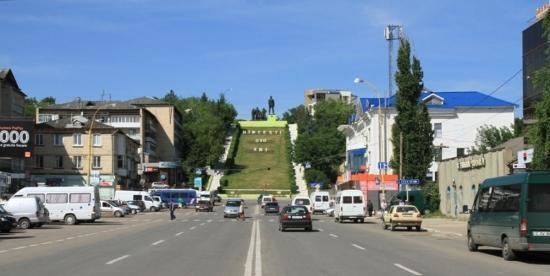 Hîncești was the home of Saint Parminu.
In 1890 Hîncești had 3,098 people. By 1970 the population was 14.3 thousand, and by 1991, 19.3 thousand. At the 2006 census it had 19.5 thousand residents.
There are four Lyceum (junior colleges) in Hîncești:
Mihai Viteazul Lyceum
M. Lomonosov Lyceum
Mihai Sadoveanu Lyceum
M. Eminescu Lyceum
Timotei Batrinu Scoala de Arte
Leonid Abramovich Anulov (1897–1974), a Soviet intelligence officer, organizer of clandestine intelligence networks (the so-called "Red Orchestra") in Switzerland.
Grigory Ivanovich Kotowski (1881–1925), Soviet military leader and Communist activist.
Yankl Yankelevich (1905–1938), Jewish poet who wrote in Yiddish
Nadia Stiers (née Reznik) in 1903, communist militant
Drochia is twinned with:
Ploiești, Romania
Or Akiva, Israel
Hîncești Wikipedia