Covid-19
Sweden




24,716 (Dec 31, 2008)





1585


10.89 km2




Härnösand is a locality and the seat of Härnösand Municipality in Västernorrland County, Sweden with 17,556 inhabitants in 2010. It is called "the gate to the High Coast" because of the world heritage landscape just a few miles north of Härnösand. Härnösand is the seat of the Diocese of Härnösand.
Härnösand is at the northernmost fringe of the humid continental climate zone with significant maritime influence, causing mild to warm summers and cold but not severe winters that are milder than areas further north. In the Kvarken area and further north the water is less salty and freezes easier, creating colder winter climate.
Härnösand is probably most known to the uninitiated for its history as a big and important harbor town and its beautiful locations.
Härnösand is a fairly small town and some of the activities young people engage in are Kåken (Ungdomens Hus), a youth centre provided by the municipality. The city also has an extensive selection of outdoor activities in the summer and wintertime. Wintertime people can go skiing (cross country and downhill), ice skating, etc. Summertime activities include climbing, kayaking, trekking, etc. The town also features a summertime beach Smitingen, which occasionally gets some surfable waves. Härnösand is each summer the site of one of the world's largest airsoft events, Berget.
One of the biggest employers in Härnösand is the cable-TV and Cable internet service provider Com Hem. Com Hem in Härnösand takes care of all incoming support calls and therefore hire mostly young adults with an interest in technology. The Interview Institute of Scandinavia and Intervjubolaget are also employers seated in Härnösand focusing on call center activities, although their focus lies in doing interviews by phone or face to face.
The women's team of the bandy club Härnösands AIK plays in the highest division and the men's team has done.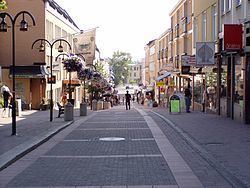 Their handballteam plays in division 2 and is called Brännans IF.
The football club IF Älgarna plays in Division 2 Norrland.
Curling is a great sport in the city, Team Anette Norberg is from here. Anette has taken several medals in the sport, including Olympic gold. It is perhaps therefore not surprising that Sweden's only curling high school is located here. The high school started at 1989 and has since contributed several talented curlers to the world.
Härnösand also has an ice hockey team AIK Hockey Härnösand that plays in division 1 in region norr. That is where goaltender Anton Forsberg (Colombus Blue Jackets) started his career.
Anders Jonas Ångström, physicist
Albert Atterberg, soil mechanics
Bo Holmberg, politician
Carl Gustaf Nordin, statesman
Ulf Sandström, Ice Hockey player
Nils Bohlin, inventor
Anette Norberg, women's curling Olympic gold medalist
Lubbe Nordström, writer/poet
Frideborg Winblad, educator and administrator
Lena Endre, Actor
Lasse Lindh, Musician
Härnösand Wikipedia