Nationality

French




Role

Writer




Known for

Painting


Education

Francois-Edouard Picot




Movement

Symbolism


Periods

Symbolism, Modern art




Name

Gustave Moreau








Born

6 April 1826 (

1826-04-06

)

Paris




Died

April 18, 1898, Paris, France




Parents

Louis Moreau, Pauline Desmoutiers




Artwork

Oedipus and the Sphinx, Jupiter and Semele, Hesiod and the Muse, The Apparition, Hercules and the Lernaean


Similar People

Georges Rouault, Edgar Degas, Eugene Delacroix, Pierre Puvis de Chavannes, Jean‑Auguste‑Dominique Ingres
Gustave moreau famous painters bios wiki videos by kinedio
Gustave Moreau ([mɔʁo]; 6 April 1826 – 18 April 1898) was a major figure in French Symbolist painting whose main emphasis was the illustration of biblical and mythological figures. As a painter, Moreau appealed to the imaginations of some Symbolist writers and artists. He is recognized for his works that are influenced by the Italian Renaissance and exoticism. His art work was preserved in Paris at the Musée Gustave Moreau.
Contents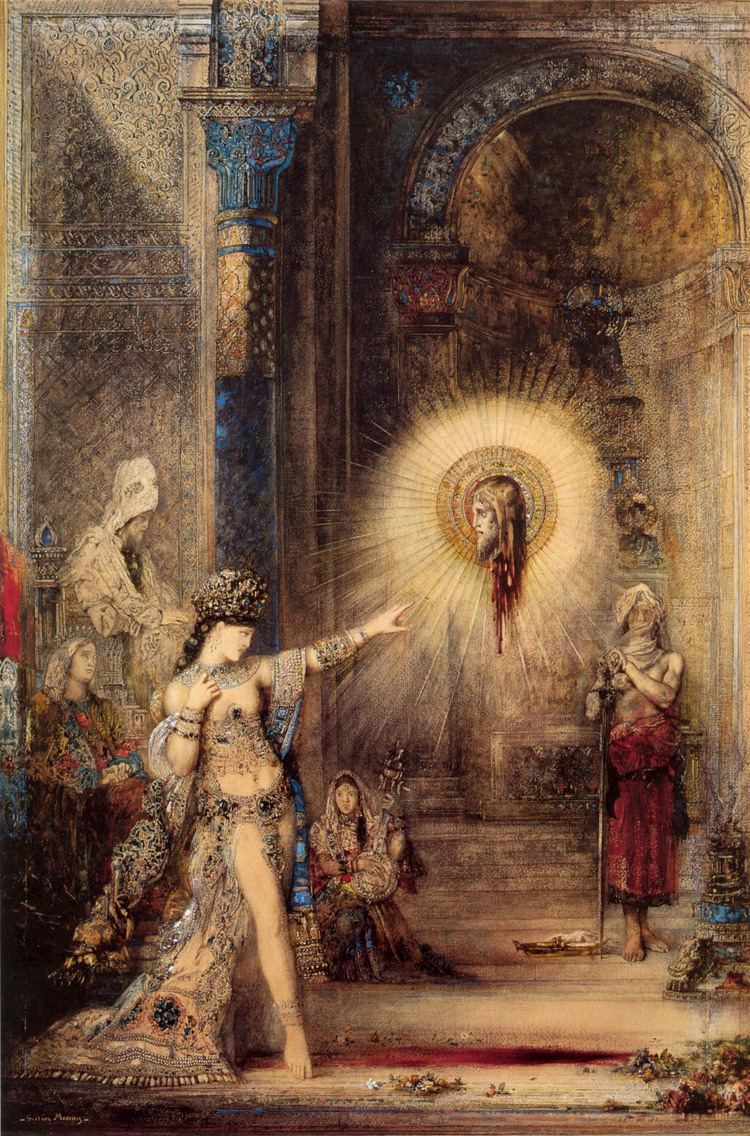 Biography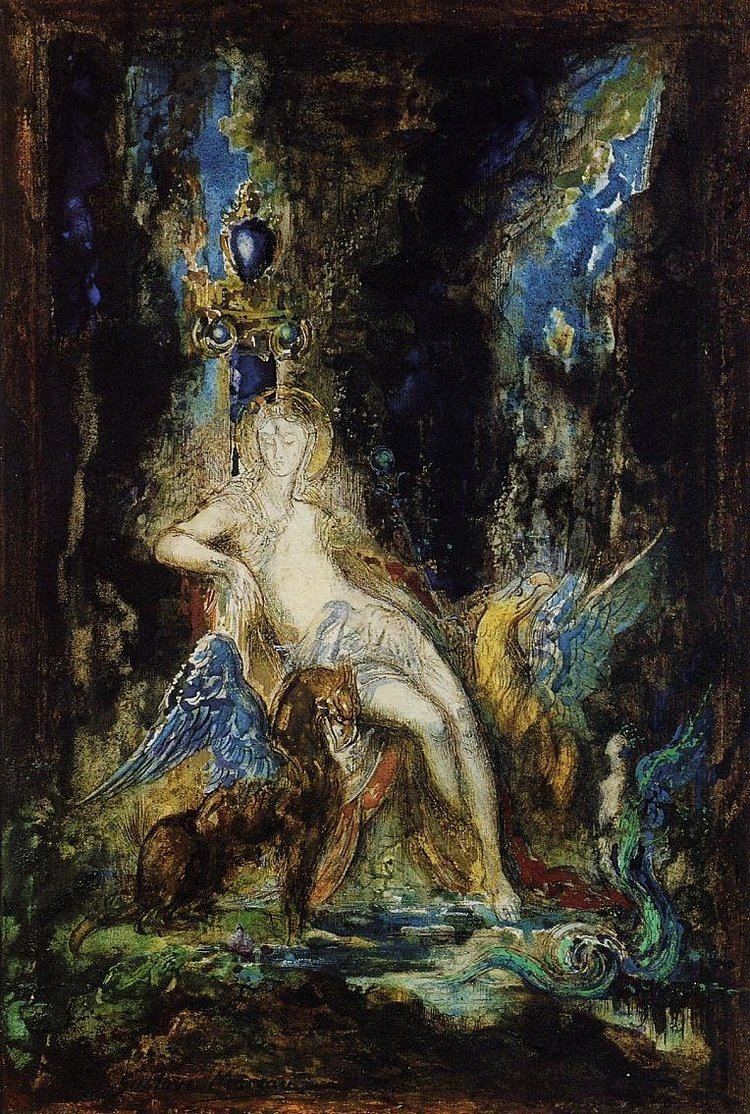 He was born in Paris, France, at 6 Rue des Saints-Peres. He came from a middle-class family. His father, Louis Jean Marie Moreau, was an architect for the city of Paris and his mother, née Adele Pauline Desmoutier, was an accomplished musician. Gustave Moreau lived a sheltered life growing up. Having visited Italy at age 15 he began his love for art. At age 18 he was to study art at Ecole des Beaux-Arts under the guidance of François-Édouard Picot and left in 1850. He then began to study art under his new mentor Théodore Chassériau, whose work strongly influenced his own. Moreau participated in the Salon for the first time in 1852.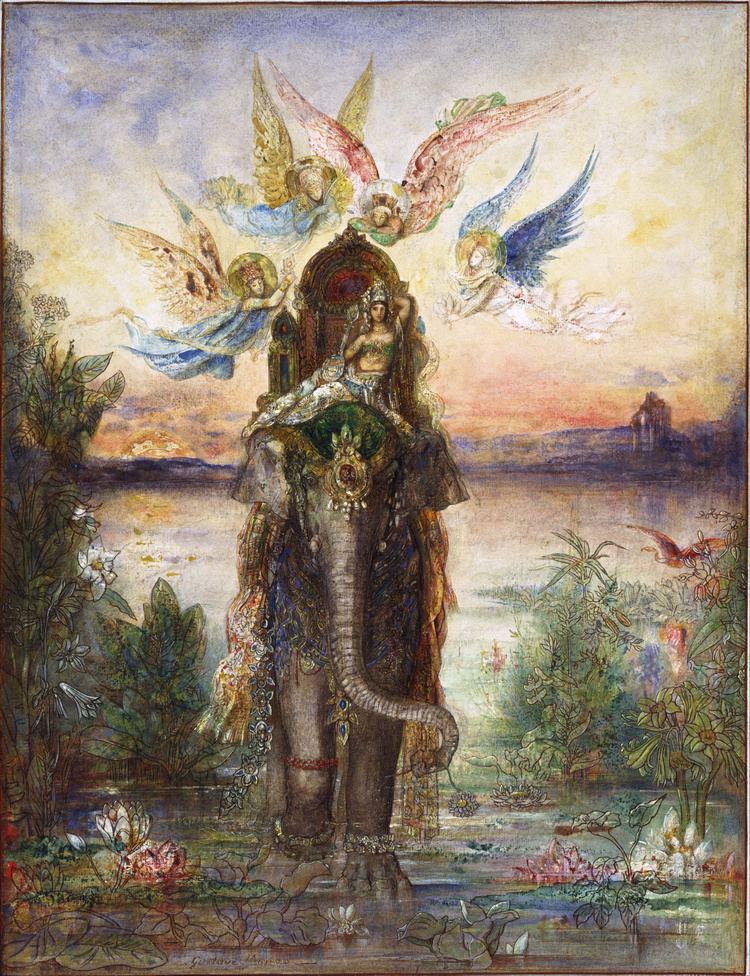 Moreau had a 25-year personal, possibly romantic relationship, with Adelaide-Alexandrine Dureux (b.Guise, 8 November 1835), a woman whom he drew several times. His first painting was a Pietà which is now located in the cathedral at Angoulême. He showed A Scene from the Song of Songs and The Death of Darius in the Salon of 1853. In 1853, he contributed Athenians with the Minotaur and Moses Putting Off his Sandals within Sight of the Promised Land to the Great Exhibition.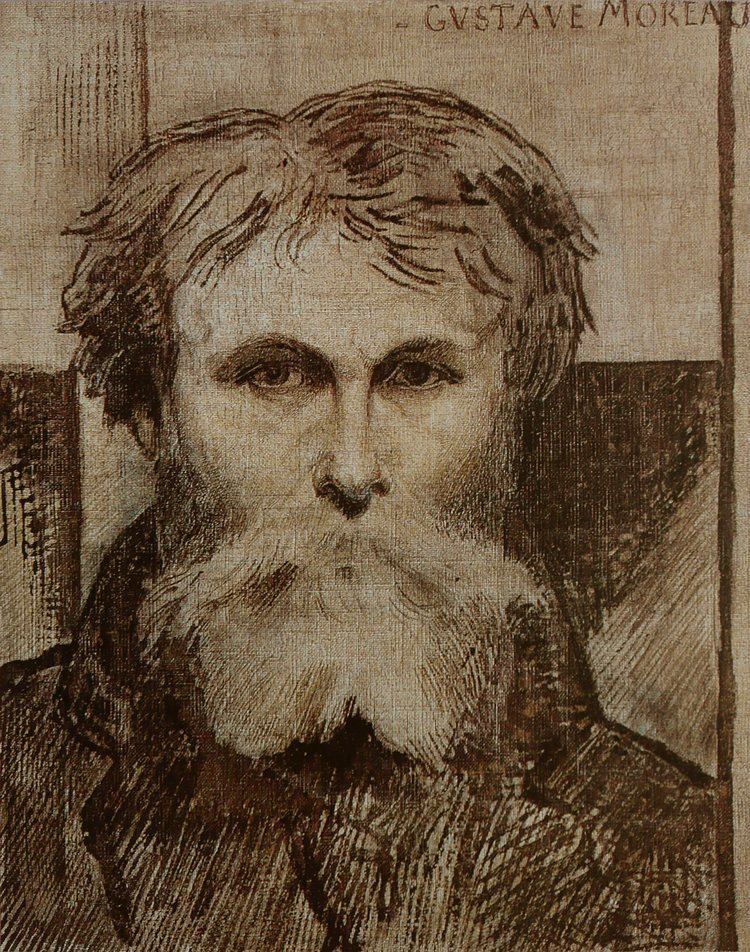 Oedipus and the Sphinx, one of his first Symbolist paintings, was exhibited at the Salon of 1864. Moreau quickly gained a reputation for eccentricity. One commentator said Moreau's work was "like a pastiche of Mantegna created by a German student who relaxes from his painting by reading Schopenhauer." The painting currently resides in the permanent collection at the New York Metropolitan Museum of Art.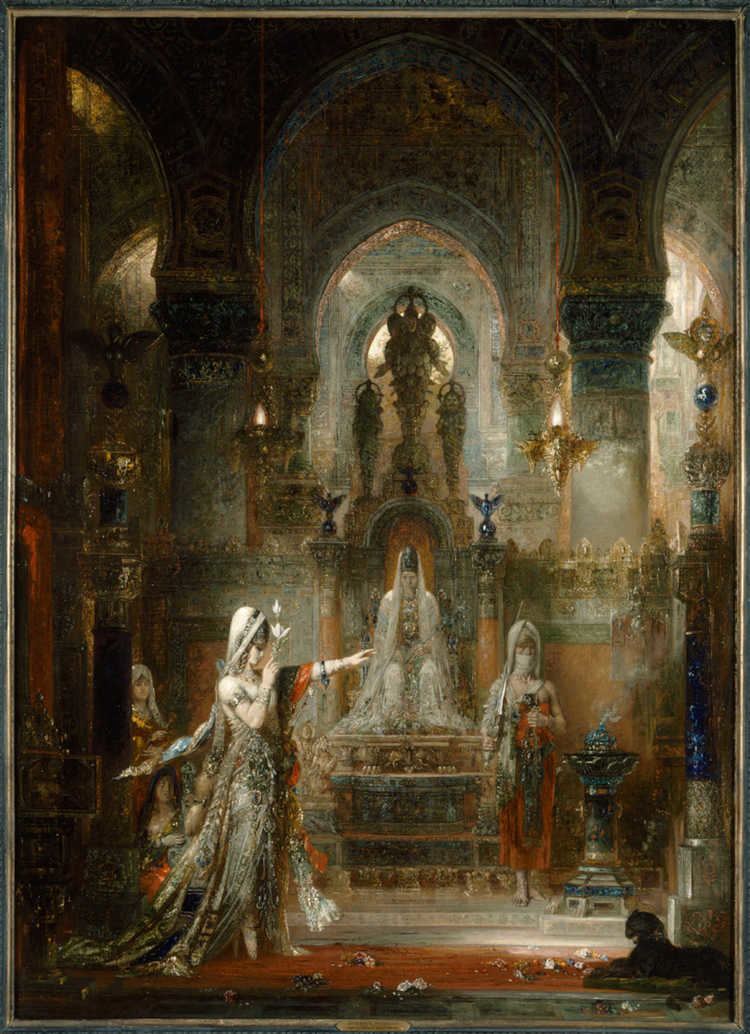 On March 28, 1890, Alexandrine Dureux died. Her death affected Moreau greatly, and his work after this point contained a more melancholic edge. She was buried at the same cemetery that Moreau himself would be laid to rest (see below).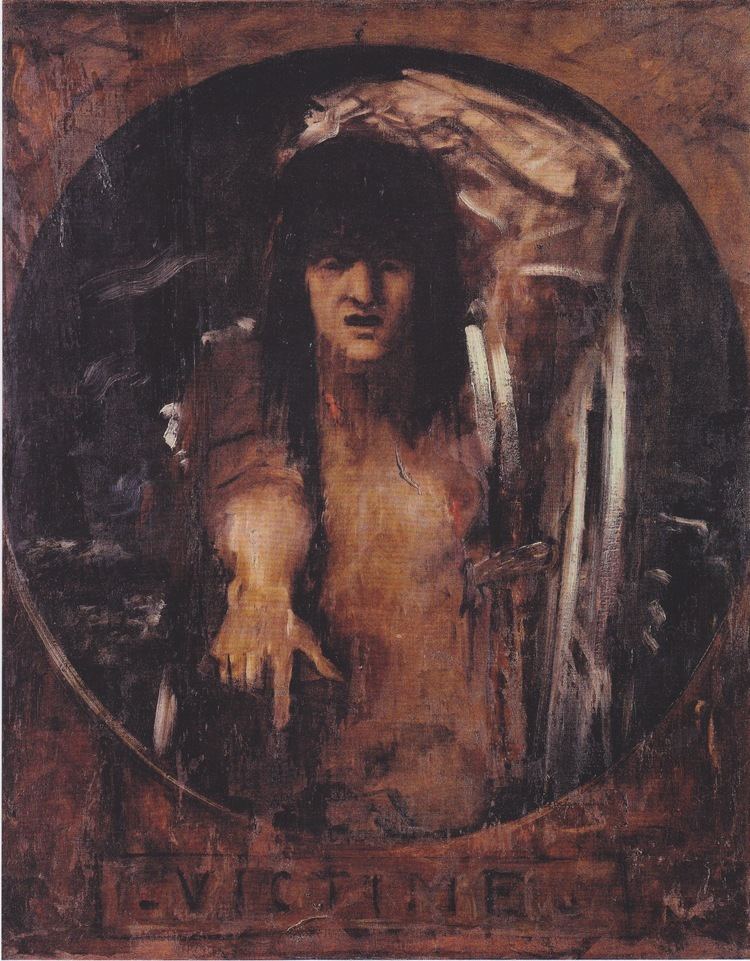 Moreau became a professor at Paris' École des Beaux-Arts in October 1891. Among his many students were fauvist painters Henri Matisse and Georges Rouault. Jules Flandrin, Theodor Pallady and Léon Printemps also studied with Moreau.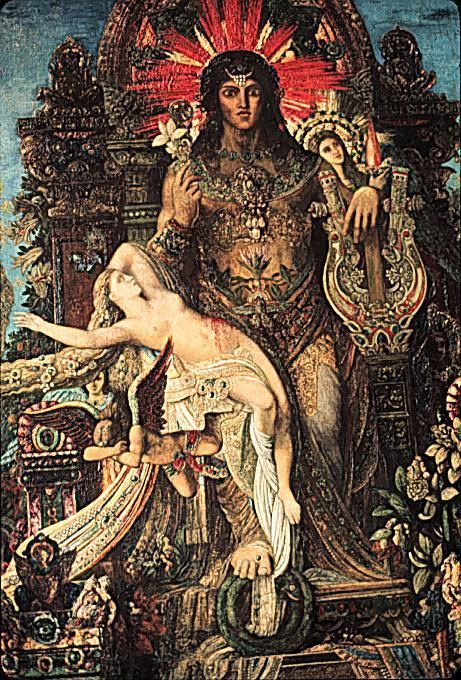 Moreau died of stomach cancer and was buried at the Cimetière de Montmartre in Paris in his parent's tomb.
During his lifetime, Moreau produced more than 8,000 paintings, watercolors and drawings, many of which are on display in Paris' Musée national Gustave Moreau at 14 rue de la Rochefoucauld (9th arrondissement). The museum is in his former workshop, and began operation in 1903. André Breton famously used to "haunt" the museum and regarded Moreau as a precursor of Surrealism. His work influenced the next generation of Symbolists, particularly Odilon Redon and Jean Delville, a leading figure in Belgian Symbolism in the early part of the twentieth century.
Influence of the Italian Renaissance
The death of Chasseriau in 1856 caused Moreau to enter a state of gloominess. He stopped painting and withdrew himself from the public. Concerned about his condition, Moreau's parents suggested he travel to Italy again. Living in Italy from 1857-1859 he found a new love for art. He gained inspiration to make art with a style of Italian Renaissance from Leonardo da Vinci and Michelangelo. His inclination with Leonardo was conditioned mostly due to the fact that French historians claimed Leonardo died in France in the hands of King Francois I. In addition, his desire to paint with an Renaissance style led him to study from Da Vinci's and Michelangelo's disciples. At the end of his lifetime, Moreau constructed a lot of art such as Death Offering a Crown to the Victor of a Tournament, 1868-70.
Exoticism
Gustave Moreau's education in classical drawing did not stop him of experimenting with different styles of art. By traveling to other countries such as Italy or Holland and reading publications Moreau was able to develop his unique form of art. The most important publications Moreau owned were The Grammar of Ornament by Owen Jones, Le costume historique by August Racinet, and Le Costume by Frederick Hottenroth. All these influences led Moreau to draw not only humans, but animals and architectural monuments. Moreau started his career drawing classical art, but by incorporating exotic images he developed a mysterious and unique form of art.
Gallery
Gustave Moreau's works
References
Gustave Moreau Wikipedia
(Text) CC BY-SA