Covid-19


A gun moll (aka gangster moll) is the female companion of a male professional criminal. In some contexts, "gun moll" more specifically suggests that the woman handles a firearm.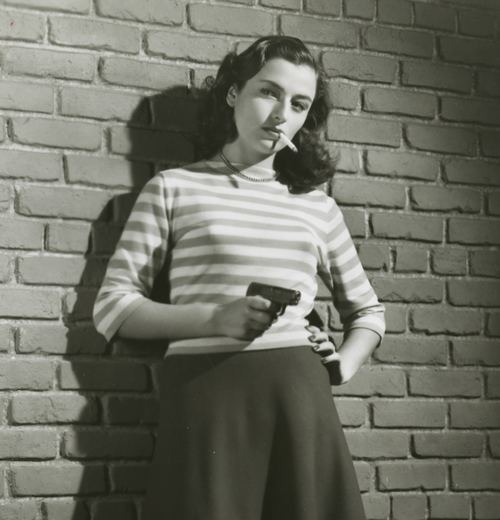 When the term came into usage in the first decade of the 20th century, "gun" was not derived from the English synonym for "firearm", but from the Yiddish word meaning "thief," variously transliterated into English as ganefthe, gonif, goniff, or ganof, itself derived from Hebrew "Ganav" (גנב). However, this distinction gradually disappeared, especially when such women became associated with gangsters noted for their frequent use of guns.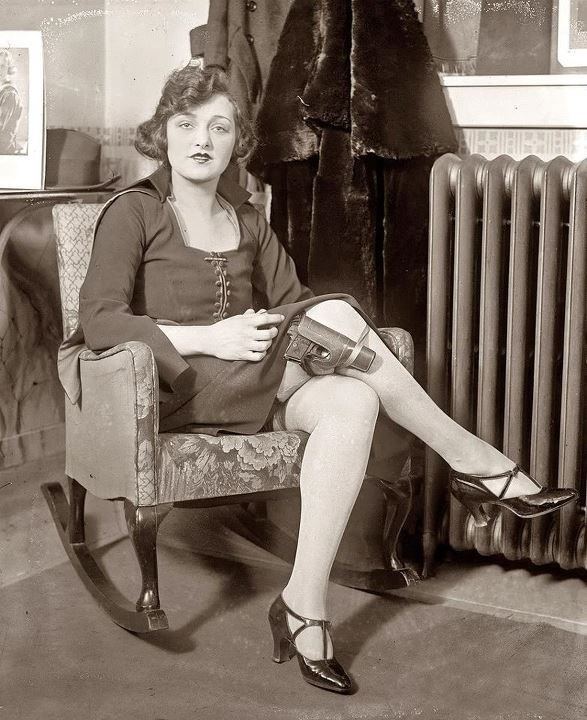 "Moll" derives from "Molly", used as a euphemism for "whore" or "prostitute" and attested at least since 17th century England.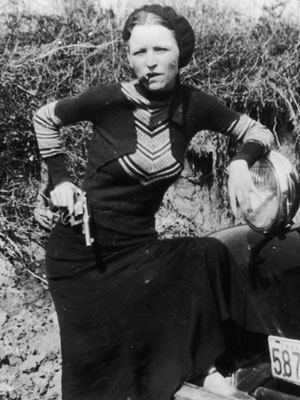 In the U.S., the term has mostly been applied to a woman associating with an American gangster of the 1920s and 1930s, and in most cases remarkable only because of his notoriety. Extended use of the term without awareness of the Yiddish root, however, has invited interpretations of "gun" as suggesting more than simply criminal associations. Bonnie Parker and Blanche Barrow were gun molls in this stronger sense, and especially notable examples in general, because of their accompanying the rest of the Barrow Gang to the planned locations of violent crimes, and, in Parker's case, apparently directly assisting at least to the extent of loading guns in the midst of shootouts.
Prominent, true-life gun molls (and the men they were associated with) include: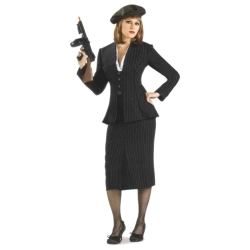 Beulah Baird — Charles Arthur "Pretty Boy" Floyd
Mae Capone — Al Capone
Dee David (née DaLonne Chisam; 30 April 1923 – 12 November 1976 - later Cooper, Brumer & Jackson, through four marriages) — Frank Niccoli (alias Frankie Burns) (1910 – 2 September 1949), Mickey Cohen and Fred (Alfred Gerardo) Sica (11 September 1915 – 10 December 1987) Dee David was an aspiring actress, playing bit-parts in several movies, such as the hat check girl in Alias a Gentleman (billed as DaLonne David), and the uncredited role of Rita (the "Blond") in the detective thriller Calling Homicide (billed as Dalonne Cooper)."
Jean Delaney (Crompton) — Tommy Carroll
Phoolan Devi Indian dacoit, Gun Moll of Vikram Mallah, later turned into the gang leader after his death
Victoria DiGiorgio Gotti— John Gotti
Judith Exner — was an American woman who claimed to be the mistress of U.S. president John F. Kennedy and Mafia leaders Sam Giancana and John Roselli.
Evelyn "Billie" Frechette — John Dillinger
Buda Godman (née Helen Julia Godman; 4 December 1888 – 1944?) — John Homer T. ("Dapper Jackie") French, member of the Lou Blonger Gang of Denver. A photo of Buda holding a gun is found in Philip S. Van Cise's Fighting the Underworld.
Catherine Greig — James Whitey Bulger
Maria Victoria Henao — Pablo Escobar
Karen Hill — Henry Hill
Virginia Hill — Bugsy Siegel
Mary Kinder (née Mary Northern; 29 August 1909 – 21 May 1981) — Harry Pierpont
Opal "Mack Truck" Long — Russell Clark
Edna Murray wife of "Diamond Joe" Sullivan, who was executed for murder in 1924. She then married Jack Murray, who was imprisoned for 25 years in 1925. She then lived with Volney Davis, until they were both arrested for kidnapping in 1935.
Mary O'Dare — Raymond Hamilton
Bonnie Parker — Clyde Barrow
Geraldine McGee Rosenthal— Frank Rosenthal
Kathryn Thorne (née Cleo May Brooks; 18 March 1904 – 28 May 1985) — George "Machine Gun" Kelly
Helen Wawzynak — George "Baby Face" Nelson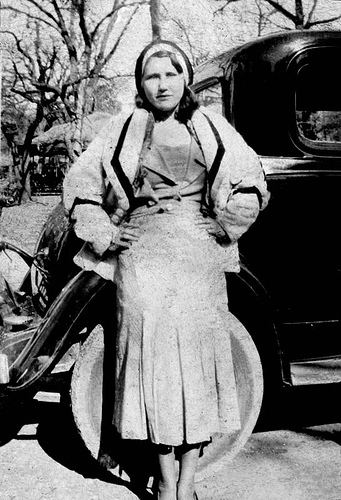 Marie Garson (played by Ida Lupino) — Roy Earle (played by Humphrey Bogart) in High Sierra.
Tallulah — Character from Bugsy Malone; Fat Sam's girlfriend, the speakeasy's star performer and Bugsy's ex.
Breathless Mahoney — Character from the Dick Tracy comic strip as well as films such as, from 1990, Dick Tracy, where Breathless Mahoney was portrayed by Madonna.
Alicia Hunt — Character from Batman, played by Jerry Hall; Carl Grissom's girlfriend and Jack Napier's mistress.
Italian and Italian American gangsters and mafiosi often refer to their mistress as a comare (Italian for "godmother"), often Americanized to goomah, goomar, or gomatta.
Moll — common term for whore or prostitute, and also the nickname of a 17th-century criminal Moll Cutpurse.
''Cocota''- Or ''Cocotinha'', the Brazilian term for a promiscuous, or often criminal-related, girl or woman.
Gun moll Wikipedia