South Korea




North Gyeongsang Province




341,550 (2000)


617.28 km2


Yeongnam




Gumi College, Kyungwoon University



Gumi (Hangul: ??) is the second largest city in Gyeongsangbuk-do, South Korea. It is located on the Nakdong River, half way between Daegu and Gimcheon, also lies on the Gyeongbu Expressway and Gyeongbu Line railway which are the principal traffic routes of the country.
The city is an industrial center of the country with many companies, including Samsung Electronics and LG Display. The primary industries are electronics, textiles, fibers, rubber, plastic and metal products. In Gumi, 1,772 companies employ over 80,000 workers. It is the largest scale in Korea. In 2009, the city exported the largest amount in the country and accounted for 96.9% of trade surplus of Korea in 2000 to 2009.
The former President of South Korea, Park Chung-hee was born in the city.
Gumi literally translates as turtle tail, not nine tails.
In the Three Kingdoms period, Gumi was territory of Silla. The first Silla temple, Dori Temple, was constructed here.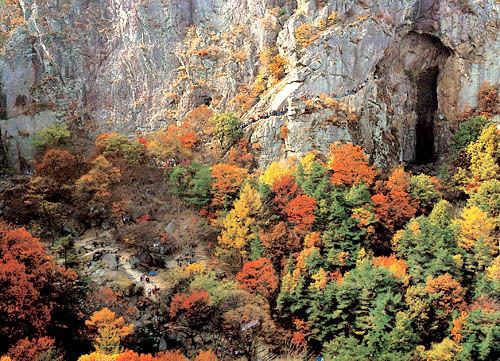 More recently, the town was the birthplace of the South Korean president Park Chung-Hee. Not coincidentally, it was during his administration that the South Korean government selected Gumi as a site for major industrial development. His birth home is a museum today.
Gumi developed rapidly during the 1960s, growing from a small rural town into a large city thanks to huge infusions of development money from the government. It was selected for development for some practical reasons such as its easy access to transportation infrastructure, and its location in the industrialized Yeongnam region.
Gumi, North Gyeongsang Wikipedia
(,)http://gumicci.korcham.net/eng/gumicci/images/juris_c01.gif(,)http://www.lifeinkorea.com/Images/Nkyongsang/gumi1.jpg(,)http://koreansapsaree.weebly.com/uploads/7/7/5/5/7755793/2777881_orig.jpg
(,)http://exp.cdn-hotels.com/hotels/7000000/6890000/6887400/6887384/6887384_3_z.jpg(,)http://i876.photobucket.com/albums/ab324/chestervizconde/photo3_zpse529cd25.jpg(,)http://i876.photobucket.com/albums/ab324/chestervizconde/photo1_zps9e49edf6.jpg(,)http://exp.cdn-hotels.com/hotels/6000000/5070000/5068100/5068075/5068075_10_z.jpg(,)http://chestervizconde.com/wp-content/uploads/2013/12/gumi-title-1080x810.jpg(,)https://33.media.tumblr.com/40f5eccfc194a10e9c8cb4d08d42d77b/tumblr_inline_n84nz6Oovq1seyc6y.jpg(,)http://exp.cdn-hotels.com/hotels/6000000/5070000/5067200/5067155/5067155_1_y.jpg(,)http://www.lifeinkorea.com/Images/Nkyongsang/gumi10.jpg(,)https://41.media.tumblr.com/tumblr_lnewecaQKI1qkyzm3o1_500.jpg(,)http://exp.cdn-hotels.com/hotels/6000000/5070000/5068100/5068075/5068075_16_y.jpg(,)https://41.media.tumblr.com/tumblr_ls8mnpydMX1r3kurro1_500.jpg(,)https://40.media.tumblr.com/fb9fc82bc53626f8f9ddaeb580061892/tumblr_n74ibedFca1qfzv3no1_500.jpg