In this animated tale, seaman Lemuel Gulliver (Sam Parker) is the sole survivor of a shipwreck on the distant land of Lilliput, whose people are no bigger than peanuts. Unaware of Gulliver lying on the beach, King Little arranges for the marriage of his daughter, Princess Glory (Jessica Dragonette), to Prince David (Lanny Ross), the son of neighboring King Bombo. Angered when King Little refuses to agree on the wedding song, Bombo declares war just as the villagers discover the giant Gulliver.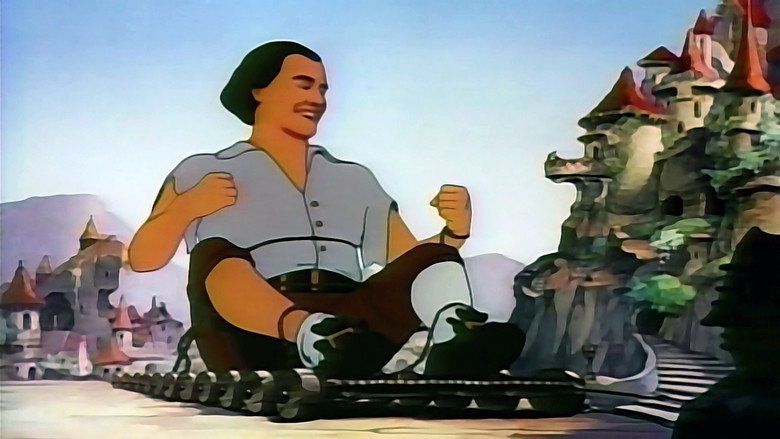 Gullivers Travels is a 1939 American cel-animated Technicolor feature film, directed by Dave Fleischer and produced by Max Fleischer for Fleischer Studios. The film was released on December 22, 1939 by Paramount Pictures, who had the feature produced as an answer to the success of Walt Disneys box-office hit Snow White and the Seven Dwarfs. The sequences for the film were directed by Seymour Kneitel, Willard Bowsky, Tom Palmer, Grim Natwick, William Henning, Roland Crandall, Thomas Johnson, Robert Leffingwell, Frank Kelling, Winfield Hoskins, and Orestes Calpini. This is Paramounts first feature-length animated film.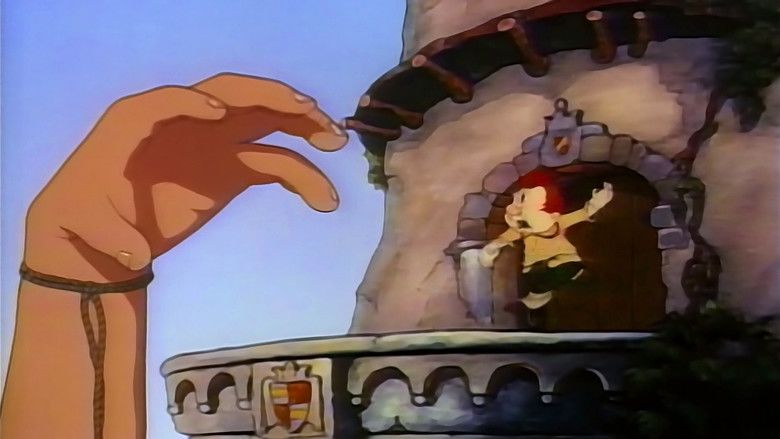 Gulliver was the second cel-animated feature film ever released, and the first produced by an American studio other than Walt Disney Productions. The story is based very loosely upon the Lilliputian adventures of Gulliver depicted in Jonathan Swifts 18th century novel Gullivers Travels.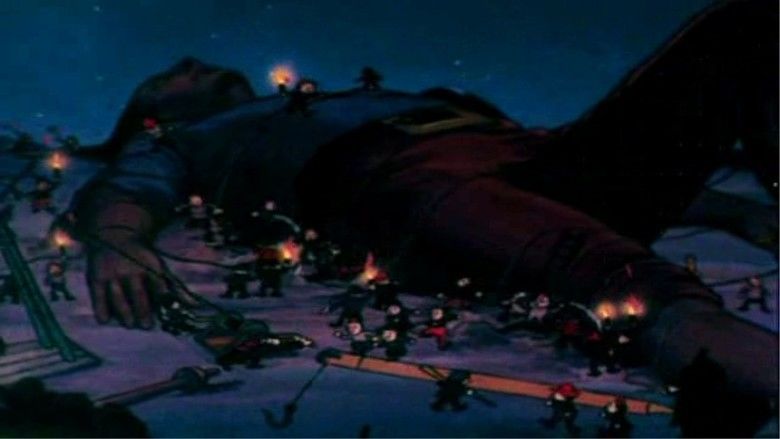 Gulliver washes ashore on Lilliput and attempts to prevent war between that tiny kingdom and its equally-miniscule rival, Blefiscu, as well as smooth the way for the romance between the Princess and Prince of the opposing lands. In this he is alternately aided and hampered by the Lilliputian town crier and general fussbudget, Gabby. A life-threatening situation develops when the bumbling trio of Blefiscu spies, Sneak, Snoop, and Snitch, manage to steal Gulliver's pistol.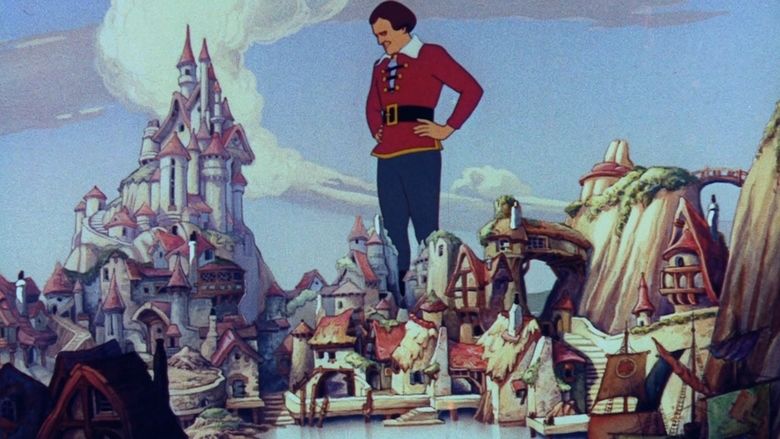 On November 5, 1699, Gulliver (voiced by Sam Parker) washes onto Lilliput, after a shipwreck. While scouting the forest, the town crier Gabby (voiced by Pinto Colvig), finds Gulliver unconscious body and rushes to warn the ruler of Lilliput, King Little (voiced by Jack Mercer). At this time, Little and his friend, King Bombo (voiced by Tedd Pierce) of Blefuscu, are signing a wedding contract, granting their children, Princess Glory of Lilliput (voiced by Jessica Dragonette) to Prince David of Blefuscu (voiced by Lanny Ross), permission to marry. When they argue over which song is to play at the wedding, Bombo declares war.
After failures, Gabby tells King Little of the "giant on the beach" (i.e. Gulliver), and leads a mob to the beach to capture him. There, the Lilliputians tie Gulliver to a wagon on which they convey him to the capital. In the next morning, Gulliver awakens and breaks himself free; but when they see that the invading Blefuscuians are intimidated by his size, the Lilliputians enlist his help against their neighbor, treating him with hospitality and making him a new set of clothes.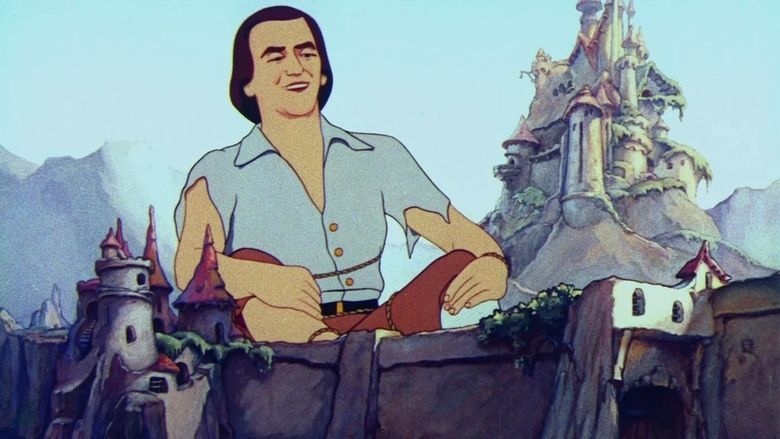 King Bombo, who has sent three spies, Sneak, Snoop, and Snitch, into Lilliput, orders them to kill Gulliver; whereupon the spies steal Gullivers flintlock pistol, confiscated by the Lilliputians, and prepare to use it against him. Meanwhile, Gulliver learns of the wars cause from Glory and David, and proposes a new song that combines the two proposed by their fathers.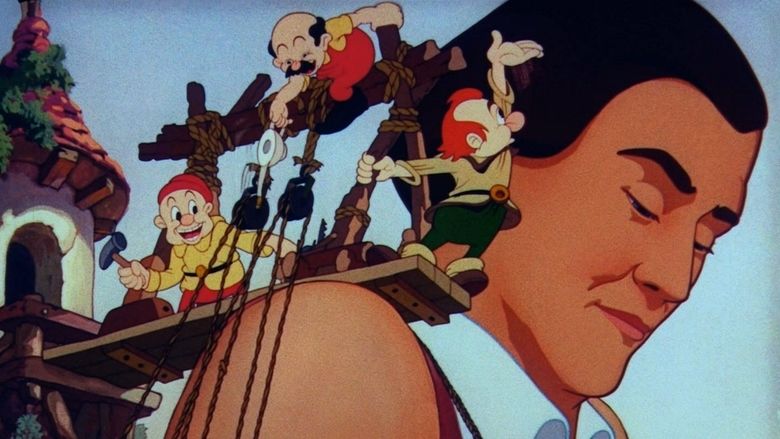 When the spies assure King Bombo that they can kill Gulliver, Bombo announces by carrier pigeon Twinkletoes, that he will attack at dawn. Gabby intercepts this message and warns the Lilliputians; but is himself captured by the spies, who prepare the pistol. As the Blefuscuian fleet approaches Lilliput, Gulliver ties them together and draws them disarmed to shore. The spies fire at Gulliver from a cliff, but Prince David diverts the shot and falls to his apparent death. Using Davids body to illustrate his point, Gulliver scolds both Lilliput and Blefuscu for fighting; but when they solemnize a truce, reveals that David is unharmed, whereupon David and Glory sing their combined song for everyone to hear. Both thereafter build a new ship for Gulliver, on which he departs.
Gulliver - Sam Parker
Gabby - Pinto Colvig
King Little, Twinkletoes, Sneak, Snoop, and Snitch - Jack Mercer
King Bombo - Tedd Pierce
Princess Glory - Jessica Dragonette
Prince David - Lanny Ross
"Faithful/Forever" (Music by Ralph Rainger, lyrics by Leo Robin)
"I Hear a Dream (Come Home Again)" (Music by Ralph Rainger, lyrics by Leo Robin)
"Were All Together Now" (Music by Ralph Rainger, lyrics by Leo Robin)
"Bluebirds in the Moonlight (Silly Idea)" (Music by Ralph Rainger, lyrics by Leo Robin)
"Alls Well" (Music by Ralph Rainger, lyrics by Leo Robin)
"Its a Hap-Hap-Happy Day" (Written by Sammy Timberg, Al Neiburg and Winston Sharples)
"Alls Well", "Its a Hap-Hap-Happy Day", and "Faithful Forever" all later became standards of Fleischer, and later Famous Studios, cartoon scores. The films song "I Hear a Dream" was also very popular as well.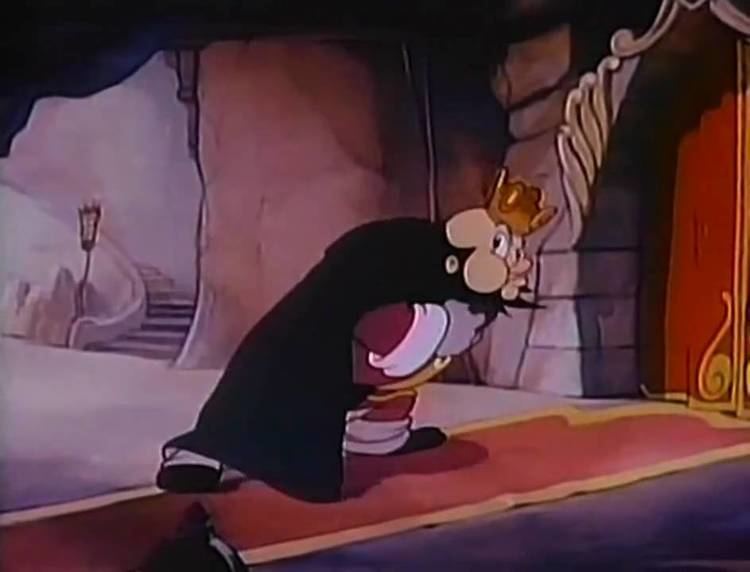 Max and Dave Fleischer had wanted to produce a feature as early as 1934 (shortly after Disney announced it was to produce a feature film), but Paramount, who distributed Fleischers Popeye, Betty Boop, Screen Songs, and Color Classics cartoon shorts, vetoed the idea. However, after the success of Snow White and the Seven Dwarfs, Paramount agreed to allow the Fleischers to make a feature. Paramount offered to build the New York City-based Fleischers a new state-of-the-art animation studio in Miami Beach, Florida, away from the union influence which had polarized the Fleischer Studio after a bitter 1937 labor strike. The Fleischers agreed, and began development on Gullivers Travels in spring 1938 as construction began on the Miami studio. The Miami Fleischer Studio opened in fall 1938, and the Fleischer staff moved their production headquarters there. A few individuals, including voice actor Mae Questel, opted to remain in New York and did not follow the Fleischers to Miami.
Paramount wanted Gulliver ready for a Christmas 1939 release, meaning that the film would have to be produced on a timetable that was one-third of that for the production of Disneys Snow White. To meet this deadline, the Fleischer staff was greatly expanded, to the point that the once-spacious new building was overcrowded with employees. Local Miami art schools provided graduates to be trained as ink-and-paint artists and in-betweeners. Animators were lured from the Hollywood animation studios, including Cal Howard, Nelson Demorest, Joe DIgalo and Tedd Pierce from Leon Schlesinger Productions, and former Fleischer employees Grim Natwick, Al Eugster, Frank Smith and James Culhane, who had all migrated over to the Disney studio. Factions developed between the East and West Coast animators, who were unaccustomed to each others habits. The two sides grew further apart after Howard, Pierce, and the other Hollywood storymen decided to discard the New York regimes storyboards, crafting the films plot over again from scratch.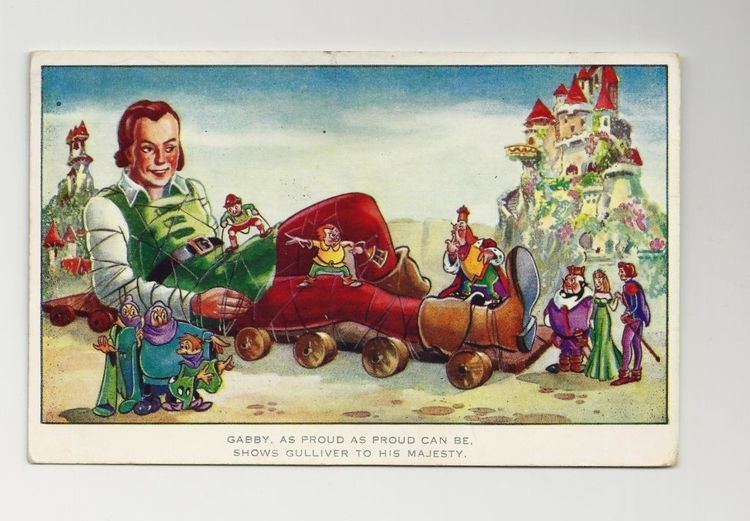 Rotoscoping, an animation technique originally developed by the Fleischer Studios, was used throughout Gullivers Travels to animate Gulliver. The process involves tracing live-action footage frame-by-frame; Sam Parker, the actor who performed the voice of Gulliver, also modeled as the characters live-action reference. This was in an attempt to differentiate the animation style of Gulliver from the more comical Lilliputians. Popeye the Sailor had originally been planned to "portray" Gulliver, but these plans were scrapped during pre-production.
The voice cast consisted of a variety of performers. The voice of Gabby was provided by Pinto Colvig, who had previously worked at Disneys. Colvig had previously been the voice of Goofy, provided vocal effects for Pluto, was the stern Practical Pig in The Three Little Pigs (1933), and voiced Grumpy and Sleepy in Snow White and the Seven Dwarfs. Jack Mercer, who portrayed King Little of Lilliput, was a story man for Fleischers who lent his voice the gruff Popeye the Sailor. In addition to voicing King Little, Mercer was also the voice behind Bombos spies, Sneak, Snoop, and Snitch. Mercer was a regular voice heard in Fleischer and Famous Studios cartoons, and worked for Paramount until Famous Studios was dissolved. Jessica Dragonette and Lanny Ross were both popular singers of the day, and were hired to sing for Princess Glory and Prince David, respectively. Sam Parker was a radio announcer in the 1930s who won the role of Gulliver in a radio contest. When the Fleischers met Parker, they felt that his appearance was suitable for him to also perform in the live action footage that would be rotoscoped to create Gullivers movement. Tedd Pierce was a story man hired away from Leon Schlesinger Productions to join Fleischer in their trip to Miami. Pierce, who would occasionally do voices for some of the characters in the cartoons, played King Bombo. Other vocal credits by Pierce include the voice of "Babbit" to Mel Blancs "Catstello", and that of Bertie in Chuck Joness Hubie and Bertie cartoons.
Like Snow White before it, Gulliver was a success at the box office, earning about $3.2 million in the United States, and led to the production of another Fleischer/Paramount feature, Mr. Bug Goes to Town. However, business-related problems which arose during the production of Mr. Bug, the studio in debt from unsuccessful cartoons and the simmering feud between Max and Dave reaching new heights: including Dave wanting to write the score for the film, would result in Paramounts absorption of the Fleischer Studio in 1941 becoming Famous Studios.
Due to the films public domain status, it has been released by many distributors in various home video formats. E1 Entertainment released the film on Blu-ray Disc on March 10, 2009, but received strong criticism for presenting the movie in a stretched and cropped 1.75:1 format, as well as applying heavy noise reduction. In March 2014, Thunderbean Animation released a restored version of the film with several Fleischer Studios shorts in a Blu-ray/DVD combo pack titled Fleischer Classics Featuring Gullivers Travels.
The film was nominated for two Academy Awards:
Victor Young for Best Music, Original Score
Ralph Rainger (music) and Leo Robin (lyrics) for Best Music, Original Song for the song "Faithful Forever"
A couple of scenes from the film are briefly seen in two episodes of The Adventures of Jimmy Neutron: Boy Genius: "The Incredible Shrinking Town" and "Flippy".
Max Fleischer produced Gullivers Travels and Mr Bug Goes to Town. Jonathan Swift wrote the screenplay for Gullivers Travels and wrote the story for The Three Worlds of Gulliver. Pinto Colvig appears in Gullivers Travels and Snow White and the Seven Dwarfs. Jonathan Swift wrote the screenplay for Gullivers Travels and The New Gulliver. Max Fleischer produced Gullivers Travels and Superman.
The film was spun off into two short-lived Fleischer cartoon short series: the Gabby cartoons starring the Pinto Colvig-voiced Lilliputian sidekick of the film, and the Animated Antics cartoons starring Sneak, Snoop and Snitch (the three villains) and Twinkletoes (the carrier pigeon) from the film.