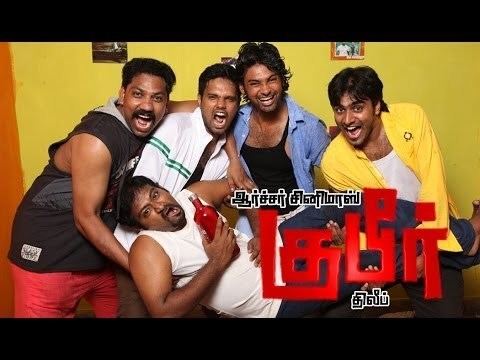 This is the story of a group of people looking to 'paint the town red'; conveying their thoughts over a 24-hour period; all recounted with (apparent) arbitrariness. While it features slapstick, it makes some serious points.
The film crew of the movie consists of 5 friends, who worked for the same IT company. After resigning, these youngsters joined together for a film venture and starred in this movie.
Apart from the star, the cast includes White, Tamil, Ravi and Prathap. Prabhu acts as the owner. Along with them, a pet dog by the name Bover is present.
Thilip as Thilip
Ravi as Ravi
White as White
Tamil as Tamil
Pratap as Pratap
Prabhu as Prabhu
Rajiv as Cop2
Aadhi as Cop1
Manjo as "Manoj"
Shankar as Liquor Man
Bower as Bower
Thilip started writing the script in January 2013. He started shooting on 16 April 2013. The movie was shot in 19 days. Post production took place during the second half of 2013. Gubeer cleared Central Board of Film Certification with 'A' on 31 March 2014. The production was funded by Thiagarajar College of Engineering alumnus and other friends of Thilip. Gubeer is also a partially crowdfunded movie.
The soundtrack was composed by Vishal-Aditya and the album was released on 1 February 2014. The Audio was launched by Karthik Subbaraj and Balaji Tharaneetharan. The Gubeer soundtrack consists of 8 songs.
The film received critical acclaim. Karthi of Dinamalar wrote, "A Royal salute to Gubeer Team. All lead actors were good. Overall, Gubeer is upset to commercial film makers in Kollywood. Inspiring and interesting to people who love cult films." Malini Mannath of The New Indian Express wrote, "Creative, bold and experimental, Gubeer is worth a watch." Famous movie reviewer Cable Shankar wrote in his blog, "Director R. Parthiepan said, I'm gonna make a movie without story but New comer director Thilip did that job better than Parthiban. All new faces, very less publicity, 'A' Censored certificate after all, still Gubeer is Best." SouthIndianCrimePoint reviewed Gubeer on YouTube: "Very innovative, experimental, entertaining and novel idea. But why did censored board give an 'A' certificate to this movie? Only censor board knows." NewTamilCinema site described Gubeer as "Broke all the film making rules in Tamil film industry. No Heroine, No fight, No love, No story even though film running for 2 hours but nobodies running out of the theater. It's a Very rare and brave film making. Hats off to Gubeer." Galatta reviewed as "Director Thilip has set out to challenge the legendary R. Parthiepan in making a movie without a story. That he succeeds, is the highlight". Critic Vetrivel of screen4screen questioned "Does anyone can make movie like this? Yup the Gubeer team did. Welcome Gubeer." Tamilcinema.com wrote as "welcome Gubeer there is an attempt to try new and novel idea". KalakkalCinema.com said, "Welcome Gubeer for New attempt".
Jigarthanda Director Karthik Subbaraj strongly recommended Gubeer as "It is an indie, experimental film which is gutsy, bold & filled with fun". Naduvula Konjam Pakkatha Kaanom Director Balaji Tharaneetharan praised the movie as "I haven't seen a movie like Gubeer. A very different and bold movie in Kollywood". Moodar Koodam Naveen said, "Broke all the film making grammars, very unique(sic), different concept. Let's welcome the new film making and creative youngsters". Actor Vijay Sethupathi described the movie as "No story but different attempt".
Gubeer had a limited theatrical release on 10 October in Tamil Nadu. Archer cinemas stopped showing the movie one day after its release.