Brazil


142.589 km2


Sao Paulo




Southeast




June 19, 1934




Maria Antonieta de Brito



Guaruja is a municipality in the Sao Paulo state of Brazil. The population in 2006 was 305,171, the population density is 1,969.47/km² and the area is 143 km². This place name comes from the Tupi language, and mean "narrow path". The population is highly urbanized.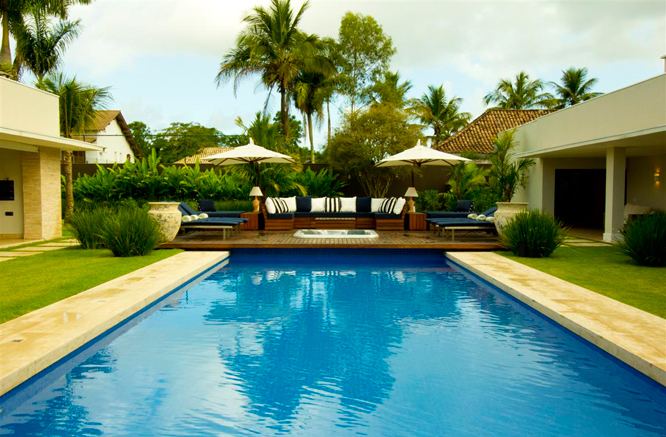 Guaruja is located in Santo Amaro island, situated in Sao Paulo shore. Its main economic sources are seasonal tourism and port related activities.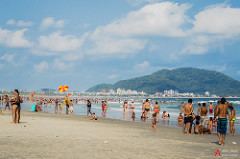 Guaruja is a popular weekend destination for families from Sao Paulo, who can get there driving in less than one hour (through the Imigrantes highway). Traffic gets heavy during the evening on the holidays.
Guaruja has a borough called Vicente de Carvalho, in tribute to the Parnasianist poet.
A nickname for the city is "The Pearl of the Atlantic".
Guaruja is known for its famous beaches such as Guaiuba, Tombo, Asturias, Pitangueiras, Enseada, Pernambuco, Pereque, Sao Pedro, Tijucopava, Iporanga, Praia Branca and Praia Preta.
Guaruja, its history, infrastructure and proximity to the countrys most populous city, provides strong attractive real estate and tourism. Much of the region on the coast, the beaches near the center (mainly Asturias Pitangueiras, Enseada, and Tombo) are taken by buildings devoted to the seasonal population, who arrives mostly in summer. Tourism, therefore, is the most important component that moves the economy. The other part, relevant and non-seasonal, comes from the port (left bank of the Port of Santos) and related activities, such as transportation. Due to its proximity to Cubatao (largest industrial district in the country) and ports, there is also interest in industrial occupation in the region, started in 1976 by Dow Chemical, still the only major industry to occupy the region. According to the IBGE of 2006 the production of wealth in the service area in the city, added that year, U.S. $ 1.820 billion, equivalent to 0.14% in participation in the Brazilian GDP.
Guaruja Wikipedia
(,)http://estelledugachard.com/wp-content/uploads/2013/03/Landscape.jpg(,)http://farm8.static.flickr.com/7533/16310746826_afddceb42c_m.jpg(,)http://brazil-weekly.com/wp-content/uploads/2013/03/sofitelpernambucobeach.jpg(,)http://estelledugachard.com/wp-content/uploads/2012/12/Foto_-5-Medium1.jpg(,)http://wedalertnetwork.com/wp-content/blogs.dir/1/files/2012/07/Sofitel-Guaruj%25C3%25A1-Jequitimar-Brazil.png(,)http://cache4.asset-cache.net/gc/455446003-brazil-view-of-guaruja-beach-gettyimages.jpg%3Fv%3D1%26c%3DIWSAsset%26k%3D2%26d%3DcGK81sdjA5HbbB2f7M2RuQxJqPbGsbavZDcxoASfUCdmal1BuS407HX7heso%252F3tY(,)http://ad009cdnb.archdaily.net/wp-content/uploads/2009/04/1645799838_05-528x352.jpg(,)http://ad009cdnb.archdaily.net/wp-content/uploads/2015/04/552daacee58ece2cfd000292_amb-house-bernardes-jacobsen-arquitetura_06051pr111110_020d-530x353.jpg(,)http://cache3.asset-cache.net/gc/sb10068952p-001-brazil-sao-paulo-guaruja-rear-view-of-gettyimages.jpg%3Fv%3D1%26c%3DIWSAsset%26k%3D2%26d%3DAVAqCMJoZ2AX2PiU3oyY%252Bcigfkg9zKiULR2RYKq2k%252Bg%252F%252F%252F5ODSb%252B5JNX4OzlcE8C(,)http://cache2.asset-cache.net/gc/93034787-sign-boards-on-the-beach-enseada-beach-gettyimages.jpg%3Fv%3D1%26c%3DIWSAsset%26k%3D2%26d%3D8OBxG1wdnXLcoPGQ6WxzQqjEU%252Bdtu0Vnqy%252BI2E%252FjT1pEtxGrMHMvuR98tiwrp1uR
(,)http://media-cdn.tripadvisor.com/media/photo-s/05/10/52/42/front-of-the-restaurant.jpg(,)http://media-cdn.tripadvisor.com/media/photo-s/04/0a/42/3d/excelente-carta-de-vinhos.jpg(,)http://cdn1.vtourist.com/19/826801-I_and_my_aunt_in_the_entrance_of_the_restaurant_Guaruja.jpg(,)http://cdn2.vtourist.com/19/826787-I_my_aunt_and_the_waitress_Guaruja.jpg(,)http://media-cdn.tripadvisor.com/media/photo-s/05/10/52/44/fabio-with-us.jpg(,)http://media-cdn.tripadvisor.com/media/photo-s/03/78/bc/bf/spqr-nice-ambiance.jpg(,)http://media-cdn.tripadvisor.com/media/photo-s/05/0b/04/0d/thai.jpg(,)http://i1.bookcdn.com/data/Photos/OriginalPhoto/148/14835/14835383/Casa-Grande-Hotel-ResortSpa-Guaruja-photos-Restaurant-Restaurant.JPEG(,)http://i0.bookcdn.com/data/Photos/Big/947/94766/94766726/Casa-Grande-Hotel-ResortSpa-Guaruja-photos-Restaurant.JPEG(,)http://www.casagrandehotel.com.br/imagem/servicos/thai-3.jpg(,)http://cdn3.vtourist.com/19/826805-I_and_my_aunt_in_the_pizzeria_Guaruja.jpg(,)http://media-cdn.tripadvisor.com/media/photo-s/05/5a/9f/41/mesa-10-guaruja.jpg(,)http://cdn1.vtourist.com/19/1890502-lots_of_places_to_go_Guaruja.jpg