Guantanamo is a municipality and city in southeast Cuba and capital of Guantanamo Province.
Guantanamo is served by the Caimanera port near the site of a U.S. Naval base. The area produces sugarcane and cotton wool. These are traditional parts of the economy.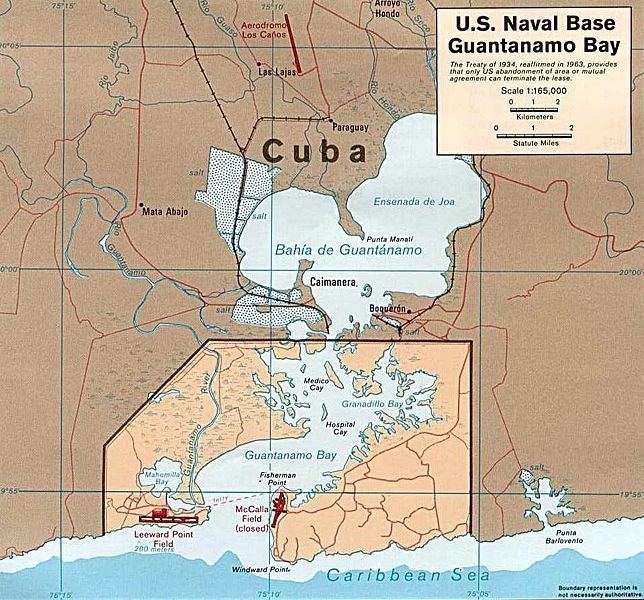 The city was founded in 1797 in the area of a farm named Santa Catalina. The toponym "Guantanamo" means, in Taino language, "land between the rivers".
The municipality is mountainous in the north, at Humboldt National Park, where it overlays the Sierra Maestra (mountains), and borders the Windward Passage of the Caribbean Sea in the south. It is crossed by the Bano, Guantanamo, Yateras, Guaso, San Andres and Sabanalamar rivers. The city is spread with a square plan and is crossed in the middle by the Carretera Central highway. Guantanamo Bay is a natural harbour south of it.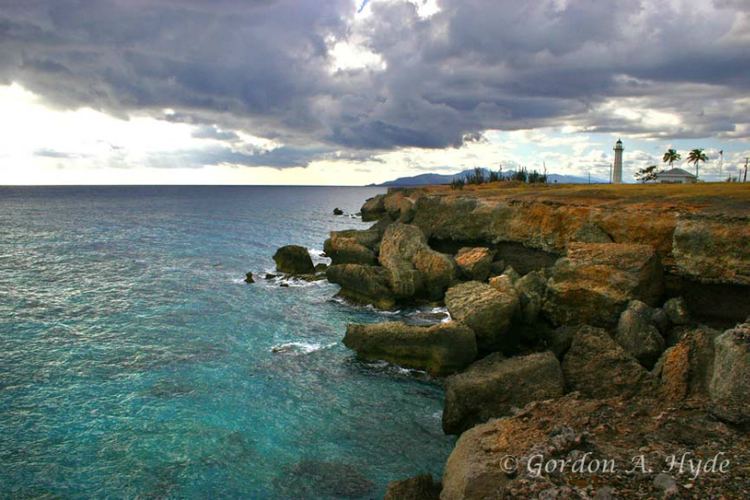 The municipality borders with El Salvador, Niceto Perez, Caimanera, Yateras, Manuel Tames and Sagua de Tanamo; this one in Holguin Province. It counts the villages of Argeo Martinez, Arroyo Hondo, Glorieta, Las Lajas and Paraguay.
Prior to 1976 it was divided into the barrios and villages Arroyo Hondo, Baitiquiri, Bano, Bayate, Caimanera, Camarones, Caridad, Corralillo, Cuatro Caminos, Filipinas, Glorieta, Gobierno, Guaso, Hospital, Indios, Isleta, Jaibo Abajo, Las Lajas, Macurijes, Mercado, Ocujal, Parroquia, Palma de San Juan, Rastro, Tiguabos and Vinculo. After 1976 reform part of municipal territory was split in the municipalities of El Salvador, Niceto Perez, Caimanera and San Antonio del Sur.
Guantanamo Wikipedia
(,)https://jpulitzer.files.wordpress.com/2014/04/gitmo-map.jpg(,)http://rt.com/files/opinionpost/1f/ac/b0/00/1.jpg(,)http://upload.wikimedia.org/wikipedia/commons/b/bd/Guantanamo_Bay_map.png(,)http://upload.wikimedia.org/wikipedia/commons/0/01/Guantanamo_Bay%25E2%2580%2599s_golf_course_in_the_early_1950%25E2%2580%2599s.jpg(,)http://cdn.theatlantic.com/static/mt/assets/international/Guantanamo%2520banner%25201293041093281.jpg(,)http://i2.wp.com/ellenwood-ep.com/wp-content/uploads/2015/03/Guantanamo2.jpg%3Fresize%3D852%252C1025(,)http://images.macmillan.com/folio-assets/macmillan_us_frontbookcovers_1000H/9780809053414.jpg(,)http://www.miamiherald.com/incoming/m6n24g/picture1711990/ALTERNATES/FREE_960/1mX64e.So.56.jpeg(,)http://upload.wikimedia.org/wikipedia/commons/3/31/Guantanamo_Bay_Naval_Base,_Cuba,_1916_%25E2%2580%25A7_1.jpg(,)https://timedotcom.files.wordpress.com/2015/01/gitmo.jpeg%3Fquality%3D65%26strip%3Dcolor%26w%3D1100(,)https://timedotcom.files.wordpress.com/2014/12/guantanamo-bay-prison-cuba.jpg%3Fquality%3D65%26strip%3Dcolor%26w%3D1100(,)http://www.med.navy.mil/sites/gtmo/PublishingImages/USNAVHOSP.jpg
(,)http://www.phoenixportals.com/images/land-guantanamo-bay-5-1.jpg(,)http://vistita.com/wp-content/gallery/landscape-images-and-file-info/guantanamo-lighthouse.jpg(,)http://www.slaveryandremembrance.org/_images/large/P0056_image0001.jpg(,)http://blog.gitmomemory.org/files/2012/10/Untitled3.png(,)https://s-media-cache-ak0.pinimg.com/736x/c2/1a/f1/c21af1f73a1e3bb5e0d7cae13e6d01eb.jpg(,)http://i.guim.co.uk/static/w-620/h/q-95/sys-images/Guardian/Pix/pictures/2014/10/23/1414104049620/96c30da8-bf5d-4960-a20c-a8d9ab0ea31c-620x372.jpeg(,)http://vistita.com/wp-content/gallery/landscape-images-and-file-info/cubadesert.jpg(,)http://www.stripes.com/polopoly_fs/1.80790.1273639157!/image/4265660553.jpg_gen/derivatives/landscape_804/4265660553.jpg(,)http://previews.123rf.com/images/ajlber/ajlber1403/ajlber140300079/27076599-El-Yunque-National-Park-landscape-Guantanamo-Province-Baracoa-Cuba-Stock-Photo.jpg(,)http://www.guantanamocity.org/images/photos/guantanamo-city-490-rio-toa.jpg(,)http://thumbs.dreamstime.com/z/landscape-el-yunque-national-park-guantanamo-province-baracoa-cuba-el-younque-background-el-yunque-table-38732153.jpg(,)http://www.guantanamocity.org/images/photos/guantanamo-city-490-monitongos.jpg(,)http://thumbs.dreamstime.com/z/landscape-el-yunque-national-park-guantanamo-province-baracoa-cuba-el-younque-background-el-yunque-table-38731959.jpg(,)http://cache4.asset-cache.net/gc/464675555-aerial-view-of-palm-trees-in-rural-landscape-gettyimages.jpg%3Fv%3D1%26c%3DIWSAsset%26k%3D2%26d%3DQY7IEIkl%252Bc4FXn2bhzzc63ue100xScfqW%252F6WdMFOqtca6BSMN7h5ub3zT91C%252BM3j8KaA2w%252FIKixwTdQWosTpUA%253D%253D(,)http://thumbs.dreamstime.com/z/landscape-along-coast-guantanamo-province-cuba-38730800.jpg(,)http://news.nationalgeographic.com/news/2009/04/photogalleries/guantanamo-bay-wildlife/images/primary/090403-04-gitmo-banana-rat_big.jpg
(,)http://media-cdn.tripadvisor.com/media/photo-s/02/4a/9f/81/filename-gran-canaria.jpg(,)http://www.cuba-junky.com/foto-b/baracoa_main_710.jpg(,)http://www.leeabbamonte.com/wp-content/uploads/2013/12/DSC_0541-1024x678.jpg(,)http://media.gotraffic.net/images/i0Jxblw9xNvs/v14/628x-1.jpg(,)http://www.leeabbamonte.com/wp-content/uploads/2013/12/DSC_0577-1024x678.jpg(,)http://www.jihadwatch.org/WP001/wp-content/uploads/Lunch.jpg(,)http://media-cdn.tripadvisor.com/media/photo-s/02/48/32/7c/esterno.jpg(,)http://www.independent.co.uk/incoming/article8695786.ece/alternates/w620/v3-guantanamobay.jpg(,)http://www.leeabbamonte.com/wp-content/uploads/2013/12/DSC_0580-1024x678.jpg(,)http://i.ytimg.com/vi/TER7DN8uxac/hqdefault.jpg(,)http://www.cuba-junky.com/photo_hotel/guantanamo/guantanamo4.jpg