Grover Cleveland Bergdoll (October 18, 1893 – January 27, 1966) was an early aviator, and World War I draft dodger, who went to Germany to avoid service.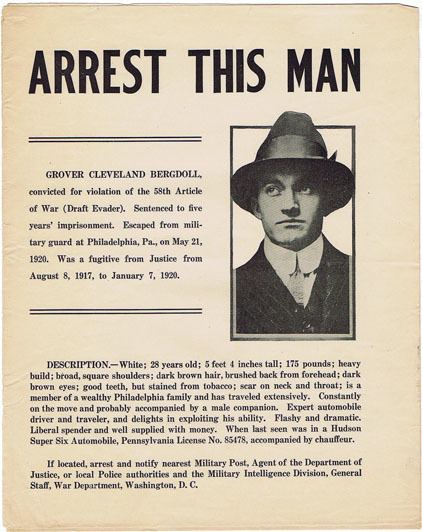 He was born in Philadelphia. In 1912, he purchased a Wright Model B biplane for about $5,000. After 748 flights it was placed in storage, and in 1936 it was donated to the Franklin Institute. To avoid the draft he eluded police for two years. He was arrested in 1920, then escaped to Germany. Bergdoll found refuge in Eberbach in the Neckar Valley, not far away from Heidelberg, where relatives of his were living.
In January 1921 two US-sergeants Frank Zimmer and Carl Neuf wanted to seize Bergdoll in the town, but only had an American arrest warrant. They met the fugitive at the local station, exchanged words with him, and he finally fled with his car. One American fired two shots on the disappearing car, wounding a 17-year-old girl named Lina Rupp on her right hand. Both sergeants were captured by the local police and later given jail sentences.
In 1923 a bid to kidnap Bergdoll from Eberbach was made. Two members of a gang of five were hiding in Bergdoll's hotel room, where they wanted to overpower the draft dodger. But when Bergdoll entered the room, a fight started and he managed to shoot one of the kidnapers and injure the other one seriously. The four surviving conspirators were seized and sentenced to prison terms.
Finally in 1939 Bergdoll returned to the United States, was put on trial, and was imprisoned until 1944. He died in Richmond, Virginia in 1966.
The man drafted in Bergdoll's place, Russell C. Gross of Philadelphia, became a private in Company B of the 328th Infantry Regiment, part of the 82nd Infantry Division. He was killed in action on October 24, 1918, during the Meuse-Argonne Offensive. Gross was posthumously cited for bravery by Brigadier General Julian R. Lindsey.