Played by

Elaine Paige




Movie

Cats







Similar

Rum Tum Tugger, Mr Mistoffelees, Jellicle cats, Macavity, Old Deuteronomy
Elaine paige on playing grizabella behind the scenes cats the musical
Grizabella is the "Glamour Cat" in the musical production Cats. She does not appear in T. S. Eliot's work Old Possum's Book of Practical Cats, but she is a prominent character in the stageplay. It appears that she is the feline version of the woman mentioned in T.S. Eliot's poem "Rhapsody on a Windy Night".
Contents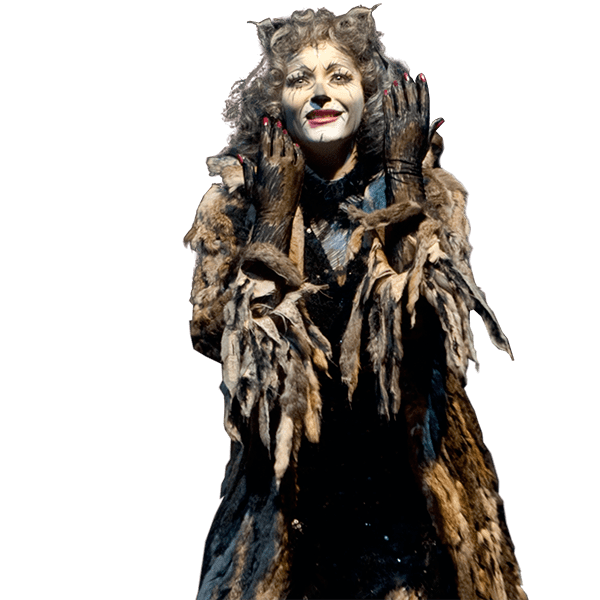 "Remark the woman
Who hesitates toward you in the light of the door
Which opens on her like a grin.
You see the border of her coat
Is torn and stained with sand,
And you see the corner of her eye
Twists like a crooked pin."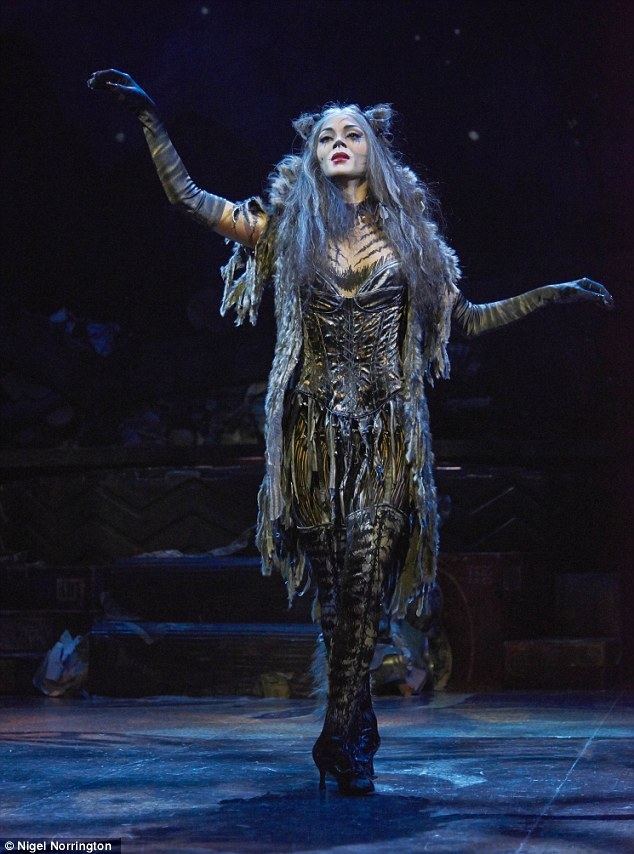 The character of Grizabella featured in an unpublished poem that T. S. Eliot wrote for his godchildren, intending to include it in Old Possum's Book of Practical Cats. However, as his widow, Valerie Eliot pointed out, he thought it was too "sad for children" and so did not include it in the finished work. Valerie Eliot came to the 1980 Sydmonton Festival concert where Andrew Lloyd Webber premiered some of his settings of the Old Possum poems, and gave him the paper with the fragment of Grizabella written on it. From there Lloyd Webber and director Trevor Nunn incorporated the Grizabella poem as a main strand of the plot of the show.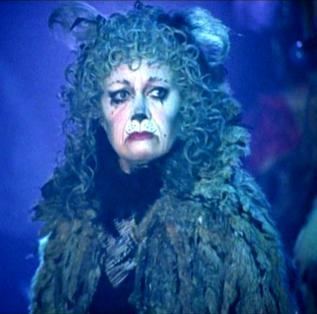 Grizabella is, at the time of her appearance, a very old cat, withered by her age to the point that she no longer resembles the proud, carefree, flamboyant dancer of her youth. Her fellow Jellicles are quite repulsed by Grizabella's dishevelled condition.
Possibly because of this, it is Grizabella whom Old Deuteronomy consigns to the Heaviside Layer to be reborn. During her change, Grizabella sings the song "Memory", which has been thought of by audiences as a very emotionally touching, profound, and even mysterious composition. It has been recorded by over 150 different artists, including Barry Manilow, Michael Crawford, Barbra Streisand and Kikki Danielsson.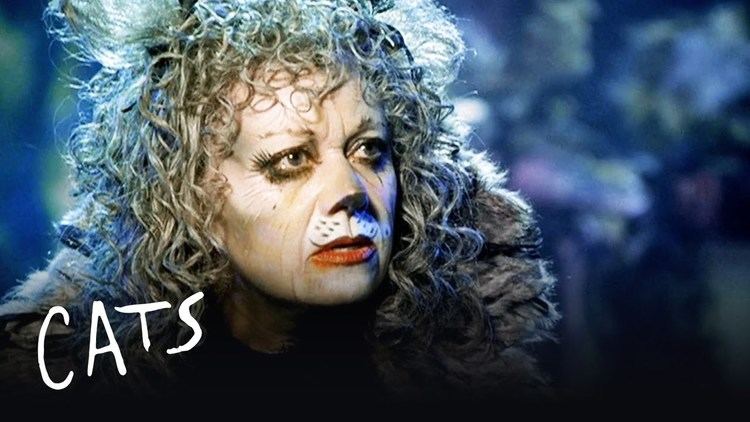 Another interpretation of Grizabella's past is that she left the Jellicle tribe to explore the outside world ("Grizabella the Glamour Cat"), despite knowing that she would never be allowed back in. The other cats shun her for leaving them, despite the fact that she wants to be with them again. After several attempts to gain their acceptance, Grizabella's emotional appeal (represented by "Memory") is accepted; seeing how much she is suffering, she is chosen to be reborn.
Whenever Grizabella arrives at the junkyard, the other cats stop singing and dancing and turn their backs on her. As her song begins to become more emotional, the Jellicles turn around and touch her and smile at her accepting her back into the tribe. Although some cats shun her (Rum Tum Tugger and Munkustrap), the youngest cats feel sorry for Grizabella and try to welcome her, but are restrained by the elders. For example, Jemima and Victoria trust her and help her when she appears; Jemima encourages Grizabella to keep going until the others accept her and sings with her, Victoria is also the first to touch but second to accept her. Demeter, Etcetera and Electra also try to welcome her back but are stopped and they later accept her.
The name Grizabella is probably derived from "grizzle" which means either "grey" or "disheveled", and "bella" which means "beautiful". Hence "Grizabella"; "The grey beauty" or "the disheveled beauty".
The role of Grizabella was originated by Elaine Paige in the West End production. She later reprised the role for the video. In the first Broadway production, Grizabella was played by Betty Buckley. Buckley won the Tony Award for Best Featured Actress in a Musical in 1983 for playing Grizabella. Laurie Beechman headed the First National Company of Cats and in 1984 she replaced Buckley. Beechman stayed with the show for more than four years and made occasional return engagements over the next decade. Dee Roscioli played the role in the US National Touring Company in 2003–2004. Dianne Pilkington (2006–2007) and Chrissie Hammond (2007–2008) played the role in the recent UK National Tour (2006–2008). Lea Salonga starred as Grizabella in the musical's Philippine run on 24 July – 22 August 2010.
Grizabella the glamour cat cats the musical
Adaptation
Two weeks before the opening of Cats in May 1981, Webber wrote the melody for "Memory" and then Trevor Nunn wrote the lyrics, based on T. S. Eliot's "Rhapsody on a Windy Night" and "Preludes". The name Grizabella was from the title of another poem "Grizabella the Glamour Cat" by Eliot.
Players
Elaine Paige (Original London Cast)
Betty Buckley (Original Broadway Cast)
Angela Richards (London)
Marti Webb (London, UK National Tour)
Anita Harris (London)
Lea Salonga (The Philippines)
Stephanie Lawrence* (London)
Rosemarie Ford (London)
Linda Balgord (Broadway)
Sally Ann Triplett (London)
Loni Ackerman (Broadway)
Chrissie Hammond (London, UK National Tour)
Laurie Beechman* (Broadway)
Dianne Pilkington (UK National Tour)
Debra Byrne (Original Australian Cast)
Kim Criswell (Los Angeles)
Diane Langton (London)
Lillias White (Broadway)
Liz Callaway (Broadway)
Leslie Ellis (3rd National Tour 1986-1987)
Natalie Toro (US National Tour)
Ruthie Henshall (London)
Stephanie J. Block (US Regional)
Yukimi Shimura* (Original Japan Cast)
Maarja-Liis Ilus
Di Botcher
Pia Douwes (Vienna/The Netherlands)
Ruth Jacott (Original Netherlands Cast)
Elena Charkviani (Russian)
Mikiko Shiraki (Japan)
Carol Nielsson (London)
Verity Anne Meldrum (London)
Yasuko Sado (Japan)
Sharon Benson (London)
Clare Burt (London)
Jacqui Scott (London)
Hayami Sayoko (Japan)
Shezwae Powell (London)
Lindsey Danvers (London)
Akiko Kuno (Japan)
Ria Jones (London/European Tour)
Jodie Langel (US National Tour)
Masako Saito (Japan)
Kathryn Holtkamp (US National Tour)
Angie Smith (US National Tour)
Anastasia Lange (US National Tour)
Orikasa Rikako (Japan)
Delia Hannah (Australia/New Zealand)
Gretchen Goldsworthy (US National Tour)
Bev Harrell (Australia)
Honoka Suzuki (Japan)
Donna Lee Marshall (US National Tour)
Gay Marshall (Original Paris Cast)
Lena Ericsson (Original Swedish Cast)
Angelika Milster (Original Vienna Cast)
Andrea Bögel (Original Hamburg Cast)
Maria del Sol (Original Mexican Cast)
Hilde Norga (Belgium)
Ellen Evers (The Netherlands)
Susie McMonagle (Chicago)
Aya Kawamura (Japan)
Charlotte Vigel (Original Danish Cast)
Eija Ahvo (Original Finnish Cast)
Eva Wolf (Hamburg)
Cornelia Drese (Hamburg, Berlin)
Theresa Pitt (Hamburg)
Grania Renihan (Hamburg)
Nicole Sieger (Hamburg, Stuttgart)
Silindile Nodangala (Korea, Malaysia, Shanghai)
Anita Meyer (The Netherlands 2006)
Vera Mann (The Netherlands 2006)
Antje Monteiro (The Netherlands 2006)
Lone van Roosendaal (The Netherlands 2006)
Femke Soetenga (German tour)
Paula Lima (Brazil)
Olivia Branco (Brazil)
Diana Maria (Argentina)
Helen de Quiroga (Original Madrid Cast)
Giulia Ottonello (Rome)
Kei Miyahara (Japan)
Pernilla Wahlgren (Stockholm and Gothenburg, Sweden, part of Scandinavian Tour 2003)
Evelyn Jons (Gothenburg,Sweden 2006)
Malena Tuvung (Stockholm, Sweden 2009)
Nina Pressing (Malmö, Sweden 2007)
Silvie Paladino (Malaysia)
Kate Wonder (Ukraine)
Joanna Ampil (UK/European Tour 2013, 2016)
Sophia Ragavelas (UK/European Tour 2014)
Erin Cornell (Southeast Asia/Korean Tour 2014-15)
Felicia Gray (The NIA Birmingham UK, Stagecoach 25th Anniversary)
Taylor Dayne (Auburn, New York 2013)
Nicole Scherzinger (2014-2015 London Revival)
Susan McFadden (just recently)
Kerry Ellis (2014-2015 London Revival)
Jane McDonald (Blackpool Opera House UK - 2015 UK Tour)
Beverley Knight (2015-2016 London Revival)
Chiaki Kimura (Japan)
Delta Goodrem (2015-2016 Australia, limited season)
Prisca Demarez (Paris revival cast 2015)
Anita Louise Combe (2016 UK and European Tour)
Marianne Benedict (2016 UK and European Tour)
Chimene Badi (Paris Revival Cast 2016)
Leona Lewis (2016 Broadway Revival)
Mamie Parris (2016 Broadway Revival)
Jessica Sinodis (2016 Limelight Cast)
(*) - So far, Stephanie Lawrence, Laurie Beechman, and Yukimi Shimura are the only cast members of Grizabella to have died.
References
Grizabella Wikipedia
(Text) CC BY-SA