South Africa




Afrikaans


2.89 km2


Overberg




1854



Greyton is a small town in the Overberg area in the Western Cape, South Africa.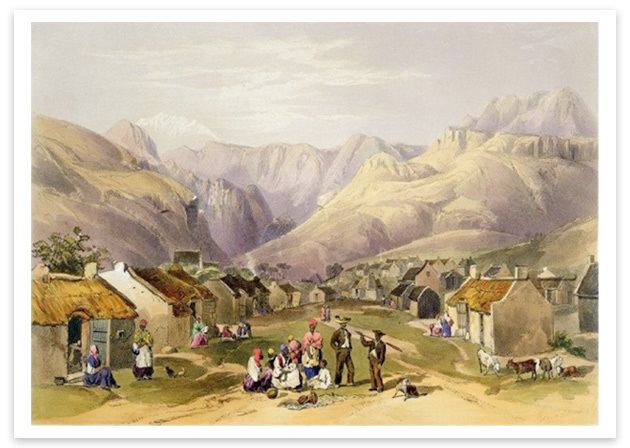 Before Greyton was established in 1854, the verdant plains and forested ravines of the area were home to the Hassequas khoikhoi tribe who had their kraals near the Gobos river, which they named after their ancestral chief. Their many thousand heads of cattle and sheep were the reason why Ensign Schriver of the Castle of Good Hope was sent here in the late 1600s to barter with their head man, Captain Stoffel Koekson. So rich did Koekson become from this bartering that he eventually took his people to live in the Boschmanskloof, where he built them proper mud-brick houses, the foundations of which still lie under the old houses of Boschmanskloof today.
Following Herbert Vigne's death in 1895, Greyton, like many other Overberg towns, lived through harsh economic times that characterized the turn of the century. Many people left to make their fortunes elsewhere. Sending crops to Cape Town for sale was no longer viable. There were few jobs, families were large and people became impoverished. But the long narrow plots that characterized the layout of the town continued to provide a food source for families, as well as a place to keep livestock for domestic use.
Greyton Wikipedia
(,)http://www.greytontransition.co.za/wp-content/uploads/2013/01/genadendal1.jpg(,)http://www.xplorio.com/docs/19801/New%2520(Old)%2520School%2520with%2520addition_680x_crop_100.jpg(,)http://www.greytontransition.co.za/wp-content/uploads/2013/01/greyton-main2.jpg(,)http://freezeproducts.co.za/images/greyton-south-africa.jpg(,)http://i.ytimg.com/vi/E_G7IRjISzY/0.jpg(,)http://www.acornestates.co.za/wp-content/uploads/2014/08/WP_20140802_16_19_13_Pro.jpg(,)http://www.greytontransition.co.za/wp-content/uploads/2013/01/greyton_view_medium2.jpg
(,)http://www.safarinow.com/db/id/1858535/475051a.jpg(,)http://www.eatout.co.za/wp-content/uploads/2015/01/Havercrofts.jpg(,)http://blog.africageographic.com/safari-blog/files/2013/01/DSC_0406.jpg(,)http://www.nightjartravel.com/sites/default/files/styles/gallery_image/public/images-province/Nightjar%2520R%2526T%2520Greyton%25203%2520Greyton%2520street%2520scene%2520with%2520the%2520Oak%2520and%2520Vigne%2520Restaurant%2520in%2520background..jpg%3Fitok%3DVxQbY4lZ(,)http://media-cdn.tripadvisor.com/media/photo-s/05/d5/28/1a/pure-cafe-greyton.jpg(,)http://www.safarinow.com/db/id/1836418/469939a.jpg(,)http://www.whatsonincapetown.com/wp-content/uploads/2005/06/Greyton-Morning-Market1.jpg(,)http://www.littlepinkbook.co.za/wp-content/uploads/2013/03/abbey_rose_002.jpg(,)http://www.greytonaccommodation.com/images/fiore-garden-centre-greyton-main.jpg(,)http://blog.sa-venues.com/wp-content/uploads/2010/07/greyton-02.jpg(,)http://searles.co.za/wp-content/plugins/weptile-image-slider-widget/cache/searles-slider-outside-resized-1200x540.jpg(,)http://1.bp.blogspot.com/-kj_jwiZjKAs/T7UpiPQdakI/AAAAAAAABhg/ay-B2AFaKx0/s1600/DSCN4155.JPG